Southern Moon Smokehouse is the new spot for barbecue in town. Recently opening in Orlando, just southeast of downtown, they are serving up a selection of smoked meats, house made BBQ sauces, craft sodas, house made breads, side dishes, and desserts. Almost the entire menu is made from scratch in their kitchen, from smoking barbecue to baking breads and desserts. Southern Moon makes their own craft sodas, infusion spirits for mixed cocktails at the bar, and they are working on craft beer too. Craft beer is coming in the next few months and should be a good pairing with their barbecue.
(click image to enlarge)
The Southern Moon Smokehouse barbecue concept is by owner and chef, Bryce Balluff, who is also the creator of Fork In The Road food truck. He is one of Orlando's talented chefs who is going from food truck to brick and mortar, except he's keeping both businesses and keeping the menus separate. Chef Bryce has extensive culinary experience, from training in fine dining restaurants like Per Se in New York, to working at recognized restaurants in Orlando. He's taking those experiences and creating some good flavors in the barbecue and side dishes at Southern Moon.
* Update – Chef Bryce left Southern Moon in December 2014. Nelson Hom, Co-founder and Principal, has assumed the role of General Manager. Anthony 'TJ" Briante, Executive Chef, since Southern Moon's inception remains in his role. (according to Fork in the Road's Facebook post).

I've visited the restaurant twice now, each time with different friends who love to share food, getting a taste of everything. You can see on the menu (above) that their are many items to try and share. From the meat eater to the vegetarian, there's something for everyone. Southern Moon's menus are on large chalkboards in the main dining room and bar area. Descriptions of the sides are presented by the servers. The pulled/chopped and sliced BBQ are sold by the quarter pound, making it easy to taste everything by ordering a little bit of it all. You basically create your own plate of meats and order fixins on the side. Side dishes were originally served in larger portions and meant for sharing, but they've adjusted the size and pricing recently to accommodate their patrons. For myself, I really enjoyed the sliced meats with a few of the fixins, and the ginger beer (aka ginger ale). Check it all out below…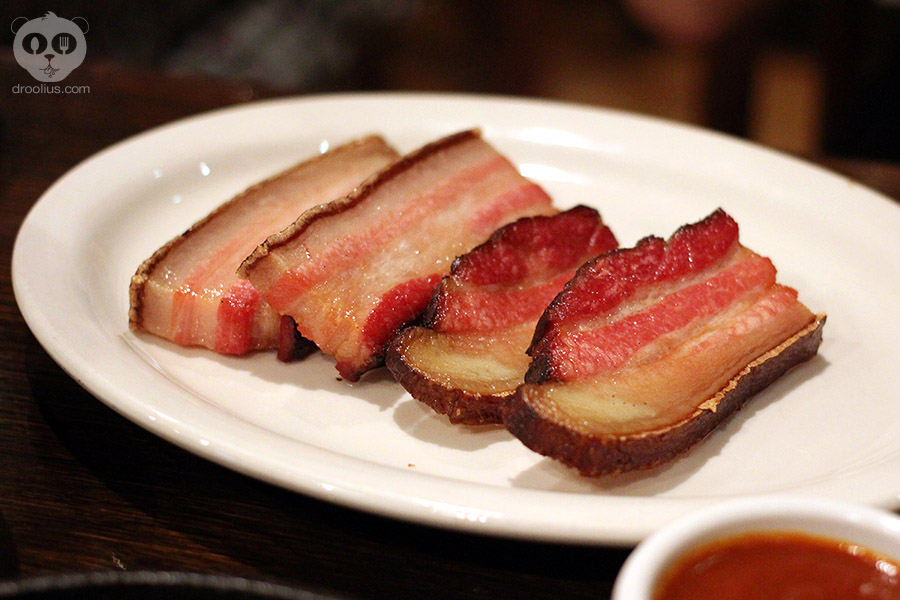 (click image to enlarge)
Pork Belly (Super Bacon)
This is probably my favorite item on the menu. The pork belly has been dry seasoned and smoked, then finally hits the flat top for a little crispness. What I enjoy most is that the pork belly has a little skin on the end, giving it a small piece of crunch like chicharron. I've never seen that at a BBQ restaurant and I'm glad it's here! My first trip I ordered a quarter pound, but that has quickly changed to a half pound from now on.
(click image to enlarge)
Beef Brisket
The beef brisket is cooked low and slow, with a nice smoke ring on the end, and sliced to order. The meat was flavorful and had just a touch of smoke. I took some time with my photos and you can see the juiciness flowing out on the bottom of the meat. One thing about brisket, if you let it sit, the exposed area will appear dry. I flipped this bad boy and it was covered in its juices. Important tip: always eat the brisket first!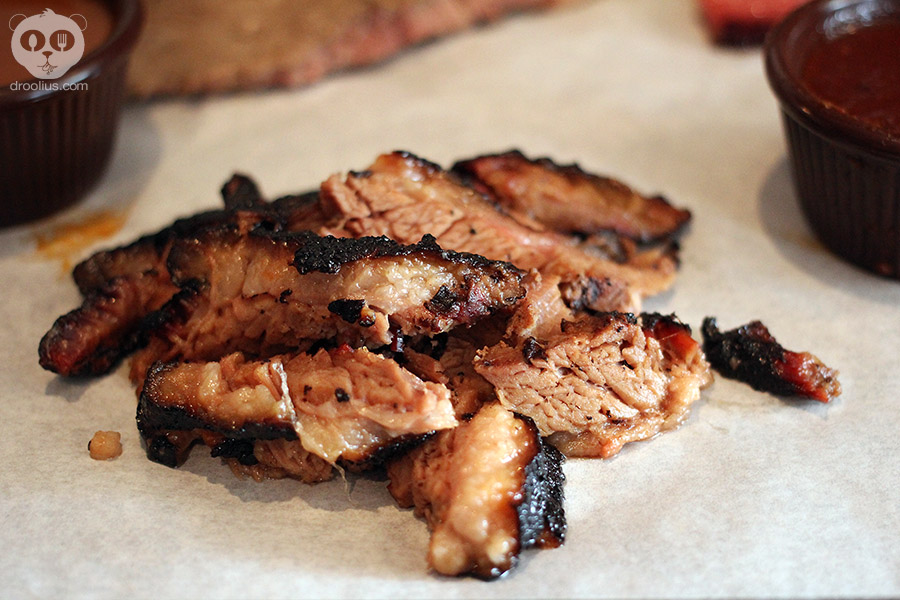 (click image to enlarge)
Boneless Beef Short Ribs
The juicier cut of meat, the boneless beef short rib had good rich flavor and was very moist. Some pieces can have some fat on the end, but don't be afraid to eat it because that's flavor.
(click image to enlarge)
Smoked Chicken
The smoked chicken was juicy and flavorful throughout. That's probably because it was brined over night and keeps the chicken moist during smoking. Again it was just a touch of smoky flavor and thankfully not overpowering.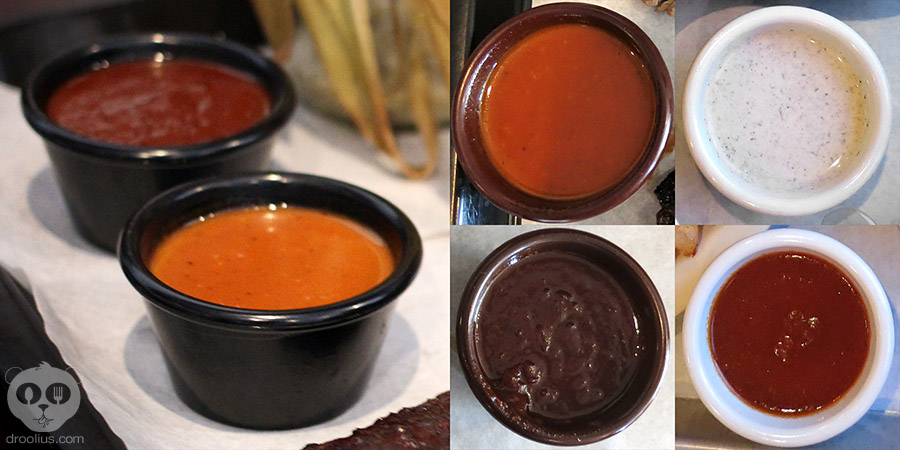 (click image to enlarge)
Dipping barbecue in sauces always amps up the flavors and experience. Southern Moon makes all of their own sauces and serves the following:
Kansas City Q – Sweet tomato based
Texas Q – Ancho Chili based served hot, spiced but not spicy
Bama Q – Mayonnaise based zesty sauce
Carolina Gold Q – Mustard based sauce
Carolina Hot Q – Vinegar, peppery hot
All BBQ sauces are made in house and have their own unique flavors. My favorites are the Kansas City Q that is a little sweet and the Texas Q which is spicy and served warm. The others are all a great try and if you like spicy with a tangy kick, try the Carolina Q.
(click image to enlarge)
On the first trip to Southern Moon, Chris of Eat Local Orlando ordered the St. Louis Ribs, Smoked Corn, and Red Cabbage Slaw. I had one rib and it had great flavor and the proper BBQ pull. The smoked corn looked so good that I ordered on another trip (seen below). The Red Cabbage Slaw is shredded fresh red cabbage, tossed in tangy dill dressing.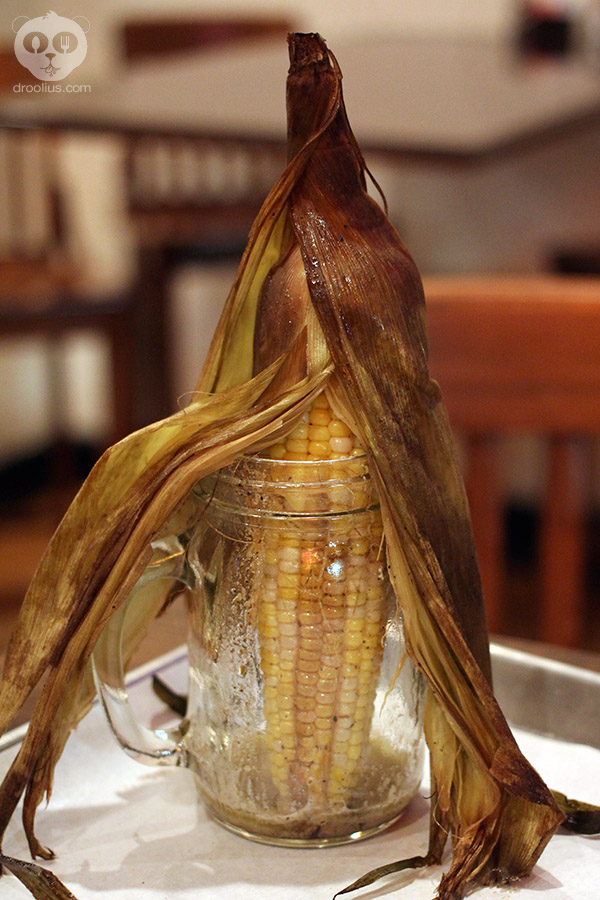 (click image to enlarge)
Smoked Corn – corn on the cob fresh from the smoker served with herb and spice infused butter
First off, what a unique way to serve corn on the cob. The spice infused butter is melted and waiting at the bottom of the glass to be poured all over the smoked corn. This is probably the most flavorful corn on the cob I've had! The blend of spices and ingredients in the infused butter is so good with the corn.
(click image to enlarge)
The smoked corn itself was fresh and sweet, but the flavor of the infused butter just makes everything amazing. Yes, it was that good.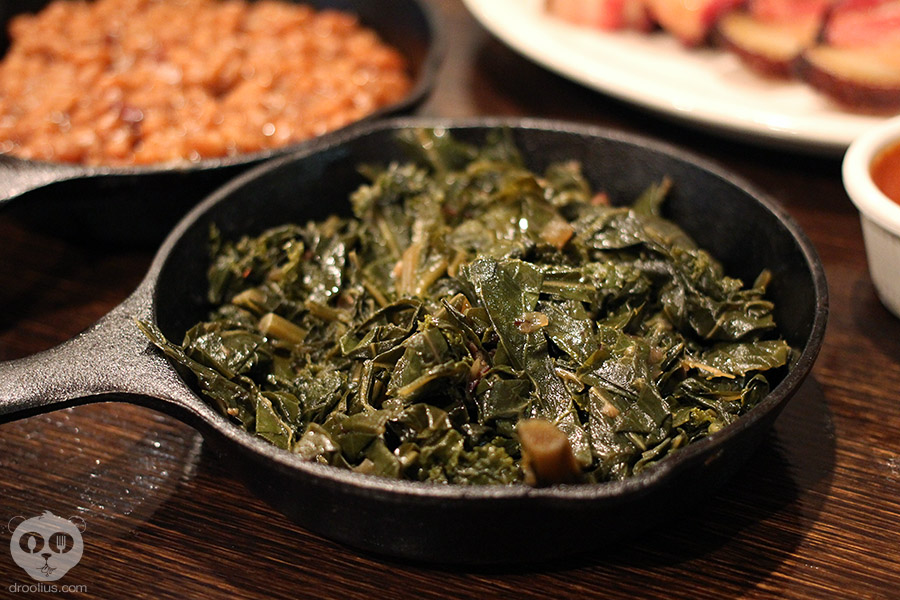 (click image to enlarge)
Braised Greens – mustard, kale, and collard greens braised in seasonings along with house pork belly and onions
This is probably the best braised greens I've had in the area. So many good flavors, the combination of different greens have a nice texture (not over cooked) and flavors are well developed with all of the seasonings, a touch of sweetness from molasses and brown sugar, and I'm sure that house pork belly brings it all together. This is not traditional Southern greens, so please do not compare. It is just a great recipe for braised greens. Also not a true vegetarian dish because of the pork belly, but it's still worth trying, my vegetarian friends.
(click image to enlarge)
Mac & Cheese – elbow macaroni in 4 cheese blend cheesesauce, topped with pixie dust
Mac & Cheese here is made from scratch in the kitchen. I liked it because of the four cheese blend cheese sauce which they combine from real cheese and make a sauce, and the pixie dust adds nice presentation and extra flavor.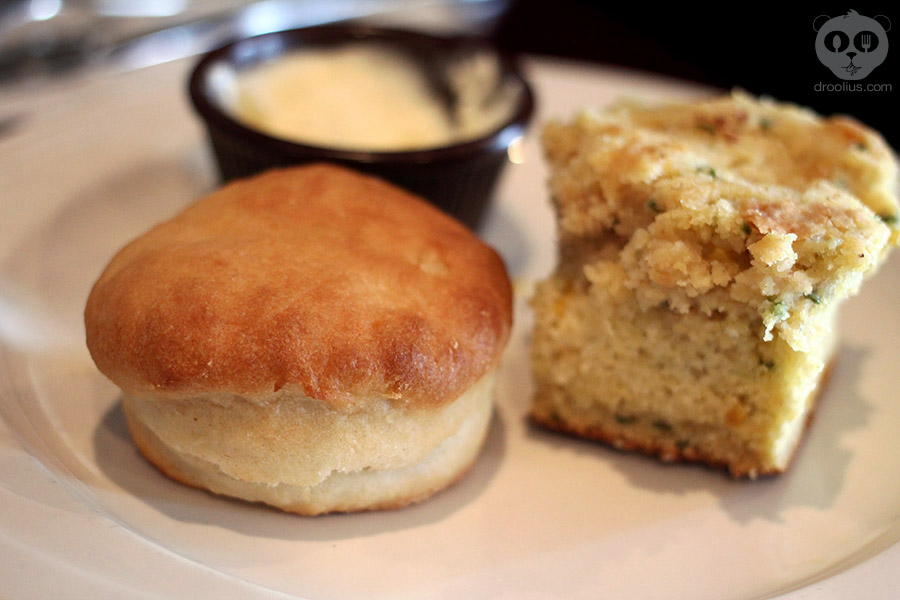 (click image to enlarge)
Biscuits
The biscuits are baked fresh daily in the kitchen. They were good with the honey butter.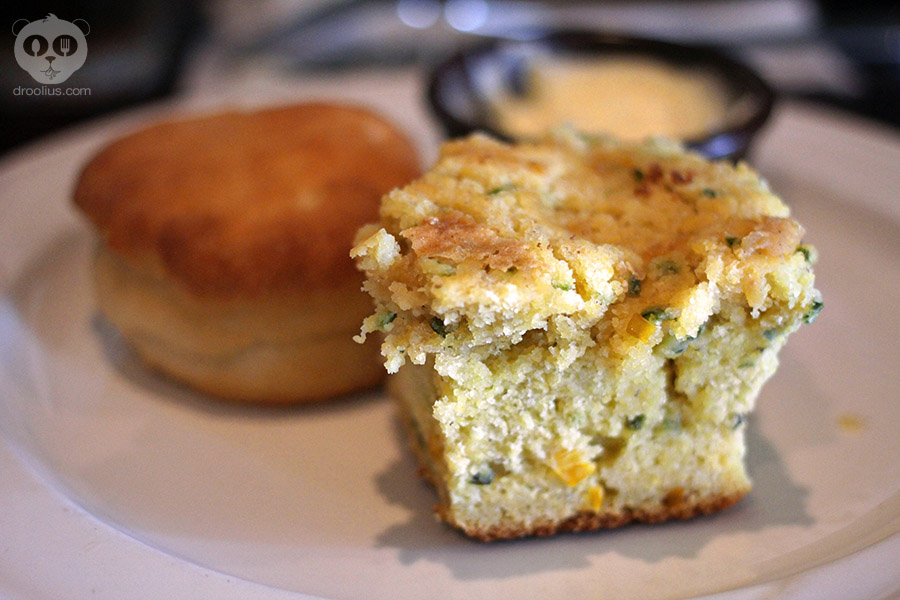 (click image to enlarge)
Cornbread – fresh baked house made jalapeño corn bread served with honey butter.
The corn bread is made from scratch, using fresh jalapeños, and has a good flavor with just a touch of heat. The honey butter on top makes them only better.
(click image to enlarge)
Baked Beans – great white northern beans twice cooked with house seasonings and pork belly
My friends from Koko Cooks enjoyed these baked beans as a side dish. I had a small taste and it was good.
(click image to enlarge)
ALFGT – avocado, lettuce, fried green tomato and a truffle aioli on a toasted house country loaf
A vegetarian friendly sandwich, friends from Taste Cook Sip blog ordered this one. I didn't get a taste of the sandwich, but I did taste the side dish of 2 Potato Salad which is a combination sweet & Yukon Gold potatoes dressed in house dijonaise with creme fraiche, and hard boiled egg. The 2 Potato Salad tasted like potato salad mixed with egg salad, with a little sweetness from the sweet potato.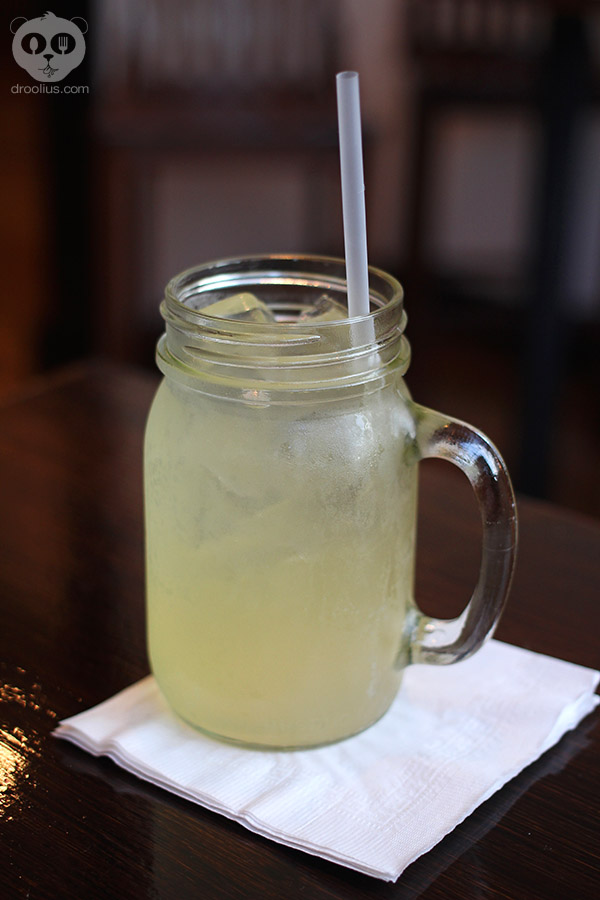 (click image to enlarge)
Ginger Beer aka Ginger Ale
I tried the variety of craft sodas, but the Ginger Beer was my favorite. I think i had about 4 glasses each trip, so it shows how much I really liked it. Not an actual beer with alcohol, but an intense ginger flavored "ginger ale" soda. Try it by itself or mixed in a cocktail.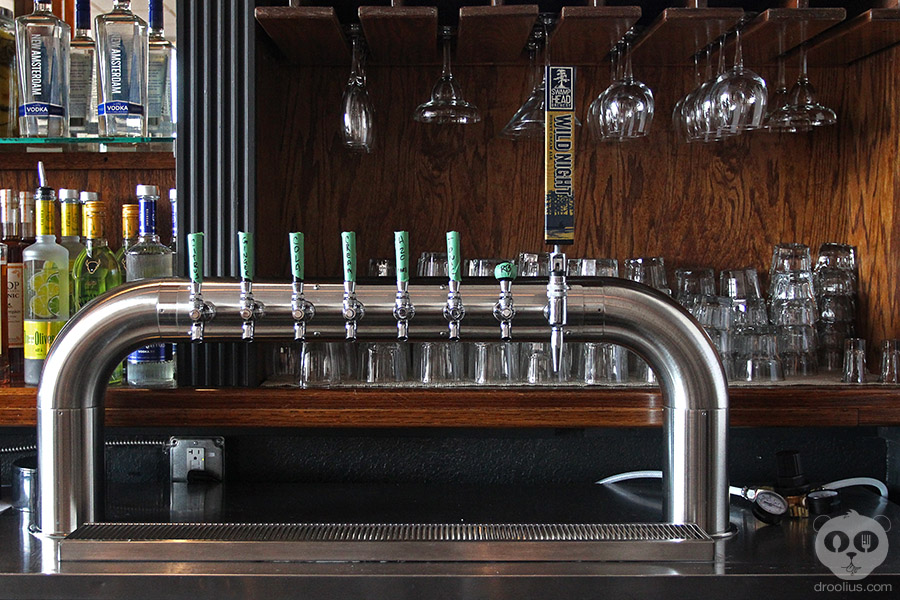 (click image to enlarge)
Craft Sodas
As mentioned in the beginning, Craft Sodas are made in house and are quite popular at Southern Moon. The soda variety includes Citrus, Ginger Beer, Cola, Cream Soda, Root Beer, and Birch Beer. People who love sodas can enjoy that nostalgic soda flavor they had as a kid growing because the flavors seem to be on point from reading other's responses to the sodas here.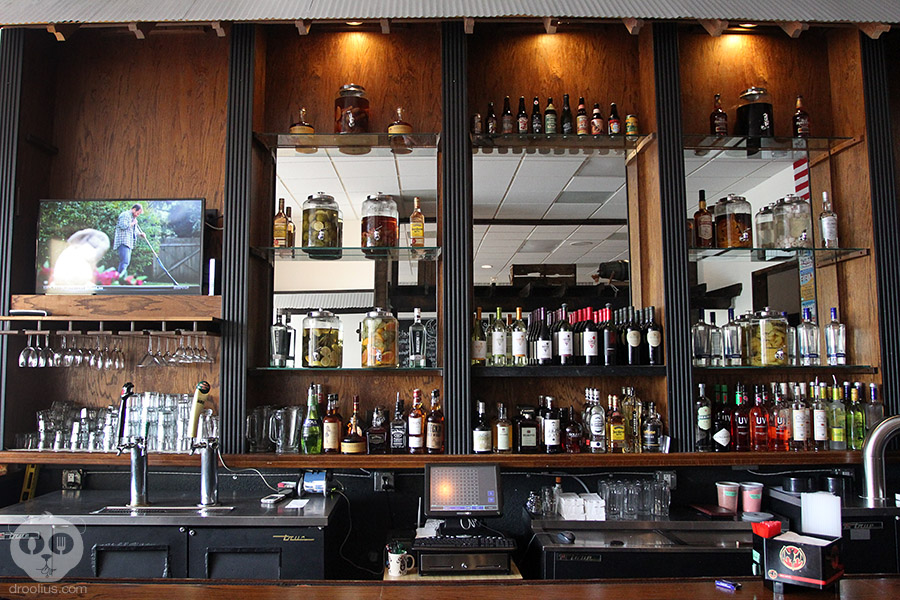 (click image to enlarge)
The bar at Southern Moon features wines, infusion cocktails, a number of liquors and spirits, with a few beers on tap. Southern Moon is in the process of brewing their own beers and will be served in the near future. The infusion spirits have some good flavor combinations like lychee vodka, orange and vanilla bean rum, and more. See the list at the bar, they are always creating new concoctions.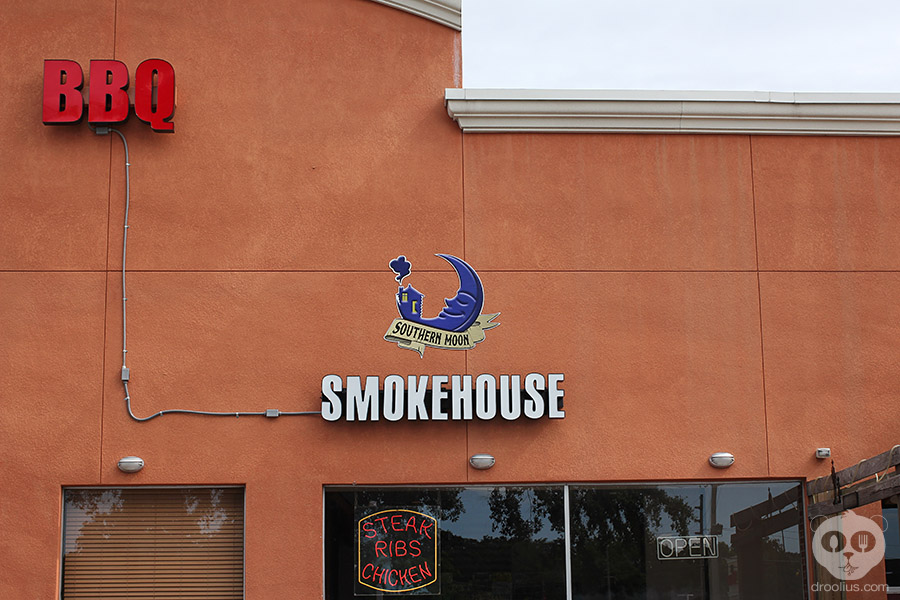 (click image to enlarge)
Southern Moon Smokehouse is bringing the full service barbecue experience to Orlando. When you go, eat with an open mind and enjoy the flavors. It may not be your traditional regional barbecue that people are passionate for, but it's just good flavorful smoked meats that you have to admit, when it's good, it's good. There are a few things I still want to try on the menu. A few fixins and sandwiches, my own order of ribs, and the desserts. Make sure to save room for dessert, but it may be a challenge because there are so many good looking things to try on the menu. I will be back to try more for sure and will post some dessert photos.
Southern Moon Smokehouse
3000 Curry Ford Rd
Orlando, Florida 32806
www.southernmoonsmokehouse.com
Facebook Page

Words and photos by Julius Mayo Jr.
Content and photos © Droolius.com 2014




* Update on January 14, 2015 – correction on current owner and chef