A favorite food of mine that I love to try when traveling is the delicious Soup Dumpling. Its not often found in many cities, but in New York soup dumplings are available and its one of my must have foods in this foodie town. I actually crave these things and always look forward to being reunited with these amazing bites. Joe's Ginger in Chinatown NYC was the spot to fulfill this soup dumpling craving and wow was it good.
(click image to enlarge)
A soup dumpling, or its traditional name Xiao Long Bao, is a Shanghai steamed dumpling that has a meat filling (pork, crab, shrimp, and others) and gelatinized soup broth. Once the dumpling is steamed the gelatinized broth turns into a soup, which is how the soup is inside the dumpling. One bite of this dumpling packed with juicy soup explosion turns into an addiction!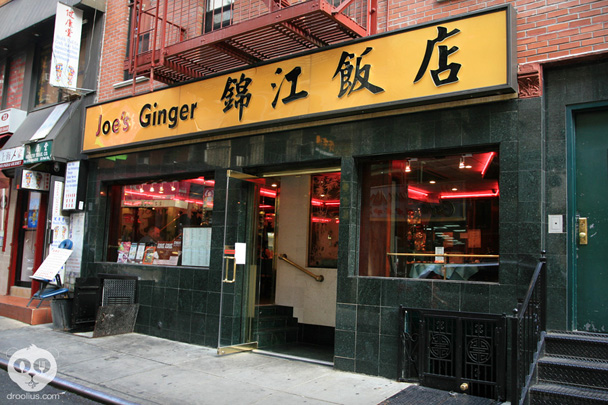 (click image to enlarge)
I usually go to Joe's Shanghai, which is within the same family of restaurants, but I've heard of the long lines and crowded restaurant lately. I remember a few years back when you could just pop in and grab a table, however these days its packed with both tourists and locals. So why not go to Joe's Ginger where there is no line and the soup dumplings are just as good in quality in my opinion. There's more than just soup dumplings here though, with a menu of Chinese cuisine offered. However we are here for one thing, the only thing that we want to eat, the soup dumplings because its a specialty here.
(click image to enlarge)
First warm up with a cup of hot tea, always good on a cold day.
(click image to enlarge)
So after sitting down and drinking some tea, you make an order of soup dumplings. They come in batches of 8 dumplings so you can definitely make a few to start with and specify what kind. They offer Pork and Crab Meat with Pork. We ordered the pork soup dumplings and after a short wait the server brings out bamboo steam baskets which are what the dumplings are cooked in.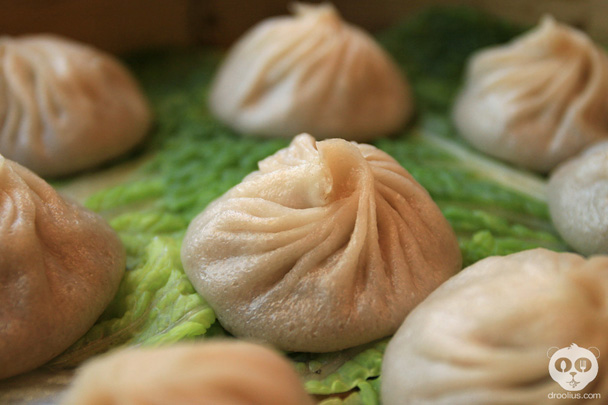 (click image to enlarge)
Served on a bed of cabbage so the won't stick to the basket, the dumplings are delicate and you gently lift them without breaking them. There's many different techniques on how to eat the dumplings and everyone has there own process.
(click image to enlarge)
First gently lift the dumpling without ripping open, because once ripped the broth spills out on to the basket and table. What I like to do next is dip the dumpling in the sauce made of vinegar, soy sauce, and shredded ginger. Then put the dumpling on a spoon, then tear open a small hole on the top with chop sticks to let steam out, then eat them. Its a safe way to eat without burning your tongue and you still get the explosion of soup in your mouth without the heat damage.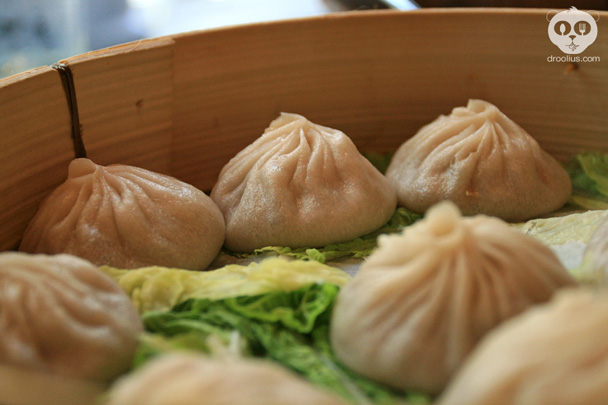 (click image to enlarge)
Others like to place the dumpling on a spoon and tear open so the soup pours out but there's no fun in that, no juicy explosion. One has to be cautious though, you WILL burn your tongue, mouth, and lips if you do not let some steam out first or let the dumplings cool down a little. These soup dumplings come out piping hot and will hurt if you are not careful. Besides the burning potential, these dumplings are great to eat. Which ever way you choose, its a delightful experience.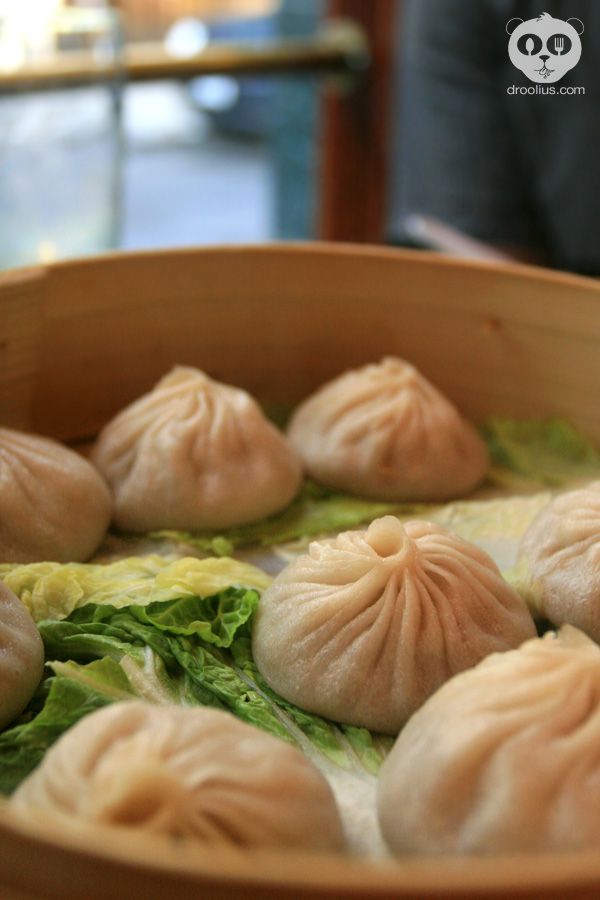 (click image to enlarge)
Joe's Ginger is a great place to satisfy that craving for soup dumplings that so many people share. The restaurant itself is not too big, has an upstairs for seating as well, and is lit up with a pink neon against the wood panel walls and green table clothes. The soup dumplings taste great here and anyone could easily finish an order or two by themselves. The portion of a dumplings per order are served hot, plump and juicy. A definite food stop anytime of the year, especially when its cold or snowing in New York city and you want to eat something that is filling and warm. This would definitely would be a form of comfort food for me and I think I would easily make a hike to Chinatown to get this steamy delectable treat.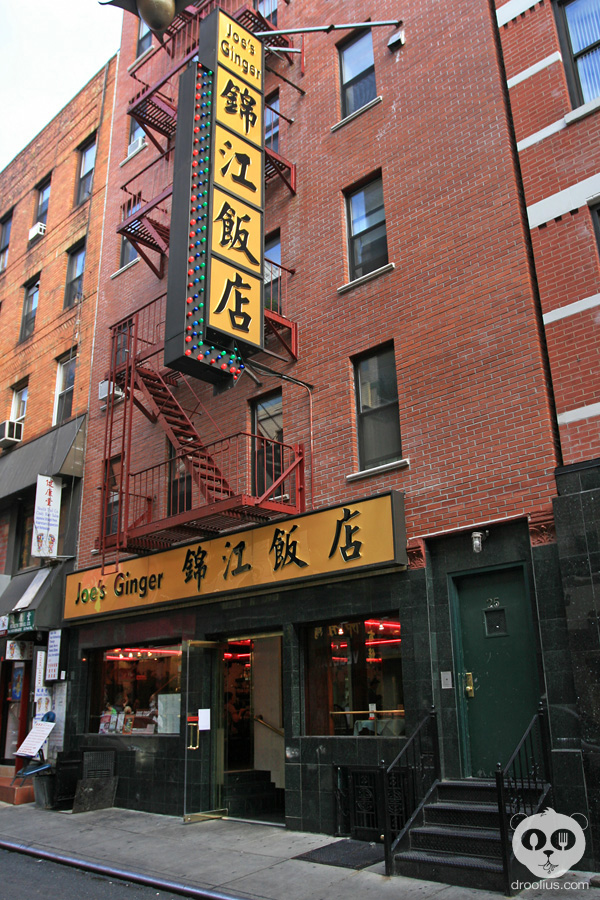 (click image to enlarge)
If you have trouble finding Joe's Ginger on Pell Street in Chinatown, just look for the loud yellow sign with blinking colored lights pictured here. Hard to miss on a street against the red brick buildings.
Joe's Ginger
25 Pell St (between Doyers St & Mott St)
New York, NY 10013
Chinatown Neighborhood
(212) 285-0333
www.joeginger.com
Words and photos by Julius Mayo Jr.