Recently I got to preview the new Red Eye Bar and Grill that opened this week. You may remember them as the Red Eye BBQ food truck which we featured here back in 2011. After a stint as a local food truck (one of Orlando's first modern food trucks), the family sold their truck and left for a short while to live in Hawaii. After living the Island life for almost a year, they knew it was time to move back home to Orlando, FL.
(click image to enlarge)
Always knowing they wanted to be in the food business, they have now opened a brick and mortar restaurant. The Red Eye Bar and Grill menu features some of their popular barbecue items they served on the food truck, but turned up a notch. They are now able to do more with a larger kitchen and more cooking gadgets. Expanding the menu, they have added grilled items that include steaks, seafood, steak burgers, some vegetarian options and have added craft beer into the mix. It takes over the space from the former business of Matthew Steaks and More, a higher end steak house. Red Eye owner, Robert Nelson wanted to create a place where everyone could come in for a meal, anytime of the week, both for relaxed dinners or a special night out. They are serving quality food at a reasonable price, always coming up with more ideas for dishes, not just barbecue.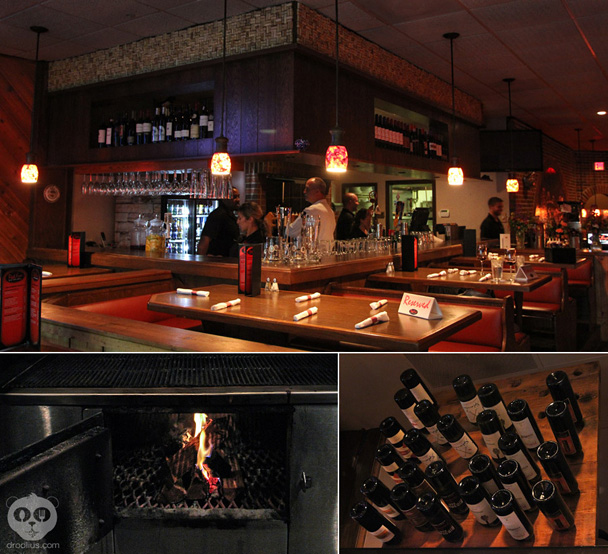 (click image to enlarge)
I was able to preview the new restaurant with fellow food blogger Katie of Katie's Cucina. She was definitely loving all the personal touches and upgrades to the space that the Red Eye team did. One was the wine corks that have been repurposed and lined the portion above the bar (top photo).
The seating around the bar is a European style, specifically found in Germany where the tables come out from the bars to make more space for seating. This creates what Rob calls "mini chefs tables". From these tables, one can see the wood fire grill that is used to cook up all of the steaks, seafood, burgers, ribs, and more (bottom left). Another repurposed item in the furniture is a custom wine rack that is actually a 17th century Amish Barn door (bottom right).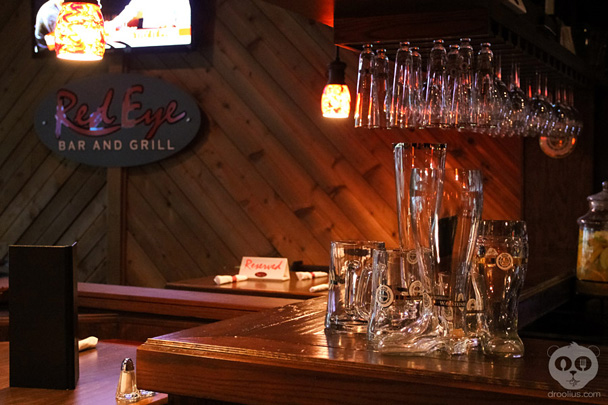 (click image to enlarge)
Beer boots are available, along with various glasses that properly serve different types of beer accordingly.
(click image to enlarge)
The "Bar" part of the Red Eye Bar and Grill feature several beers on tap, along with a selection of bottled beers. I had a Warsteiner beer with my meal, which was properly served in a Weizenbier glass.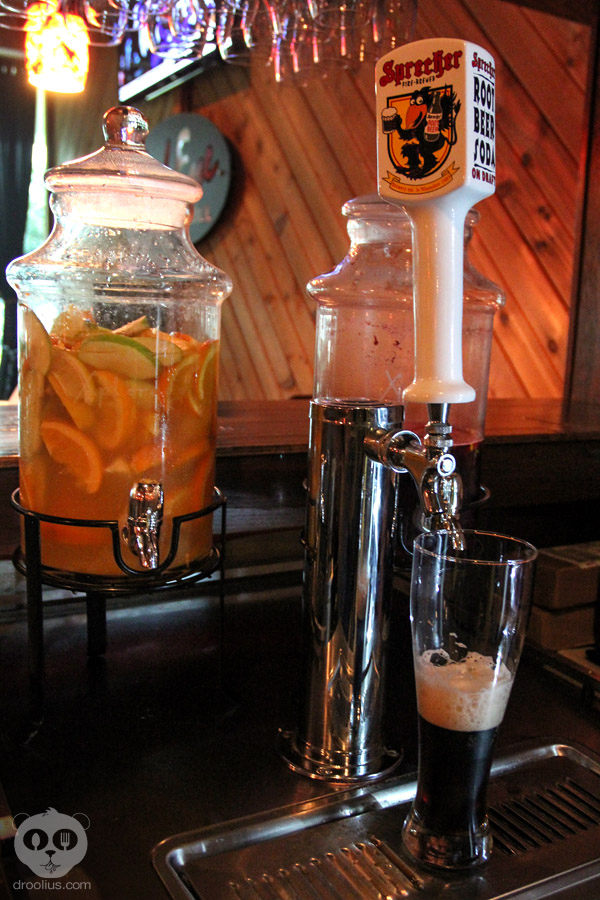 (click image to enlarge)
If craft beer or import/domestic beers are not your ideal drink, then a selection of wines are offered. They also have red or white Sangria as an option too. A beverage offered for both adults and kids is a Root Beer on tap, which is very unique and not something you see very often in this area.
What's great about the menu is that it suggests a wine pairing under each entree's description, a wine that will compliment your dish. The Red Eye staff suggests a Rib Shack red wine that pairs very well with BBQ. We had a sample of it and it went very well with our Red Eye Sliders and it complimented the smokiness of the pulled pork and barbecue sauce.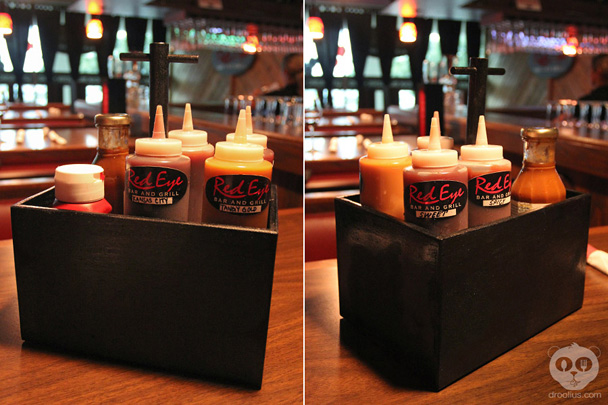 (click image to enlarge)
Red Eye BBQ Sauces in custom made caddy – these barbecue sauces only come out when you order BBQ, but you can ask for the sauce caddy with your meal. They feature a few different types of house blended sauces, along with one local barbecue sauce.
(click image to enlarge)
Red Eye Sliders Housemade cornbread muffins filled with BBQ pulled pork topped w/ house barbecue sauce and honey
When the owner Rob called me two months back and told me he was going to open up the restaurant, the one thing I told him is that he had to put the "Red Eye" pulled pork muffins back on the menu. His comment was, "you got it". So the very first thing that came out were these amazing Red Eye Sliders. I love these things! I could probably eat 3 plates by myself (eating contest anyone?).
(click image to enlarge)
(left) Jim Beam Brisket Chili – blend of slow cooked brisket and chili beans with a hint if Jim Bean
The bowl of chili was full of textures, good flavors, and it was very hearty with beans and meat. What sets this chili apart from others was the slow cooked brisket flavoring everything. The tender chunks of brisket were a great choice to use instead of typical ground beef versions.
(right) Crab & Corn Chowder Soup – creamy blend of crabmeat and sweet corn
I had a taste of the chowder and it was creamy and rich. It also had a bite of spice to it, which is a good thing if you like a touch of heat, but it's not too much.
(click image to enlarge)
Our pair of entrees and side dishes are served. Each entree comes with a corn muffin and one side dish (seen below in detail).
(click image to enlarge)
Ultimate Combo – Slow smoked pulled pork and beef brisket
This was the entree ordered by Katie, a combination plate of pulled pork and beef brisket. I got to sample a small piece of the brisket, it was tender with lots of flavor. The brisket is seasoned and smoked on location for several hours, then comes straight out of the smoker to be sliced "to order", and then served. The pulled pork, well that is the same that is served on the Red Eye Sliders pictured above.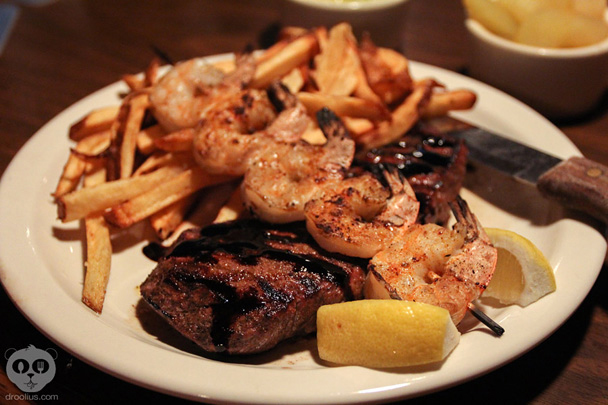 (click image to enlarge)
Sirloin Steak with Cherry Balsamic Reduction with fries, with added shrimp skewer.
The menu offered a filet mignon and a sirloin steak. I went for the sirloin because it is one of the house specialties and they treat it with some care to make sure it is tender and tasty. The steak came out to the proper temperature (medium rare) and it was seasoned very well. The steak is topped with a cherry balsamic reduction, which compliments with the smokiness of the wood fire grilled steak. It was my first time having a cherry balsamic reduction and I am now a fan. The addition of a shrimp skewer is an extra option, which I can complement them on being properly cooked and seasoned. The fries are hand cut to order, so know you are getting fresh cut potatoes by hand. They come out tender and piping hot. The only thing is, I prefer my fries crispy, so maybe next time I'll ask to have them cooked a little longer to make them extra crispy.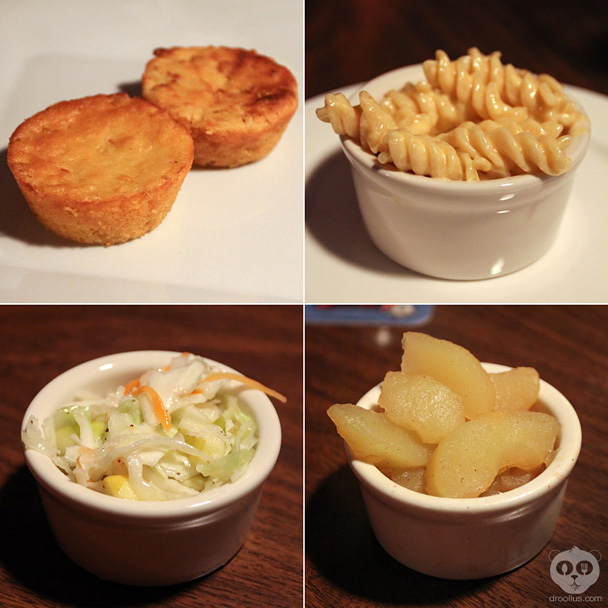 (click image to enlarge)
Side Dishes:
Cornbread muffins – Housemade cornbread muffins, same ones used in Red Eye Sliders, so of course they are great.
Mac & cheese – A blend of 5 cheeses and it does not use any additional salt. The combination of all of the cheeses is enough to season the side dish, with a Pecorino Romano cheese bringing it all together.
Apple Cabbage Slaw – The slaw was made with an apple cider vinegar and a touch of olive oil, bright and refreshing.
Hot Cinnamon Apples – This is a BBQ classic pairing with fresh apples that have been cooked until tender, served warm with a gentle sweetness and hint of spice from cinnamon.

One menu item I do not have a photo of is the steak burgers. I did not order one, but I did get a chance to try a steak burger patty. I was pleasantly surprised on how much flavor it had. They use a secret blend of three cuts of steak that all combine into a flavorful, juicy burger. Adding to the burgers they have a few that show an influence from living in Hawaii, topping one with grilled pineapple or another with a fried egg. Not only only do they offer meat burgers, but they do offer a vegetarian version with a Wood-Grilled Portobello & Veggie Stack.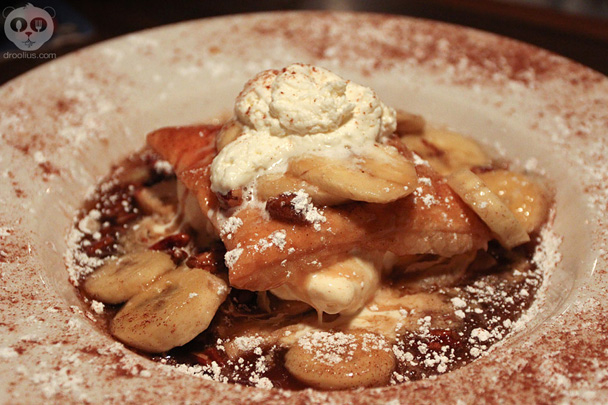 (click image to enlarge)
Bananas Foster served in rum sauce, with puff pastry and ice cream.
First of all, do not let this photo deceive you. The server said it can serve 2 people, but it was more like 3 people with the large size of this dessert. I didn't catch the menu description, but the bananas have been flambé in rum, butter, sugar, cinnamon and a few extras. It is served with vanilla ice cream and puff pastry, all topped with whipped cream. We had another blogger join us and even though we were full, we managed to take down most of it. Myself being the last one eating, I really enjoyed the balanced sweetness of the overall dish, and the rum glaze had just the right amount of bite to it. The Bananas Foster is a great closer to the meal and I recommend you all try it.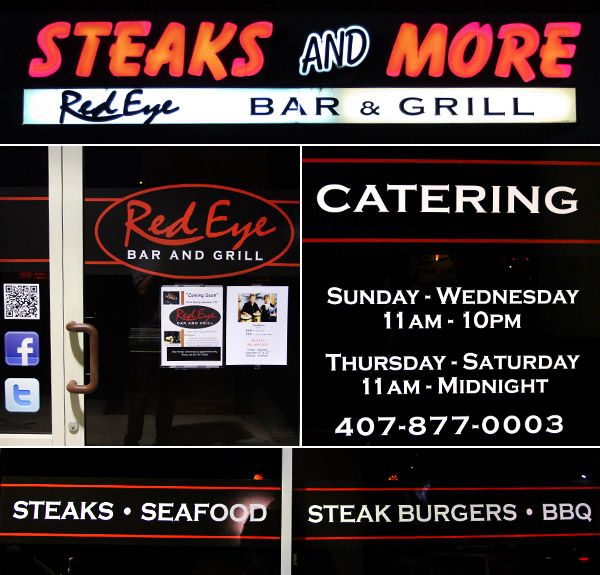 (click image to enlarge)
Red Eye Bar & Grill was a great dining experience and I will be returning for sure with friends and fellow food lovers. The restaurant serves quality food that has been cooked with care and they are a welcoming staff. The old Red Eye BBQ food truck is definitely missed, but the popularity of their food carries on in this restaurant. They have taken their menu and elevated it a few notches, expanding it with more great food. The Red Eye team has creating a comfortable dining space for their original food truck customers, the surrounding neighborhood, and all of Central Florida to enjoy. It's great to see this former food truck operation evolve into a full-fledged restaurant.
Who's ready to eat more Red Eye Sliders with me?


Red Eye Bar and Grill
2594 Maguire Road
Ocoee, FL 34761
407-877-0003
www.redeyebarandgrill.com
Twitter.com/redeyebbq
Facebook.com/RedEyeBarandGrill


Words and photos by Julius Mayo Jr.
All content and photos © Droolius.com 2012
Disclaimer: I was given the opportunity to attend a media preview dinner. I was not compensated to write this post and all opinions are always my own.