When I heard there was a restaurant serving chicken and waffles in Orlando, FL I knew I had to dine there. It's a unique combination that I have had in the past and actually crave because its such a tasty meal. Both savory and sweet this combination of fried chicken and waffles has influences from Soul Food rooted in the South. Bananas a Modern American Diner offers their variation of Chicken-n-Waffles along with a vast menu offering diner classics with a unique twist.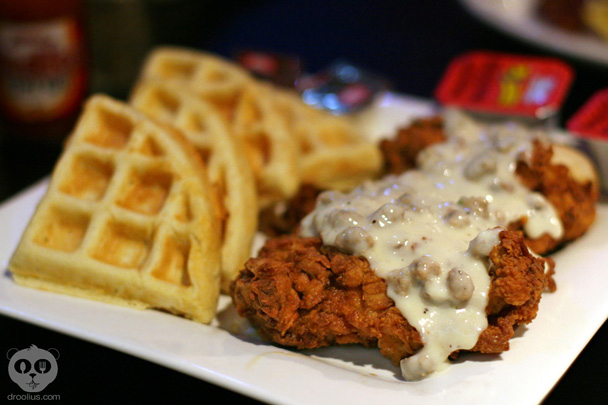 (click image to enlarge)
Bananas has a large menu with one side featuring lunch and dinner items and the other side being a breakfast menu. There are so many appetizing entree descriptions its really hard to choose just one. It seemed like everyone in our group wanted some type of breakfast item for their dinner.
(click image to enlarge)
Sweet Potato Fries, Onion Rings
These sides were ordered to accompany our meal. Both Sweet Potato Fries & Onion Rings are served in a large quantity and easily sharable. Sweet potato fries are dusted with cinnamon and sugar adding a twist to the normal salt on fries. Onion Rings have a super crispy exterior for a nice crunch.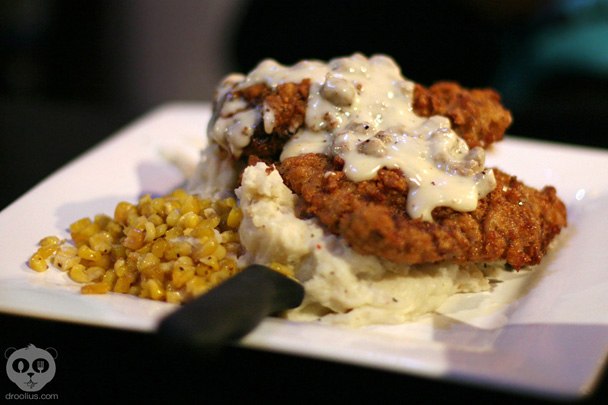 (click image to enlarge)
Country Fried Steak – mashed potatoes, country gravy, vegetable of the day
One of the many dishes on this extensive diner menu, the Country Fried Steak is a good sized portion. This side of the menu offered meatloaf, steak, ribs, burgers, wings, sandwiches, salads, soups, and more. The Ever Changing Mac-n-Cheese sounded very appealing and would have been my second choice if I did not have my mind set on chicken-n-waffles. The mac-n-cheese changes weekly with seasonal ingredients which this evening was with pulled pork. Next time I may try the mac-n-cheese and hopefully convince someone to share it as a side.
(click image to enlarge)
Stuffed French Toast – rice crispy coated, Texas toast, stuffed with strawberries, cream cheese
The description alone sounded so appetizing for the Stuffed French Toast. The breakfast menu featured classic items including omelettes, pancakes, waffles, and more. There was also unique variations of breakfast sandwiches and Eggs Benedict in 5 different styles: Traditional, Crab, Southwestern, Buffalo, California.
(click image to enlarge)
Chicken-n-Waffles – classic deep fried buttermilk chicken, Belgian wafle, country gravy
Bananas does a spectacular job at making their Chicken-n-Waffles. I can say this because I have eaten classic versions of chicken and waffles in the past at Gladys Knight's Chicken and Waffles in Atlanta and Roscoe's House of Chicken and Waffles in Los Angeles. Dining at these locations with a historical background in soul food, I'd like to think I have some experience eating good quality chicken and waffles. Bananas' version is a great variation to this unique classic. The chicken is moist and tender while the waffle is light and fluffy.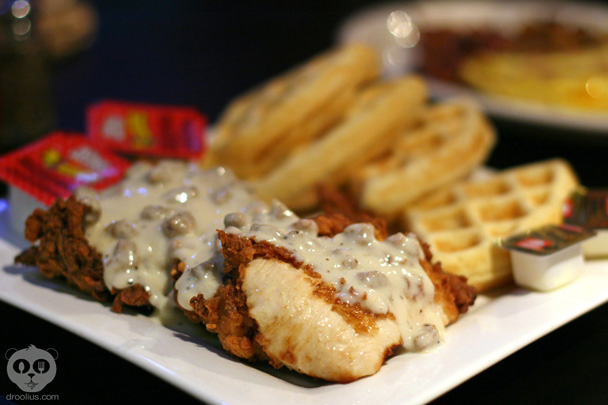 (click image to enlarge)
The chicken is a classic deep fried buttermilk chicken that is well seasoned with a nice crunch on the outside. It is one of the most moist pieces of chicken I have eaten and so flavorful. Its a tender chicken breast off the bone so you are able to cut straight through without any hassle. This is beneficial if you would like to have the chicken on top of the waffle and cut through in a single motion. It is different from most places where they classically serve this dish with chicken wings or dark meat on the bone. It's a major plus here at Bananas to serve it in their own unique way. The country gravy served on top of the chicken is a tasty sausage gravy full of savory flavor. This gravy alone can make everything taste great.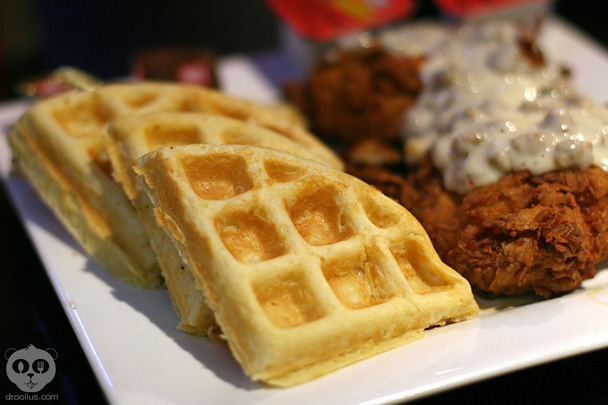 (click image to enlarge)
The waffle is a Belgian style that is great in taste and quality. The flavor goes really well with the fried chicken and gravy. The only thing I would like is for the waffle to maybe have a few extra seconds cooking so it can have a crispier browner exterior. Other than that, it was delicious with butter, syrup, chicken and gravy all combined together. Its savory, salty, sweet all in one enjoyable bite.
Bananas a Modern American Diner is definitely an enjoyable restaurant for diner classics made their own way. Open till midnight from Sunday to Thursday and 24 hours on Fridays and Saturdays, this diner is a destination for tasty quality food for all hours of the day. The restaurant may be busy at times with a line, especially on Sundays for Gospel Brunch, so reservations are recommended Sundays or with any large group. With a limited parking lot, street parking on North Mills Avenue is available. The Chicken-n-Waffles I highly recommend to try if you have never had it before.
Bananas a Modern American Diner
924 N Mills Ave
Orlando, FL 32803
407-480-2200
www.bananasdiner.com
Words and photos by Julius Mayo Jr.