Today's Photo of the Day Monday is the Italian Pressed Sandwich from Press 101 in Orlando, FL. My friend and International spokes model Lisa Fleming was in town on business last week and we were able to grab a quick lunch. The craving of that day was a good sandwich or salad place so I knew just the right place to go, although it has been a while since I visited Press 101.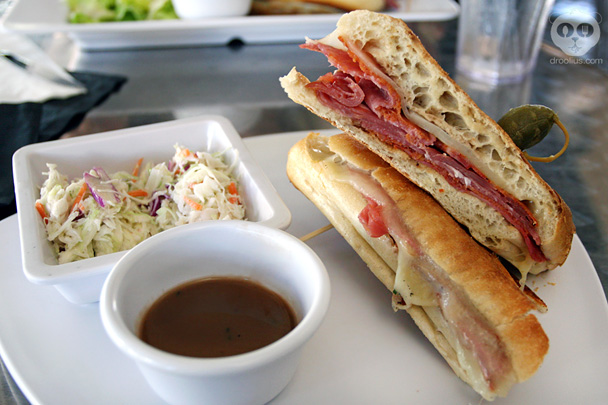 (click image to enlarge)
Italian Pressed Sandwich – Genoa salami, capicola, pepperoni, prosciutto, provolone cheese and balsamic vinaigrette on ciabatta bread.
Outdoor seating in the winter months is something uniquely available and comfortable in both Florida and California. Lisa being from Orange County, CA opted to sit outdoors and it is probably the only time of the year I like to sit outdoors for a meal. Press 101 is a great place to have lunch a la fresco on a cool Florida winter day. We both ordered warm pressed sandwiches which came with a side salad. She really enjoyed her Muffuletta and I really liked my Italian pressed sandwich. The quality Italian style deli meats with the provolone cheese had so much flavor and each bite was an enjoyable blend of salty and savory. The Italian is definitely a good pressed sandwich to try if you like a sandwich with ample flavor. The cole slaw was decent and made a fitting accompaniment. Balsamic vinaigrette was tangy but not necessary to use because the sandwich was good itself.
Press 101 Sandwich & Wine Bar offers a menu of warm pressed and cold sandwiches, soups, salads, flat breads and a few other plates and desserts. A variety of wines, beers, and bubbly delights are available along with a Happy Hour on weekdays. Notable features for this restaurant are free wi-fi after 2pm and a Euro Brunch on Saturday and Sunday. It's an enjoyable spot and decently priced with a great atmosphere for conversations, drinks and a nice meal.
Press 101
7600 Dr Phillips Blvd
Orlando, FL 32819
(407) 351-2101
www.press101.com
Words and photos by Julius Mayo Jr.