A little over a week ago, food bloggers and speakers from around the country gathered for the Food Blog Forum Orlando 2012, hosted at the Walt Disney World Resort. This was my second year to attend this conference. From last year going in and not knowing anyone in the food blogging community, to this year reuniting with familiar faces and making some new friends. The food blog community is a very supportive bunch, passionate about their craft, eager to help and learn from one another. The conference had the same affect as last year, rejuvenating myself with blogging, learning techniques, and networking with great people.
We were all over Disney that weekend, staying at the Polynesian Resort, attending an opening reception at the Grand Floridian Resort, the conference and evening dessert reception both at Epcot. I took many photos during the conference weekend and the following are the results. Keeping my words to a minimum (sort of), I will let the photos tell the story.
*Make sure to click all horizontal photos to see larger image with more details.
Opening Reception – Disney's Grand Floridian Resort & Spa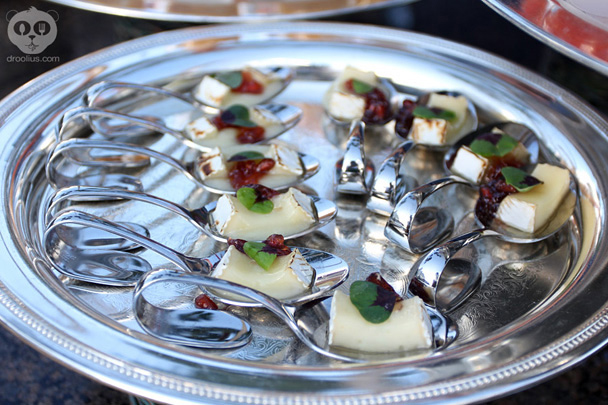 (click image to enlarge)
(click image to enlarge)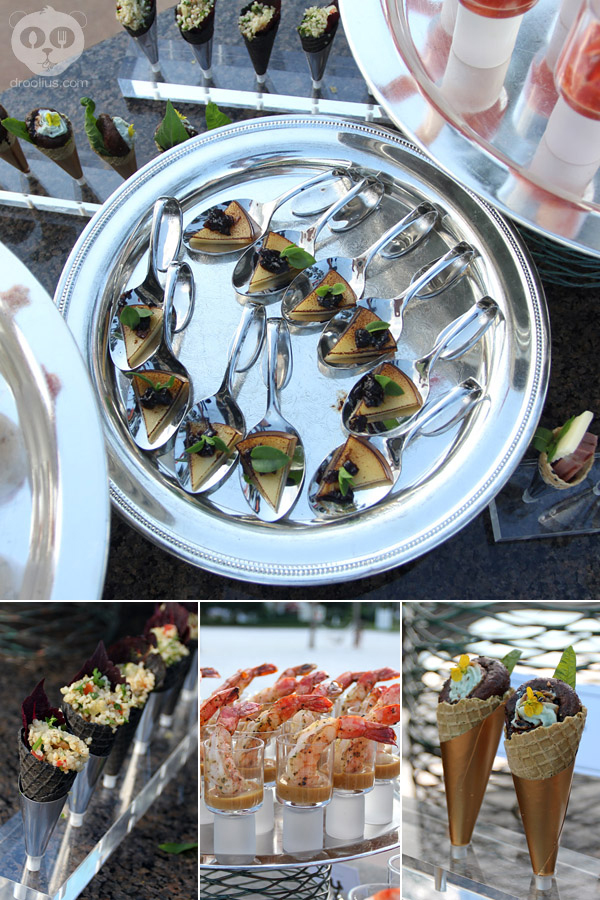 Antipasta Cones, assorted charred cheese paired w/ cool chutney's
Mac n Cheese bar – truffle mac and cheese complete with savory toppings of pancetta, braised boneless beef short ribs, lobster, caramelized shallots, and more.
I of course had my mac and cheese with pancetta and braised boneless beef short ribs, a savory and rich combination.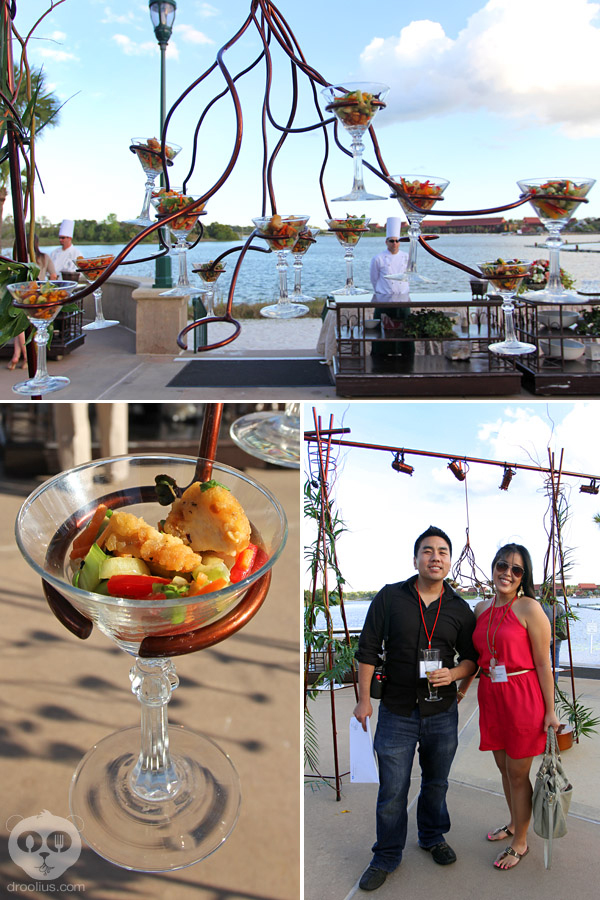 The Disney culinary team had creative ways of displaying its delightful food. Here are fellow Orlando bloggers Tasty Chomps and MegaYummo posing next to a creative food display.
(click image to enlarge)
Desserts were plentiful with a tower of macarons, cake pops, and more.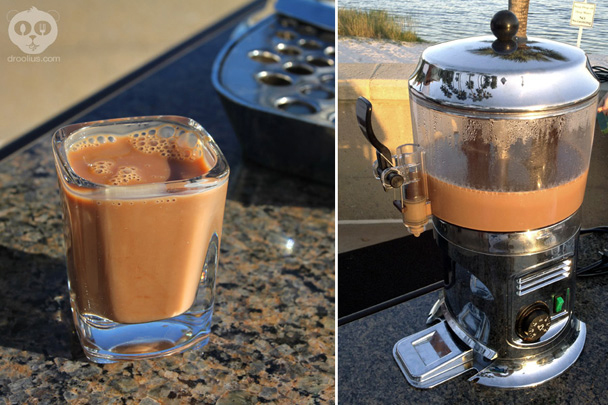 (click image to enlarge)
This self serve hot chocolate caramel drink machine was severely addictive for some reason. I'm not too much of a chocolate fan, but this had an amazing flavor to me. Buttery rich hot chocolate caramel served in shot glasses. After two shots, I went ahead and filled up a coffee mug (or two) and thinned it out with some coffee. Tasted like a toffee nut latte… I think this is why I was full when we went to dinner after.
The Grand Floridian Resort was an enjoyable opening reception and got the ball rolling with new introductions and reuniting with some of last year's attendees.
Food Blog Forum at Epcot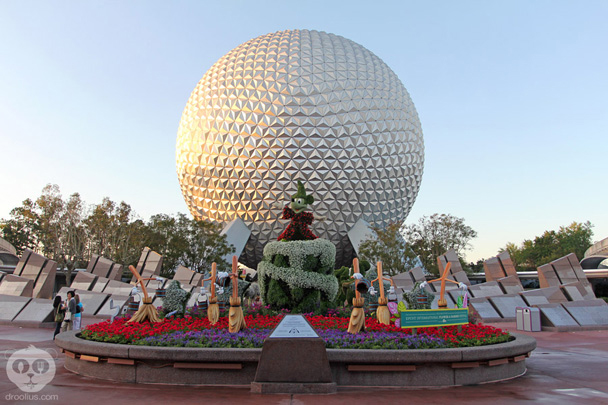 (click image to enlarge)
Arriving at Epcot before 8 am, a first for me, and ideal lighting for photos. It was also the Epcot International Flower & Garden Festival that weekend as well.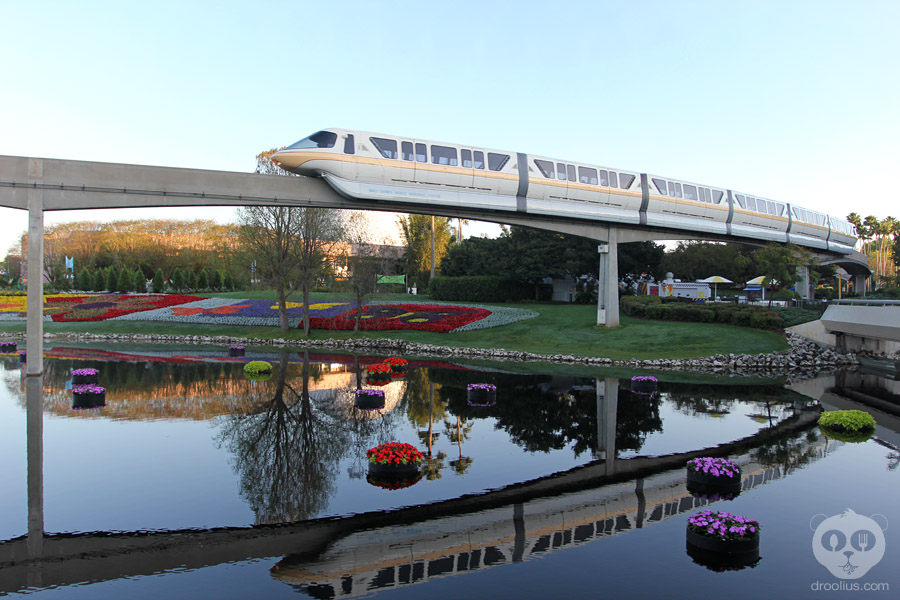 (click image to enlarge)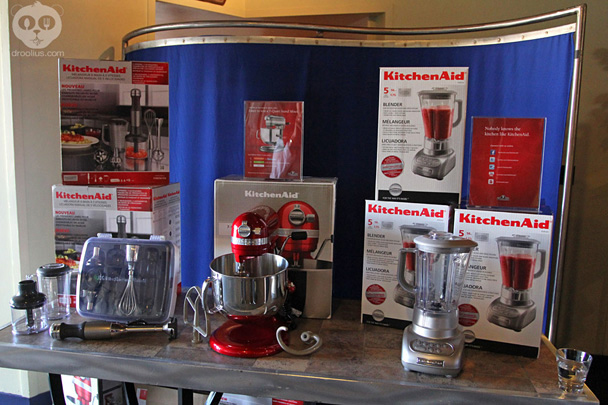 (click image to enlarge)
Walking in the doors we were greeted by a table of KitchenAid products. Stand mixer or blender anyone?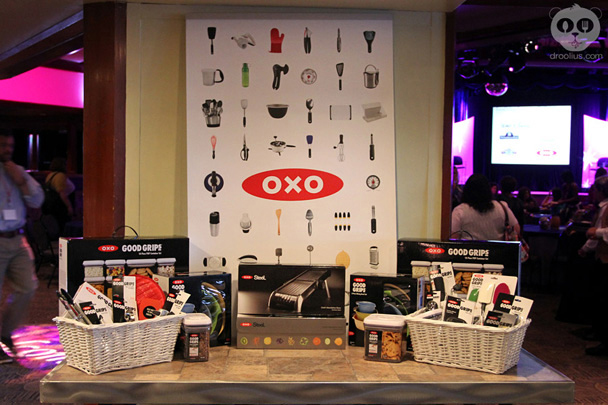 (click image to enlarge)
OXO had a table full of kitchen tools and essentials for giveaways.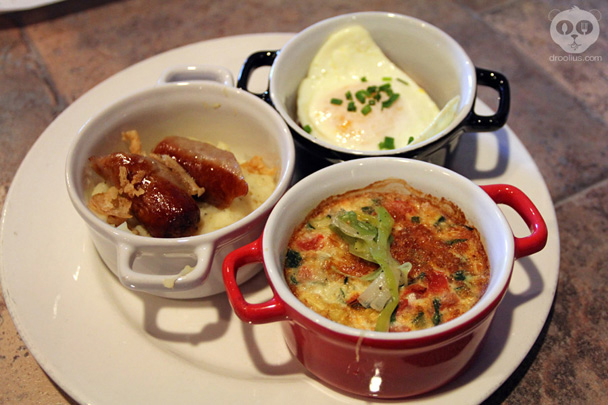 (click image to enlarge)
First we started with an Irish breakfast, it was St. Patrick's Day after all. Bangers & mash, Dubliner Cheddar Frittata, Boxty & eggs were a good start. There was a line up of Irish baked goods (not photographed) that was good as also.
(click image to enlarge)
Food Photography & Styling: Sharing your food story through your creative voice
The first session started with food photography with by Todd & Diane Porter of White on Rice Couple. They are very passionate about photography, food, and people. I learned many things from them and changed my outlook on food photography. Here's a few highlights from their session:
– Find your photography voice & style.
– Your Eyes are Your Lens, Your Heart is Your Shutter.
– Different lighting techniques cause emotion. Shadows add drama to photos and create a mood.
– Blogging is about story telling, capture images and tell your story.
– Styling techniques: start with one texture first, then add more if needed.
I really connected with them because I am a photographer first, then a blogger, but both go hand in hand in telling my food story.
Master of Ceremonies, Scott Hair (in green) continued to introduce each speaker and he also gave his Ultimate Success Formula. One notable tip: "Get specific with goals and get specific with what you want."
(click image to enlarge)
PRspectives: 
This session was with Jaden Hair of Steamy Kitchen, Rachel from KitchenAid, Arianna from OXO, and Thomas Smith from Disney, who discussed the use of social media, being authentic, and gave some valuable tips.
– Authenticity of blog posts and engagement with readers are what's important.
– It's about conversation, spreadable and snackable content.
– Treat your blog as a business and use a one pager as a pitch.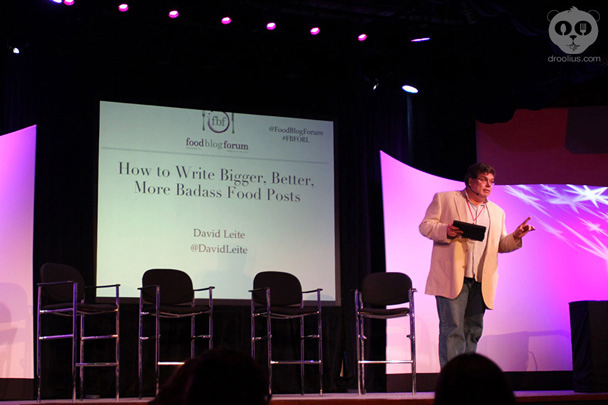 (click image to enlarge)
How to Write Bigger, Better, More Badass Food Posts:
Writer David Leite shared his 12 step writing program and emphasized "stop using delicious in your writing". He really touched on writing techniques I never thought about, and I will start implement them. A few highlights:
– Be something enough and consistent enough, you develop a voice.
– Think fiction, and write non-fiction. Don't just write the facts, think blog posts as fiction and start thinking in fiction.
– People who populate your posts are characters.
– The more specific, the more universal.
– Food memories give history.
– Think about the bigger picture and write 3 dimensionally.
Needless to say I learned a lot on how to improve my writing, will work on using these tips.
(click image to enlarge)
Taking blog to next level:
Dawn Viola gave us useful tips on using our blog in a professional way:
– Use blog posts as professional resume and treat them as professional assignments
– Find and develop your voice, your blog voice.
– Become an expert in something. What's your niche?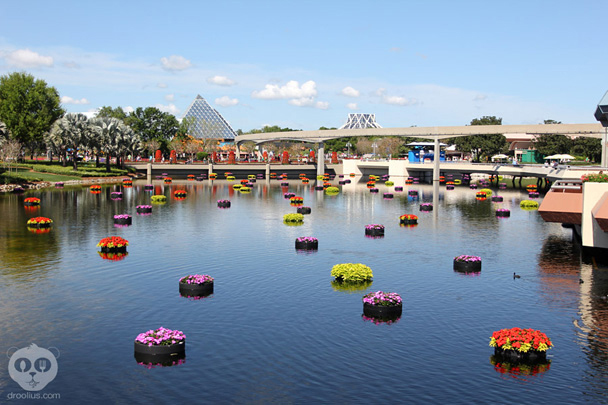 (click image to enlarge)
The walk to lunch at Epcot…
(click image to enlarge)
Food bloggers entering the lunch
(click image to enlarge)
Beautiful set up with colorful blue and purple hues throughout, including Chef stations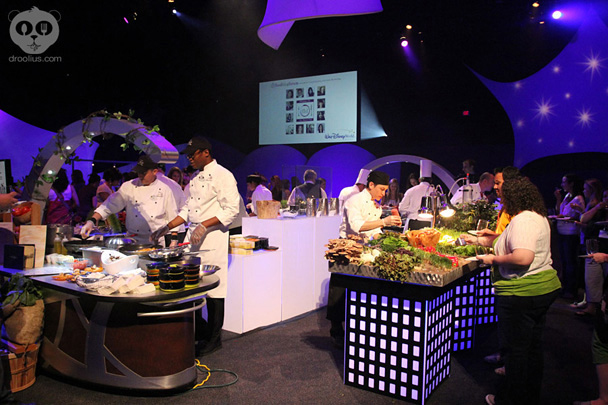 (click image to enlarge)
(click image to enlarge)
This was exciting to watch the chef make: Soda Float with Rotovap Extracted CO2-infused Vanilla Lemonade with Nitro Whipped, No Sugar Pomegranate Ice
(click image to enlarge)
The Beer Guerrilla getting served the Pork Tenderloin Slider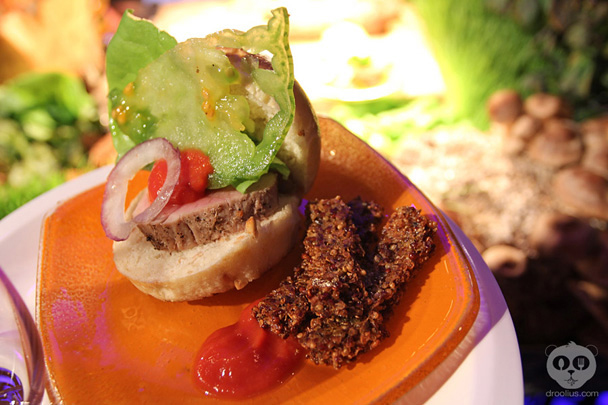 (click image to enlarge)
Slow-roasted Bourbon-induced Black Pig Heritage Pork Tenderloin Slider w/ Local Hydro Grown Greens and Heirloom Tomato on Golden Spelt Roll + Super Grain Fries w/ Himalayan Sea Salt.
This was a great tasting plate, loved the texture and crispiness of the "fries".
(click image to enlarge)
Disney's Animal Kingdom Lodge – Sanaa Vegetarian Sampler
Stewed Lentils, Spicy Cauliflower, Onions, Tomatoes, and Mint served with Basmati Rice, Pappadam, and an assortment of Sanaa Signature Dips and Spreads
Another plate I really enjoyed, the combination of spices really made this dish stand out. Also the chutneys (Sanaa Signature Dips and Spreads) I went back for a second round.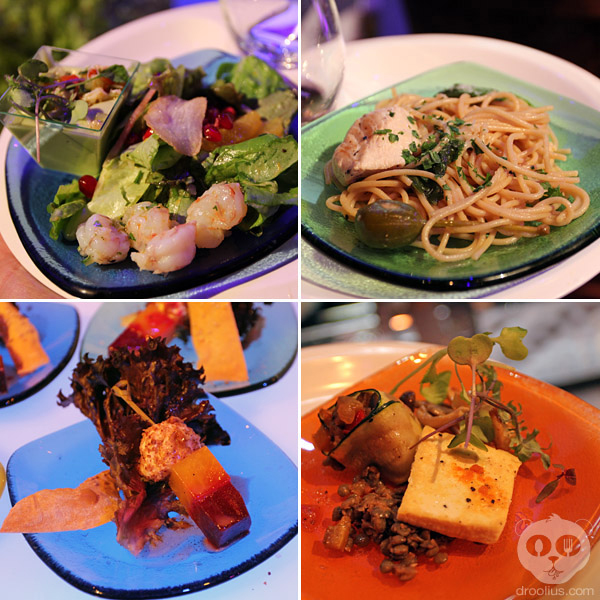 Various plates from the Disney culinary teams and chefs really showcased a range of techniques using quality ingredients. I would like to see similar dishes in all of the Disney World theme parks!
(click image to enlarge)
Skillful details on this Mickey Mouse themed cake.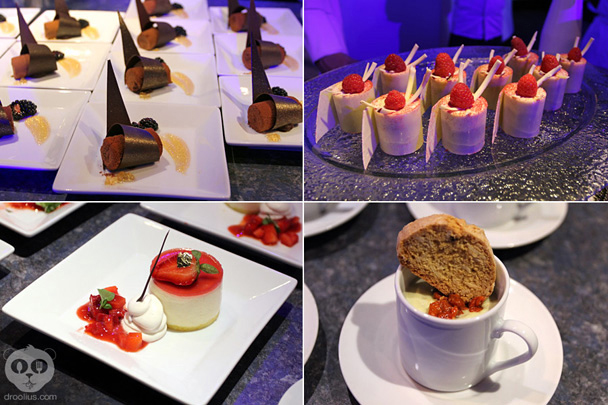 (click image to enlarge)
Desserts were creative, with good balance of flavors and sweetness.
(click image to enlarge)
Chocolate Ravioli with Cognac – This was an intense shot of Cognac inside a chocolate pillow!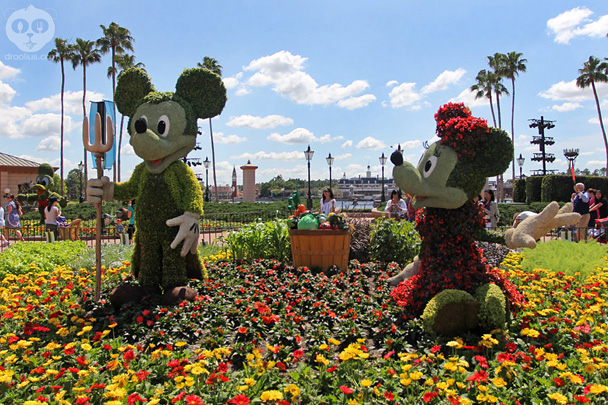 (click image to enlarge)
Experts Round Tables – focused sessions of interests
Highlights:
Pitch Therapy – Jaden Hair
– Treat your blog as a professional business.
– Know your worth, be comfortable and confident with your rate and number.
Basic Photo Editing and File Management – Todd Porter
– Lightroom manages files & used for editing. I definitely need to try this to increase edits & workflow!
Working with Brands – Rachel KitchenAid & Arianna OXO
– "Passion is the most important thing you need as a blogger"
– A brand working with a blogger must make sense and work well together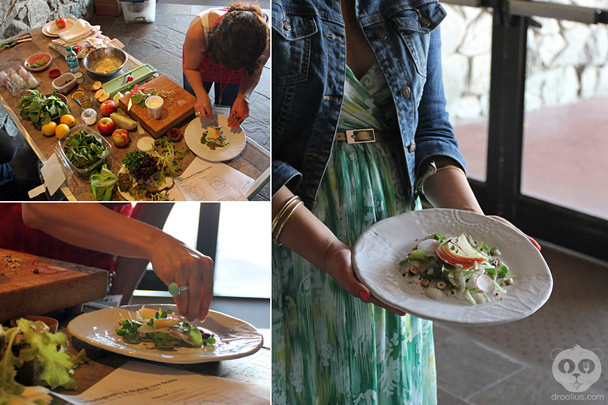 (click image to enlarge)
Photography & Styling Live Demonstration – Diane Cu & Aran Goyoaga:
This live styling and photography demo is what I really enjoyed. We watched as Aran styled the plate and Diane photographed it.
They chose blogger Pearleen from Megayummo to hold the styled plate, to draw colors from her dress into the photo.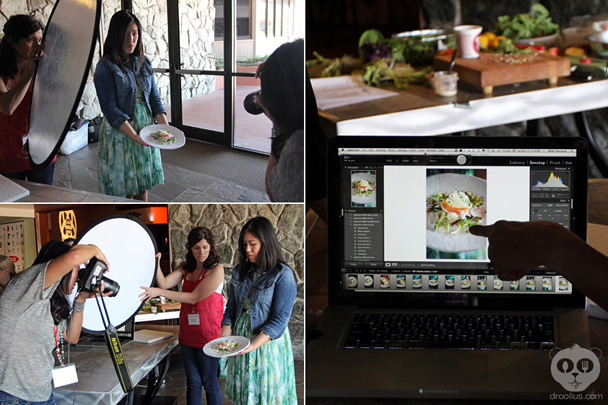 (click image to enlarge)
Our group observed as Aran & Diane discussed back and forth as a stylist and photographer to make minor adjustments to the plate to get the right shot. Photos were shot tethered to a laptop into Lightroom.
The Droolius final shot of the styled plate…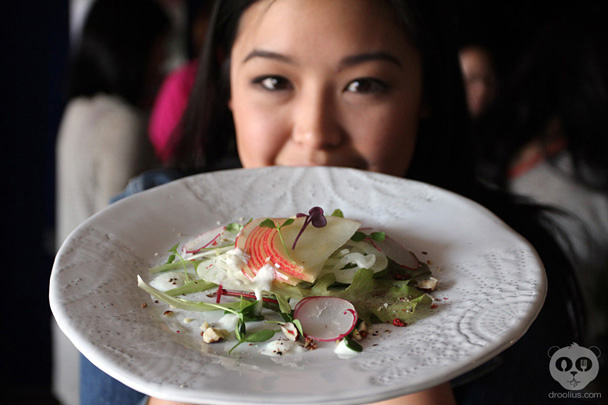 (click image to enlarge)
The signature Megayummo pose with the plate.
The Round Table sessions came to a close and the conference started to wrap up. Various KitchenAid, OXO and Le Creuset products were given away and the final big item was a KitchenAid appliance. Congrats to all of the winners!
I won this handheld blender in the giveaway! This was the one I wanted and I almost purchased it this past December. I'm glad I waited, THANKS KitchenAid!
(click image to enlarge)
The conference day came to a close and I joined a group of food bloggers and friends to have some beers to celebrate St. Patrick's Day. Myself, EatLocalOrlando, KokoCooks, KatiesCucina, BeerGuerrilla and significant others grabbed a beer, then wandered around Epcot. We then grabbed some Moroccan food for dinner, then hung out until the dessert reception.
The Dessert Reception had tables of Irish themed desserts and chocolates. The highlight for me was the dessert table featuring the Guinness beer ice cream with bacon brittle. Yes the bacon brittle was awesome, I snacked on these pieces throughout the fireworks show.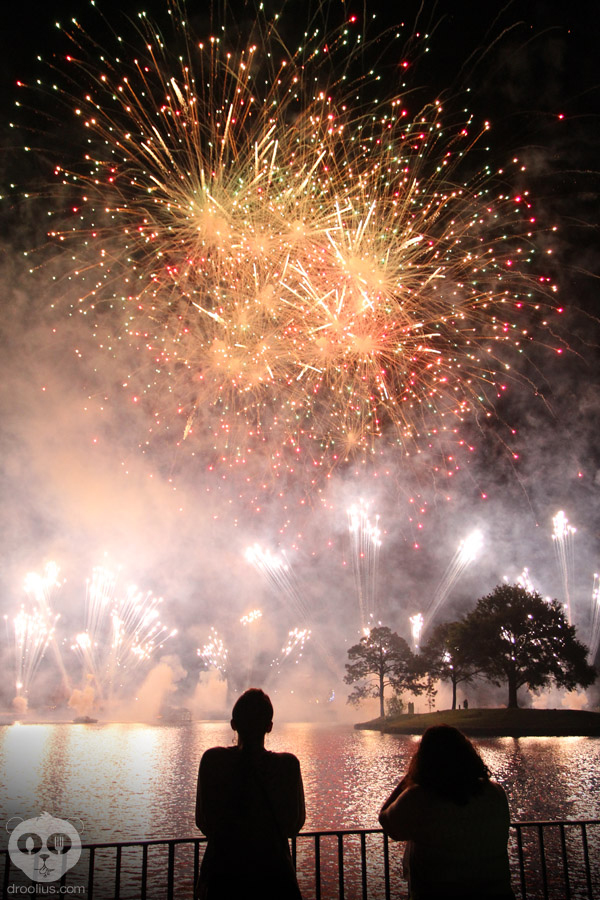 Epcot Illuminations – a great closer to the evening, this front row view was the closest I've seen this fireworks show.
(click image to enlarge)
I stayed in the park for a bit longer and on my way out I had an empty Epcot to photograph. I walked around snapping more photos and here's the final shot. Good night Epcot…
Brunch at Whole Foods Market, Phillips Crossing Orlando
The final event to the weekend was a brunch at Whole Foods Market. A few more giveaways and some time to enjoy with fellow food bloggers. There was a wonderful array of food provided by Whole Foods Market as always.
(click image to enlarge)
A few of the brunch items: Banana Stuffed French Toast, Quiche, Tofu Scrambler, Thompson Farms Sausage w/ sweet potato
(click image to enlarge)
Jaden saying a few last words and thanking everyone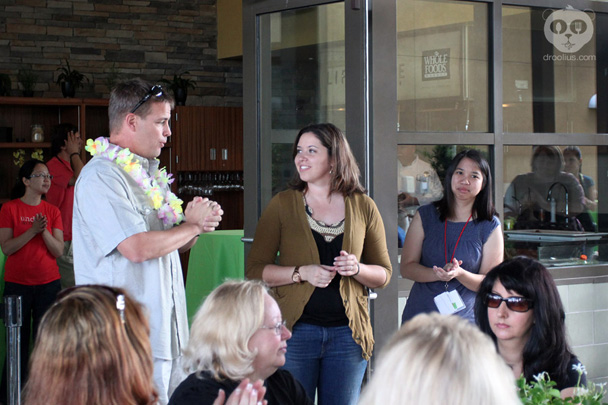 (click image to enlarge)
Scott Hair thanking Vicky from Whole Foods, Julie Deily, and the rest of the event coordinators.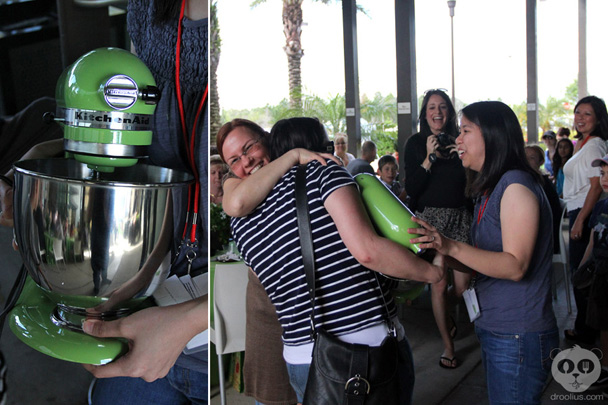 (click image to enlarge)
One more KitchenAid Stand Mixer giveaway, congrats!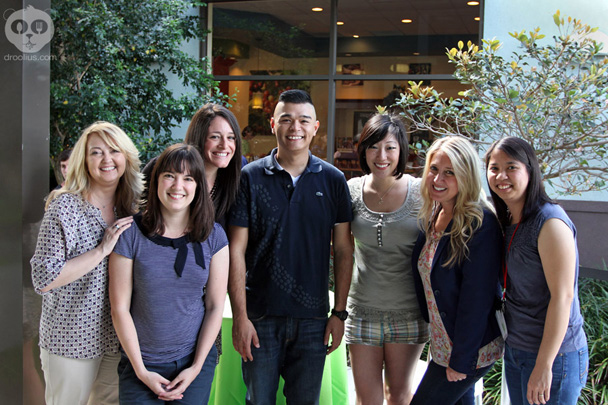 (click image to enlarge)
For brunch, I joined a table full of talented bloggers. We had fun conversations about cameras, lenses, and photography. Great talking and eating with you ladies. Angie Bakerella, Lindsay Love and Olive Oil, Rachel Fab Foodie Bites, Julie Table For Two Blog, Jenny Picky Palate, Julie The Little Kitchen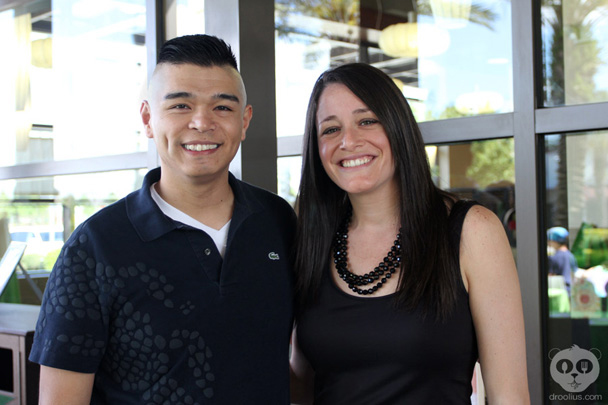 (click image to enlarge)
Rachel is not only a social media professional, but she's also a seasoned food blogger. Looking forward to going up to NYC and meeting up for Magnolia Bakery's banana pudding!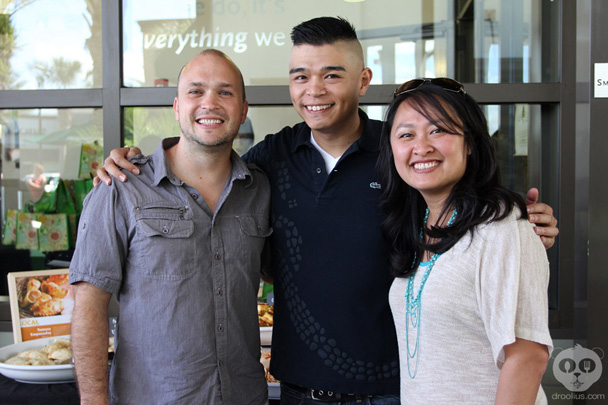 (click image to enlarge)
I had to get a photo with my fellow photographers, the White on Rice couple , Todd and Diane. Such a passionate team for photography and life in general. I look forward to visiting them in Southern California or seeing them at another conference in the near future.
So that's my recap for Food Blog Forum 2012, thanks for checking it out. The weekend was an excellent learning experience and I had a good time meeting and hanging out with everyone. It was also great to see more local Orlando food bloggers this year at the conference. Thanks to all of the Food Blog Forum sponsors, KitchenAid, OXO, Land O Lakes, Walt Disney World resort, Whole Foods Market, the event coordinators and to all of the speakers. See you next year!

Words and photos by Julius Mayo Jr.
Content and photos © Droolius.com 2012
Photographer's notes: All photos take with Canon 60D, Canon 17-40L F4