San Francisco is one of my favorite places to visit. Not only is it rich in the arts and culture, it is abundant in food culture with plenty of places to eat, which makes it one of the food meccas in the United States. Visiting San Francisco usually leads to dining at many local spots specialized in delicious local fare and also stopping by a few tourist locations for great food. One tourist area in particular is the Fisherman's Wharf and the Boudin Sourdough Bakery & Cafe is my favorite stop for Clam Chowder in a Sour Dough Bread Bowl.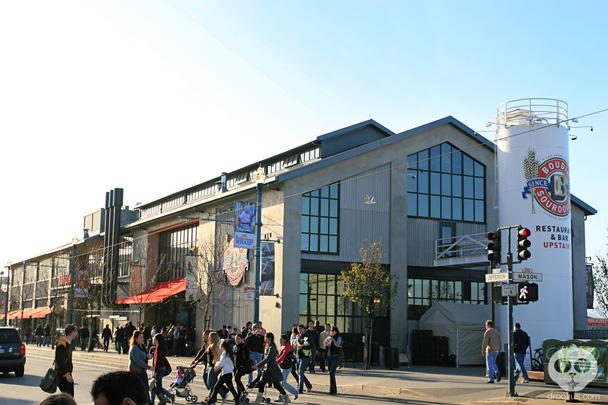 (click image to enlarge)
The touristy Fisherman's Wharf is located at Pier 39 and has some of the freshest seafood you can get. In this area filled with gift shops, tours, and attractions, you can sit down at nice restaurants overlooking the the Bay and Golden Gate bridge or you can just wander the food stalls for a quick bite to get all the seafood delights. Our stop here brings us to one place that has become my favorite clam chowder in a superb sour dough bread bowl at Boudin Sourdough Bakery & Cafe. It is the perfect pair of flavors and textures that make this a must stop in San Francisco.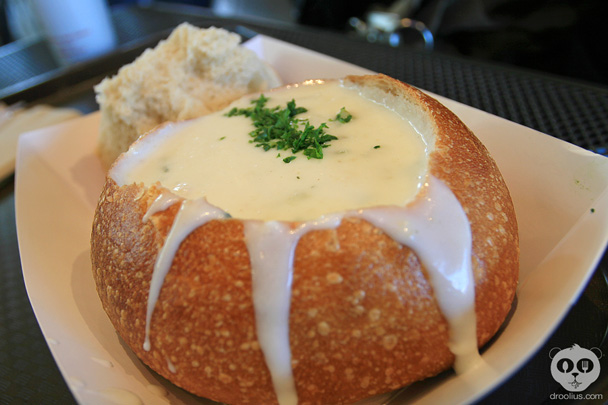 (click image to enlarge)
Boudin has the best clam chowder I've tasted thus far and it is definitely the best spot for clam chowder in the Fisherman's Wharf. I have had some other clam chowders in the area that were decent but this one in particular is amazing. Boudin's clam chowder is creamy and smooth in consistency with the right amount of clam flavor, with bits of clams and potato throughout the soup. Taste buds experience a great savory flavor that goes well with the soft doughy walls of the bread bowl and a crisp outside. Getting the chowder in the sour dough bread bowl is a must. The bread's soft inside is perfect for soaking all the flavor and the top piece is ideal for dipping into the chowder. The bread bowl itself is tasty, makes a nice snap when you tear it apart, and has that San Francisco sour dough flavor it is famous for.
(click image to enlarge)
Passer-byers can watch the bakers hard at work and they also playfully come up with some creative animal figures made of sour dough bread. It keeps the crowd entertained, snapping away photos, and eventually luring guests into the cafe for some delicious bread and food. The sour dough bread is constantly being baked and always fresh. The dough is said to be unique because of their "mother dough" which is unique to the area because of the wild yeast in the fog-cooled climate. They claim the dough imparts a flavor and texture unlike any other bread in the world and I must say it is one of the best sour dough breads I've had.
A definite place any visitor to San Francisco should stop by and experience, Boudin Bakery at Fisherman's Wharf is an excellent place to eat and the sour dough bread makes an enjoyable souvenir for family and friends back home.
160 Jefferson St
(between Mason St & Taylor St)
San Francisco, CA 94133
Fisherman's Wharf
(415) 928-1849
www.boudinbakery.com
Words and photos by Julius Mayo Jr.