The Orlando Foodspotting Eatup for July was held at Steak & Salad – Turkish Kitchen. The event was set for Saturday at 12 noon, so we could all take advantage of the available day light coming into the restaurant's windows to take photos. The available sun light was a good opportunity so foodspotters could take photos of the restaurant's visually appealing food and add to the visual food guide on Foodspotting.com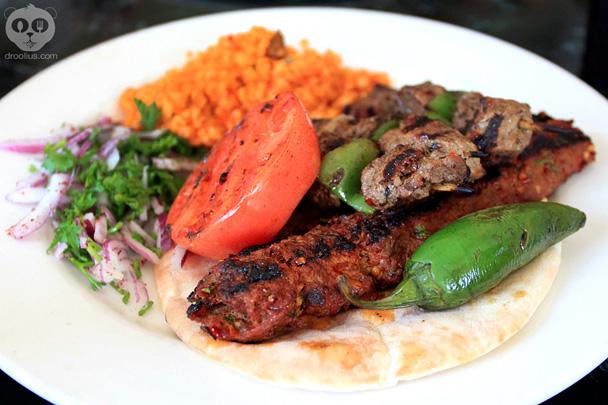 (click image to enlarge)
A sample of a colorful entree: Mixed & Match – Adana kebab and beef Shish kebab
The lively colors of the food are one reason I wanted to have the this month's FSEatup at Steak & Salad and another was to discover the range of flavors of Turkish cuisine, with its spices and ingredients. The group of foodspotters included foodies and food bloggers, who were all eager to order off the Turkish side of the menu and willing to share appetizers and sides. The restaurant does offer a steak and salad menu as well, but we came for the Turkish Kitchen side of the menu to explore the Turkish cuisine.
Appetizers and sides
The Turkish menu offered many appetizers, a few were ordered and some people shared and sampled. Each entree came with a "side" item which was a form of a salad or a dip with pita.
(click image to enlarge)
Yaprak Sarmasi (Stuffed Grape Leaves) grape leaves stuffed with rice and onions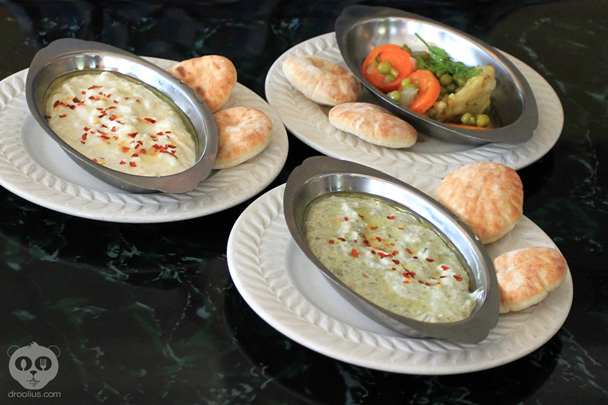 (click image to enlarge)
left: Patlican Ezme (Eggplant Dip Salad) grilled eggplant, garlic and yogurt
bottom: Ispanak Ezme (Spinach Dip Salad) chopped spinach, garlic and yogurt
top: Enginar Dolmasi (Stuffed Artichoke) Artichoke bottom stuffed with peas, carrots, and onon.



(click image to enlarge)
Blacked-Eyed Bean Salad (Piyaz -Borulce Salatasi)Bean, tomatoes, peppers, onions, celery, parsley, spices



(click image to enlarge)
Sigara Boregi (Borek) feta cheese and parsley stuffed pan fried pastry
This appetizer was really good. Light, flaky, and savory was the combination of warm creamy feta cheese in a crispy pastry shell.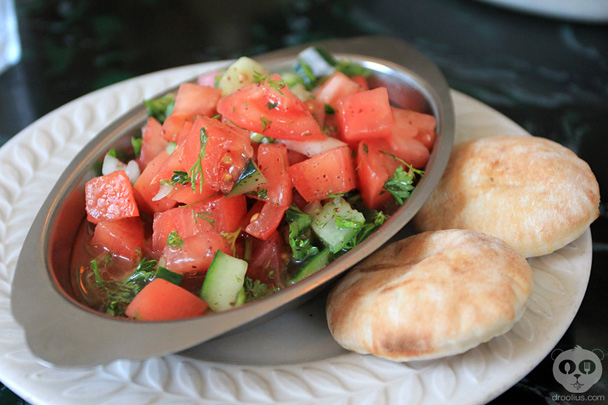 (click image to enlarge)
Shepard Salad (Coban Salatasi) cucumbers, tomatoes, green peppers, red/white onions, and parsley
This was the chosen side dish that came with our entree. The salad was cold, light, and refreshing.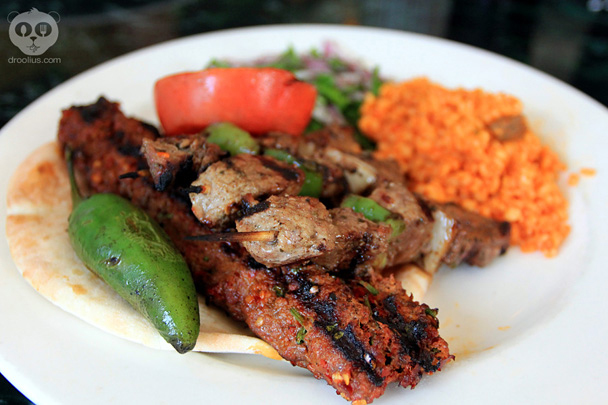 (click image to enlarge)
Entree: Mixed & Match – Adana kebab and beef Shish kebab
This was the entree I ordered, which was enough to share with my food partner OD. The beef kebab (grilled slices of steak on skewers) was tender, juicy, and had a nice blend of spices. The Adana kebab was spicy and very flavorful from the Turkish blend of spices. The texture was almost of a moist meatball, not dense but light, and easy to cut through. Many people of our table ordered the Adana and we all definitely enjoyed the heat and spices of the meat. The Mixed & Match also came with a warm grilled tomato, bulgur pilav (rice), onions & parsley in vinaigrette which were all great accompaniments. The grilled green pepper, maybe a jalepeño, set my mouth on fire and may have been too much for this entree.



(click image to enlarge)
Dessert Sample Plate – Cheese Cake slice, Chocolate Cake slice, Baklava, Kadayıf
This plate showcased the dessert options they had. I think everything was ordered by our group, except the chocolate cake surprisingly.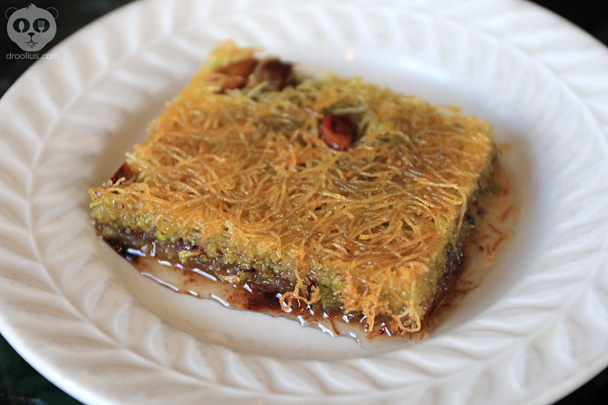 (click image to enlarge)
Kadayıf – shredded filo with chopped nuts, in syrup. (similar to baklava)
This dessert was full of crunch and texture. The shredded filo was enjoyable to break thru with a fork and overall it tasted similar to baklava.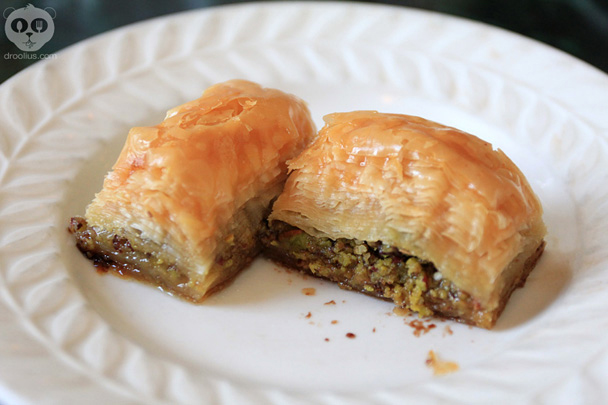 (click image to enlarge)
Baklava – sweet pastry with layers of filo pastry filled with chopped nuts and syrup
The baklava had a good crisp texture with the right amount of sweet. The order came with two small pieces, which was hard not to eat in one bite.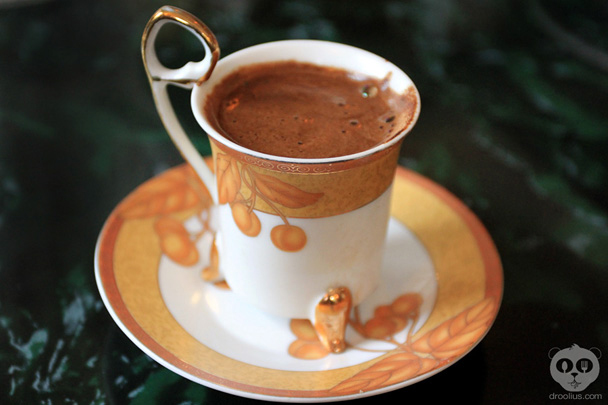 (click image to enlarge)
Turkish Coffee
This was some strong coffee and it was a really good pairing with the Turkish desserts Kadayıf and Baklava.
The coffee is prepared by boiling finely powered coffee beans in a pot, with sugar optional. It's poured into a cup, then the fine coffee grains settle on the bottom. You drink the coffee until you start to see the grains and make sure not to drink the bottom. I really enjoy Turkish coffee and its hard not to drink until the bottom, but you will know when to stop.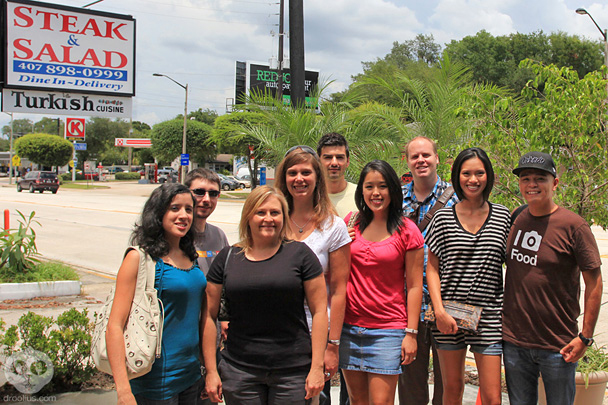 (click image to enlarge)
Group shot at the end of the Eat-Up. Welcome @TheBuzzByBrian to first Eat-Up event and shout outs to fellow food bloggers and their crew @MegaYummo, @mismamari, and @EatLocalOrlando.
This Foodspotting Eatup was a fun time of tasting and discovering Turkish cuisine. The server, along with the owner, took good care of us and were very hospitable. This day time Eatup was a good opportunity to take food photos, which many of us took with camera phones, point and shoot cameras and DSLR cameras. Be on the look out for the photos on Foodspotting.com and make sure to keep up with info for next month's August Eat-Up on Twitter with @Droolius and hashtag #FSEatup for dates, locations, and times.
Steak & Salad – Turkish Kitchen
1326 N Mills Ave
Orlando, FL 32803
(407) 898-0999
www.steakandsaladorlando.com

Foodspotting
www.foodspotting.com
Follow @Foodspotting www.twitter.com/foodspotting
Words and photos by Julius Mayo Jr.
Content and photos © Droolius.com 2011