Food Pod events are the quickest growing trend in Orlando dining. Every Wednesday at Firestone Live in the rear parking lot has been successful and people are regularly attending the Food Pod for dinner.

(click image to enlarge)
Here's a few photos from Food Pod #3 on April 20th. The food trucks are always creating new dishes on the fly and you never know what specials they will have next…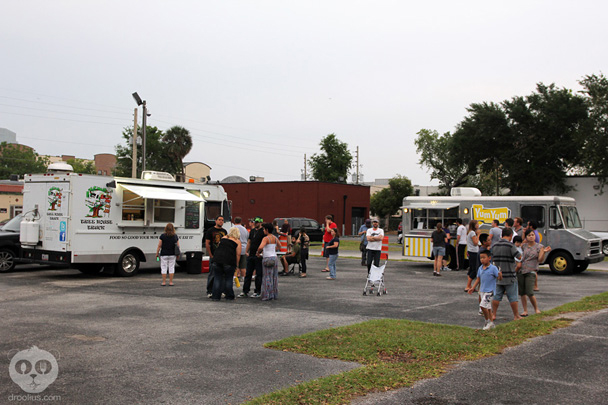 (click image to enlarge)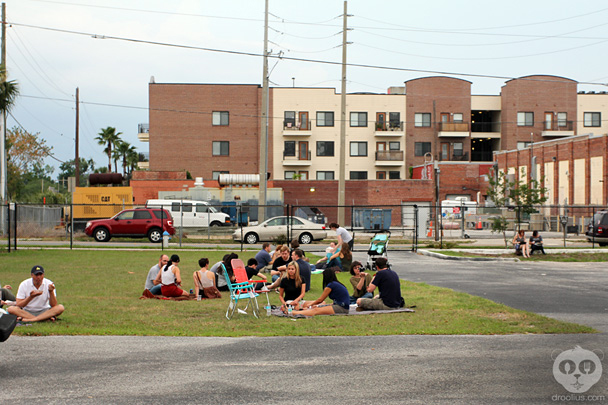 (click image to enlarge)
People are enjoying the grassy area to sit and eat. This is really nice to have at the Food Pod.
(click image to enlarge)
Treehouse Burger – Two 5 oz. beef patties with 16 spice house blend, cheese, sauteed onions, mushrooms, ketchup, mustard, mayo, fresh arugula.
This monster of the burger will definitely fill you up and make your stomach happy. The burger is so tasty because of the spice blend.
(click image to enlarge)
Red Eye BBQ
The Doophin – A Texas Toast grilled cheese w/ hot dog, brisket, onion rings
I watched this custom order come out and HAD to take a photo.
The customer @TheDoofin who created it says: "Imagine, if you will, you are about to experience an epic meal. At first you get a taste of perfectly buttered and toasty bread, followed by a rush of gooey cheese. Next is the the smoky, savory flavor of tender brisket mixed with onion rings in all their crunchy and sweet goodness. Last but not least, you get the saltiness of a grilled hot dog. And in one singular moment these flavors all combine into grilled cheese perfection. Now quit imagining and go to Red Eye BBQ Truck and order up The Doofin. Finally, your life will be complete."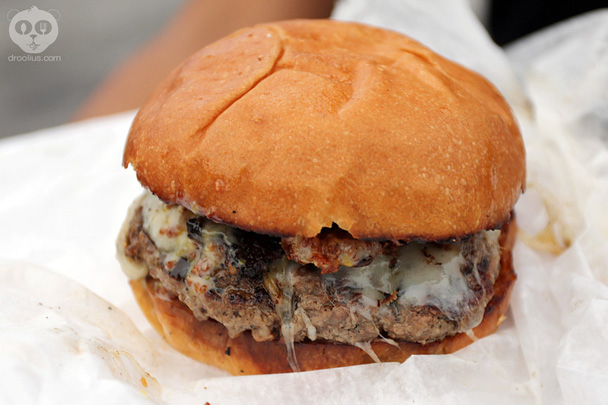 (click image to enlarge)
The Crooked Spoon
'420 burger' – candied spicy bacon, honey whole grain mustard, fried onion ring, pineapple relish, swiss cheese
This was a hit this night. I tasted it and have to agree, it was awesome.
(click image to enlarge)
Korean BBQ Taco Box
Spicy Pork taco box
Always a popular stop is the Korean BBQ Taco Box truck. Here is a box meal with sides. Try the spicy pork taco, one of my favorites here.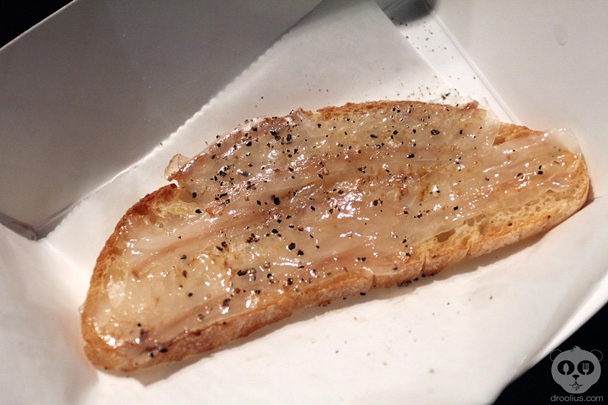 (click image to enlarge)
Big Wheel Truck
Smoked Lardo Toast
This basically was like butter on toast. There is a technical process of how the Lardo is made, in short its pork fat that Big Wheel Truck has worked their magic on and it is delicious. If someone really wants to know, I can do a follow up. Leave a comment below…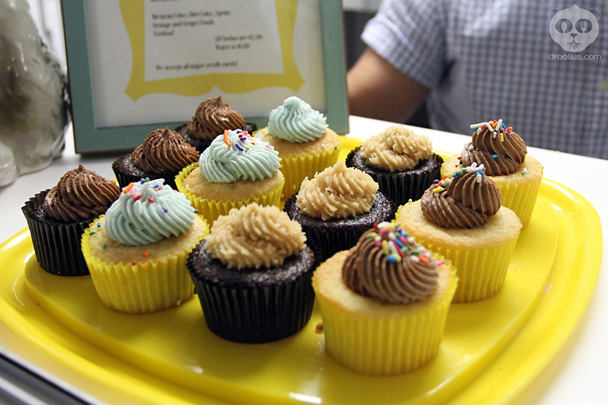 (click image to enlarge)
The Yum Yum Cupcake Truck
The Yum Yum Cupcake truck has yummy cupcakes which usually sells out each week. Get there early and grab a few!
Check out the Food Pod every Wednesday at the rear parking lot of Firestone Live!


Food Pod
Starts at 6pm until 10pm (approx)
Firestone Live rear parking lot on West Concord Street
Firestone Live is located at 578 North Orange Avenue, Orlando, FL (corner of N. Orange Ave & W. Concord St. in downtown Orlando)


Words and photos by Julius Mayo Jr.
Content and photos © Droolius.com 2011


More posts on Food Pod events:
First Food Pod, A Success – Event Recap
Food Pod! Six trucks, one location – April 6th Orlando, FL
Food Pod Wednesdays – Week 2 – Event Recap

Follow the Food Trucks on Twitter
Big Wheel Truck – http://twitter.com/BigWheelTruck
The Crooked Spoon – http://twitter.com//TheCrookedSpn
Korean bbq Taco Box – http://twitter.com/koreanbbq_2011
Red Eye BBQ – http://twitter.com/Redeyebbq
Treehouse Truck – http://twitter.com/TREEHOUSETRUCK
The Yum Yum Cupcake Truck – http://twitter.com/yumyumtruck_fl