Last weekend I was out and about fairly early on a Saturday morning and I wanted some type of Brunch meal. I remember my friends recommending a place after I posted a photo of a Croque Madame on Facebook. I went to Croissant Gourmet Bakery in Winter Park, FL to give their Croque Madame a try.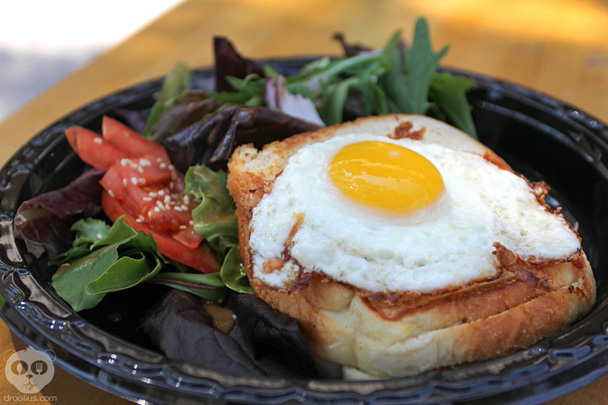 (click image to enlarge)
Croque Madame – grilled ham and cheese sandwich topped with egg
The Croque Madame is a distant cousin to the Croque Monsieur, a warm ham and cheese sandwich which is grilled. The Croque Madame is basically the same sandwich with an added poached or fried egg on top. The cheese used is not just any cheese, it is usually gruyère or some type of commonly used cheese in French cooking. This all sounds so simple, but it tastes so good. The Croque Madame here has a really good developed flavor and I think there may be a Béchamel sauce (one of the mother sauces of French cuisine) incorporated because there has to be something besides ham and cheese in there. Regardless if Croissant Gourmet Bakery's Croque Madam has a sauce or not, this is a great tasting meal for any time of the day.
(click image to enlarge)
Croque Madame
The inside of the sandwich after a few pieces have been cut away. The egg yolk just oozes over and adds to each bite. The side salad that accompanies it has a light dressing and cuts away from the richness of the sandwich. I'm having a tough time calling it a grilled sandwich because it is so much more. It is a brunch item and a treat.
(click image to enlarge)
The Croissant Gourmet Bakery has made me smile and satisfy my brunch craving. This restaurant and bakery is known for their pastries and that is something I will have to come back for and try. Their menu offers cold and hot sandwiches, specialty items like Quiche Lorraine (another one I want to try), salad, croissants, and a list of pasties. The pasties all looked beautiful and I will be back to take photos, eat some pasties, and of course order another Croque Madame.
Croissant Gourmet Bakery
120 East Morse Boulevard
Winter Park, FL 32789-3819
(407) 622-7753
www.croissantgourmet.com
Words and photos by Julius Mayo Jr.
All content and photos © Droolius.com 2011