At the beginning of May, the first ever Foodspotting Eat-up in Orlando took place at Hawkers Asian Street Fare. A great setting for food, conversation, and fun as a group of Foodspotters gathered to taste bite size plates of Asian cuisine, while taking numerous photos of food.
(click image to enlarge)
If you are not familiar with Food Spotting, check out our previous post [HERE]. It is a fun and very useful iPhone & Android (Blackberry soon) phone app that let's you share your food photos from restaurants and serves as a visual guide to food. Looking for something new to eat? Check out Foodspotting.com to see all the food photos from around the world and try the app, you will find many types of food at your current location.
(click image to enlarge)
The first Foodspotting event itself was fun and successful. A group of foodies, family and food bloggers came out to this first time event. Some already used the Foodspotting app and some were new to it. By the end we were all taking photos and I think we are all users now. Fellow food bloggers @mismamari and @MegaYummo came out with cameras in hand as well to capture this event.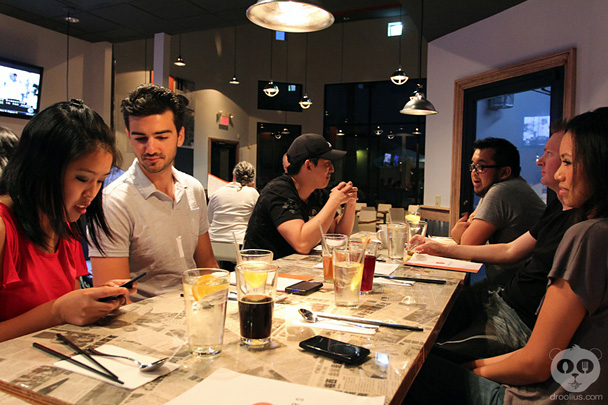 (click image to enlarge)
Food blogger @MegaYummo fires up the app on her phone and gives it a try…
Great part of the Eat-up is not only the fun conversations, but the food! Here's more photos from the event…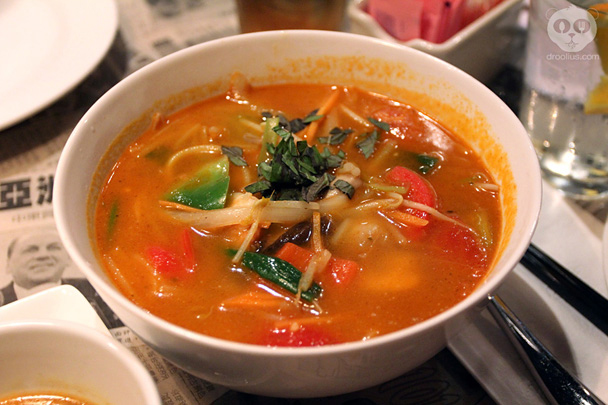 (click image to enlarge)
Tom Yum – Rice noodle soup w/ shrimp, veggies, in a spicy lemongrass broth, topped with basil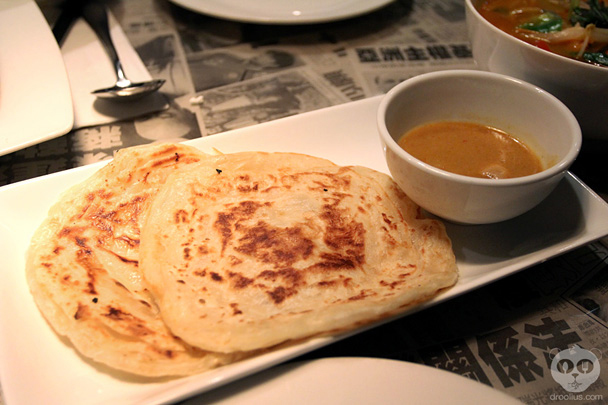 (click image to enlarge)
Roti Canai – Malaysian flat bread w/ side of signature spicy curry dipping sauce
Again, this is one of my favorites here and everyone should try it.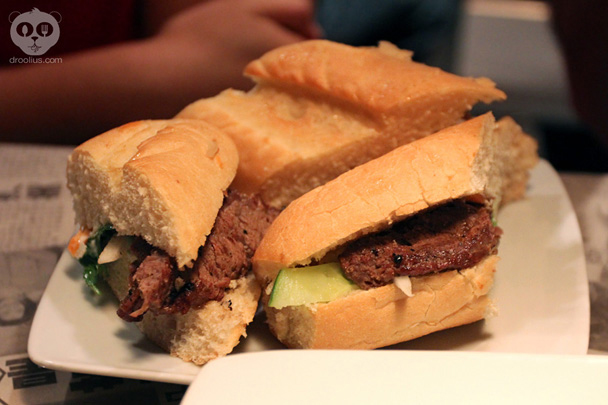 (click image to enlarge)
Korean Bulgogi Beef Banh Mi Sliders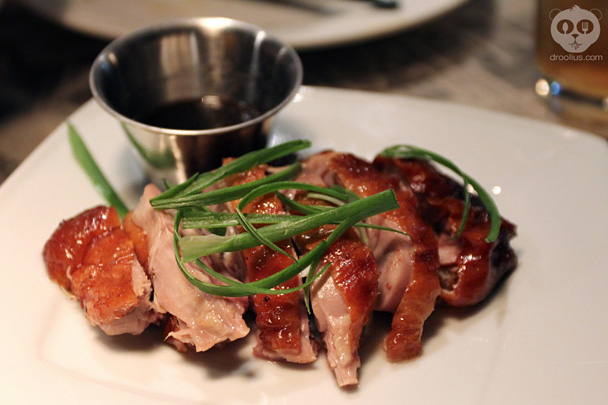 (click image to enlarge)
Roast Duck
The roast duck was good and had an awesome sauce to compliment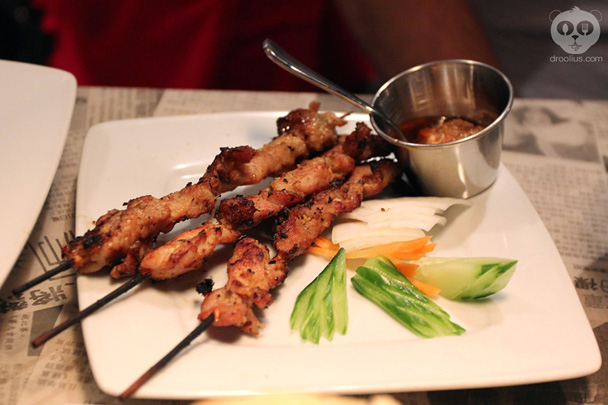 (click image to enlarge)
Grilled Hawkers Skewers
someone ordered these, not sure which skewers they were but Hawkers has 4 types

(click image to enlarge)
An overall shot of the food. We all pretty much shared and sampled all the dishes, making sure to take photos before we dug in…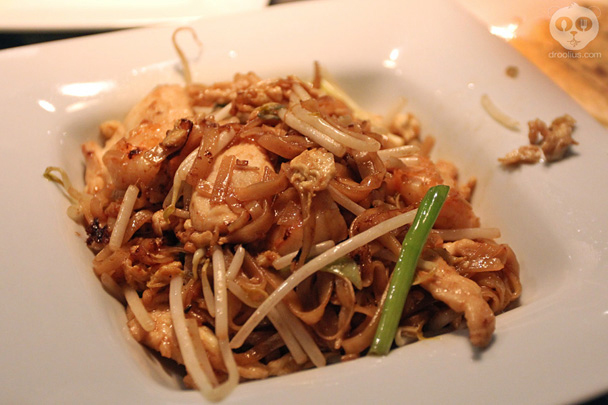 (click image to enlarge)
Char Kway Teo – wild rice noodle stir fry w/ shrimp, chicken breast, & shallots
I really like this dish, the shrimp were sautéed lightly and noodles were a good texture. I'm a fan of the spice of the dish, good amount of heat and has a smokey flavor overall.

(click image to enlarge)
Asian Fried Green Beans – green beans lightly battered and fried, tossed in signature 5 spice seasoning
These were really good and I could have probably eaten 2 plates myself

(click image to enlarge)
Five Spice Tofu – tofu lightly battered and flash fried, tossed in signature five spice seasoning
Light and crispy on the outside, warm and tender inside. These were fun to eat and the five spice seasoning added great flavor

(click image to enlarge)
Crispy Roast Pork "Siu Yoke" – season pork roasted to a crisp, served with hoisin dipping sauce
Love the crunchy skin part on roast pork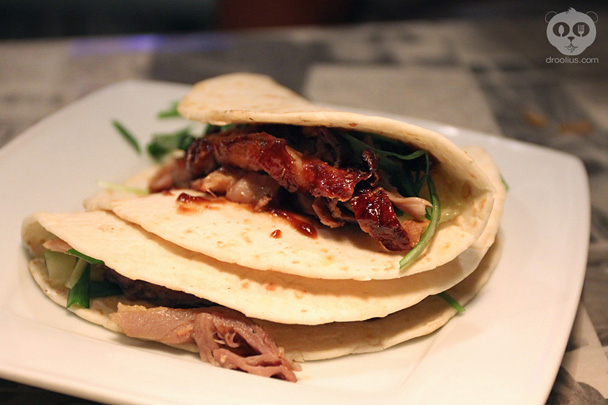 (click image to enlarge)
Hawkers' Tacos – Roast Duck – East meets West, a taco with an Asian twist
I really enjoyed these and the tortilla used compliments the duck flavor well. Almost like a classic roast duck served in steamed (chinese) pancakes.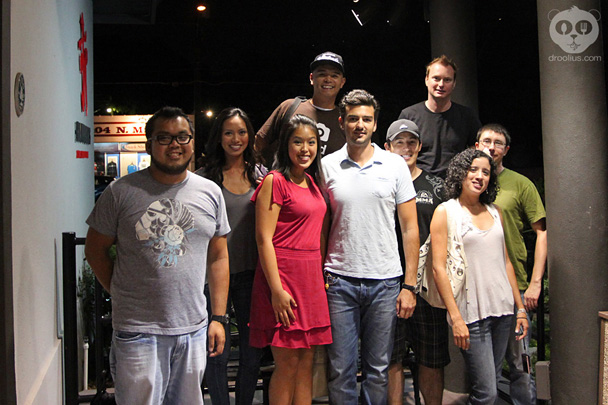 (click image to enlarge)
A group shot of us who were all happy to share a tasty meal together. The @HawkersFare staff was very accommodating and we all enjoyed the food coming out of the kitchen. At the end of the evening, our bellies were filled and Orlando's First ever Foodspotting Eat-Up came to a close. I think we are all looking forward to doing this monthly Eat-Up and will be using the Foodspotting app to share our awesome food photos. Thanks to everyone who came out, and thank you to my all time Food Partner OD for always helping me out with events.
Check out upcoming events for Orlando Foodspotting group at http://www.meetup.com/Foodspotting/Orlando-FL/
Thanks to @Foodspotting for having such an awesome app and letting everyone world wide share the love of food! Looking forward to doing an Eat-Up again next month!
*Bonus photos from Foodspotter @mikochu – Thanks man!
(click image to enlarge)
I'm digging into a dish while cameras are snapping away…
(click image to enlarge)
That's me in the Foodspotting shirt (thanks FS team!) pointing at the Crispy Roast Pork probably saying, "I used to help roast pigs on an open fire when I was a kid…"
Foodspotting
www.foodspotting.com
Follow @Foodspotting www.twitter.com/foodspotting
Hawkers Asian Street Fare
1103 Mills Ave.
Orlando, FL 32803
Follow @hawkersfare www.twitter.com/hawkersfare
Follow and tweet @Droolius www.twitter.com/droolius
Words and photos by Julius Mayo Jr.
Content and photos © Droolius.com 2011