One of my favorite times of the year starts in less than a month. The weather tends to cool down in Orlando, but more importantly its a time for food, drinks, and fun at The 15th Annual Epcot International Food and Wine Festival. From October 1 – November 14, 2010 the Epcot theme park at the Walt Disney World Resort will be "Celebrating 15 Years of Delicious Discoveries".
Basically a celebration of food, wine, and much more. Admission into the park gets you into the action to check out the International Marketplace of food and beverages. There are 24 countries represented in kiosks around Epcot's World Showcase and each one sells appetizer portion sized food samples ranging from $3-$7. Beverages including wine, beer, and non-alcoholic drinks are available to sample and vary in price. Its a great way to sample flavors from different parts of the world and discover them all in one day.
There is even more besides sampling all the great food and beverages at the International Marketplace. The "Eat to the Beat Concert Series" is also included at the park with musical performances by artists of various genres such as Kool & The Gang, Boyz II Men, Sister Hazel, and many other performers. Appearances by t.v. personalities and celebrity chefs are common thru out various events during the festival. Also offered are dining experiences, tasting events, seminars, food & wine pairings, cheese and wine schools at additional pricing. If you love food, wine, and beer then this event is for you.
This is only a brief introduction presented here of what the Annual Epcot International Food and Wine Festival has to offer. For more detailed information and prices visit:
http://www.wdwinfo.com/wdwinfo/guides/epcot/events/
Droolius' Top 10 Food of 2009
I've been to the Food and Wine festival a total of 5 times in the past few years. The selection in wine and beer is a good change from year to year, offering what's best in that particular year or season. I've only seen improvements in the food with a good variation and mix in different countries being represented. In the future can someone set up a kiosk for the Philippines please! Adobo and San Miguel beer pair well together 🙂
I went twice in 2009 and got a pretty good idea what stood out from the rest. Those that have been to this event before may be surprised by what made number one, but it was hands down the best one for me. You'll just have to go this year and figure out what your favorites are. Check out the following food images and descriptions, they are all great so try them and lets hear your feedback…
(click image to enlarge)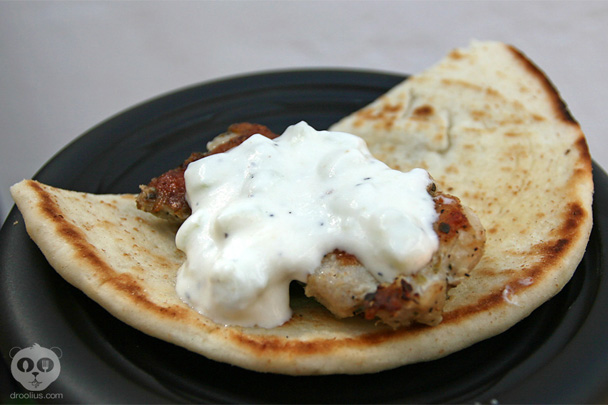 10. Greece – Chicken Souvlaki with Tzatziki
The Chicken Souvlaki was a good tasting sample sized item that had a good punch of flavor with tasty spices. The Tzatziki sauce was cool and had a good consistency, not too thick or runny, and complimented the chicken well. All tied together with a warm pita and it was a hit.
(click image to enlarge)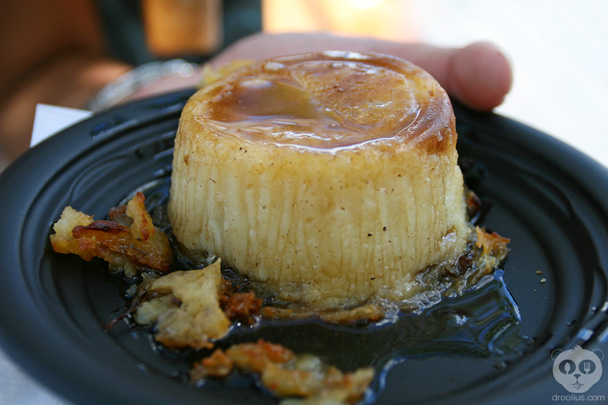 9. France – Braised short ribs in Cabernet sauce with mashed potatoes
When I got this sampling item I was confused because I wondered where the braised short rib was. You break through the mashed potato and the short rib is inside. A unique way to serve this dish and it tasted good. The Cabernet sauce was nice and flavorful too.
(click image to enlarge)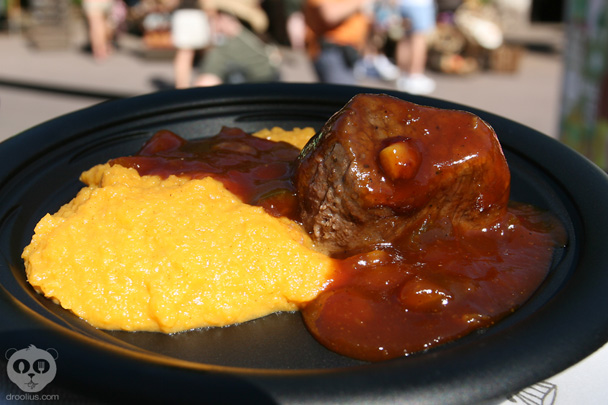 8. South Africa – Seared beef tenderloin with sweet potato puree & mango bbq sauce
This was a great combination of flavors and textures. The beef, mango sauce and sweet potato puree all worked well with each other and combined into an unexpected delightful experience. Its a dish where you are surprised how the flavors meld well together and create cohesiveness.
(click image to enlarge)

7. Chile – Corn and Cheese Arepa
An arepa is one of those items that is really easy to eat and just tastes good. We went back a few times each day and I'm sad to see that its not on this year's 2010 menu. Its a basic corn pancake topped with cheese. Maybe I just like cheese on anything, but it had a nice crust and grilled corn flavor.
(click image to enlarge)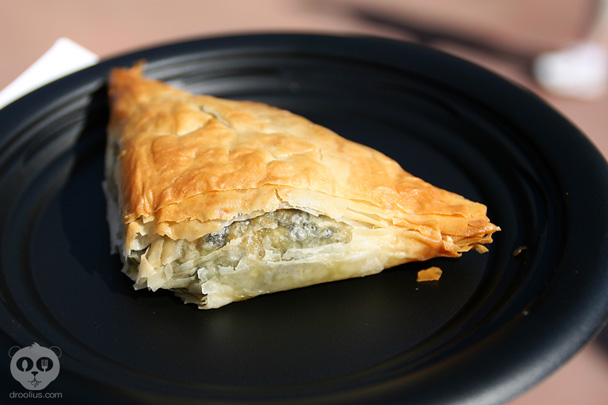 6. Greece – Spanakopita
Spanakopitas are awesome and these were definitely. The crispy and flaky baked phyllo pastry just goes so well together with spinach and feta cheese filling. The crunch of the pastry and the flavors of the filling are scrumptious together. These are not dried out or over cooked pastries, probably because there's always a long line at the Greece kiosk and food is constantly sold, with more being prepared.
(click image to enlarge)

5. New Zealand – Lamb Slider with Tomato Chutney
This lamb slider was good. I had one on both trips to the festival last year and it pairs well with beer. The lamb itself is a tender and moist chunk of meat and the tomato chutney on top serves some flavor and keeps it all juicy.
(click image to enlarge)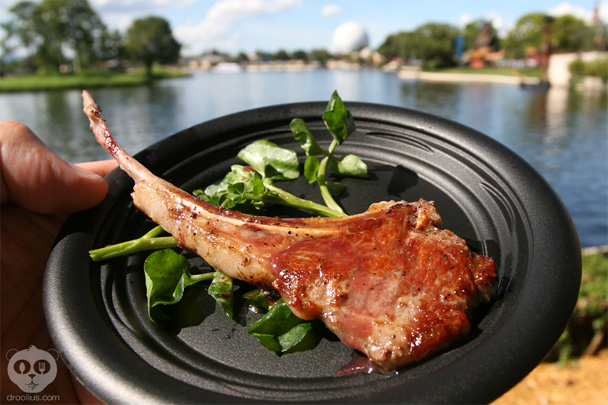 4. Australia – Grilled Lamb chop with Red wine sauce
For some reason Australia always had a long line, and I don't think it was for the Foster's beer. The lamb chop pictured was cooked medium/medium rare and was very delicious. Well worth the wait! This year's 2010 menu has an addition of Roasted Potato Salad and similar Red Wine Reduction.
(click image to enlarge)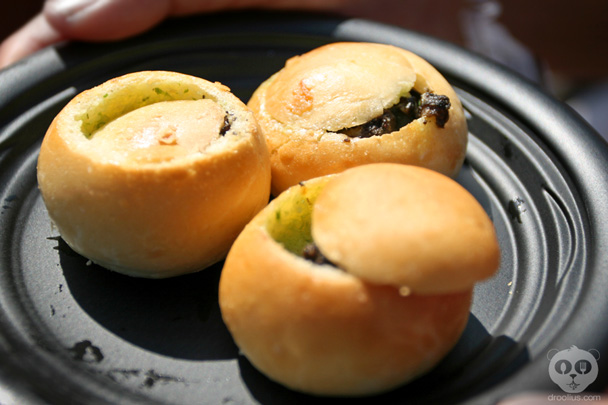 3. France – Escargots Persillade en Brioche
The Escargot really surprised me this time. I've had them here at Food & Wine festival in the past and was not impressed. 2009 Escargots Persillade en Brioche really made me a fan though. The Brioche bread served as the vessel that encapsulated the Escargot with garlic and buttery goodness. These French goodies had so much butter flavor that Paula Deen would be jealous! Snails, butter, garlic, and seasoning inside bread. Good stuff.
(click image to enlarge)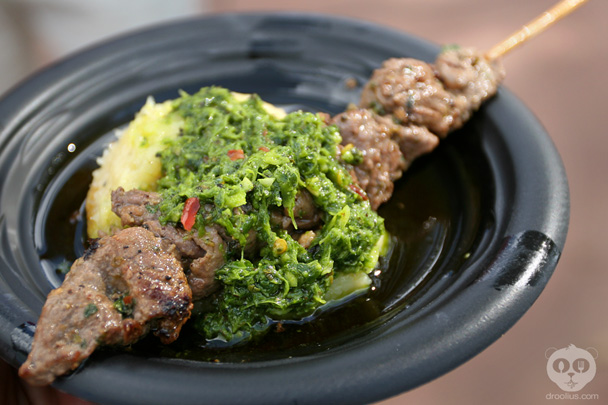 2. Argentina – Grilled Beef Skewer with Chimichurri Sauce and Boniato Puree
Basically an amazing grilled beef skewer topped with a really good chimichurri sauce, served over a mashed potato style root. I love me some chimichurri and I was not disappointed by this one. The beef skewer and sauce is probably one of the most flavorful items at the festival and leaves you hungry for more. They should really sell them by the dozen.
(click image to enlarge)

1. Canada – Canadian Cheddar Cheese Soup
Yes, my number one and favorite food item from Food & Wine festival is soup. Its not just any regular soup either, its a Cheddar Bacon Cheese soup that sings to my taste buds and I probably average 3 cups per visit last year. Maybe I just like cheese that much, but this soup is the bomb! It could be the bacon… the cheddar cheese… Moosehead Beer… the mirepoix of vegetables (onion, carrot and celery) which ALL combine together and form a force of flavor. The undertones of smokey bacon and cheddar cheese are brought together with the Moosehead beer, which I know adds some type great flavor. Yes some may say its just soup, but please do try before you pass over this delicious treat. Each spoon full has a morsel of bacon, delicious cheese, veggies that are minimal in texture, and the soup is overall a smooth consistency.
So that's my Top 10 food list for 2009. You may be asking where are the pictures of wine and beer and other food? Well I will have more images coming on my next blog post, so stay tuned….
It was a great 2009 Food & Wine Festival and I can't wait for the 2010 festival to start in October. There should be some great new foods to try and some outstanding wine and beer to sample…
More info about this event visit Disney's information site:
http://www.wdwinfo.com/wdwinfo/guides/epcot/events/
Epcot – World Showcase
Walt Disney World Resort
Orlando, FL
Words and photos by Julius Mayo Jr.