When the new Cask & Larder restaurant announced they were starting a Sunday brunch a few weeks after their grand opening, I knew I had to go. Being a fan of Southern cuisine and brunch menu items, it just made sense to me. A Southern style brunch is also a great pairing with a cocktail or beer as well. When you see a restaurant hand crafting the entire menu, along with Southern style condiments and brewing their own beers, it shows what you are in store for. Cask and Larder is the latest restaurant creation by James & Julie Petrakis, the dynamic duo who are James Beard nominees and also run their well-established restaurant, The Ravenous Pig. With the new restaurant focusing on Southern style cuisine and highlighting products that are both local and seasonal, it is creating a positive buzz in the dining scene in Central Florida.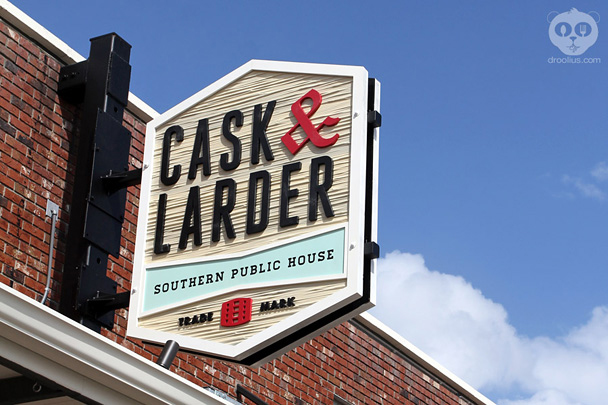 (click image to enlarge)
In this blog post, it's actually a combination of two trips to Cask & Larder for your brunch viewing pleasure. For my first trip, I decided it would be a good opportunity to include brunch photos in an upcoming magazine feature on the Droolius blog and photography, which included a local restaurant feature (more about that later). What better way to highlight one of the newest locally owned restaurants in town? After making my advanced reservation, I was lucky to get a table in front of a window and had the ideal situation for taking food photos with natural light. Not to mention each dish came out beautifully plated and the flavors were great. I ate everything on each plate and enjoyed every bite.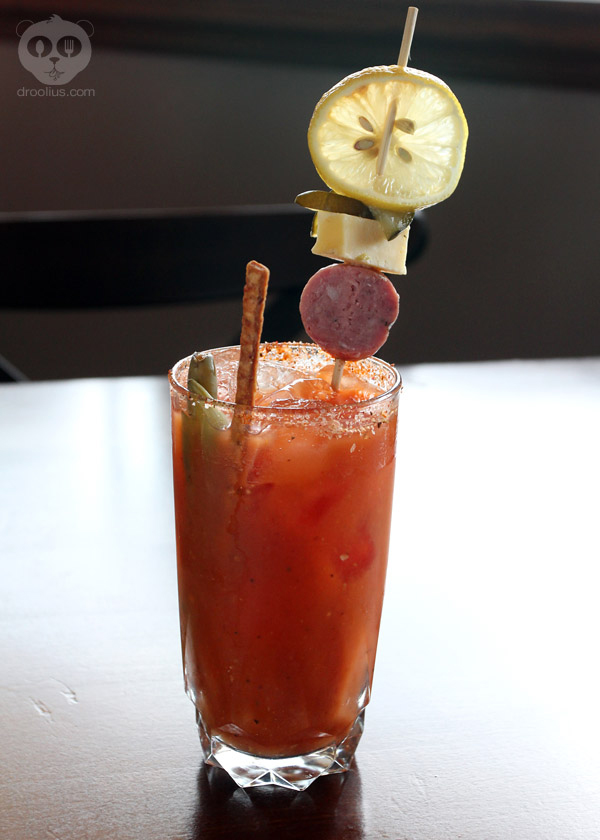 (click image to enlarge)
Public House Bloody Mark cocktail w/ garnish stick of in-house smoked Kielbasa, pickled green beans, Georgia Gouda cheese, bread & butter pickles, and house made cheese stick
I started off with the Bloody Mary because it photographs well and I really like them in general. The cocktail was made from scratch and had the perfect amount of spice and bite. The house made garnishes could be an appetizer in itself. The in-house smoked Kielbasa with the gouda cheese were a great pairing with the cocktail, while the pickled items gave a good acidic contrast.
(click image to enlarge)
Fried Chicken and Funnel Cake with house-made buttermilk ricotta and maple balsamic
I originally went into brunch expecting to order "fried chicken and waffles" and what I saw on the menu was this twist on the classic. This was a first for me to see Fried Chicken and Funnel Cake, but the combination won me over and turned out to be great together. Very similar in flavor and texture to a waffle, I really liked the funnel cake because of its bits of crispness and lightness overall. The maple balsamic reduction was the "syrup" and buttermilk ricotta kept the pairing moist. The blackberries added a refreshing tartness to cut through the richness of the dish. Overall a balanced dish of flavors that made a good impression.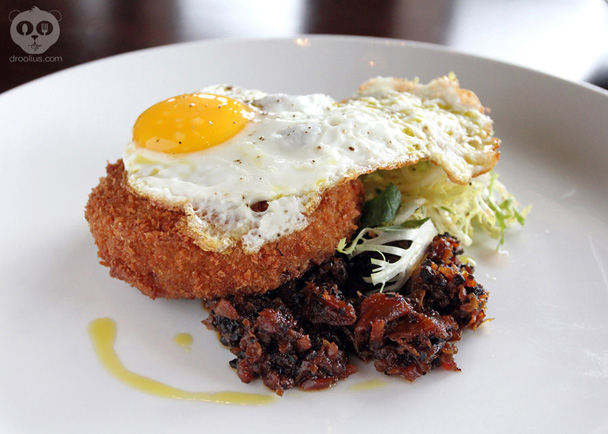 (click image to enlarge)
Crispy Pig Cheek Torchon with red cabbage marmalade, topped with a sunny side up egg
This dish surprisingly became my favorite of the day. Basically a head cheese with pork cheeks braised in aromatics, then shaped and battered, finished in a deep fry. Talk about flavors and textures, this torchon was amazing. Soft pieces of braised meat with a crisp outer crust. A sunny side up egg always adds a good heartiness and something to dip in, and the red cabbage marmalade balanced the dish with some tartness and sweetness.
(click image to enlarge)
Beignets – pumpkin spiced and served with a rum caramel sauce
These beignets were the perfect ending. This seasonal version had bits of pumpkin inside with pumpkin spices. Not a heavy dessert, just light overall and easy to finish. The rum caramel sauce had a light sweetness and slight bite from the rum, perfect for dipping.
My first Cask & Larder brunch was a great experience and I could not wait to come back and share it with others. Brunch Part 2 with my family is up next.
The photos above were featured this past week in Eat In Eat Out magazine based in Canada. You can read more about the feature on the Droolius Blog and Cask & Larder Brunch HERE.
Brunch Part 2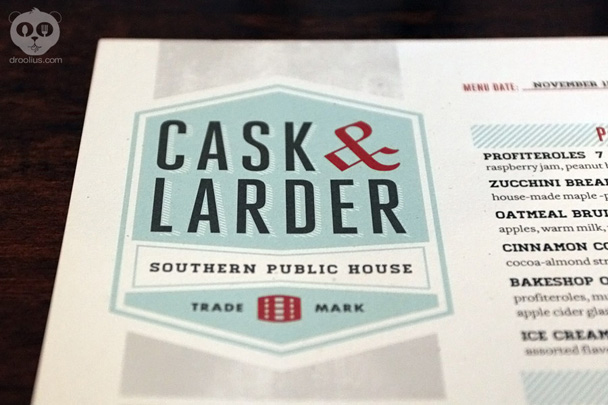 (click image to enlarge)
The second trip to Cask & Larder for Brunch was last weekend with my mom and my sister, Julie. My sister had just completed the Disney Wine & Dine Half Marathon the night before and we saw other runners at Cask & Larder wearing their finisher medals. I guess everyone knew the place to celebrate was at this brunch and they were all out-of-towners. For us, we were just locals out for Sunday brunch with sharing and trying many dishes in mind. As you can see for the following photos, we were able to order a variety to taste.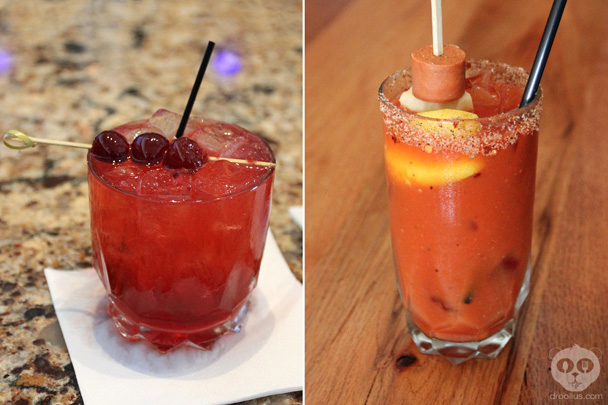 (click image to enlarge)
Brunch Cocktails:
(left) Cherry Valance – dancing pines rum, campari, lemon juice, cheerwine
(right) Public House Bloody Mary – pepper-infused deep eddy vodka, with a Red Hot, Georgia Cheddar, House Pickle, and lemon
My sister had the Cherry Valance, a sweet and cherry flavored drink she enjoyed. As for me, I had the Bloody Mary again, this time with different garnish. The Red Hot was a spicy sausage and the Georgia Cheddar was smooth and creamy. The pickles were buried in the drink, and overall it was good as the first one that I had here.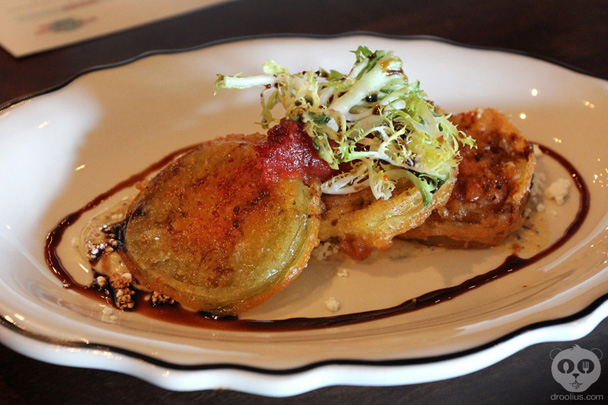 (click image to enlarge)
Fried green tomatoes – escabeche vinaigrette, tomato jam
The batter on the Fried green tomatoes had a nice seasoning and crispness. The accompaniments of escabeche vinaigrette and tomato jam added some refreshing flavors.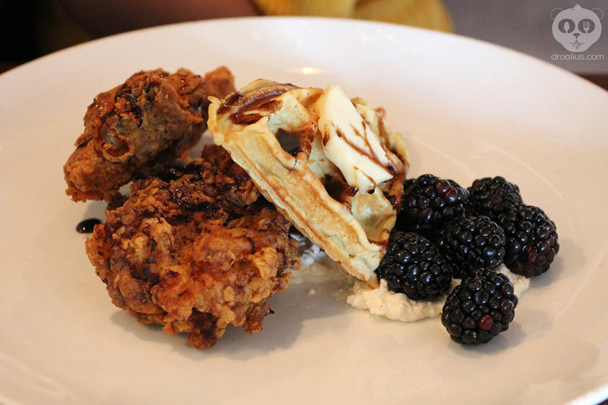 (click image to enlarge)
Fried Chicken & Waffles with orange ricotta, maple balsamic, blackberries
My sister ordered this dish and she enjoyed the dish. Just as good as the chicken and funnel cake, but this time the chicken was boneless and easy to eat.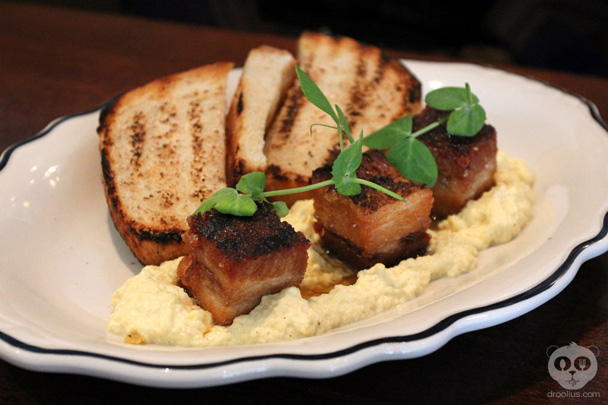 (click image to enlarge)
Bacon & Eggs – crispy vanilla pork belly, scrambled eggs, sourdough
This was my mom's order and she finished it all. That's how good it was. She's an awesome cook herself and I think we are a family who loves to eat crispy pork belly. The scrambled eggs in this dish were so light and fluffy, almost like a light cream sauce to go with the pork belly.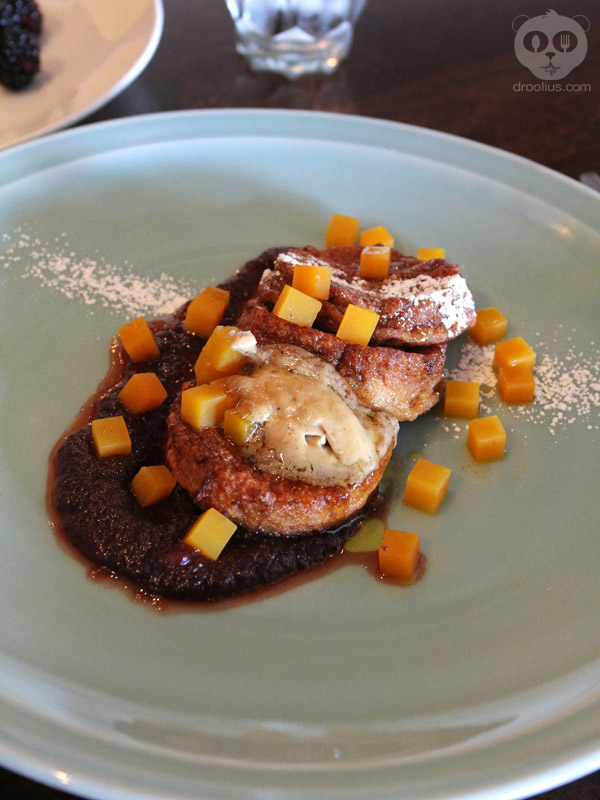 (click image to enlarge)
French Toast with apple butter, roasted pumpkin, foie gras
This was my brunch dish that I ordered and it was great. The french toast was soft with a gentle sweetness and absorbed the apple butter. The roasted pumpkin added some texture, but of course the foie gras added a deep savory richness to the dish. This is my type of dish, savory and sweet. All it needed was some pieces of crispy pork belly (I wish I could have added to the order).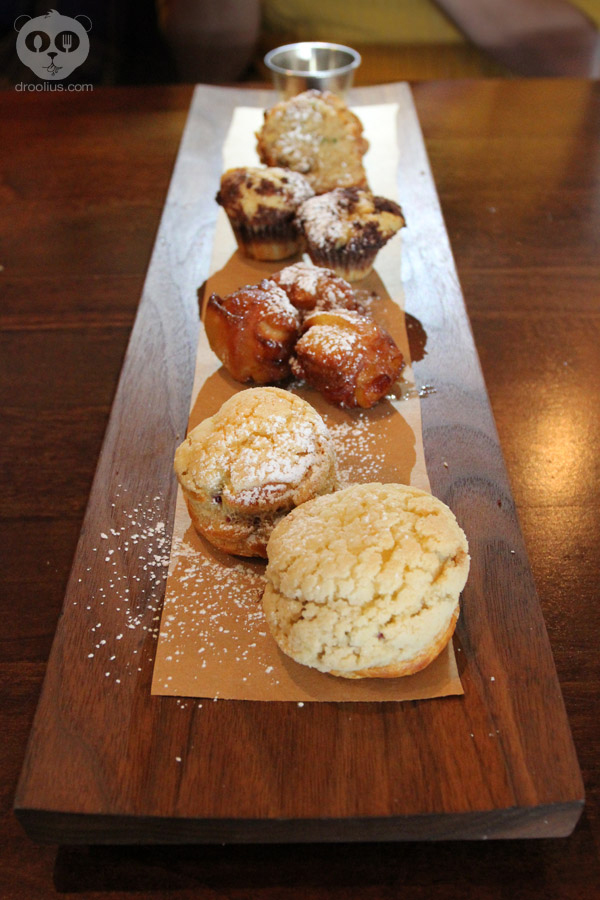 (click image to enlarge)
Bakeshop on a board: profiteroles, apple cider glazed fritters, coffee cake, muffins
(click image to enlarge)
I had to break it all down so you could view each item on the Bakeshop on a board. It's the perfect closer and very easy to share. Baked items change weekly so make sure to check what they have on the menu when you're there.
row 1: Profiteroles – filled with raspberry jam, peanut butter mousse
There's no easy or clean way to cut it, they just explode with raspberry jam and peanut butter mousse, with tons of flavor. My favorite combination of peanut butter and jelly, you can't go wrong with these.
row 2: (left) Apple cider glazed fritters – Who doesn't love fried fritters? With a tartness from the apples, this was a treat.
(right) Cinnamon Coffee Cake with cocoa-almond streusel – a good flavorful coffee cake with some sweetness and delicate texture.
row 3: Zucchini Bread Muffins and house-made maple-pecan butter – the muffins were fluffy and the maple-pecan butter was a good spread on top.
The brunch menu overall is an exciting one, with many options to try. I'd like to go in there one day and order one of everything off the menu. It would be possible with the right group of people. That same day at another table, we saw our friend Marvin, who's table of four probably had more of a menu tasting than us! Very understandable because I've enjoyed many dishes here, and that's including their dinner menu too (coming up in another post).
Cask & Larder is the place to be if you want to treat yourself to some good quality food. With a changing menu, often depending on availability and seasonality of ingredients, you will be sure to find something new each time to try. See the recent menus at www.caskandlarder.com/menus. Make sure to take a trip to Cash & Larder, they have created a great homage to Southern fare and have elevated the brunch experience.


Cask & Larder
565 West Fairbanks Ave.
Winter Park, Florida 32789
(321) 280-4200
www.caskandlarder.com
*Reservations are recommended
Twitter @CaskLarder
www.facebook.com/cask.larder

Words and photos by Julius Mayo Jr.
Content and photos © Droolius.com 2012