This past August 14th officially marked the 1 year anniversary of the Droolius Food Blog. What started out as a small project for myself has turned into a full-fledged website that keeps me busier than I ever expected. I've spent the past 2 weeks reflecting where this blog has gone, the photos taken, the places traveled to, every where I have eaten and shared with you all. It has been a fun experience to share the information and photos, and I hope everything has had a positive and helpful impact. I plan on continuing to work on this blog for the long haul and curious to see where it takes me, as a photographer, writer, blogger, and more. On the real, I just want to eat and take photos…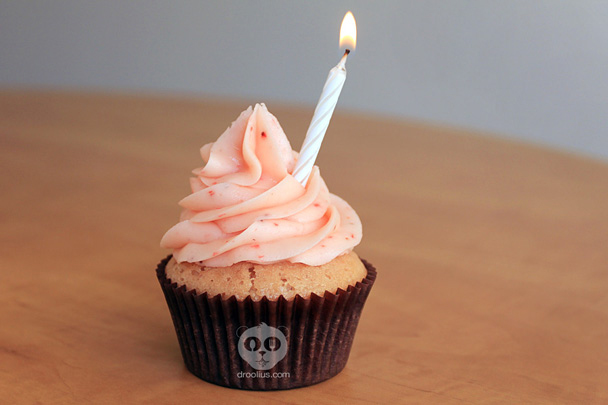 (click image to enlarge)
Blue Bird Bake Shop Strawberry cupcake – Strawberry cake with Strawberry buttercream icing.
The great thing about being a photographer is traveling to different areas around the country or even in your own city. Last Fall I was contracted as a photographer for a few months, taking photos at local independently owned businesses to be used for an online directory of a search engine website. I am not allowed to name the company directly, but their name rhymes will oogle and I have no idea when the photos will be live on the Places Pages.
In the first few weeks of shooting photos, I was assigned the Blue Bird Bake Shop on Corrine Drive in Orlando, FL. That's where the cupcake is from above and I thought it was fitting for this post. I discovered them through work, about a month after I launched this blog, and always planned on posting some photos (full feature post in the works). The strawberry cupcake has become one of my favorite cupcakes of all time and I go back every so often to get one. I was in the Corrine Drive area on August 14th so figured I'd treat myself and take a few photos for the blog. Other cupcakes I like at Blue Bird Bake Shop are PB&J, Vanilla Black Pepper, and this past weekend I had a Chocolate Guinness cupcake with Irish cream butter cream. They are constantly developing new flavors and rotating them. Check out the website for current flavors and special seasonal flavors: www.bluebirdbakeshop.com
1 year down…
Reflecting on the past year of blogging, it has definitely been more work than I expected. Not only am I busy taking photos and editing them, but taking time to write blog posts and editing them is time consuming. The end result does pay off though. I have received good positive feedback on my photography and the information I've provided in the blog posts, which is very rewarding. Also creating the brand of Droolius and continuing to further develop the brand online and offline has been very enjoyable to me. Meeting readers at events and having them tell me that they used the blog to help plan a trip or discover a new restaurant or cuisine, is the best feeling. I really enjoy connecting with people and networking with fellow bloggers.
I've attended two conferences this past year: Food Blog Forum and Central Florida Bloggers Conference. I went into Food Blog Forum not knowing anyone, but came out with new friends and a larger network of bloggers who liked to talk about food. I learned more about the blogging world, the food community, and gained some new food photography knowledge from Helene Dujardin of tarteletteblog.com who did an awesome photography demo. At Central Florida Blogger Conference recently, I got a chance to network with a diverse group of bloggers and learned from different industries of blogging. It was a good learning experience and I'm now implementing things I have learned and keeping up with everyone via Facebook and Twitter.
Connect with @Droolius…
We are all living busy lives and sometimes there's just not enough time to put together a quality blog post. So if you see my blog lagging a little, join in on the coversations and photos online on the @Droolius Twitter and Facebook Page. I'm always active posting event information, photos of food, how to find Orlando's Food Trucks, answering "where to eat questions", and anything else food related or non food related. You guys have been awesome out there and I'm always looking forward to meeting you all. So hit the 'Follow' button on Twitter & 'Like' button on Facebook and let's get everyone talking about food.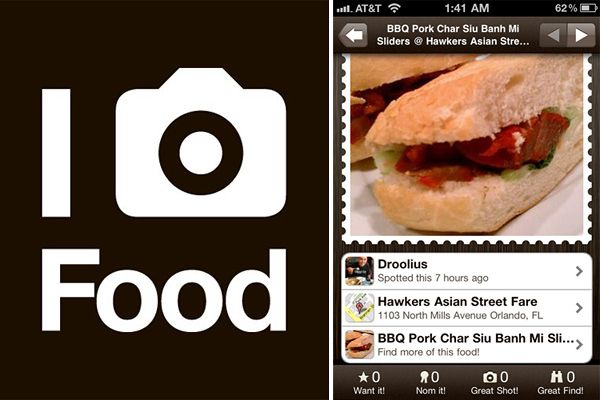 Another way I'm connecting with you guys out there is through Foodspotting and the monthly Eat-Up events I am co-hosting. We have had good turn outs and people are embracing the Eat-Ups to meet up together and eat. You have seen me post about these events and its a great way to meet up with fellow food lovers and discover food. Foodspotting is a website and free smartphone app that helps you find good food wherever you are based on photos. I like sharing my food photos of where I eat and also checking out everyone's photos too. Find me at www.foodspotting.com/droolius to check out more food photos. If you want to try a new restaurant and need a group to go, let's make it a Foodspotting event and eat together. I'm open to suggestions so leave a comment below or hit me up on Facebook or Twitter.
Food Trucks…
Yes, I know I blog a lot about food trucks here in Orlando… and for good reason too! Before the food truck scene here in Orlando, I was bored with the food here. I wanted to jump on the next plane out of here to get some great tasting food in a different city. In come the food trucks to Central Florida and the scene has exploded since February 2011. Only being here for 6 months and the gourmet / contemporary style Food Trucks (ones that use social media) have taken this city by storm and have been serving great tasting quality food. I know this because I make it a point to try all of them and I will pick a food truck over a chain restaurant most days. Orlando is full of chain restaurants, but I am now happy to eat in the area at the food trucks and enjoy it. So if you haven't tried a food truck yet, let the old stereo types go of food on wheels. The food trucks are restaurants on wheels and are doing a great job at cooking up some tasty food. Looking for them? Find Orlando Food Trucks – https://www.droolius.com/2011/04/find-orlando-food-trucks
The future of Droolius…
So wrapping up this post (sorry kinda long, but thanks for reading) I'm basically just going to say that I'm looking forward to making this blog even better and make it useful to find great food and places to eat. Of course take food photos that make you drool and help everyone discover the delicious places to eat. If you look in the menu bar, I've added a Food Guides section and will be adding more guides to finding food in different cities. Currently I have a list of New York City restaurants I recommend, but have not blogged about all of them yet. The popular Orlando Food Trucks link is in there and I also plan to add more Food Truck Guides from other cities in the future. I will try to create some more food guides of places to eat across the U.S. and maybe even some international destinations later on down the road. There will be another link I plan to add, and that is a store. That's right, a store to buy I Love Food Truck t-shirts and Droolius t-shirts. Slowly but surely it will be up there and you will see the posts when the store is open. Not saying everyone will want to buy a shirt, but I have gotten many requests.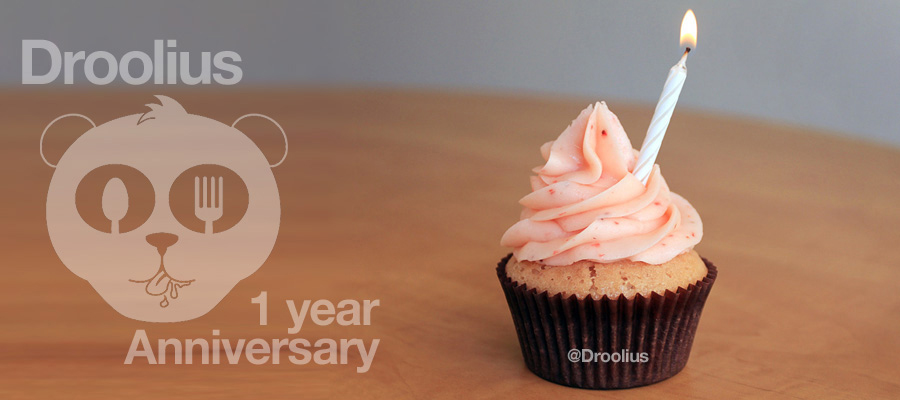 Thank you for reading this 1 year anniversary blog post. I appreciate the support out there and look forward to hearing from everyone. There are so many things I want to do with this blog and the Droolius brand, you will just have to keep coming back and watch everything grow. I'm always open to taking suggestions of new restaurants to try so keep me updated with any new places to eat or some of your favorite places I have to try.
Words and photos by Julius Mayo Jr.
All content and photos © Droolius.com 2011