The 2011 Epcot Food & Wine Festival is just around the corner. In four weeks the the 16th Annual Epcot International Food and Wine Festival "Passport to a World of Flavors" will begin on September 30th and go until November 13th. It is a highly anticipated event every year, for locals and tourists alike. I always look forward to this event and it is a great time to eat and taste flavors from around the world. Visitors can attend culinary seminars, signature dinners, wine & food pairings, the International Marketplace of food and beverages, and more.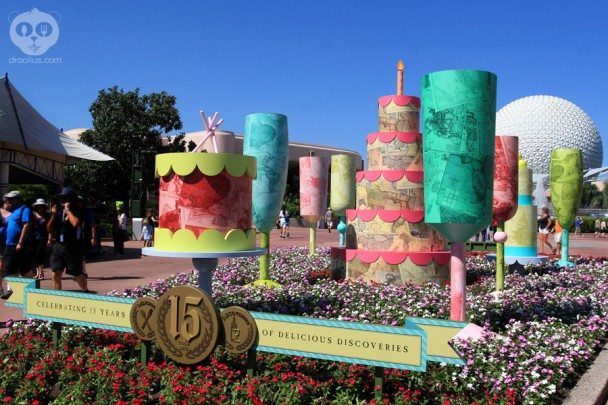 Photo from 2010 Epcot Food & Wine Festival (click image to enlarge)
General Disney Park Admission gets you into Epcot and access to the International Marketplace of food and beverages. Countries from around the world are represented in kiosks around Epcot's World Showcase and each one sells appetizer sized portions ranging from $3-$7. Beverages including wine, beer, and non-alcoholic drinks are available to sample and vary in price. Its a way to discover International cuisine all in one day. It can get pricey, so I encourage everyone to share and it is the best way to taste everything. Get a group of people to order a few dishes and drinks from each country's kiosk to share. You will get further in the festival in trying to sample everything.
Part of the festival every year is the "Eat to the Beat Concert Series" that has musical performances by artists of various genres. Some of the performers include Boyz II Men, Billy Ocean, Taylor Dayne, The Pointer Sisters, Jon Secada, Sugar Ray, Gin Blossoms, Air Supply, and many more. Check listings to see who is performing when you plan to attend.
Also in the festival this year and new in 2011 is the HGTV Design Stars who are appearing every Friday, Saturday and Sunday to talk about "home entertaining". Festival attendees can attend the seminars, check times and schedules on link below.
For more information on events and an in depth view of the festival, visit: http://www.wdwinfo.com/wdwinfo/guides/epcot/events/
Let's talk about the food! The the International Marketplace of food and beverages features various cuisines from around the world. Some come back every year, while new ones are introduced, and others may come back in the future. This year, new cuisines include dishes and drinks from Hawaii, the Caribbean, Portugal, Scandinavia, and new Craft Beers. Back again this year are: Argentina, Australia, Belgium, Brazil, Brewer's Collection, Canada, Charcuterie and Cheese, China, Desserts and Champagne, France, Germany, Greece, Hops and Barley, Ireland, Italy, Japan, Mexico, Morocco, New Zealand, Poland, Singapore, South Africa, and South Korea. I have tried many of the cuisines at the festival and there are some great tasting dishes out there. Some dishes are not always agreeable to my taste palette, but everyone can find a dish or beverage that they can appreciate and enjoy. I will try to post a menu from all the countries, but for now check out my top 10 of 2010…
Droolius' Top 10 Food of 2010
The Food & Wine Festival is a yearly event for me. Last year I went twice and the following food and photos are a compilation from both days. In 2010 I found some new favorites and a few surprised me from new countries that were introduced. I did not sample as much wine or beer in 2010, but maybe I can do a blog post of the few that I did have. Here's the Droolius Top 10 Food of 2010 Epcot Food & Wine Festival:
(click image to enlarge)
10. United States – Bison Chili with Wild Mushrooms, Cabernet, and Pepper Jack Cheese
This was a hearty, filling, and good tasting cup of chili. It is not on the list this year, but other American cuisine is available at the Hops and Barley kiosk.
(click image to enlarge)
9. New Zealand – Lamb Slider with Tomato Chutney
A juicy lamb slider with tomato chutney on top, a yearly stop for me.
(click image to enlarge)
8. Canada – Maple Glazed Salmon with Lentil Salad
A well balanced dish with a delicate taste of salmon paired with slightly sweet sauce and the hearty lentils.
(click image to enlarge)
7. Greece – Spanakopita
Flaky buttery phyllo dough filled with spinach and feta cheese, another yearly favorite.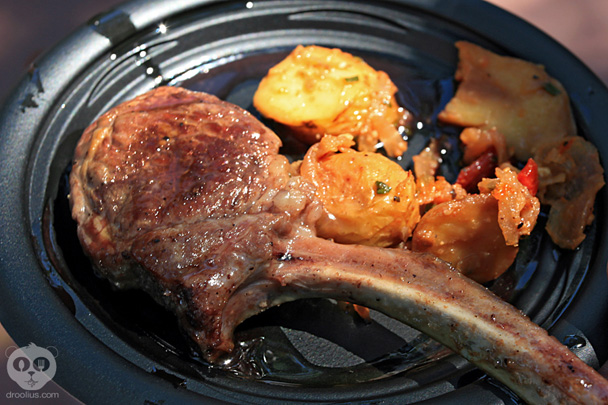 (click image to enlarge)
6. Australia – Grilled Lamp Chop with Roasted Potato Salad and Red Wine Reduction
Nicely grilled lamb chop with good flavor. They added the roasted potato salad in 2010 which made it more of a complete dish compared to 2009.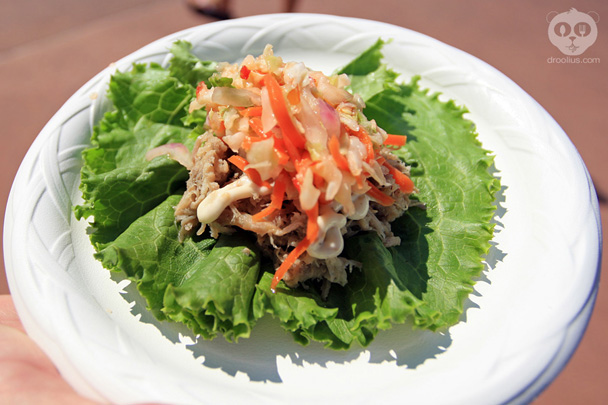 (click image to enlarge)
5. South Korea – Lettuce Wraps with Roast Pork and Kimchi Slaw
Perfect for a hot day, this lettuce wrap is tasty and refreshing. The South Korea kiosk had its first appearance in 2010, glad to see them back this year.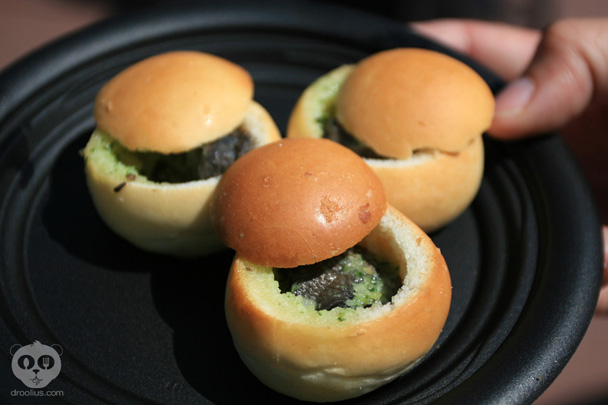 (click image to enlarge)
4. France – Escargots Persillade en Brioche
A yearly must have, the Escargots are very tasty in this form inside the mini Brioche. I'm a big fan of the garlic, butter, and snails and its hard to just get one order.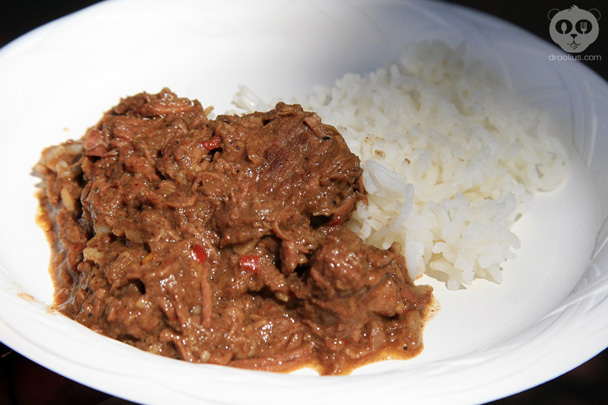 (click image to enlarge)
3. Singapore – Braised Beef Rendang with Jasmine Rice
This dish really surprised me and it is a new favorite of mine for the festival. Glad to see they are back for 2011! A quote from last year – "Soft tender beef with a nutty undertone and bits of toasted coconut that did not overpower the dish, just complimented it with flavor. A touch of sweet but again was not too much. Even non-coconut fans liked the dish (my friends) and were pleasantly surprised."
(click image to enlarge)
2. Argentina – Grilled Beef Skewer with Chimichurri Sauce and Boniato Puree
This is one of my all time favorites. The Chimichurri sauce on the tender grilled skewers is an awesome combo. The Boniato Puree is similar to mashed potatoes in texture and it is perfect for the Chimichurri sauce left on your plate.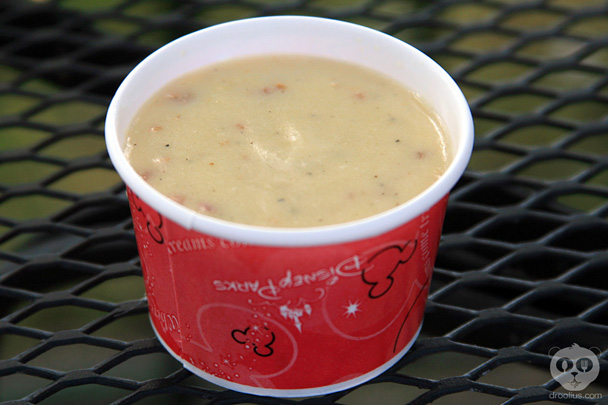 (click image to enlarge)
1. Canada – Canadian Cheddar Cheese Soup
Call me simple, call me cheesey. I do not know why this is my favorite each year, but it is. I get 3-4 cups of this soup every trip. I know it is available at the restaurant year round, but I usually only make it to Epcot for this festival yearly. Droolius says: "Words cannot explain the cheesey bacony goodness here! Made of bacon, cheddar cheese, mirepoix of vegetables (onion, carrot and celery) and Moosehead Beer – all together combines into a delicious scrumptious savory rich treat."
So that's my top 10 of the 2010 Epcot Food & Wine Festival. I look forward to this year's 2011 "Passport to a World of Flavors" from September 30 – November 13, 2011. Let's see if some new favorites emerge and I will do some more wine and beer tasting so I can do a post about that too. Let me know your favorites or recommendations of the F&W festival in the comments below.
Epcot – World Showcase
Walt Disney World Resort
Orlando, FL
Let's talk about the Epcot Food & Wine Festival online: Facebook or Twitter
More Epcot Food & Wine Festival posts:
Epcot Food & Wine Festival 2010 – Droolius Highlights
Epcot Food & Wine Festival – 2010 Intro & Droolius' Top 10 Food of 2009
Food & Wine festival – A continuation of 2009 Food, Wine & Beer

Words and photos by Julius Mayo Jr.
Content and photos © Droolius.com 2011