Around East Orlando there are various Latin cuisine restaurants. Rincon Cubano Cafeteria is a Cuban restaurant that is found beside Full Sail University on Forsyth Road. I've passed this location many times without even stopping by, but it is a breakfast and lunch destination worth trying. I stopped in for lunch with a few friends after a meeting at the PXL Plus just down the street. Seems like they come here often for a coffee, breakfast or lunch, or sometimes all three in one day.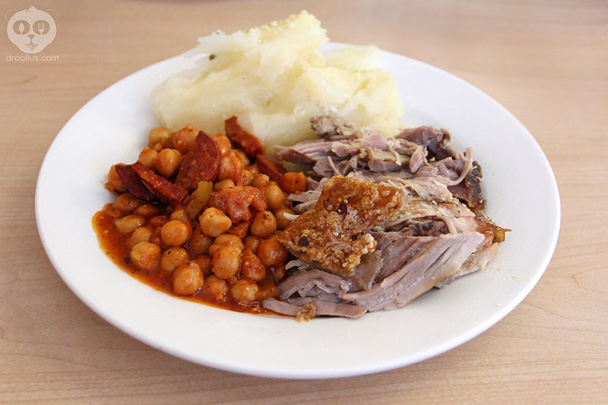 (click image to enlarge)
Cuban Roast Pork with 2 sides, chick peas w/ sausage, boiled yuca.
All plates are served with 2 side dishes. For my first trip here I had to try the Cuban Roast Pork. Slow roasted pork in spices and marinade, it was full of flavor and very moist. See that piece of pork skin? That was awesome. I had the crispy skin as my first bite and saved a little for my last bite. I could have had a few more pieces for sure. The accompanying sides were good as well. The chick peas were cooked with a sausage (maybe chorizo?) and had a great developed flavor. The boiled yuca was soft and hearty with a light seasoning. They of course have rice and beans, which is more typically served with my meal but I opted to try more of their great looking sides.
The service is counter style where you walk up to order and they plate it as you order or call your order once it is ready. When ordering, you can point at which one of the hot dishes on display you would like or you can order off a menu board featuring items that are made to order. The sandwiches are popular as well such as a Cuban sandwich or Media Noche. Their breakfast menu looks good as well if want to order eggs along with some breakfast meats or have steak and eggs.
Along with my meal I had a Cortadito (short cup of Cuban espresso with milk & sugar) which was pretty good and for dessert I finished with a Quesito (flaky pastry filled with sweetened cheese). Both were finished before I could take a photo, but I will make sure to take more photos on the next visit.
(click image to enlarge)
Rincon Cubano Cafeteria is a great alternative to the chain restaurants in the area. Although this location has a physical address of Winter Park, I consider it more East Orlando because it is down the road from UCF. Being on on Forsyth Rd and .3 miles south of University Blvd, it may be easily missed with all of the industrial buildings. Check out the photo above to have a visual of the building.
Shout outs to PXL Plus Gallery, Bluemotion Productions, and artist Nakanari for bringing me to this restaurant. Looking forward to going back to Rincon Cubano Cafeteria and trying more.
Opens for breakfast at 7am and lunch til 4pm (M-F), 7am-2pm on Saturdays.
Rincon Cubano Cafeteria
3327 Forsyth Road
Winter Park, FL 32792
407-679-5600
Facebook Page


Words and photos by Julius Mayo Jr.
Content and photos © Droolius.com 2012