I was in the South Florida area over Labor Day weekend to check out the Food Truck Invasion event in ArtsPark at Young Circle. As I said in the previous blog post, we had just driven up from Miami to Hollywood, FL to check out this Food Truck event. This was my first food truck event that I attended in the Miami area. I was totally checking out all of the Food Trucks and their menus.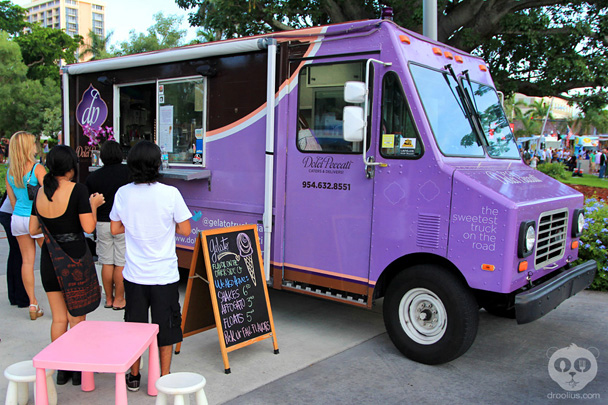 (click image to enlarge)
This purple truck caught my eye and had a sense of style and fashion to it. Dolci Peccati is a Gelato truck from Miami, FL that serves artisan-handmade gelatos. Since I needed to cool down from the warm weather and wanted a dessert, this was a good opportunity to try a Miami Food Truck.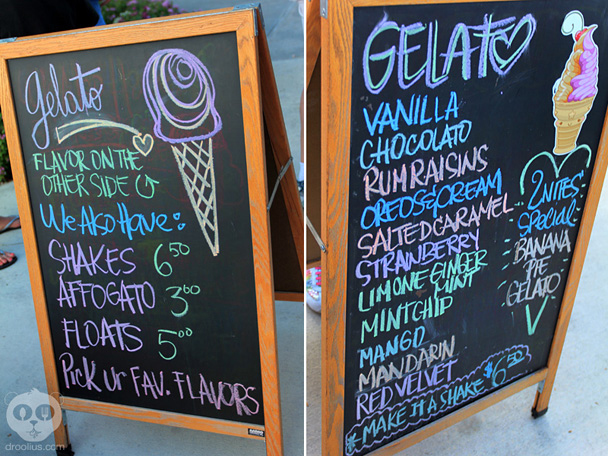 (click image to enlarge)
I took a look at the menu to see what flavors they had to offer. By default I would have usually tried strawberry, but I wanted to be more adventurous. I was tempted to try salted caramel or red velvet but instead I sampled mandarin, limone ginger mint, and mango because I wanted something refreshing in the heat.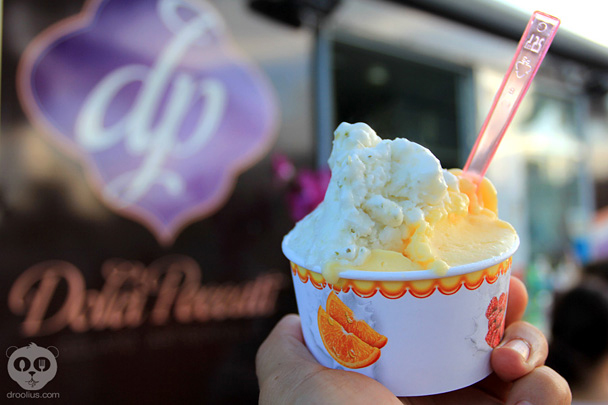 (click image to enlarge)
I liked the natural flavor of the mango that was not too sweet, but also enjoyed the combination of flavors of limone ginger mint which was tangy and sweet. The staff recommended me to have both flavors, which turned out to be a great idea! The subtle mango balanced the tang and sweet of the limone ginger mint. Together it was an enjoyable combo.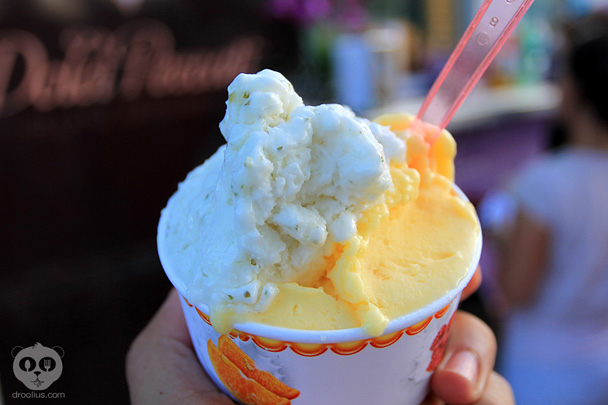 (click image to enlarge)
Taking a closer look, you can see the ingredients in the Gelato. The green specks of fresh mint showed the quality of this artisan gelato. Their Facebook Page states: "Dolci Peccati is the sweetest truck on the road with premium quality artisan GELATO". I have to agree.
(click image to enlarge)
Great to see another quality dessert truck on the road with a self made product. This is a Gelato Truck that I recommend you try any trip down to Miami or especially if you live in the South Florida area and can find them at an event or current location.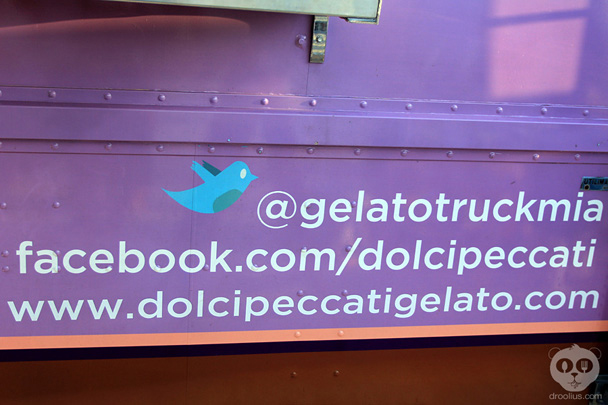 (click image to enlarge)
Find their current location and follow them via Twitter @gelatotruckMIA to get your taste of this Gelato truck in Miami and the South Florida area.
Dolci Peccati Gelato
www.dolcipeccatigelato.com
Twitter: @gelatotruckMIA
Facebook: www.facebook.com/dolcipeccatigelato


Words and photos by Julius Mayo Jr.
All content and photos © Droolius.com 2011