I went to the Food Truck Bazaar in Oviedo this past Sunday and finally was able to order the Swedish Meatballs from the SwedeDISH Food Truck. I lucked out by getting to the event early and was able to order this typically sold out dish. A must when trying to get your favorite food from a food truck at an event, arrive early to beat the lines. The monthly Oviedo Food Truck Bazaar is in a new location and was coordinated well by the TheDailyCity.com, with signs that were easy to spot from the street, directing attendees into the Lowe's parking lot. The event was a success and I was happy to finally get my plate of SwedeDISH meatballs, a dish I missed out on during my first visit.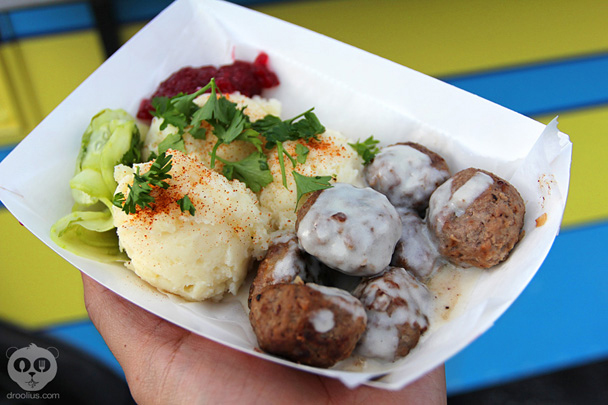 (click image to enlarge)
Swedish Meatballs – Homemade Swedish lean ground beef meatballs with mashed potatoes, cream sauce, pickled gherkins & lingonberry jam (Svenska kottbullar med potatismos, inlagd gurka och lingonsylt) "Swedish meatballs are a traditional Scandinavian food.
They first appeared in a Swedish cookbook in 1754"
The meatballs were tender and flavorful, made in a comfort food style. The cream sauce was savory and gently seasoned, and the mashed potatoes were soft and hearty. The lingonberry jam paired well with the meatballs to give it a punch of sweetness and tartness, while the pickled gherkins added an acidic note to cut the richness of this savory dish. A hearty and filling meal for one person, or a very easy dish to share, I enjoyed each bite. So many ways to enjoy the flavors by eating each component individually or pairing one or more items. I can see why this dish usually sells out and I will be back for more.
(click image to enlarge)
Here's a shot of the SwedeDISH Food Truck, you can't miss them if you look for the blue and yellow.
Check out the website listed below for the full menu, and make sure to Like their Facebook Page and follow them on Twitter @SwedeDishTruck for current times and locations.
Check out more SwedeDISH dishes from full feature: https://www.droolius.com/2011/09/swededish-food-truck-orlando-fl-swedish-cuisine/
SwedeDISH Food Truck
407-619-9713
www.swededishfoodtruck.com
Twitter: @SwedeDishTruck
Facebook: www.facebook.com/SwedeDISHFoodTruck

Words and photos by Julius Mayo Jr.
All content and photos © Droolius.com 2011