Located at The Grand Bohemian Hotel in downtown Orlando, The Boheme Restaurant is featuring a special Valentine's Menu for this upcoming Valentine's Day. The "Art of Valentine's" Menu has an array of culinary creations just for your special date night out.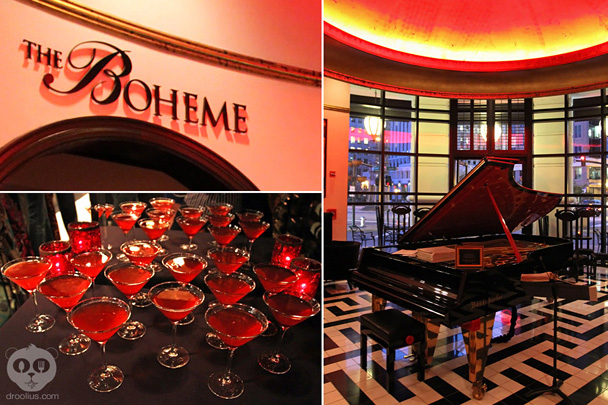 (click image to enlarge)
The restaurant hosted a group of local food bloggers and writers at a media dinner to preview their special Valentine's menu. I was joined by Droolius Food Explorer JB to get her insights on the menu as well. We started the evening inside the Art Gallery at Grand Bohemian which features both local and international artists. Local artist Phillip Anthony was on site telling us about his paintings presented in the gallery. If you appreciate art, this gallery is worth checking out, especially with a small but growing art scene in Orlando. The gallery was our first stop of a mini tour of the hotel's first floor. Our next stop was the hotel's special Wine Room for cocktails.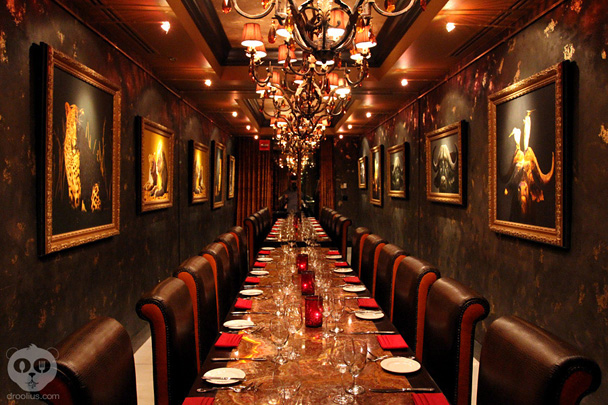 (click image to enlarge)
Wine Room
The room had beautiful art work featuring wildlife paintings and when the lights are dimmed, you can see the artist's work come to life with lighting adjusted to accentuate the paintings. While we did not dine here, it was a nice visit to this special room.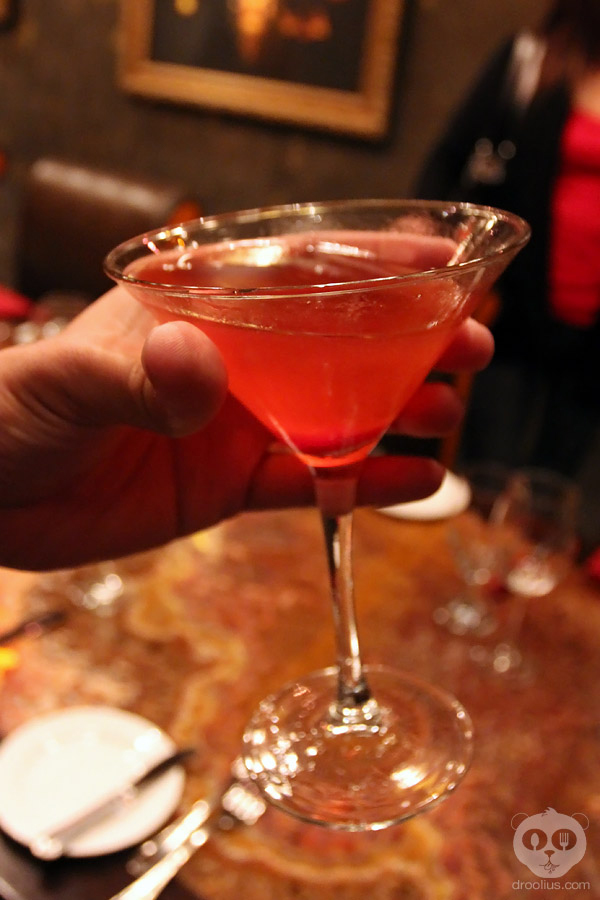 (click image to enlarge)
Lingonberry Martini with a Champagne Twist – this drink featured Lingonberry and was mixed into a fruity and refreshing cocktail


The Boheme Restaurant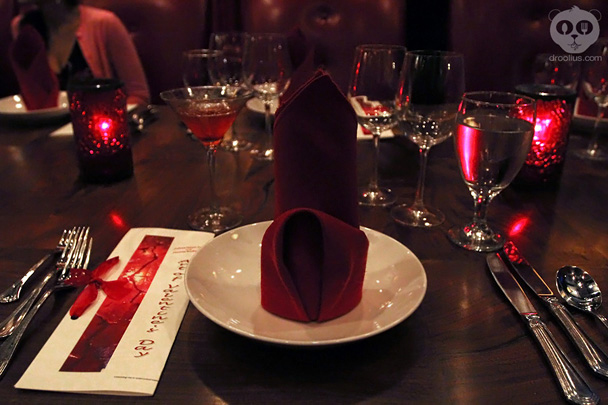 (click image to enlarge)
The restaurant was nicely decorated with paintings all over the walls and tones of red creating a warm ambiance. The table setting was complete with personalized menus with each diner's name. A nice little touch to compliment the experience. Photographer's side note – Taking the photo above was a little challenging in the darker intimate lighting, but they did cater to us photographers and gave us more lighting during dinner.
(click image to enlarge)
We were all served both a glass of red and white wines to compliment the dishes. Executive Chef Rene Nyfeler gave us some background information about the wines, along with some other stories about the dishes through out the meal.
You will find that the menu's courses are split up and affectionately named 1st Date, 2nd Date, 3rd Date, and Dessert for Two. Let's dig in…
1st Date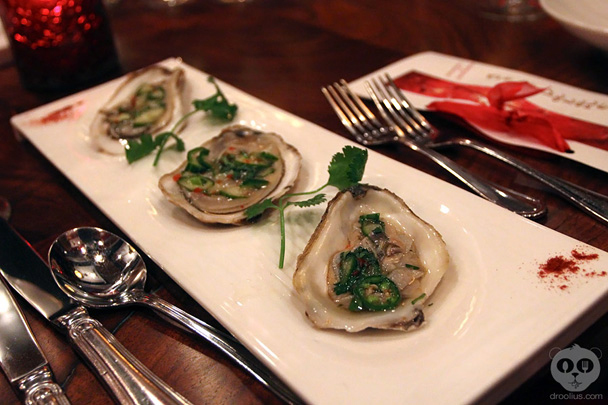 (click image to enlarge)
Oysters and Champagne – freshly shucked oysters with a tasting of champagne  
The oysters were super fresh and clean tasting, without any of the brininess. Could be in part of the added components, but regardless it was very enjoyable and paired well with the Champagne.
(click image to enlarge)
Venus Crab Cakes – arugula, basil oil, rémoulade, grilled lemon  
The crab cake was full of crab and had a nice crispness on the top and bottom. The basil oil rémoulade sauce was good for dipping and a squeeze of the grilled lemon balanced everything out, adding some brightness. I'm not too big on crab cakes, but this one I enjoyed.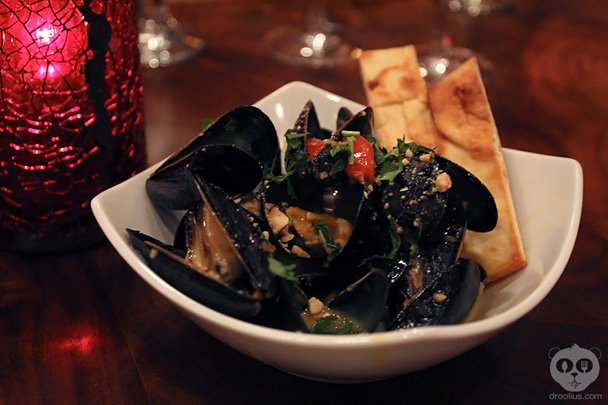 (click image to enlarge)
Oriental Mussels – curry coconut broth, cilantro and kaffir lime leaves  
These mussels in the coconut curry broth were one of my favorites of the night. The broth was really good with the mussels and I was definitely scooping the mussels heavily in broth and trying to get as much of it as I could. If I had a bowl of rice, that curry broth would have would all ended up mixed in and eaten. (hey, it's the Asian in me)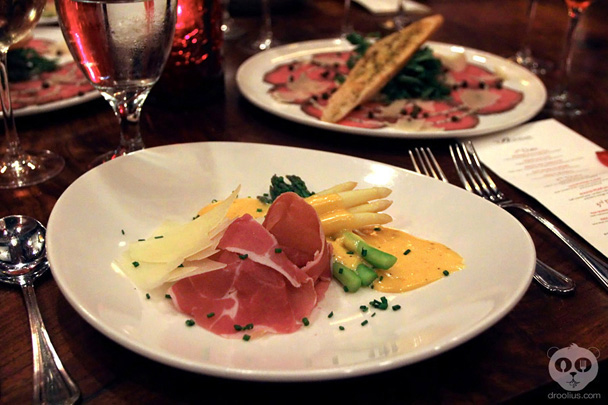 (click image to enlarge)
Giant Asparagus Spears – prosciutto ham, pecorino and spicy hollandaise  
I've seen similar watching food t.v. shows and it was the first time trying the pairing of asparagus and prosciutto with hollandaise sauce, which all tastes delightful together. The hollandaise gave a rich creaminess to each bite.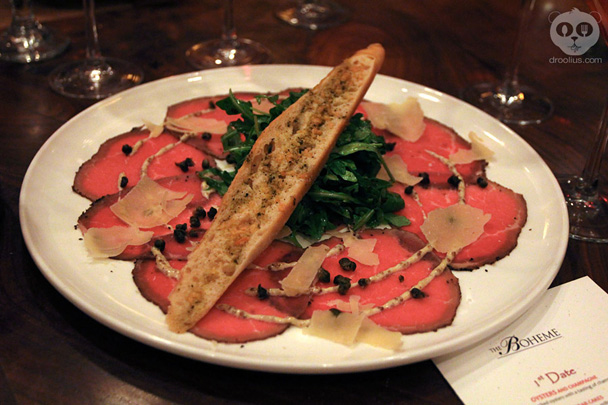 (click image to enlarge)
Wagyu Beef Carpaccio – arugula, crispy  capers, mustard  aioli, shaved parmesan and crostini  
Another highlight of the evening, the beef carpaccio was good against the peppery/bitter bite of the arugula. All components combined were a balanced harmony in flavor.
2nd Date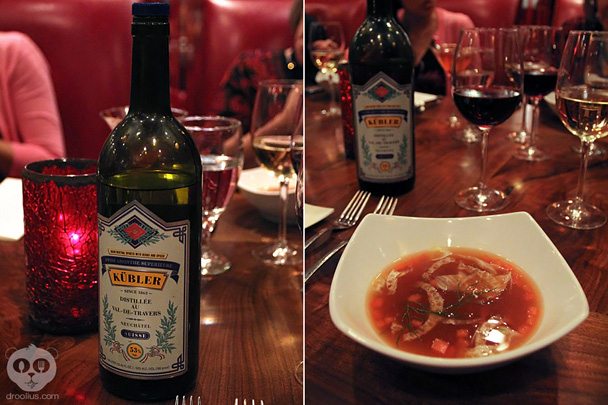 (click image to enlarge)
Love Passion Elesir – clear tomato broth soup with provence liquor made from botanicals and shaved fennel
This was an interesting story by Chef Rene about this soup. Traditionally it is made in his home country of Switzerland and used as an elixir to cure certain symptoms. The soup uses Kübler Absinthe as an ingredient (which he explains is now legal in the U.S. again) and has a slight licorice taste. Topped with some shaved fennel, you really get scent of licorice when the bowl of soup is placed at the table. The soup itself was delicate with only a light accent of licorice flavor. It was definitely unique to try.
(click image to enlarge)
Aphrodite Salad – organic mix greens with almonds, feta, grape tomatoes and almond extract vinaigrette
This dressing for the salad had the pronounced flavors of almond from the extract and overall it was light and refreshing. The feta gave it nice bits of tang too.
(click image to enlarge)
Roasted Pear Salad – half roasted pear, candied walnuts, goat cheese and berry orange vinaigrette
The roasted pear had a really nice texture, easy to cut and almost hearty in flavor. The candied walnuts were sweet and crunchy, overall it was refreshing and fruity, similar to the previous salad.
3rd Date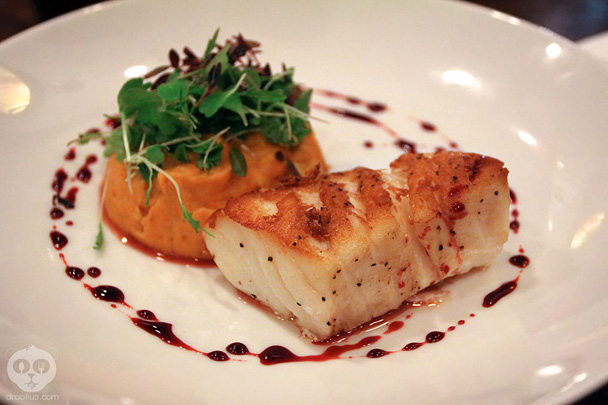 (click image to enlarge)
Pan Seared Chilean Sea Bass – beet reduction and sweet yam and yukon mash
Sea Bass is one of my favorite fish to eat and this one did not disappoint. Flaky and delicate, buttery in flavor, the seared outside crust was a good contrast in texture too. The sweet yam and yukon mash was fluffy with a gentle sweet and hearty flavor. Chef Rene mentioned that Chilean Sea Bass has been a recent debated fish to serve, but they proudly serve it here with great execution.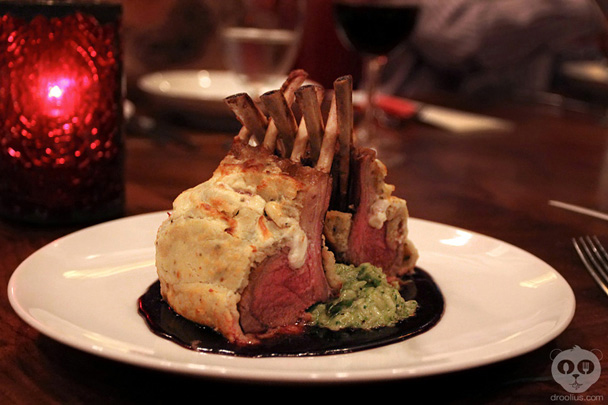 (click image to enlarge)
New Zealand Rack of Lamb – goat cheese crusted, asparagus risotto, port wine reduction
The New Zealand Rack of Lamb was probably the dish I enjoyed the most at this dinner. All of the ingredients combined so well together and the flavors were so balanced. The lamb was tender and perfectly cooked. Just a very enjoyable dish.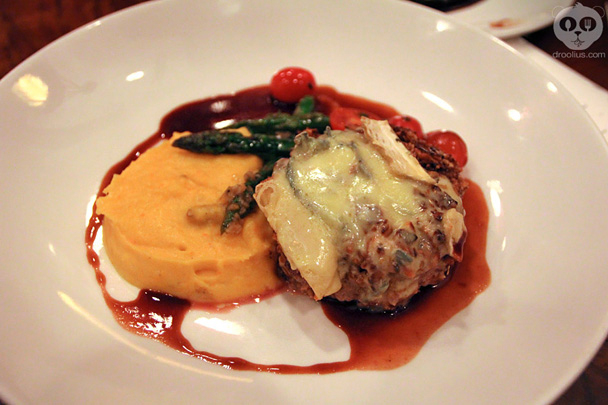 (click image to enlarge)
Kiss Me Tender Filet Mignon – brie blue cheese crusted, almond, carrot and potato mash, zinfandel reduction demi
The Filet Mignon was tender and the flavors of all the components combined were overall light and complimentary.
Desert for Two
By the time we hit dessert, we were basically full. JB and I split every dish thus far, but I just had to finish my half, if not more. Still there was dessert left to try…
I sampled a piece of all of the desserts, which overall had a satisfying sweetness. The Chocolate Fondue was fun to eat, dipping all of the fruits and cookies in the warm chocolate. It was a great ending to our blogger dinner.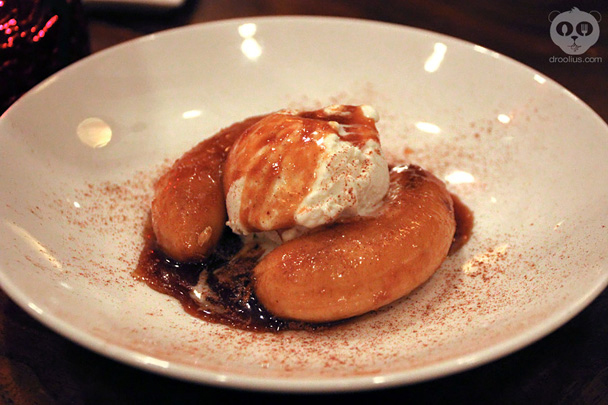 (click image to enlarge)
Caramelized Bananas – bananas with brandy, orange and lemon juice sauce and vanilla bean ice cream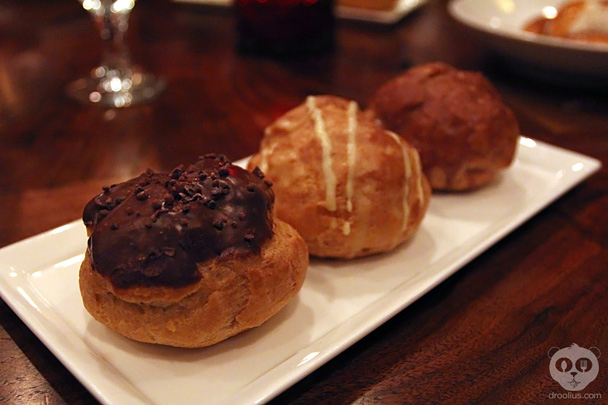 (click image to enlarge)
Passionate Puffs – cream puffs filled with white, dark and milk chocolate mousse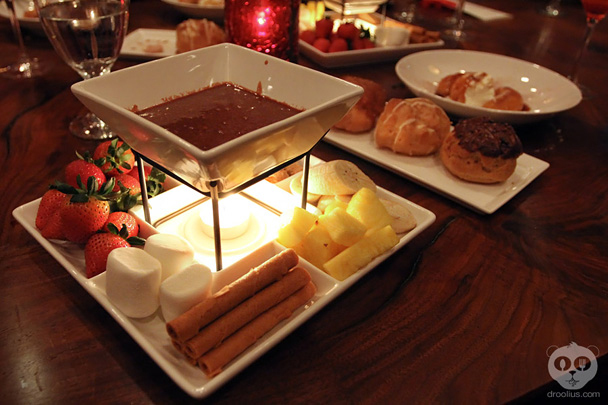 (click image to enlarge)
Tobleron Chocolate Fonduet – melted swiss chocolate accompanied with biscotti, cookies and fruits
(click image to enlarge)
The AAA Four Diamond Grand Bohemian Hotel is a downtown Orlando destination that boasts it's luxury hotel style with it's collection of art and chic interior decor. The Boheme Restaurant also carries a similar theme with its interior. The hotel and restaurant compliment each other well.
This particular first visit was one of the top dining experiences I've had in the area with it's food and attention to details. I only hope they uphold this level of service and quality during every visit. I would recommend this menu to anyone looking to celebrate Valentine's day. I'd also mention The Boheme for someone looking for a nice dinner in downtown Orlando.
"The unique artwork and decor in The Boheme really set an intimate mood. The chef concocted a very thoughtful, original, and great tasting menu. The staff was extremely successful in creating a very memorable dining experience." – JB
I agree with my dining partner and I look forward to my next trip to The Boheme. I saw a Coffee Rubbed Bone In Rib Eye on the Valentine's menu that I hope they will have again and want to try it next.
For more information on the Valentine's menus offered this weekend and on Valentine's day, click on the following links:
Art of Valentine's Week Menu – February 10th thru 13th, 2012
Art of Valentine's Day Menu – February 14th, 2012
Also, remember to make a reservation if you plan to go and experience this Valentine's Menu!
Grand Bohemian Hotel Orlando
325 South Orange  Avenue
Orlando,  FL 32801 
407.313.9000  
www.grandbohemianhotel.com
Facebook Page
Twitter @GrandBoOrlando

Words and photos by Julius Mayo Jr.
Content and photos © Droolius.com 2012


Disclosure: The food mentioned in this post was provided by The Boheme, however the views and opinions expressed in this post are purely my own.