I'm excited to announce that I have a printed feature with my photography work in the Holiday Issue of Eat In Eat Out magazine based in Canada. The new issue was launched today and luckily they have an online version so we can view this special Holiday issue. I've shared the links below so you can check out the article I wrote about Sunday Brunch at Cask & Larder in Winter Park, FL including food photos. The opening section on page 102 has a "Food Blogger Spotlight" which lists the featured bloggers and their reviews. The top right photo on page 103 is my shot of pumpkin beignets from Cask & Larder. To be able to read the article, you will need to click the link to see the larger version.
Food Blogger Spotlight, pages 102-103
Feature on Cask & Larder, article and photos by Julius Mayo Jr. pages 104-105
The article I wrote was just an introduction to Cask & Larder, describing some of the food and drinks they serve for dinner and Sunday Brunch. The photos in the article will be included in my next blog post which will feature my experiences at the recently launched Sunday Brunch. Click the link above for the readable online version.
For this Holiday issue of Eat In Eat Out magazine, it features 130 pages of tips for Holiday entertaining and dinners, plenty of recipes for entire meals, cookies, and cocktails. There are many ideas for entertaining your guests and a few suggestions for travel destinations and restaurant reviews. There's also a feature on beers and wines too. See the Holiday Issue online: http://eatineatout.realviewdigital.com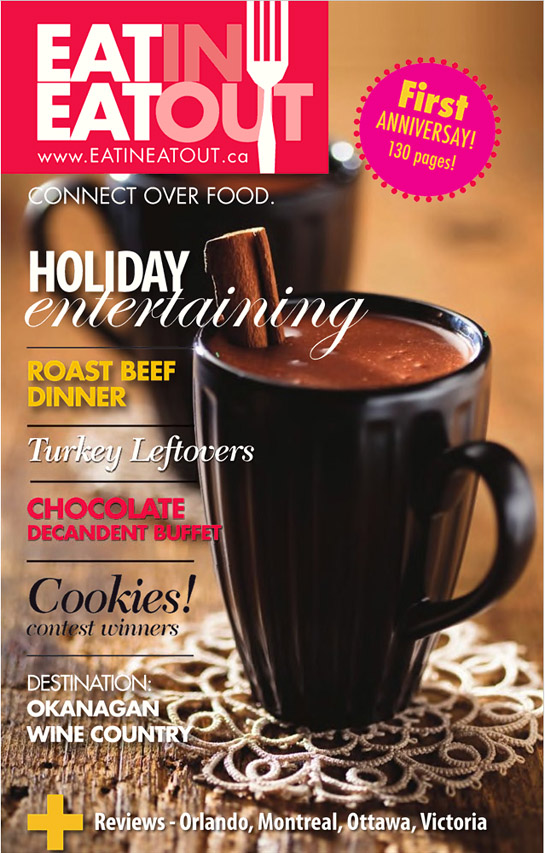 Make sure to check out the Eat In Eat Out Magazine website for more recipes, entertaining ideas, and dining out options www.eatineatout.ca


Content and photos © Droolius.com 2012