Keeping up with my yearly tradition, this is my Top 25 list of food and most memorable meals in 2015. The year flew by and switching from freelance work to being in the office definitely was a change for me and limited my time for culinary travel. I was still able to travel a little, visiting Atlanta, Las Vegas, and Miami, along with my first trip to Ireland. My trip to the Philippines was a short one for a family emergency. Regardless, I made the best of each travel opportunity and my favorite meals are listed below.
Note: Photos are in the order of when the food was eaten, not by rank.
(click image to enlarge)
• Uni, toro tuna, and more uni at Sushi & Seoul on the Roll food truck.
I started 2015 by eating once a week at the Sushi & Seoul on the Roll food truck, which was parked on Monday nights at The Imperial at Washburn Imports (Lake Ivanhoe area) in Orlando, FL. This was Chef Al's "creative night" where he was able to source more unique ingredients and had time to experiment with special dishes. Hit up their @ssontheroll Instagram to see new menu specials.
---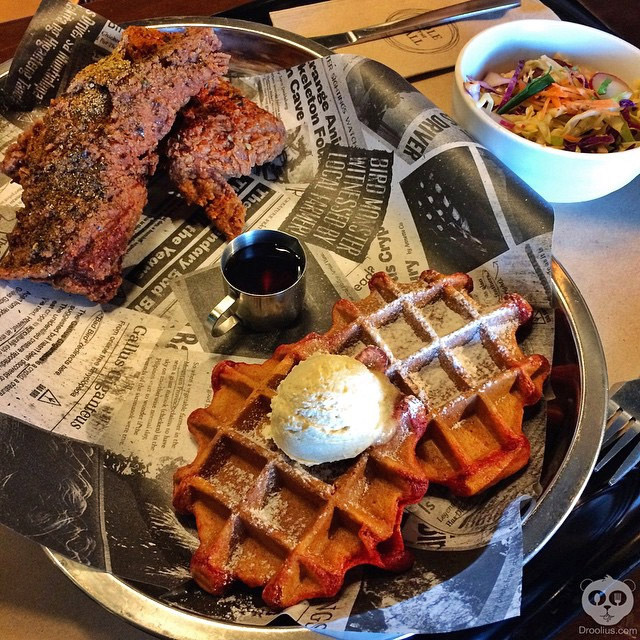 (click image to enlarge)
• Chicken & Waffle Plate with sweet potato waffles, miso butter, maple syrup, and 2 pieces of fried chicken (safe & spicy heat) + side of Kimchi Coleslaw at Bad Bird, Hole in the Wall, Century Mall in Makati, Philippines.
It's great to see new restaurants and food concepts open up in the Philippines. One of the places I had to check out was Hole in the Wall, a 500-seat food hall in the Century mall, featuring different cuisines from a collection of purveyors. We ate unique menu items from Brown Butter Bacon Pierogies at Mr Delicious, to mini eclairs of sweet Green Tea & Chocolate and savory Goat Cheese with Caramelized Onions at Tiny Duchess. My favorite was the Chicken & Waffle Plate at Bad Bird (seen above). It's the most unique Chicken & Waffles dish I've had, with a good mix of spices on the crispy fried chicken.
---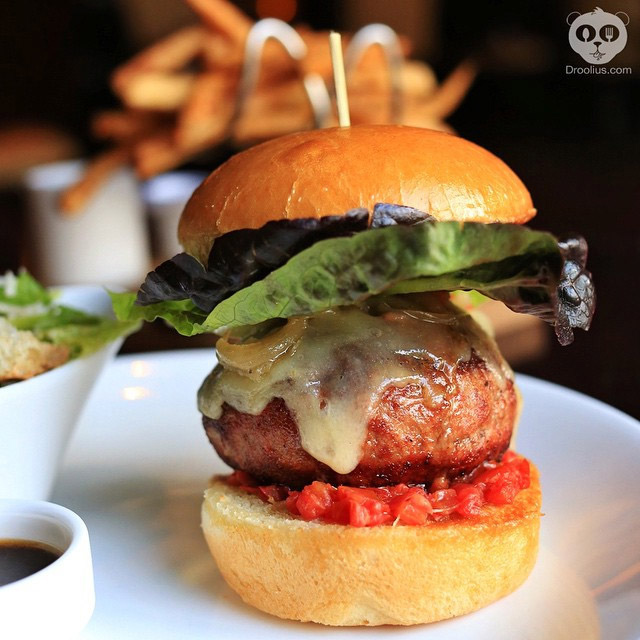 (click image to enlarge)
• Bull & Bear Burger – stuffed with Braised Shortrib, topped w/ Truffle Onion Marmalade, Confit Tomato, Ossau Iraty Cheese served with Bull & Bear Frittes and Side Caesar Salad at at Bull & Bear Steakhouse, Waldorf Astoria, Orlando, FL.
I found my new favorite burger in Orlando! A very savory and rich burger, this was my first time seeing a burger stuffed with short rib. Available only at the bar at Bull & Bear Steakhouse.
---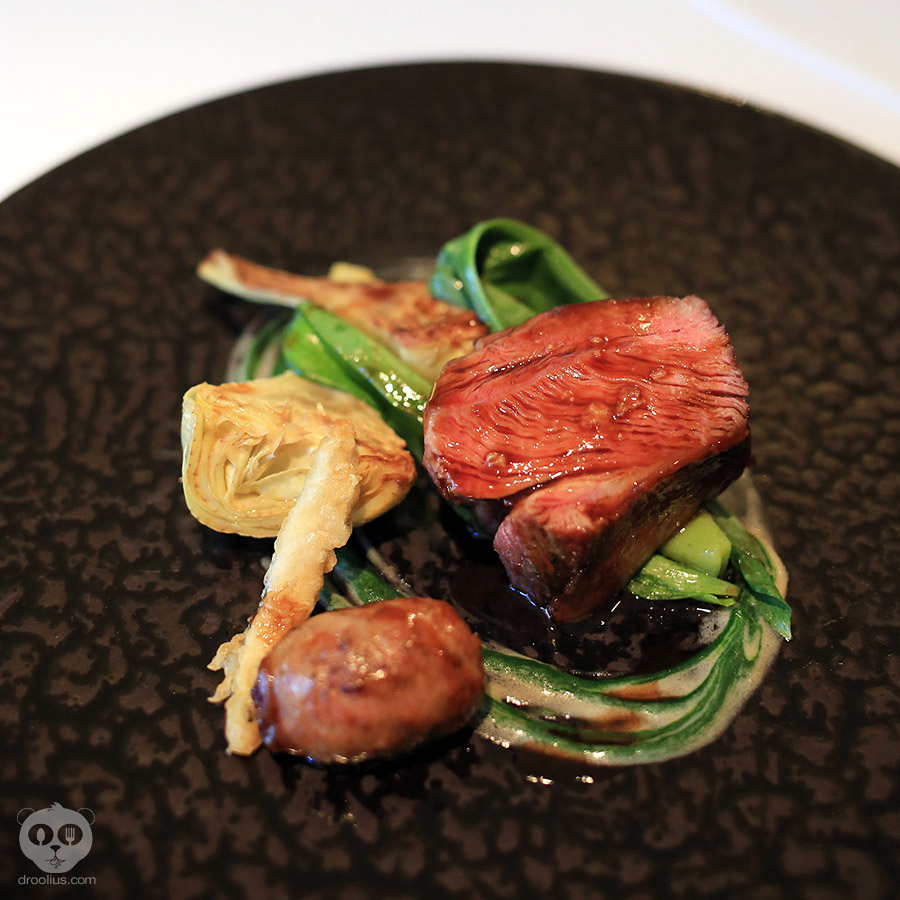 (click image to enlarge)
• Fermanagh Lamb Rump with Artichoke, Wild Garlic, Jus, Gnocchi, Anchovy Cream at L'Ecrivain Restaurant, Dublin, Ireland.
During our Raglan Road Trip to Ireland, it was my first trip to Dublin and my first time dining at a Michelin star restaurant. L'Ecrivain Restaurant by Chef Derry Clarke was simply a great experience, from the service to the well executed tasting menu. The dinner gave us an experience of Irish cuisine with clean flavors. One of my most memorable meals, ever.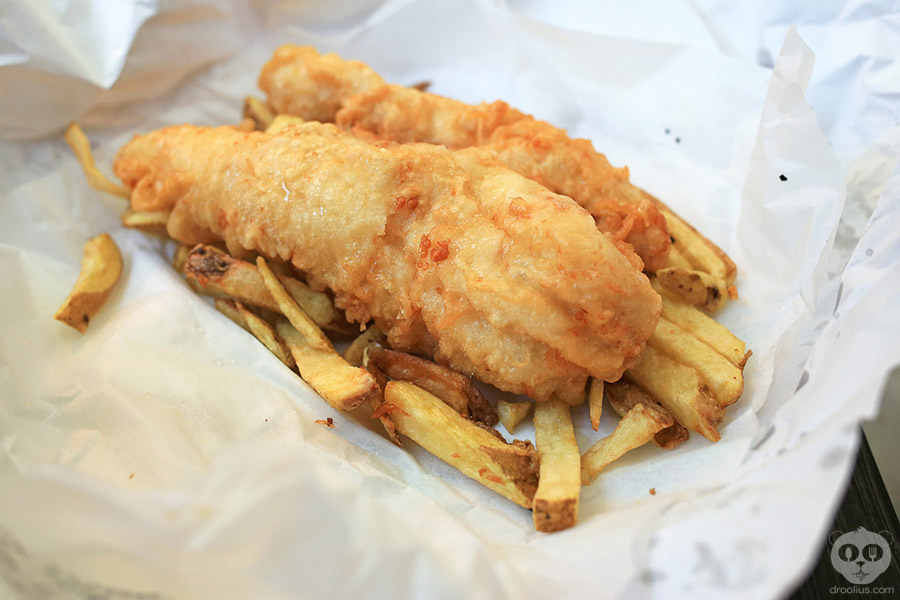 (click image to enlarge)
• Fish & Chips at The Local at Dunbrody, Dunbrody Country House Hotel, Arthurstown, Wexford, Ireland
I finally had a proper Fish & Chips at The Local at Dunbrody, a pub located on property at Dunbrody Country House Hotel. The fish was perfectly cooked with a crisp battered outside. Pair this with a pint of Guinness and it's the perfect combination. You may even see Chef Kevin Dundon pouring pints behind the bar!
---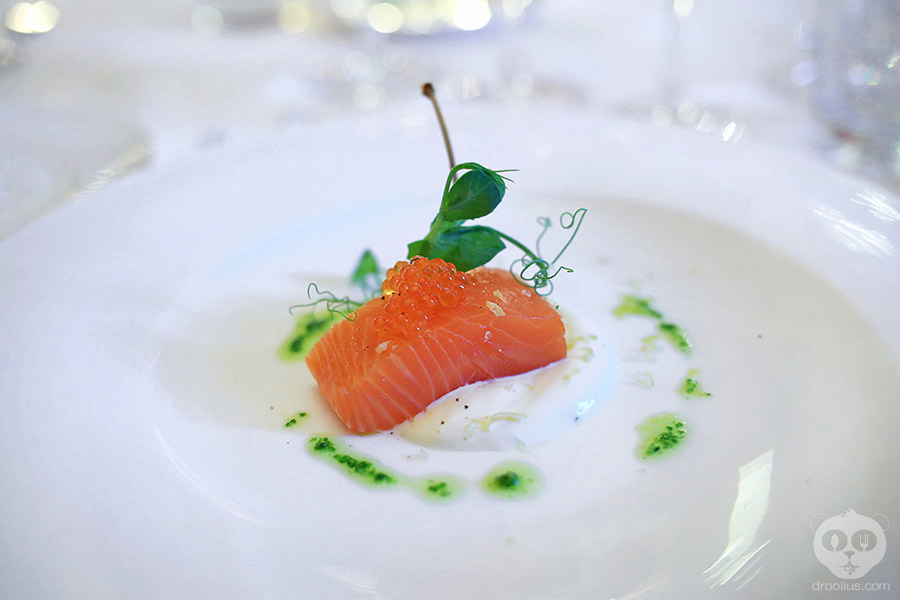 (click image to enlarge)
• Burren-Smoked Wild Atlantic Salmon with Lemon-infused Creme Fraiche at Dunbrody Country House Hotel, Arthurstown, Wexford, Ireland
We were treated to a tasting menu by Chef Kevin Dundon and his team at Dunbrody House. Our multi-course meal highlighted local ingredients and Irish cuisine. My favorite courses was the Burren-Smoked Wild Atlantic Salmon, but they were all great courses during this meal.
---
(click image to enlarge)
• Breakfast at Dunbrody Country House Hotel, Arthurstown, Wexford, Ireland
Breakfast is one of my favorite meals and I really enjoyed it every morning at Dunbrody House. I still think about the croissants, scones, and pastries, wishing I could have it this good every morning. The Mini Irish Breakfast of black pudding, white pudding, bacon, egg, and mushrooms was the perfect sampling and my favorite.
---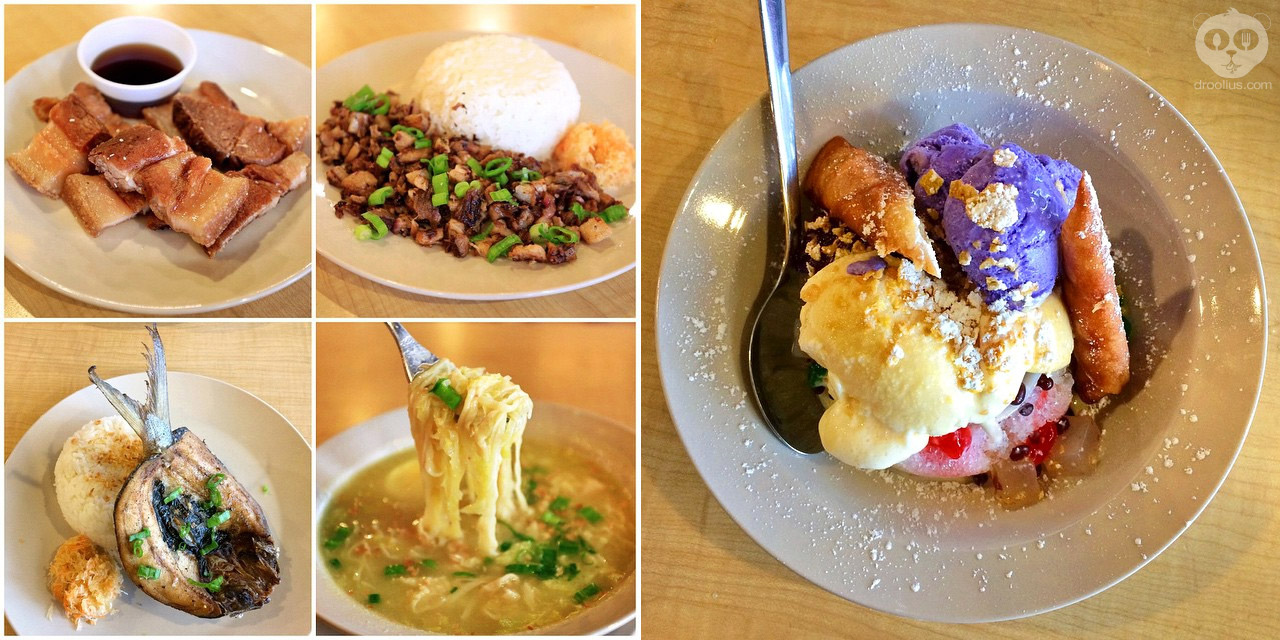 (click image to enlarge)
• Filipino Food at Pao Cafe in Tampa, FL
We ate some of the tastiest Filipino food at Pao Cafe. A food truck concept turned restaurant, Chef Jonjie and team are doing a great job making everything from scratch, refining versions of classic dishes. They take the time to make everything, from sauces to noodles. You can't find that at any other Filipino restaurant! We enjoyed the Lechon Kawali (fried pork belly), Sisig (sizzling pork), Bangus (fried Milkfish), Mami soup with housemade noodles. We finished our meal with Halo Halo with Mango Turon for dessert, with house made toppings.
---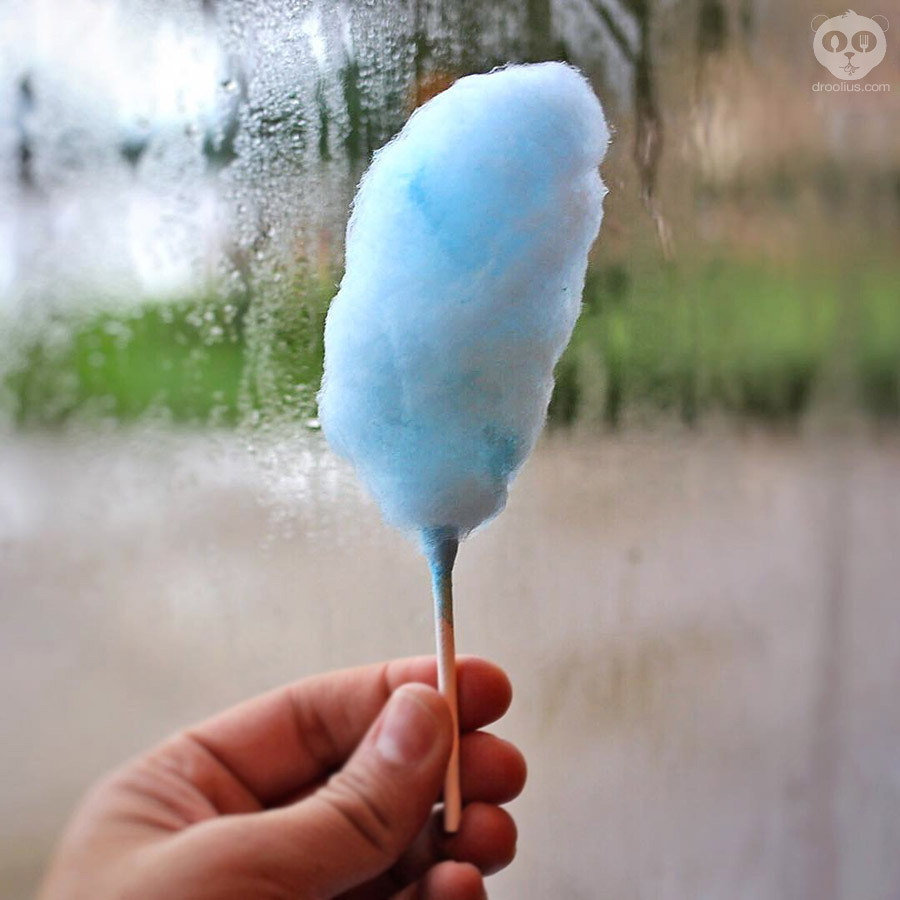 (click image to enlarge)
• Foie Gras Cotton Candy at Food & Wine Conference, Orlando, FL.
This was a combination of sweet and savory, and what I thought balanced out the sweetness of cotton candy was the rich foie gras. I may or may have not eaten five of these during the "Taste of Rosen Shingle Creek".
---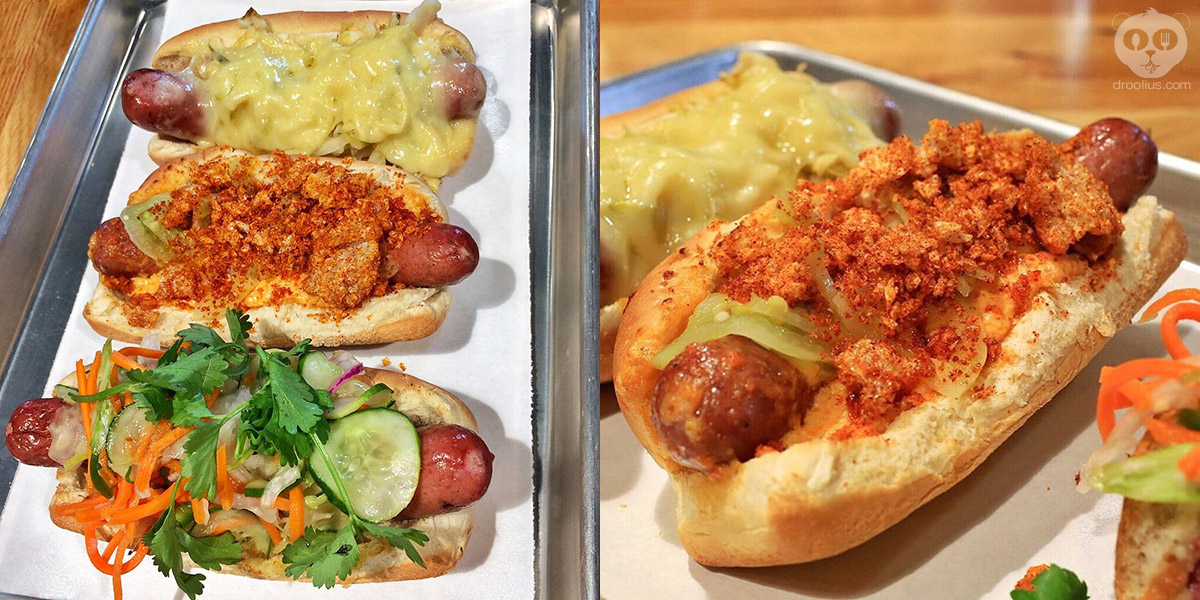 (click image to enlarge)
• Celebrating National Hot Dog Day at Swine & Sons , Winter Park, FL.
There are so many good things to eat at Swine & Sons. Their house cured meats for sandwiches are some of the best in town. Lady Droolius and I celebrated National Hot Dog Day and ordered one of each of the specialty hot dogs: Banh Mi Dog, Pimento Dog, and Reuben Dog. They were all unique and very good. Our favorite was the Pimento Dog topped with pimento, pickled green tomatoes, Nashville pork rinds. So much good flavor with a touch of heat and pork rinds gave a nice crunch. 
---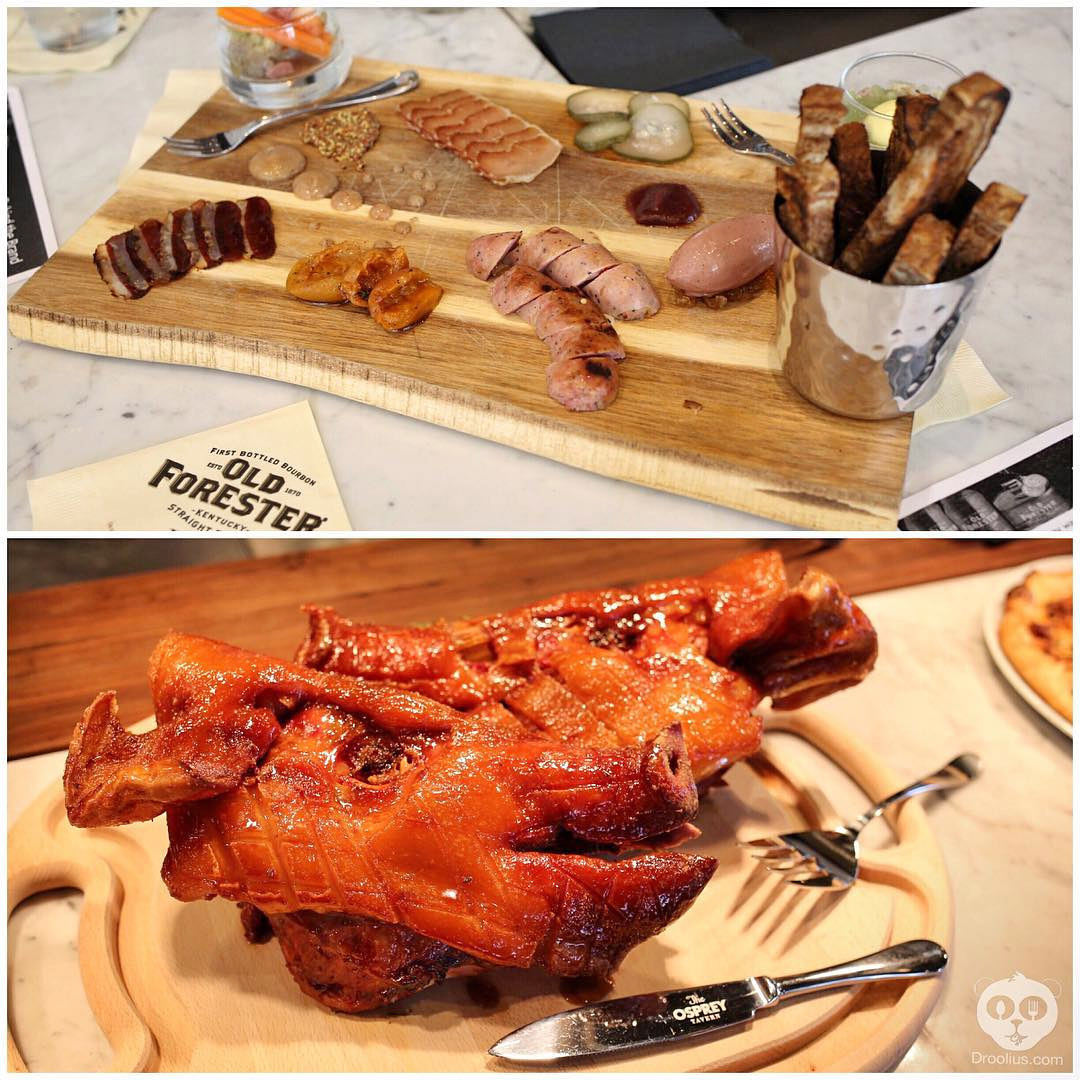 (click image to enlarge)
• Charcuterie board and Pig Head Pastrami at The Osprey Tavern, Orlando, FL
I attended a tasting event for Old Forester Bourbon and they served some really good food that day. Charcuterie of duck prosciutto, soppressata, country terrine, chicken liver mousse, armenian cured beef, smoked trout and "Pig Head Pastrami" with russian dressing, choucroute, marble rye. I went straight in for the cheeks of the "Pig Head Pastrami" and enjoyed a few rounds of various parts of pig's head. Can The Osprey Tavern serve this at least once a week? Please?
---
(click image to enlarge)
• 5 scoops of gelato at Lickety Split, Four Seasons Resort Orlando at Walt Disney World Resort
It was my 5 year blogiversary in 2015 and I wanted to celebrate in a unique way, so I asked Lickety Split to stack 5 scoops of their gelato: Peach Green Tea, Blood Orange, Mango, Birthday Cake, Mixed Berry. It took four of us to eat all of this! #TeamDroolius
---
(click image to enlarge)
• Dessert Plate for 5 year Anniversary at Four Seasons Resort Orlando at Walt Disney World Resort
To celebrate my birthday and the Droolius 5-year Blog Anniversary, we decided to stay at the Four Seasons Resort Orlando. They surprised us with this welcome treat of desserts and we definitely indulged. Thank you, @FSOrlando!
---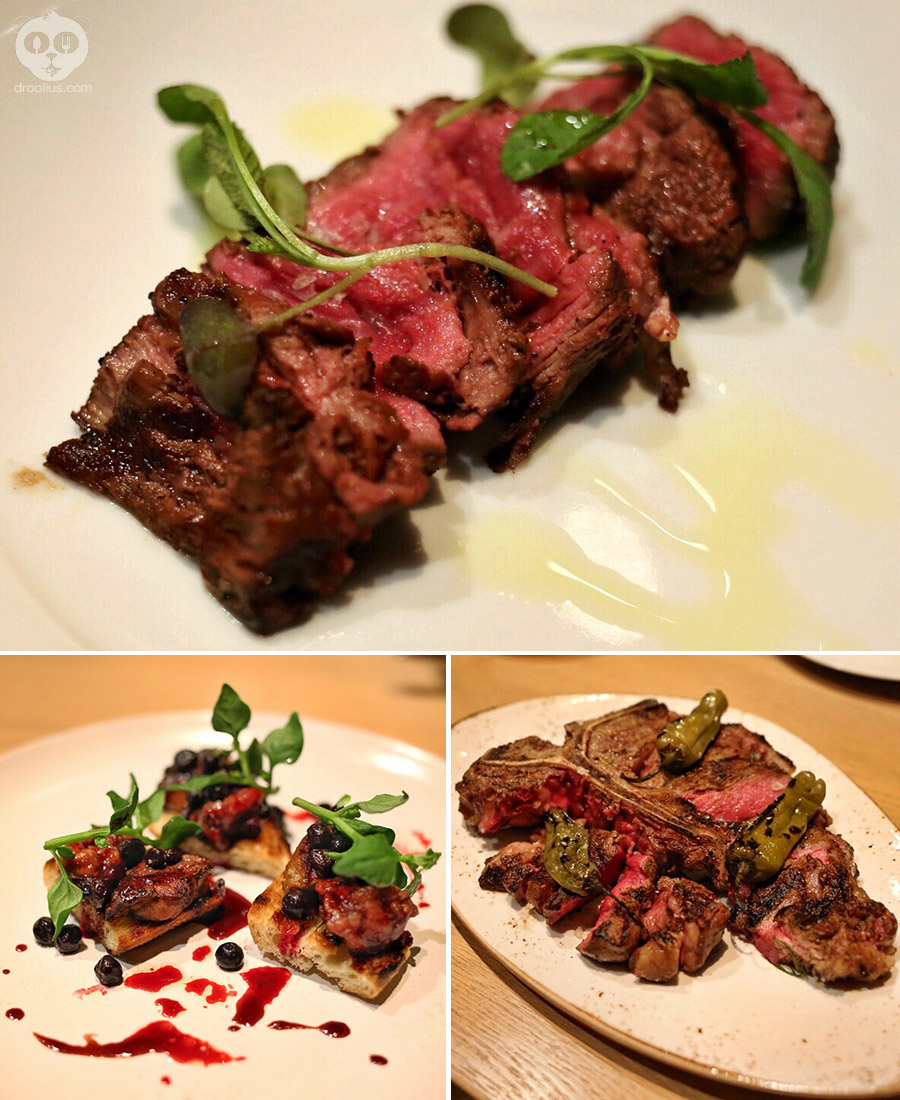 (click image to enlarge)
• Miyazaki Wagyu Beef A5; Higado Foie Gras, Sweet Breads, Huckleberry, Toast; Porterhouse for Two at Capa, Four Seasons Resort Orlando at Walt Disney World Resort
To celebrate my birthday we dined at Capa, the Spanish steakhouse located on the top floor of the Four Seasons Orlando. A menu special was the Miyazaki Wagyu Beef A5 (straight from Japan) that was super flavorful and meaty appetizer. The foie gras and sweet breads appetizer was very savory with a touch of sweetness to cut the richness. I had been eyeing their Porterhouse for Two for a while and that was our main course. These were only some of my favorites, but we had a few sides and vegetable dishes to compliment the meal.
---
(click image to enlarge)
• Kerala Fried Chicken at Spice To Table , Atlanta, GA
My sister had been telling me about what she calls "Indian Fried Chicken" so we had to try it when I was in Atlanta. A restaurant that the owner describes as Indian Food 2.0 and this is one of the tastiest fried chicken dishes I've had. Go early, they close at 3pm and may sell out of food.
---
(click image to enlarge)
• Soft Shell Crab Khao Soi at Lotus of Siam, Las Vegas, NV
When visiting Las Vegas, Lotus of Siam is a must for dinner. We've enjoyed Khao Soi there before, but after seeing this custom order of Soft Shell Crab Khao Soi on social media we had to order it. It did not disappoint and it's now a must order on all Vegas trips.
---
(click image to enlarge)
• Bone Marrow on French Toast at Wicked Spoon Buffet, inside The Cosmopolitan of Las Vegas, Las Vegas, NV
What did I do when I saw bone marrow at the brunch buffet? I put it on top of french toast and it was amazing! When there's a brunch buffet with so many savory and sweet dishes, might as well make your own tasty creations. Since I love eating both bone marrow and french toast, combining the two was the best of both worlds for me.
---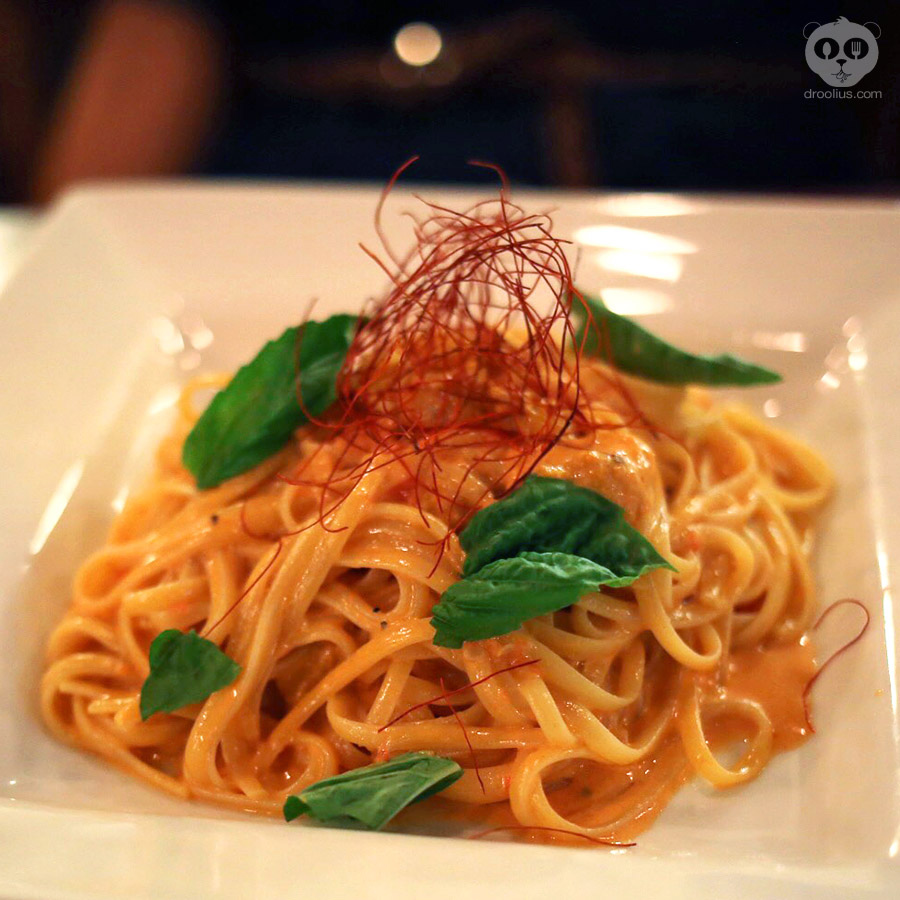 (click image to enlarge)
• Linguini Uni Tomato Cream at Trattoria Nakamura-Ya, Las Vegas, NV
I've only seen Japanese-Italian cuisine on old Iron Chef Japan episodes and hoped one day to try it. Finally, the day arrived when we went to Nakamura-Ya in Las Vegas. The top menu item is the Linguini "Uni" Tomato Cream with Premium Uni cooked in rich tomato cream sauce. There's a reason why it's on top. This dish has a savory and well balanced flavor that really works with unlikely ingredients. We will be back for this dish again.
---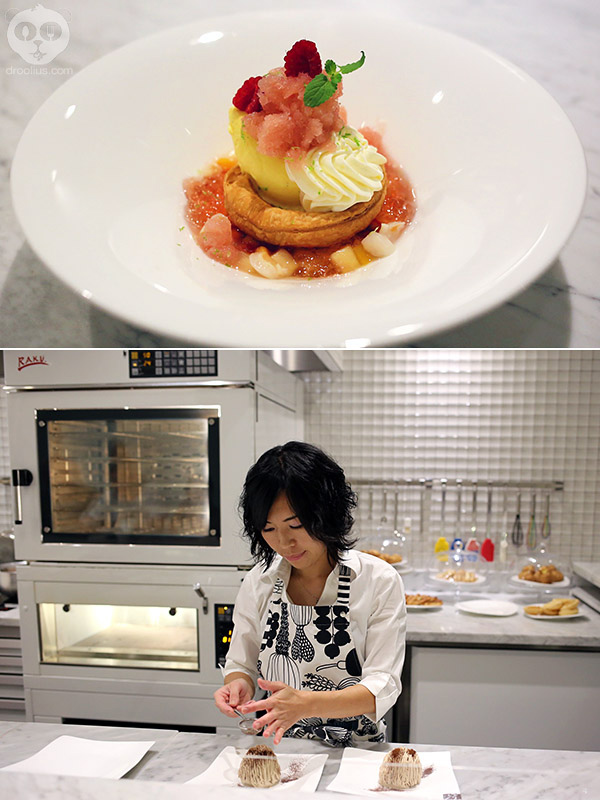 (click image to enlarge)
• Desserts at Sweets Raku, Las Vegas, NV
Watching desserts being prepared in front of you is almost as fun as eating them. The ladies at Sweets Raku make creating desserts a work of art. My dessert was the Sunset – Peach Moscato Dessert w/ Pie filled with cream cheese & vanilla ice cream. It was a balanced harmony of sweetness, texture, and fruit flavors. There were more desserts shared that evening and we enjoyed every bite.
• Downtown Southern Food Walk by Atlanta Food Walks in Atlanta, GA
During the SITsum Atlanta conference I had the chance to experience Atlanta Food Walks, a walking food tour of Atlanta's historic Downtown while learning about the local history. We started with Paschals Restaurant for their Fried Chicken and sides, learning how restaurants played an important part in the Civil Rights Movement. We walked to several restaurants in the area learning more local history, sampling Southern dishes and a variety of food. Check out the video above to see some of the food we ate and places and places visited.
---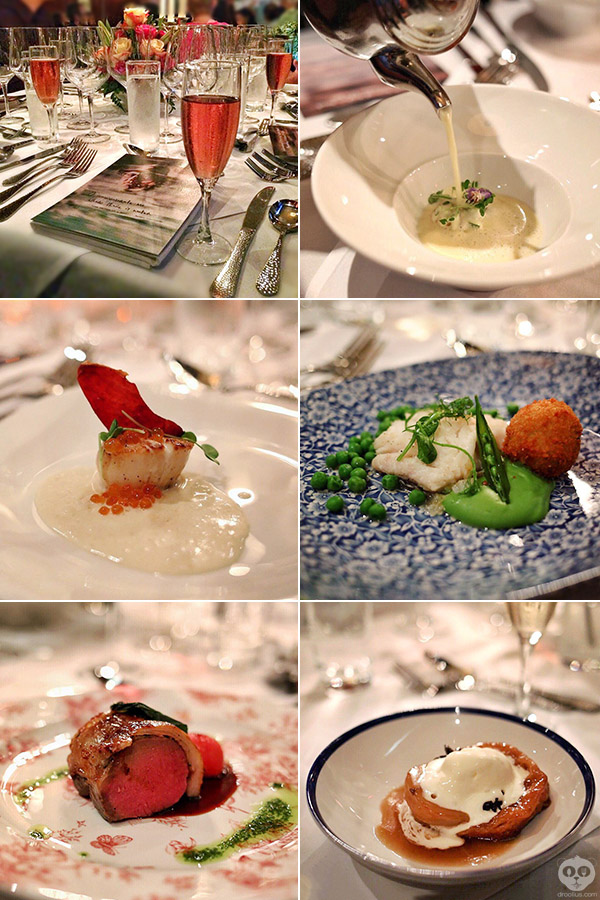 (click image to enlarge)
• "Celebrating 10 years of Raglan Road" 10 Year Anniversary Dinner at Raglan Road Irish Pub & Restaurant, Disney Springs, Orlando, FL
Raglan Road celebrated its 10 Year Anniversary in 2015 with several events, including a special dinner featuring the dishes of Raglan Road Master Chef Cooking Contest winners. When I traveled to Ireland with the contest winners on our Raglan Road Trip, I watched them cook and refine their dishes under the guidance of Chef Kevin Dundon at his cooking school at Dunbrody House. Fast forward a few months later to October, the contest winners cooked their dishes at Raglan Road for the anniversary dinner, "Celebrating 10 years of Raglan Road". Great execution on all dishes and each course paired nicely with wines. Chef Kevin Dundon and restaurant partners flew in from Ireland for the celebration, giving celebratory speeches, and share the experiences with each contest winner. It was a great night of food and celebrations. I'm very thankful to be a part of it.
Dinner courses:
– Colleen's Cape Cod Oyster Soup with Honey Tarragon Foam
– Janice's Georges Banks Sea Scallop on a Smokey Bacon & Potato Foam, Salmon Roe & Smoked Speck
– Heather's Pan-Seared North Atlantic Haddock with Pea Puree & a Jonah Crab Croquette
– Linda's Lamb Noisette with Heirloom Tomato Monde, Dandelion Greens & Natural Pan Jus
– Aaron's Caramelized Bartlett Pear & Star Anise Tarte Tatin with Jameson Butterscotch Ice Cream
---
(click image to enlarge)
• Morimoto Spare Ribs – pork ribs, cilantro, hoisin sweet chili glaze; Chef's Combo Sushi at Morimoto Asia, Disney Springs, Orlando, FL
Morimoto Asia was one of the big restaurant openings of 2015. A huge restaurant with beautiful design and a menu to match it. I wouldn't expect anything less from Iron Chef Masaharu Morimoto. This being the first pan-Asian concept for the Iron Chef, the menu has a wide variety of dishes. One of my favorites was the Morimoto Spare Ribs appetizer. Spectacular flavor in these ribs, I would eat a whole rack by myself. Another favorite was the Chef's Combo Sushi plate with variety of nigiri and a sushi roll. Definitely planning to go back for more to try more of the menu.
---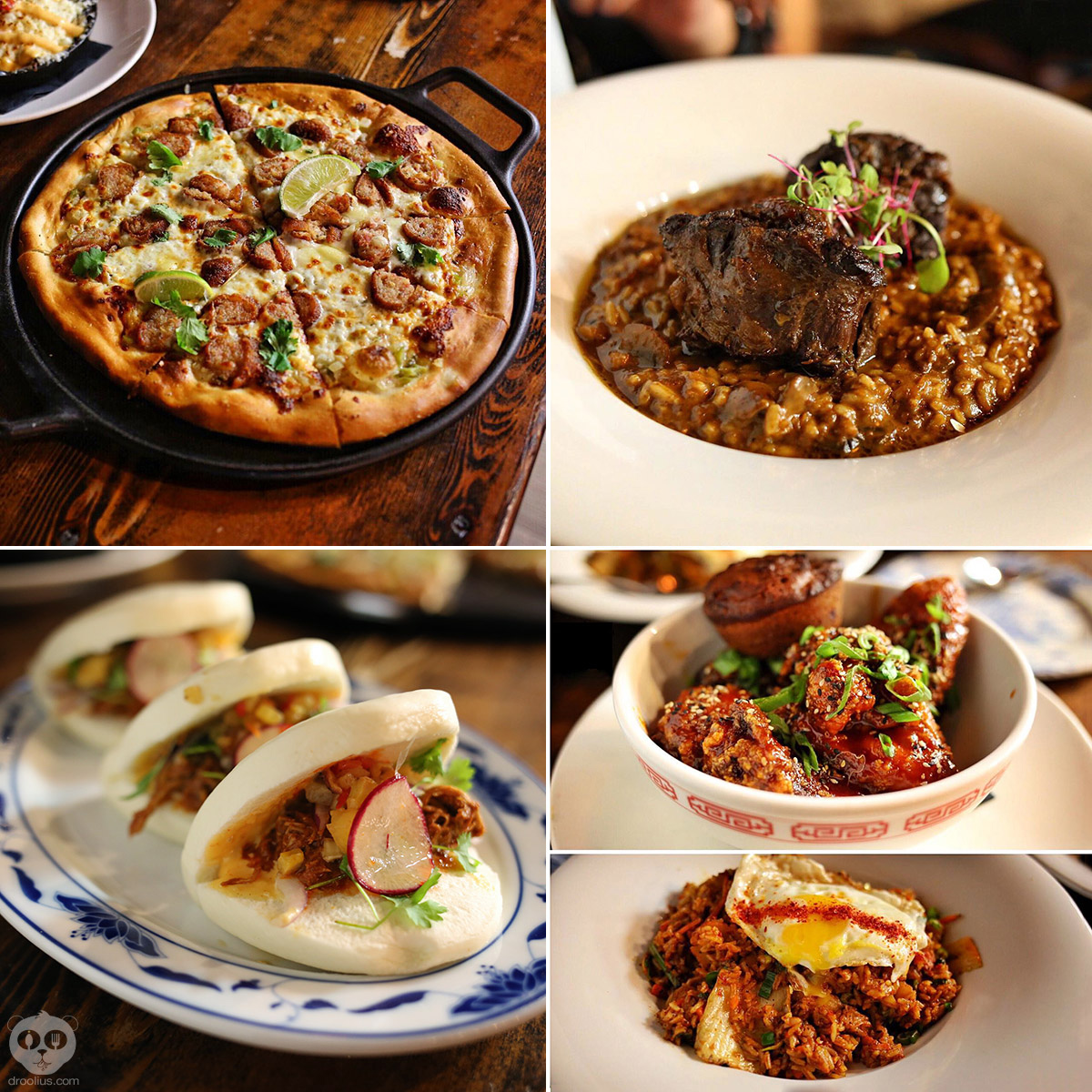 (click image to enlarge)
• Favorite dishes at Finka Table & Tap, Miami, FL
I was looking forward to dining at Finka Table & Tap for over a year. When I first heard about the concept of Korean, Peruvian, and Cuban cuisines, my mind was spinning on the possible flavor combinations. Finally dining there at the end of 2015 turned out to be one of my best meals of the year. Sharing a number of dishes with Lady Droolius and blogger BFF Burger Beast, I was very impressed on how each dish had so many good flavors, a few with bold spices, and all very well-balanced. The kitchen team here is creating dishes that are approachable with new flavor experiences. Finka is a destination location and well worth the trip to dine at.
Some of my favorite dishes:
– Islas Canarias Ham Croquetas wood burning pizza with Mozzarella, Swiss Cheese, Maple Bacon Sauce, Lime Zest, Cilantro
– Grass Fed Oxtail in Merlot Reduction, Mushroom Risotto
– Spicy Pork Buns, Red Onions, Pineapple, Red Peppers, Spicy Mayo, Cilantro
– "KFC" Korean Fried Chicken, Spicy Gochujang, Boniato Bread
– Spicy Kimchee Fried Rice, Veggies, Water Chestnuts, Fried Egg, Scallions
---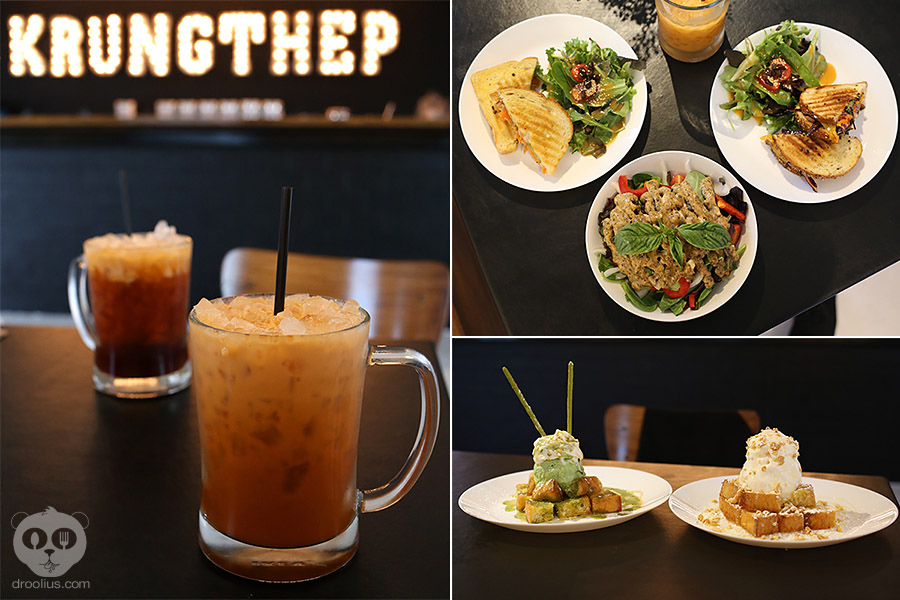 (click image to enlarge)
Thai iced tea, Signature Sandwiches, Naked Sandwich (salad), and Brick Toast (dessert) at KrungThep Tea Time, Winter Park, FL
It's always great to see someone create something new in Orlando and execute it well. KrungThep Tea Time is a tea, sandwich, and dessert shop that has recently opened in Winter Park. The owner is translating Thai dishes and its flavors into sandwiches and salads. The sauces and dressings are so flavorful, they scream Thai food. The small kitchen is doing it very well and with the amount of photos popping up on social media, you can really tell their customers have quickly fallen in love with the menu and concept. Thai iced tea and iced coffee are two of my favorites drinks, but they offer a list of hot teas too. Brick toast for dessert is popular here, with a range of toppings of condensed milk, matcha green tea, chocolate and more. KrungThep is one of my favorite openings in Central Florida for 2015.
– Thaiger Is Crying – marinated beef, carrot, red cabbage, red onion, cilantro, cheddar, spicy "Jaaw" sauce.
– Satay Satay Sandwich – marinated grilled chicken, red onion, pickled cucumber, carrot, provolone, curry peanut sauce
– Ka-Ti Brick Toast with crushed peanut, condensed milk, homemade coconut ice cream
– ChaCha Brick Toast with matcha green tea ice cream, matcha sauce, and matcha everything
---
(click image to enlarge)
• Japanese Cuisine at Kappo at East End Market, Orlando, FL
I ate several great meals at Kappo throughout 2015. An Omakase dinner course had the best squid ink pasta I've had and made from scratch by Chef Lo. Chef Mark prepared an Uni Trio from Maine, Santa Barbara,CA, and Hakaido, Japan. Even when I can't think their Chirashi bowl can't get any better, they add a couple pieces of wagyu steak to kick up the flavor. The last great meal of 2015 was a late lunch Omakase right after Christmas, one of their final Omakase meals. The Kappo team has redefined quality sushi in Orlando and taught us all how to eat better Japanese cuisine.
– Squid Ink Pasta with Uni (from Maine) and octopus
– Uni Trio – Uni from Maine, Santa Barbara, CA, and Hokkaido, Japan
– Chirashi to-go serving with Japanese Wagyu beef
– Omakase Lunch with sushi and a variety of Japanese dishes.
NEWS: With a few good restaurant openings in 2015, there is a bitter sweet closing. Kappo at East End will close its current concept and relocate to their own new space. No news yet on where and when the new location will open, but it will be a few months into 2016. Don't worry though, they are replacing the End End Market location with a Japanese convenient store concept stocked with prepared foods to eat or for take home. Convenience stores in Japan all have quality food that actually taste good without all of the junk that is found in U.S. stores. Think 7/11 with good food. I've experienced it myself in Tokyo and it's totally possible. That's what I love about the Kappo team, always pushing forward and teaching Orlando how to eat.
---

So 2015 was a good year of eating, discovering some new flavor profiles, and also my first trip to Europe. Very thankful for it all.
If you've been wondering why this blog hasn't been updated in a while, it's because it is currently going through a redesign and I've been limited to what I can post. I couldn't let this yearly Top 25 list not be posted, so hopefully the formatting and all photos appear properly. The new website layout is almost here, so check back for an updated and fully functional website!
Happy New Year and you can always see what I'm eating on @Droolius Instagram.

Words and photos by Julius Mayo Jr.
Content and photos © Droolius.com 2015


See more yearly Droolius Top 25 Food lists:

Droolius' Top 25 Food & Most Memorable Meals in 2014


Droolius' Top 25 Food & Most Memorable Meals in 2013


Droolius' Top 25 Most Memorable Food in 2012
Post updated January 5, 2016 — corrected location description of The Imperial at Washburn Imports in Orlando, FL