Beard Papa's is a dessert place that I have frequently visited in the past. Once located at an outlet mall on International Drive, the popular dessert store moved to Sanford, FL at the end of 2010. It has taken me almost a full year to visit this new location, but it is well worth the trip after all of this time. The move North of Orlando allowed the owners to build up their own building, complete with a spacious interior and plenty of room to sit and eat.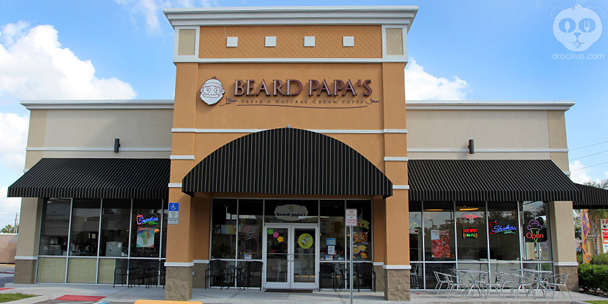 (click image to enlarge)
Beard Papa's is a Japanese dessert franchise that serves a few different styles of cream puffs. The cream puffs are a puff pastry filled with a fresh and all natural original custard combined with whipped cream. The recipes are from Japan so expect to enjoy balanced flavors with a delicate sweetness (which is what I prefer).
Customers create their own combination of cream puff flavors. First choose a (pastry) shell: Original, Cookie, Eclair, Paris Brest and then choose a custard cream filling (changes daily). This day, the flavors offered were: Vanilla, Strawberry, Green Tea, Pumpkin Spice. We tried several combinations and all tasted great. A nice blend and balance of flavors and sweetness in each one.
Here's what we had:
(click image to enlarge)
Eclair (pastry) covered with dark chocolate top layer and filled with Pumpkin Spice, original custard combined with pumpkin puree and spices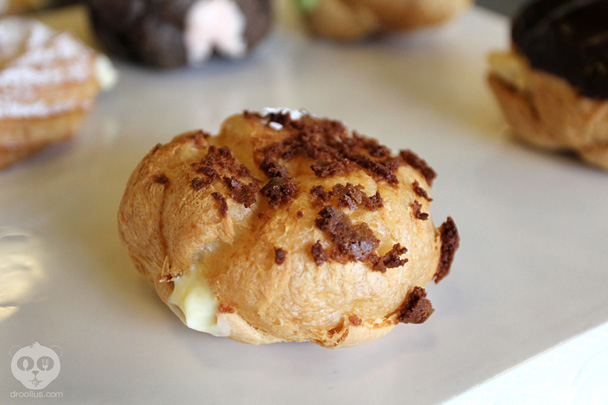 (click image to enlarge)
Cookie (pastry) filled with Original Vanilla custard cream



(click image to enlarge)
Original (pastry) filled with Green Tea custard, original custard blended with Premium Japanese green tea, and topped with matcha green tea powder. This one is my favorite!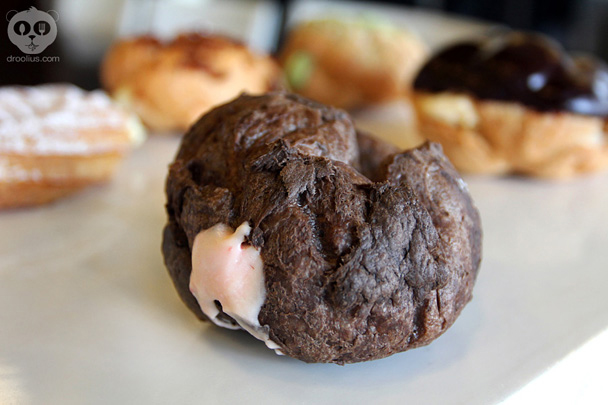 (click image to enlarge)
Chocolate Original (pastry) filled with Strawberry, a mixture of fresh strawberry puree and original custard cream. Strawberry filling, another favorite.



(click image to enlarge)
Paris Brest (pastry) filled with Original Vanilla custard cream.
First time I had this style pastry and I liked it. The texture of the pastry is different but tasted similar to an Original cream puff with vanilla.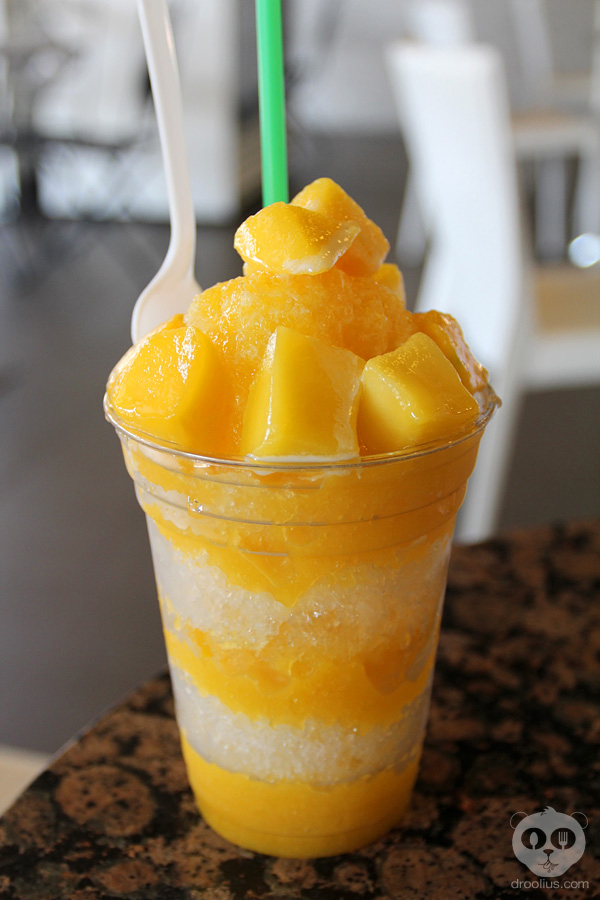 (click image to enlarge)
Mango Ice Shower – shaved ice with layered natural sauce and topped off with mango chunks
This was a flavorful cold treat. Sweet chunks of mango with slightly sweetened layers of "mango sauce". (The way the Japanese name things is so entertaining)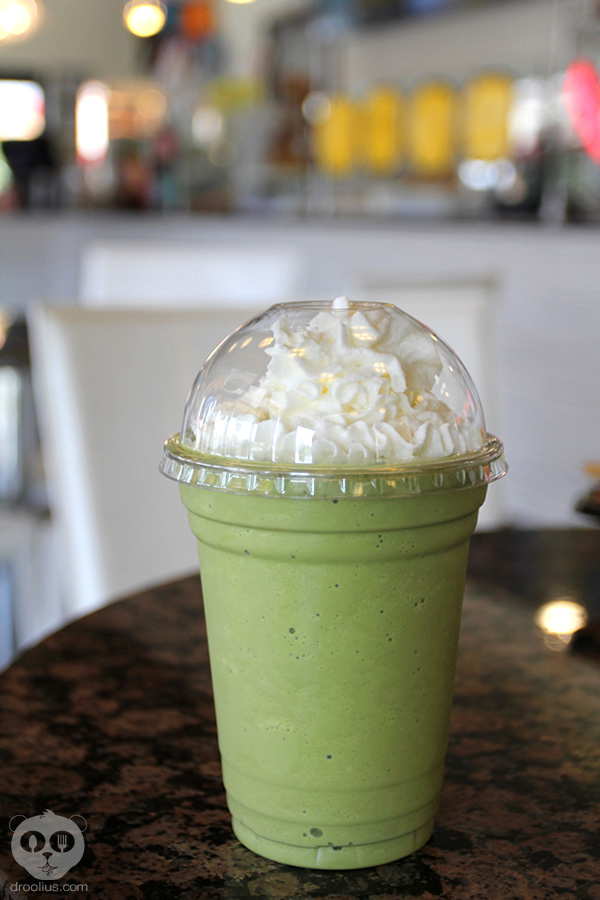 (click image to enlarge)
Green Tea Frappe – blended drink made with Japanese green tea
I really enjoyed this blended Frappe, more than the ones offered at Starbucks. It may look dense, but it is actually a smooth blend and easy to drink, almost like a light milkshake.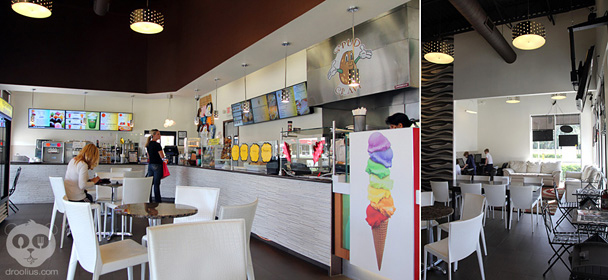 (click image to enlarge)
The interior itself is spacious with contemporary lines and a modern feel. It has a nice relaxing vibe inside with several tables to sit and eat, with a lounge area including couches and a few computer stations. They also have wi-fi for patrons. Who wouldn't want to come here and just hang out and eat? The location is close to Seminole Towne Center Mall (just West of I-4) and I hope people are taking advantage of such a cool spot to hang out at.
This is a very unique Beard Papa's location, a comfortable space for enjoying desserts, with the addition of a few meal items. The owner's have created a menu adding their own food creations and snacks.



(click image to enlarge)
Spinach turnover – house made spinach filled turnover (owner's recipe). They also had a mild vegetable curry turnover available(not pictured). Both were good, flaky on the outside with a warm filling. These tend to sell out during the day, I got the last ones.
Spud Crave
The owner's food creation and addition to this space is called
Spud Crave
. Spud Crave serves giant sized potatoes with house made toppings.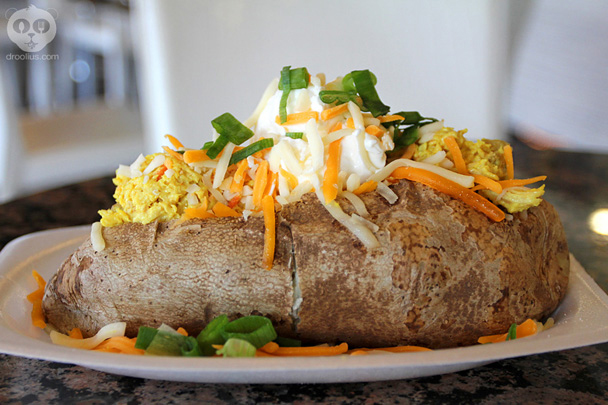 (click image to enlarge)
#6 Spud with butter, cheese, sour cream, curried chicken salad
These potatoes are HUGE and the topping portions are plenty. The curried chicken salad is a house made recipe, with a good curry flavor without being spicy.



(click image to enlarge)
Garden salad with a small sampling of cottage cheese, egg & dill mayo, tuna & sweet corn, curried chicken salad – A lighter menu item, all of the toppings were fresh in taste and in quality. Again, all made in house and were filling.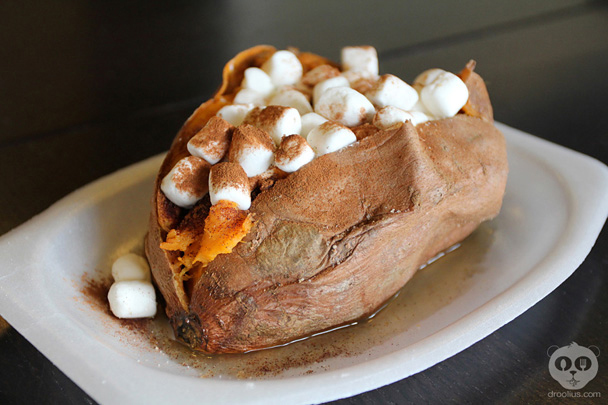 (click image to enlarge)
#7 Sweet Potato with butter, brown sugar, marshmallow, cinnamon
I enjoyed this one and actually surprised it was not overly sweet with all of the toppings.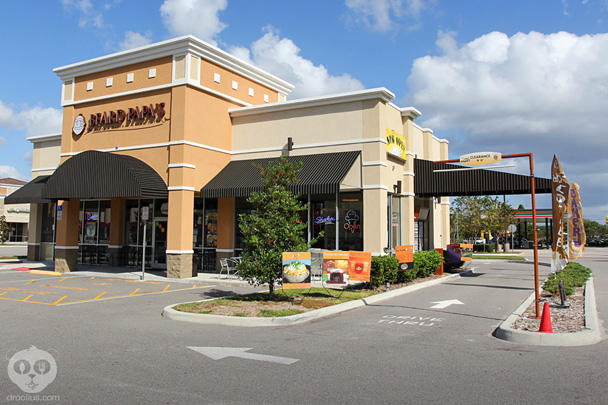 (click image to enlarge)
This Beard Papa's location is just a cool place to visit and they even have a drive thru window for orders. The cream puffs and desserts are good as always, and the new addition of Spud Crave gives patrons more tasty options. The Sanford and Lake Mary area is lucky to have such a unique place. If you are shopping at the Seminole Towne Center Mall or live in the area, it is worth the stop. A stop that I wish was closer to me.



(click image to enlarge)
On this trip, I ordered almost everything on the menu, except for Mochi Ice Cream. I tend to order these during my visits, but this time we were way too full. Here's a teaser photo of the list on the flat panel digital menu. What is Mochi Ice Cream? Those who do not know will have to wait until the next trip to Beard Papa's. I will be back again soon, stay tuned…
Beard Papa's of Central Florida
4922 W. State Road 46
Sanford, FL 32771
Facebook Page
Words and photos by Julius Mayo Jr.
Content and photos © Droolius.com 2011