Shake Shack opens their newest location in Boca Raton, FL today and serves their classic menu of burgers, hot dogs and fries, along with a number of desserts. Also on the menu are a few Boca signature frozen custard concretes, which are exclusively offered only at this location. Being in the South Florida area already gave me a chance to check out this newest addition to the Shake Shack lineup.
(click image to enlarge)
To celebrate the opening, I ordered and happily devoured a Double SmokeShack Burger, Cheese Fries, and a Glades Donuts Concrete (one of three concrete flavors specific to Boca Shack).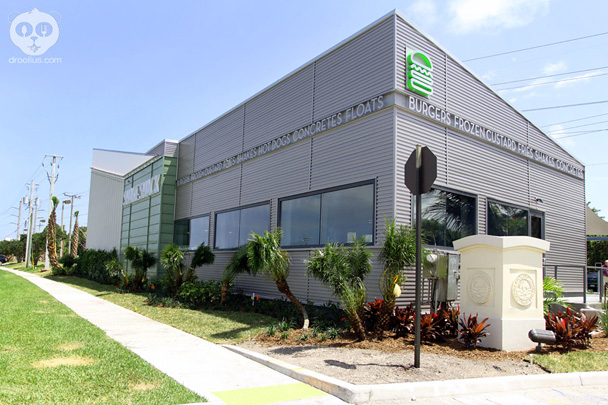 (click image to enlarge)
This is the third Shake Shack to open in South Florida, with the first location in Miami Beach and the second in Coral Gables. The Boca Shack is it's own free standing building and has seating inside, as well as a large outdoor patio for dining. It's located not too far from the Interstate 95 highway and free Wi-Fi is available too. This is an easy stop for anyone craving some Shake Shack.
Back to the food… My usual is a Double ShackBurger or sometimes a Shack Stack. Attending the pre-opening event yesterday, I figured I'd go with a fairly new burger that was introduced last year. I went with the SmokeShack burger, something that I've never tried before.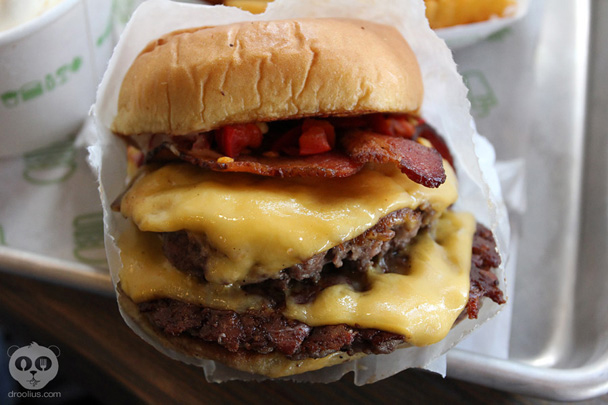 (click image to enlarge)
Double SmokeShack – Cheeseburger topped with Niman Ranch all-natural applewood smoked bacon, chopped cherry pepper and ShackSauce.
I always go with a double burger from the start because the single just leaves me craving for more. The SmokeShack amps up the classic ShackBurger with the addition of Niman Ranch all-natural applewood smoked bacon and chopped cherry pepper for a spicy kick. Each bite is bursting with added smokey and spicy flavors, making this a new favorite burger of mine.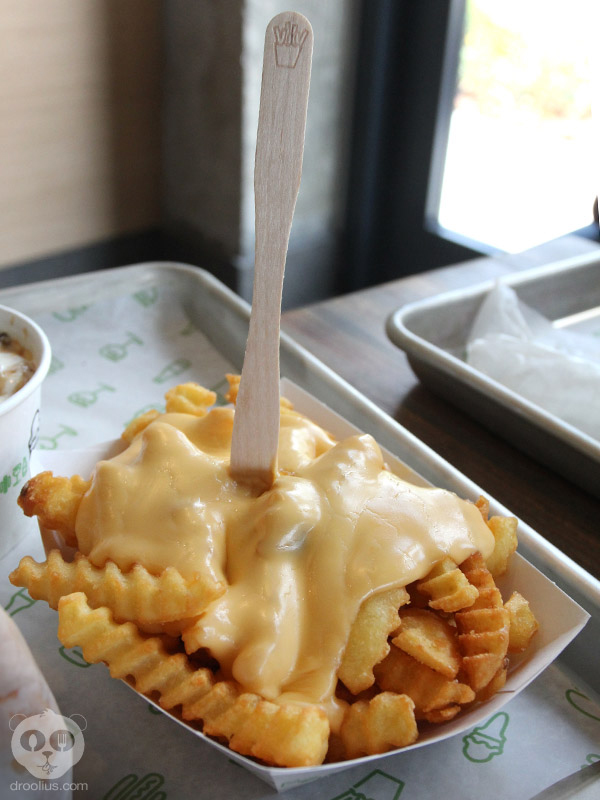 (click image to enlarge)
Cheese Fries – topped with our special blend of cheddar and American cheese sauce

The combo of fries and warm melted cheese is something to be always ordered when visiting Shake Shack.
(click image to enlarge)
Glades Donuts (vanilla frozen custard, The Sugar Monkey's glazed cake donut, peanut butter sauce and chocolate toffee)
The Glades Donuts concrete takes dessert to another level with some of my favorites and blending them together. Frozen custard, donuts, peanut butter and toffee are all things I enjoy eating. Everything together in a single concrete dessert only made sense and not to be missed. This was one of three Boca-specific concretes and will for sure lure me back to Boca Shack since it is only available here.
The Boca Raton menu features an exclusive selection of frozen custard concretes that include Mizner's Muse (vanilla frozen custard, cheesecake blondie, strawberry purée and cinnamon marshmallow sauce), Burrowing Banana (chocolate frozen custard and a slice of The Sugar Monkey salted caramel banana cream pie), and Glades Donuts (vanilla frozen custard, The Sugar Monkey's glazed cake donut, peanut butter sauce and chocolate toffee). To see the entire Boca Raton menu, click [HERE].
As usual, I enjoyed my Shake Shack experience and I also discovered a new favorite burger on this trip. With this expansion of Shake Shack heading north of Miami, I really hope to see them in Orlando in the near future. For now, the new Shake Shack in Boca Raton is a little closer to drive to from Central Florida.
If you love eating at Shake Shack, leave comment below and let me know your favorite menu items.


Shake Shack
1400 Glades Road
Boca Raton, FL 33431

Words and photos by Julius Mayo Jr.
Content and photos © Droolius.com 2013




Disclaimer: I was invited to attend this Pre-opening session. I was not compensated to write this post and all opinions are always my own.