Finding food trucks in your own city can sometimes be a challenge. However, with the new and improved Eat St. iPhone App, finding your favorite food trucks or discovering new ones in your area is now easier. With more accurate locations, more menus options, and new photo features, this is the App to help you on your quest for finding food trucks in your city or while traveling out of town.
The new Eat St. iPhone App helps both the users and vendors. Users can search vendor listings by proximity, popularity and cuisine type. Viewable information on the App are vendor hours of operation, location, menu and specials, directions via GPS and Twitter feed where applicable. For the vendors, they have the ability to claim their cart, allowing them to keep hours, menus and locations up to date. An integrated Twitter feed also allows vendors to push messages out to app users who are researching their cart. With everyone participating and using the App, finding food trucks and food carts will be even easier, as both the users and vendors add information to stay current.
Want more info and the newly updated Eat St. iPhone App? Check out the press info below and hit the download link at the bottom of this post! It's a FREE App!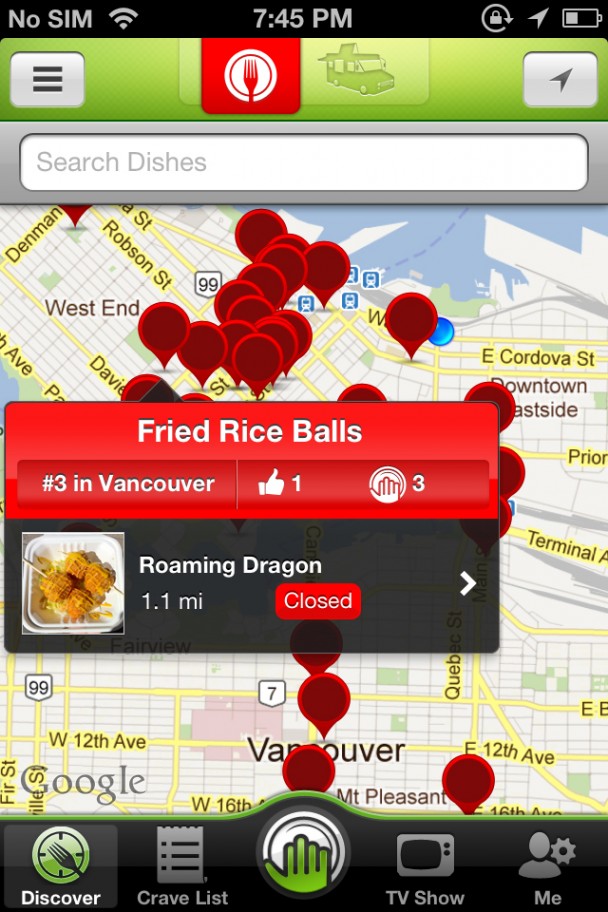 (click image to enlarge)
Discover the best street food in your city with the improved Eat St. App! The new version of the Eat St. App for iPhone is NOW available for download!
VANCOUVER, May 9, 2012 – The street food revolution has given rise to North America's tastiest, juiciest fleet of mobile eateries and Eat St. wants to be your fearless captain.
The new version of the Eat St. iPhone App, developed by Invoke and Paperny Entertainment to complement the popular Food Network television series, can now direct you to the best street food dishes in your city, as verified by the experts — street food aficionados like you. Local foodies can snap pictures of a food cart's individual dishes, rate them and offer tips for the benefit of locals and tourists. A city's food carts and dishes are ranked, so users can quickly see the must-try dishes locally, in every city in North America. 
Just like in the previous version, the Eat St. App will display local delicacies and the carts that serve them. Integration with Google Maps makes finding your next street meal a breeze. Foodies demanded new features and the Eat St. App is excited to deliver:
• More accurate locations

• More food cart menus

• A "to-do" list of dishes to try later

• More video content from the Eat St. TV series

• The biggest street food database on earth – more than 4,000 carts and trucks!
The iPhone App is launching alongside Season 3 of Paperny Entertainment's hit TV series, Eat St., premiering at 10pm ET/ PT tonight on Food Network Canada and 8pm on May 15th on The Cooking Channel in the U.S. Discover the most incredible food carts in North America and the UK, and then take it to the streets with the App to kick off your most delectable summer yet.
What are you waiting for? Download the new and improved Eat St. App for iPhone and discover your next favorite food truck meal today!