Great news! The 5 Gastronomy Pop Up Dinner has been rescheduled to Friday February 8, which means that there is plenty of time to make your plans to attend this anticipated culinary evening. The date was moved due to a high interest in the event, but our original announcement was too short notice. Whole Foods Market decided to move the event in order to accommodate interested guests. So now is the time to book your seats and support a great cause…
(This post has been modified)
Back in October 2012, I announced that a Chef friend was planning a Pop Up dinner here in Orlando. After working out all of the details, the venue and date has been finalized. The Pop Up dinner is happening on February 8, 2013 January 16, 2013 with Chef Bruno Fonseca of 5 Gastronomy in collaboration with Whole Foods Market Phillips Crossing. It will take place at the Whole Foods Market, inside of the Lifestyle Center. A four course dinner with a wine pairings, and very limited seating for 20 people available. The cost is $50 per person, which will benefit the ANNIKA Foundation. Find out full details below or reserve your seat now: http://www.acteva.com/booking.cfm?bevaid=234794
Join us for this special event as Chef Bruno creates a special secret menu that features fresh ingredients from Whole Foods Market. I will also be hosting the event; doing introductions, pouring some wine, taking some food photos. I'm super excited for this event and proceeds are benefiting a great cause. Hope to meet some of you there…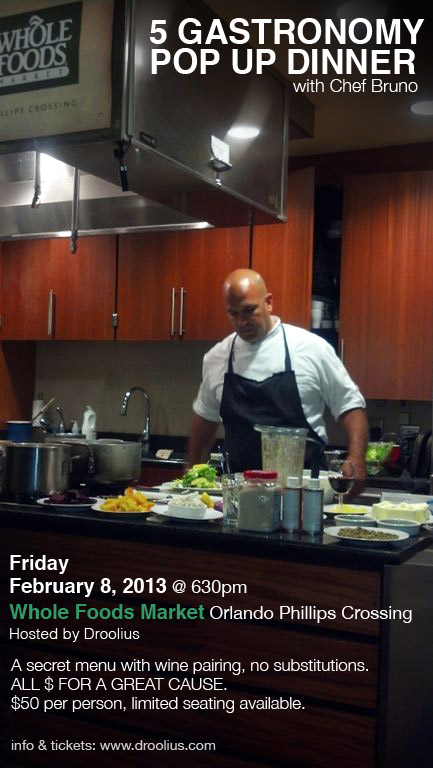 5 Gastronomy POP Up Dinner
at Whole Foods Market Phillips Crossing Orlando
Hosted by Droolius
Date: Friday, February 8, 2013 (rescheduled date)
Wednesday Jan. 16, 2013 @ 630pm
Location: Whole Foods Market Phillips Crossing
(inside Lifestyle Center)
8003 Turkey Lake Road
Orlando, FL 32819
Menu: 4 courses with wine pairing
A secret menu with wine pairing… no substitutions, no questions asked. *Please note that the menu will be developed on the day of the event, food allergies cannot be considered in preparing the dishes for this dinner.
Price: $50 donation per person, benefiting the ANNIKA Foundation
Very limited seating, only 20 seats available!
Reserve your seat now: http://www.acteva.com/booking.cfm?bevaid=234794
Details:
Look at what just Popped Up! 5 Gastronomy along with Whole Foods Market® are partnering together for this exclusive event benefiting the ANNIKA Foundation, hosted by Julius Mayo Jr. from Droolius.com. Join Chef Bruno as he prepares this table d'hôte 4-course meal paired with exquisite wines. Seating is limited, so reserve your very own Chef's Table.

More about 5 Gastronomy and Chef Bruno Fonseca, visit:
www.5gastronomy.com
Facebook.com/5gastronomy
Twitter.com/5gastronomy
Whole Foods Market – Phillips Crossing is located at 8003 Turkey Lake Road in Orlando.
Telephone: (407) 355-7100
Facebook.com/WholeFoodsMarketPhillipsCrossing