The TECHmunch food blogger conference rolled into in Tampa, FL last month. This was my first time attending a TECHmunch event and I was excited to see this conference taking place in a nearby city. What made this conference different was that I was asked to speak at one of the segments. Jeff Houck, Food writer for the Tampa Tribune, reached out to me back in February and asked if I would be interested in speaking. After an excited and nervous initial reaction, I was honored to be asked and accepted. Later I found out I was participating on a panel, speaking on food trends and social media. Sure, I can chime in and talk in a group setting, a more ideal situation than speaking solo with a power point.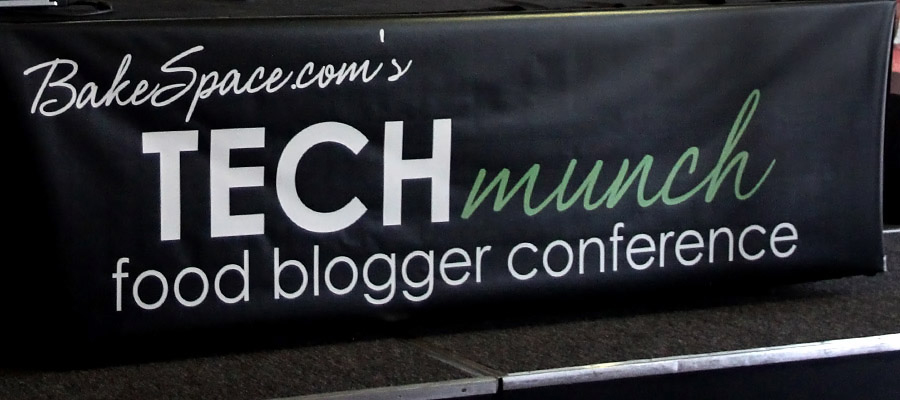 (click image to enlarge)
The conference weekend started on a Friday evening with a opening reception at the Tampa Museum of Art. The event had tasty bites and desserts, along with some potent mixed drinks. A fun time for conversations, introductions and re-connecting with food blogger friends. (I only took iPhone photos that went on Foodspotting and Instagram.)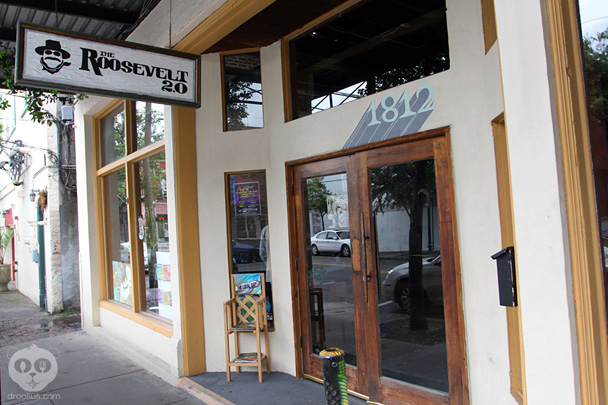 (click image to enlarge)
On Saturday morning, food bloggers gathered at The Roosevelt 2.0, the event space for TECHmunch conference. The location was a great pick, offering an artsy and cozy atmosphere, far from the usual conference room hall or classroom. The walls had colorful painted artwork and it was a comfortable space to learn in that sparked creativity.
(click image to enlarge)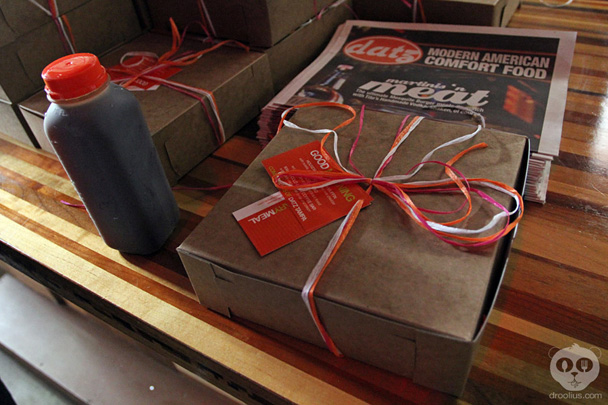 (click image to enlarge)
Morning breakfast in a box, with baked goods from Datz Deli in Tampa.
(click image to enlarge)
I missed the details about the cold coffee, but it was a good brew. Add some creamer and sugar, then shake… very enjoyable.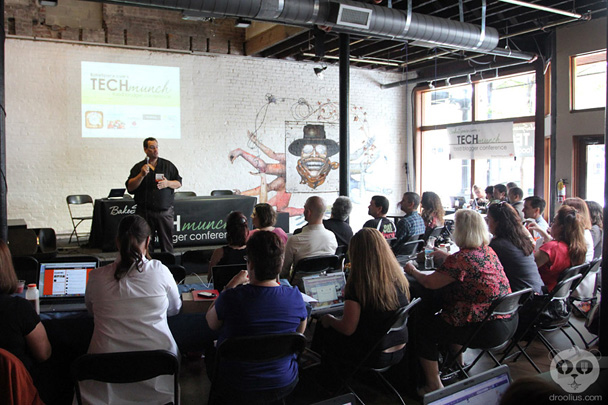 (click image to enlarge)
Jeff Houck, writer for the Tampa Tribune, gave a warm welcome and opening remarks.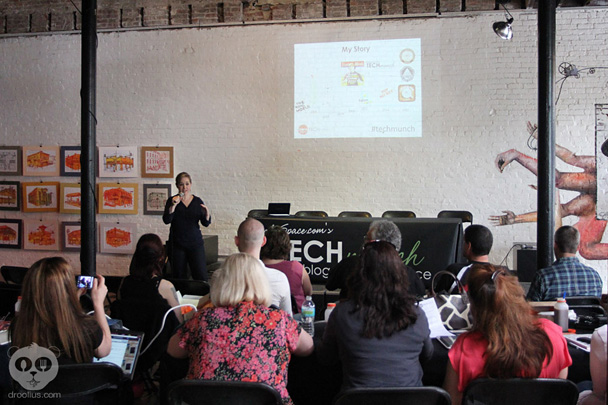 (click image to enlarge)
TECHmunch Founder, Babette of Bakespace.com gives an overview about TECHmunch, its history and goals for the conference.
(click image to enlarge)
The first panel was up and it was our time to take a seat on the stage. This was the view from my seat, I was not expecting the large photos, but at least twitter handles were posted.
(click image to enlarge)
Thanks to Photographer Bill Leon in Tampa for sharing these photos!
Tapping into and Leveraging Food Trends and Social Media
The panel: Moderator Erik Deutsch, Todd Sturtz of Tastingtampa.com, Droolius, Brian Roberts of Roosevelt 2.0, Eric Hochberger of tvfanatic.com
My first time speaking at a blog conference and it went well. With the topics of discussion, we all had something good to say and share with the audience. Everything said seemed to be relevant and it was noted live on Twitter via #techmunch hashtag. We discussed the local food scene, food trends in using local products from local farmers. I mentioned "Support local farmers by blogging about them", which correlated with Brian Roberts speaking about the focus of Roosevelt 2.0 and the local food and sustainable movement. Todd of TastingTampa and I both spoke about local restaurants and food trucks in the Tampa and Orlando markets, while Eric of tvfanatic.com shared the inside scoop of using social media in the television and celebrity world. I think we all had something valuable to share about our use of apps, social media, and how we incorporate it into everyday life.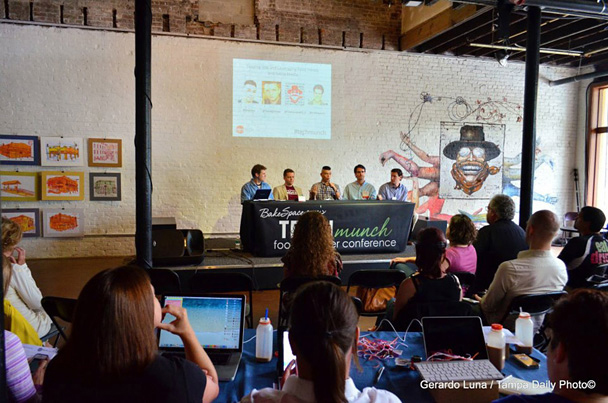 (click image to enlarge)
Another photo of our panel, courtesy of Gerardo Luna of Tampa Daily Photo
(click image to enlarge)
Snacks during the conference. I really enjoyed these berries from Driscoll's!


Even though I was a speaker at this conference, I stuck around the rest of my day to get my learn on. After all, we can always learn from someone else and I did take notes to share…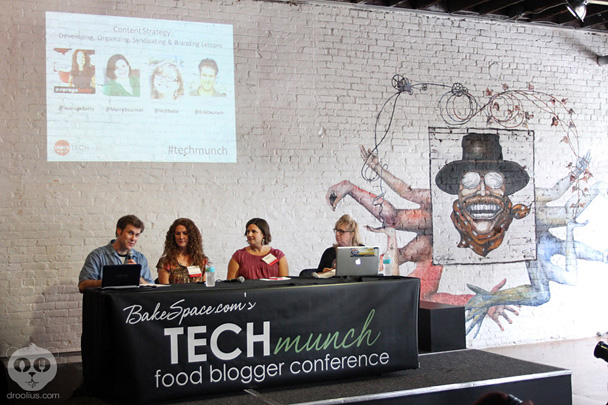 (click image to enlarge)
Content Strategy – Moderator Erik Deutsch, Sara O'Donnell of AverageBetty.com, Merry-Jennifer Markam of MerryGourmet.com, and Sandi McKenna of MidlifeRoadTrip.tv
This session focused on creating valuable content for readers, releasing content in a timely manner, and how to improve content with video and using other tools.
A few valuable tid-bits:
• When you experience a creative stint, write a lot and stock pile blog posts. Stagger posts and optimize posts to when you get the most traffic.
• Companies come to you because you have something they need. They trust your voice for your followers because your audience trusts you.
• Use Google Analytics to see who is interested in you, finding which companies are snooping around.
• In making videos, invest in audio to sound like a pro!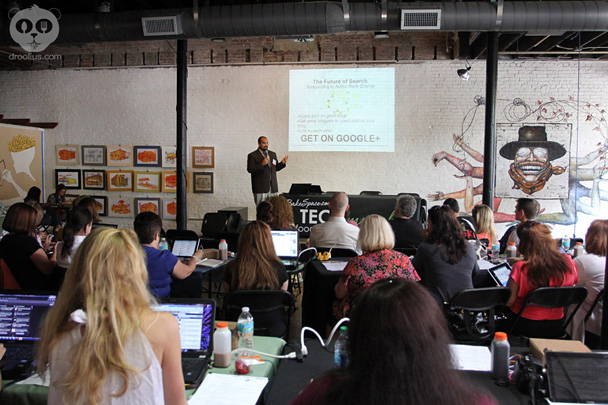 (click image to enlarge)
A Down and Dirty Conversation about SEO for Food Writing with Josh Unseth
A basic run down on SEO with understandable examples like "chicken teriyaki" and how changes in Google affect websites and searchable content. A few key points:
• Content is king – content will get rankings
• Websites that Google trusts are gold when you get a link from those sites – more links from those sites creates more authority on your site
• Google has doc 60 page document on what they care about – what they like/don't like:
http://static.googleusercontent.com/external_content…
Lunch Time
The Taco Bus came out and catered our meal. This was my first time having this food truck and I was excited from all of the recommendations from my friends.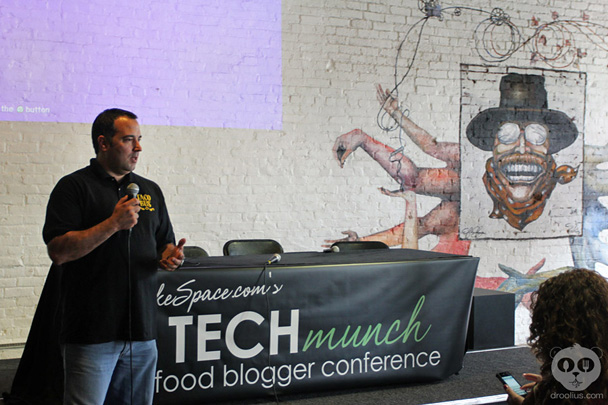 (click image to enlarge)
Rene Valenzuela, owner and chef of Taco Bus, shared his story with us. The business started out with one bus, and now has expanded to three locations.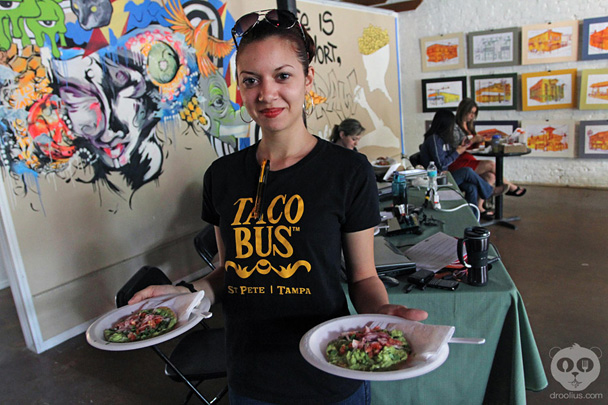 (click image to enlarge)
We started lunch with the Taco Bus staff serving us Tostadas with guacamole. This guacamole is probably the best I have tasted to date, and I am not exaggerating. I even heard a Los Angeles based blogger say so, that must say something considering the availability of Mexican food in L.A.
(click image to enlarge)
Taco Bus Tostada with guacamole – For a simple dish, the guacamole had lots of great flavor.
(click image to enlarge)
We all ordered our own plate from the Taco Bus. They offered a limited menu for the conference, with a choice of shredded chicken, pork, and tofu tacos, served with rice and beans.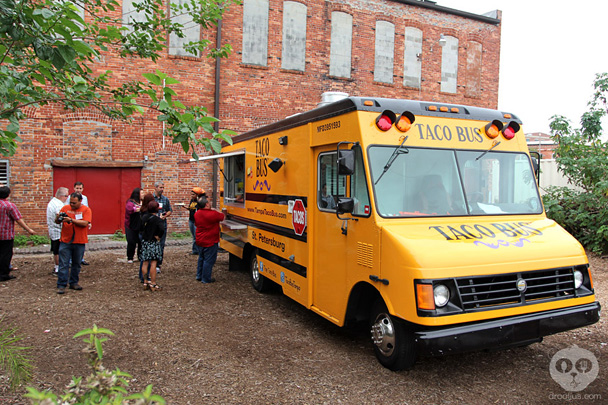 (click image to enlarge)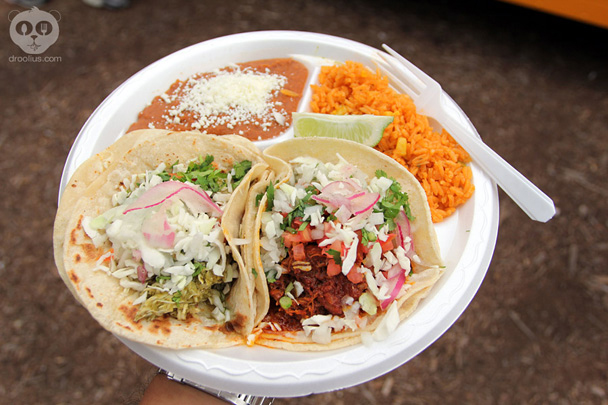 (click image to enlarge)
At the time, I didn't think to order all 3 tacos to taste them all, but I went with one pork and one chicken verde. Both were great, full of authentic flavors, the meats tender and juicy. The chicken actually impressed me (which is hard to do for chicken) with its savory flavor and sauce. The beans and rice were just like my childhood friend's parents used to make when I was younger. The Taco Bus was a treat and the real deal with authentic Mexican food.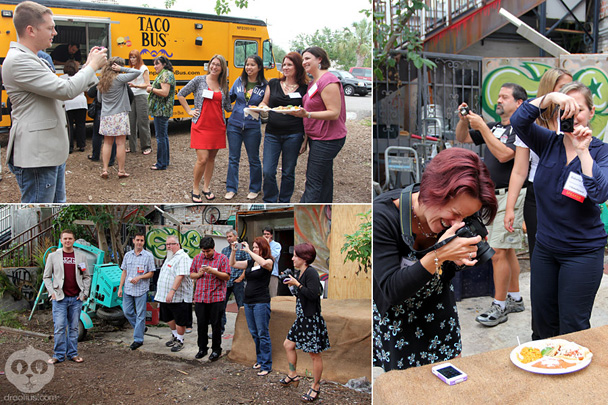 (click image to enlarge)
Food bloggers taking photos of food, food bloggers, and the food truck. We all had a fun lunch.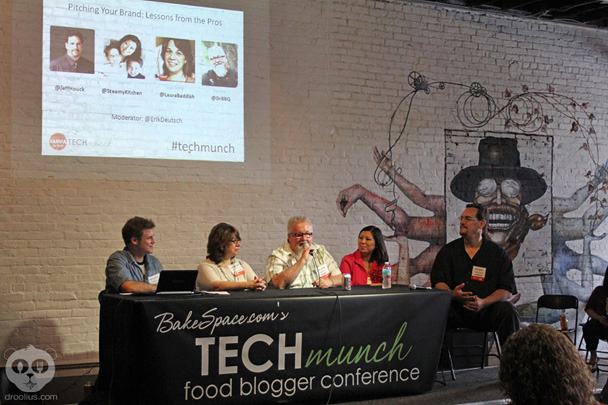 (click image to enlarge)
Pitching Brands with Pros
Moderator Erik Deutsch, Laura Baddish of The Baddish Group, Ray Lampe of DRBBQ.com, Jaden Hair of SteamyKitchen.com, and Jeff Houck of Tampa Tribune
This panel, from the pros, gave us all an in depth perspective on working with Brands and PR agencies. Lots of valuable content from these seasoned experts. They shared their stories from how they started, to how they currently work with each other, and with major brands on various projects. A few important tips:
• Interact with brands via social media first, build a rapport, then ask permission to pitch.
• Pitch seasonally and make it relevant.
• Best pitches are direct. Ask directly and don't make a company work to figure out your intentions.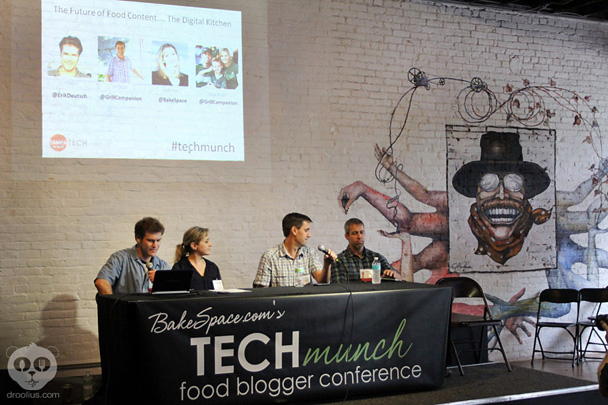 (click image to enlarge)
Future of food content – The Digital Kitchen
Moderator Erik Deutsch, Babette Pepaj Founder of TECHmunch / BakeSpace.com / CookbookCafe.com, Steve Wilson and Tom Setzer co-founders of GrillingCompanion.com
This session discussed blog content and different ways in building an App. Also how to get an App discovered and approved.
• Content from different sources has different meanings.
• Building an App for your website, extends your brand.
• Just because a person can build an App doesn't mean they can build YOUR App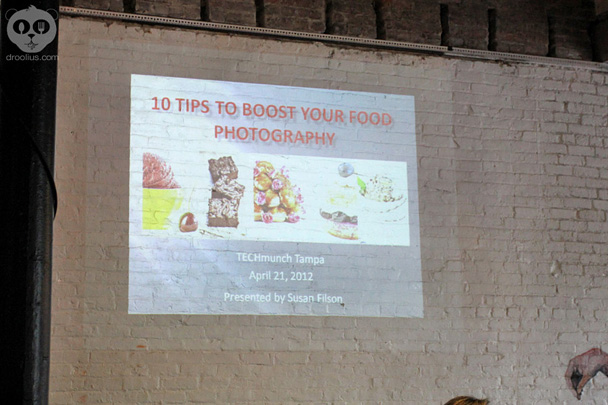 (click image to enlarge)
10 Tips to Boost Your Food Photography with Susan Filson of stickygooeycreamychewy.com
Food photographer Susan Filson was giving the next presentation on how to boost your food photography. She walked on stage and said, "Where are My "People"? I want "people" too." So I volunteered myself to help out a fellow photographer and to be her "people". Todd from TastingTampa also came up and we both sat with her during the presentation as her "People".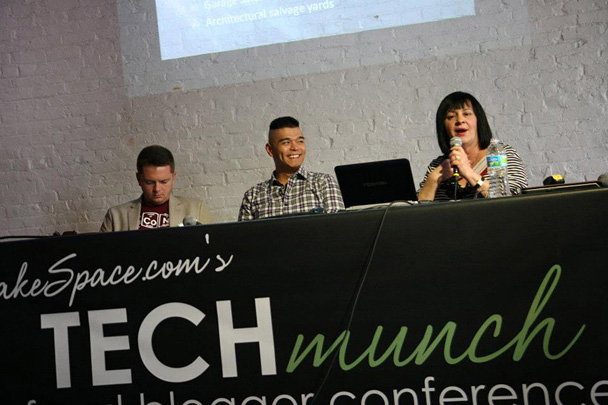 (click image to enlarge)
Photo courtesy of Tampa photographer Bill Leon
The presentation had lots of good photography tips and I listened and followed along on the laptop screen. I didn't take notes, but luckily Susan has the slide show presentation posted on her TECHmunch recap: http://stickygooeycreamychewy.com/2012/04/24/techmunch…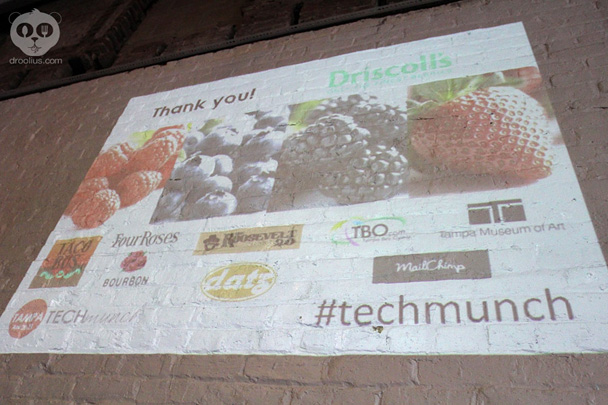 (click image to enlarge)
The conference came to a close and it was really another good learning experience within the food blog community. The best part for me is the networking with fellow food bloggers and making new friends in the area and out of state. I'm not sure why I never make it to the Tampa area, It is so close but yet so far. The area has a growing food scene, which I will definitely be exploring with blogger CarlosEats and more local bloggers. Big thanks to all of the sponsors and event coordinators who made the event happen. I had a great time participating as a panelist and really enjoyed listening to all of the speakers that day. It was definitely a good time meeting everyone at TECHmunch. Until next time, see you all in your city or at another conference.
Stay in contact:
Twitter @Droolius
Facebook Facebook.com/DrooliusBlog

Words and photos by Julius Mayo Jr.
Content and photos © Droolius.com 2012