The Orlando Food Truck Bazaar this past Tuesday was a huge turnout and a successful event. Crowds of eager people started lining up well before the 7pm event start time and the people kept pouring in as the night went on. So many people came out that long lines formed at each food truck, and wait times were at little longer than expected. A true test for all the Food Trucks and their kitchens/staff, which all served their food until they sold out towards the end of the evening. Congrats to Mark Baratelli and TheDailyCity.com for putting together this event that was a major success.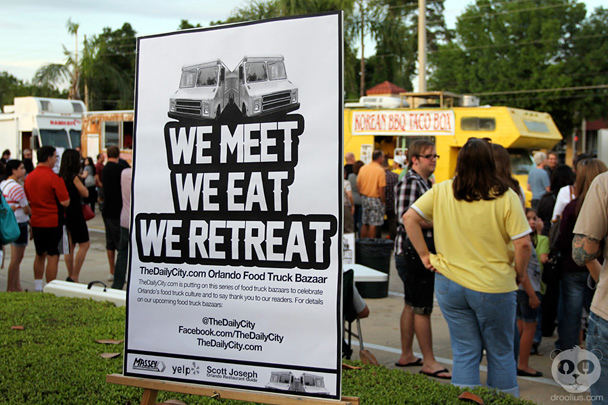 (click image to enlarge)
I must admit, I only got to share food from one truck at this busy event. There were many people in line and I now know I must be more strategic with friends, to get in multiple lines to order food, and congregate after we have all the food in hand. This was more of a networking event for me, meeting other food bloggers and introducing myself to various Food Trucks and staff I had not previously met. It was a good event for everybody to attend, and I actually saw a few long time college friends at this event that I have not seen in a while. This event attracted many people, from families with children, to foodies who were excited to try all of the food.
Outside of waiting in lines and bumping into friends at the event, I did manage to snap some photos of the food trucks, some food, and the busy crowd…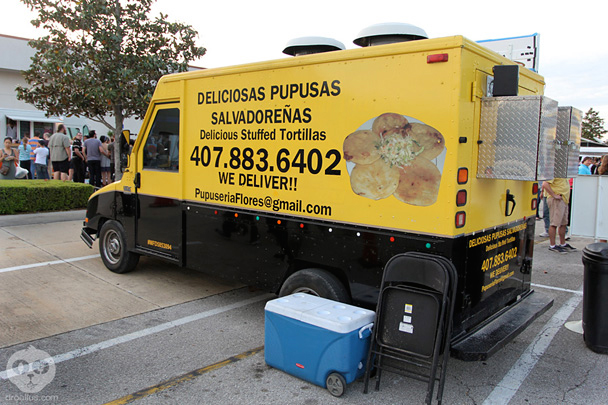 (click image to enlarge)
Deliciosas Pupusas Truck – the food looked good coming off this truck, must try it soon

(click image to enlarge)
The Crooked Spoon – Heard many good things about this truck and their food, fellow food blog EatLocalOrlando recommended their burgers.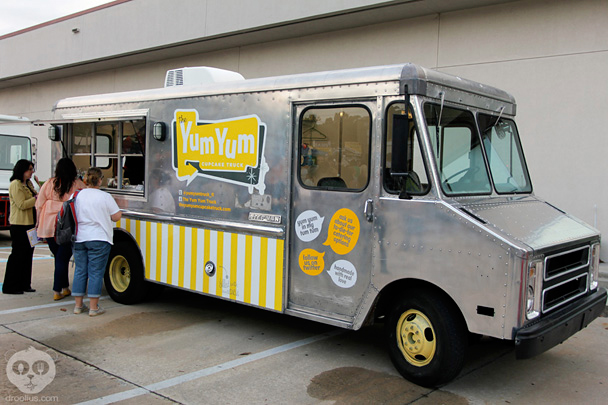 (click image to enlarge)
The Yum Yum Cupcake Truck
This truck was just finished before the event and it is looking great. I chatted with the guys at Yum Yum and I found out they SOLD OUT entirely of the 750 cupcakes they baked for this event. That is a lot of cupcakes sold in less than 3 hours!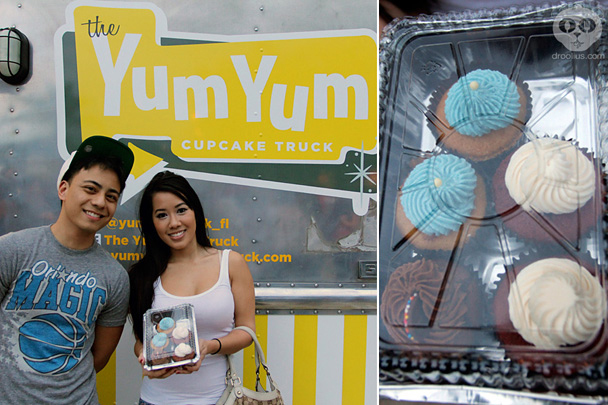 (click image to enlarge)
My friends, Zach & Kim, were able to get some cupcakes before they sold out. Lucky!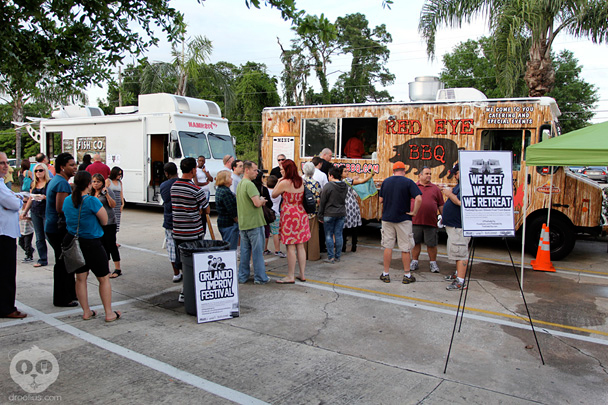 (click image to enlarge)
Red Eye BBQ Truck
I recently featured this truck [HERE] and they had some added specials for this event, such as their sampler plate. I was told they went through almost 100 pounds of BBQ by the time they sold out of food.

(click image to enlarge)
Red Eye BBQ Sampler plate Pulled Pork & Beef Brisket sandwiches, Ribs, sausage
Both sandwiches were filled with good tasting BBQ meats and topped with BBQ sauce. The sausage was grilled with a nice crisp outer texture and soft warm center. The ribs fell off the bone and were seasoned full of flavor. This was the only meal I really got to eat, and that's sharing it with food partners OD and OZ. We also split a Red Eye (corn muffin with pulled pork, honey, BBQ sauce) that everyone enjoyed.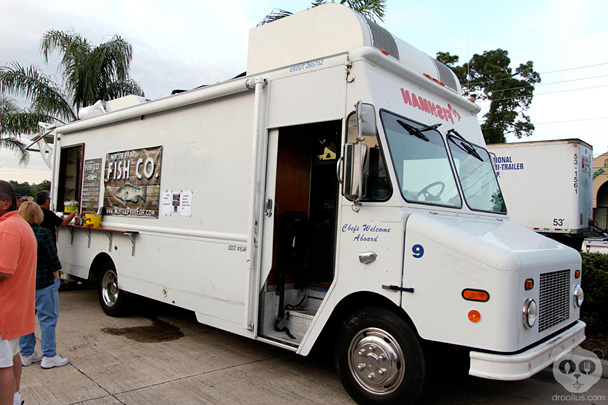 (click image to enlarge)
Winter Park Fish Co.
Looks like this is a new food truck to hit the Orlando streets and has graphics for the truck on the way.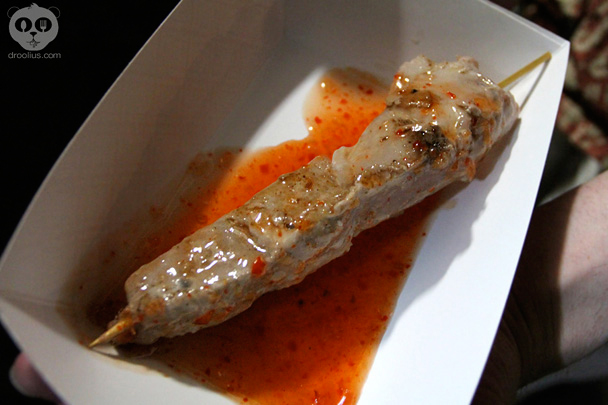 (click image to enlarge)
Winter Park Fish Co. – Tuna on stick
I chatted with two people standing in line, Brian and Kris, who made it all the way from Clermont, FL for this event. Brian let me take a photo of this order and he said it tasted good. Kris said she plans on checking out some of the other food trucks at their weekly/weekend locations.

(click image to enlarge)
Korean BBQ Taco Box
They offered an "event special" price of $5 on all meals with a choice of Taco, Sub, or with Rice box. Each box meal came with a few sides as well, including the new fried tofu appetizer. Check out more photos and our feature [HERE]

(click image to enlarge)
The masses of people wait in line, as people eat and wander to the next food truck.

(click image to enlarge)
Shipyard Winter Park
Lobster rolls for $5 was the top seller here. I waited in this line for a little bit and the LAST Lobster Roll was sold to the person before me in line. They were sold out of food so I was unable eat here. They did have a nice gesture and gave us some complimentary bottled sodas to those who did not get any food. Thanks for that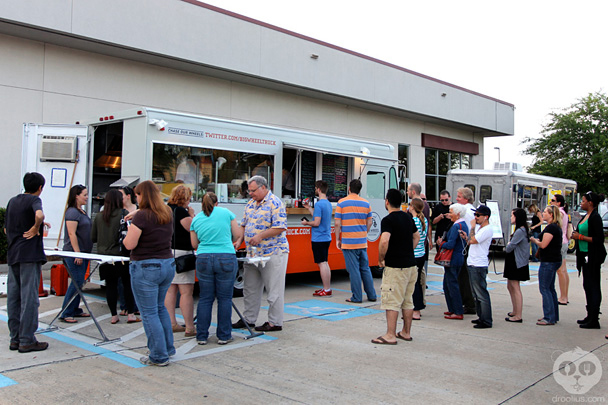 (click image to enlarge)
Big Wheel Truck
The Big Wheel Truck had an extremely long line and my friends OD and OZ were so close to ordering food, but they sold out before they reached the window. This gourmet food truck serves quality food using local ingredients and our blog post on them can be found [HERE]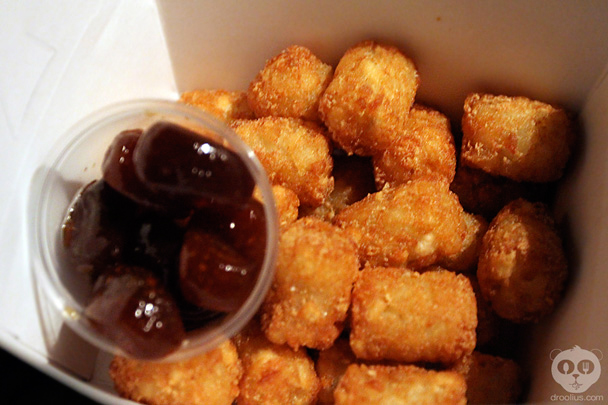 (click image to enlarge)
Big Wheel Truck – Crispy Tater Tots with local Kumquat Glacés
Fellow food blogger Tasty Chomps offered some of his Tater Tots he ordered for us to try. The tater tots and kumquat eaten together was a nice balance of salty and sweet. Thanks for sharing!

(click image to enlarge)
The Taco Truck
The menu offered many Mexican food items that can be found at authentic Mexican restaurants such as tacos, tortas, huaraches, sopes, and offered with traditional meats: carne asada, carnitas, pastor, pollo asado, barbacoa. I see myself stopping by this truck in the very near future.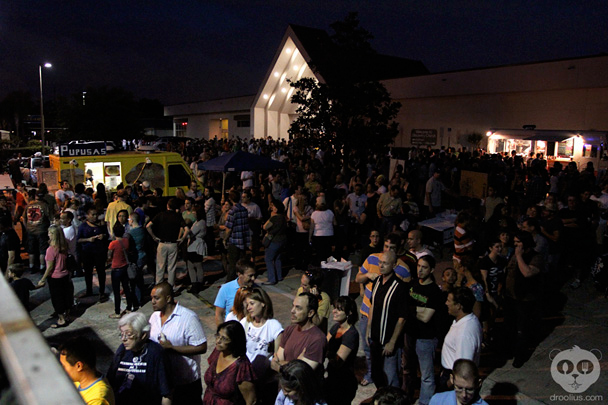 (click image to enlarge)
I took this photo from the ladder attached to back of the Korean BBQ Taco Truck, with permission of course. It gives an overall view of the crowd and how busy this event was…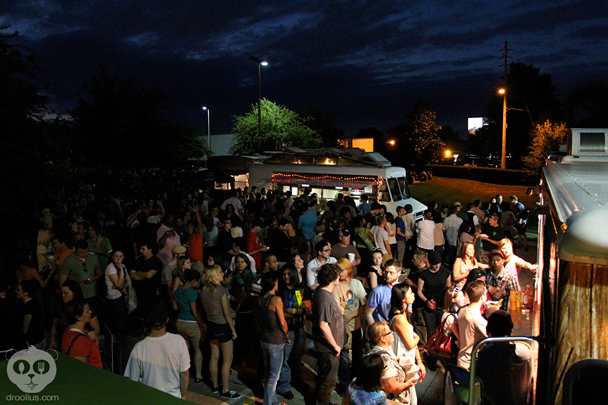 (click image to enlarge)
(click image to enlarge)
By now you get the idea, many trucks sold out of food by 930pm. The Big Wheel Truck menu items were scratched out one by one as they served all of their food and eventually serving all the food they had.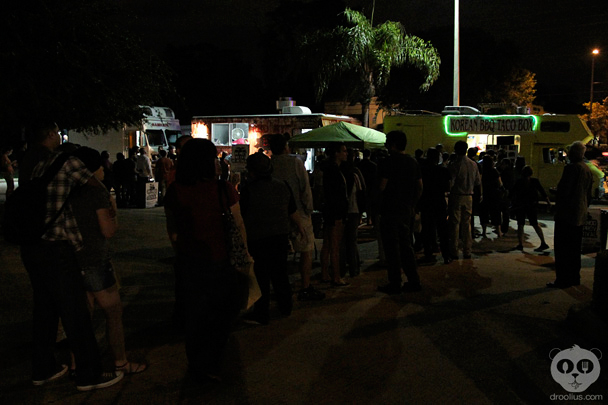 (click image to enlarge)
This was the line for Korean bbq Taco Box slightly after 10pm, which they closed down shortly after this photo was taken. They prepped for 600 people to be served at this event and they sold out of food as well.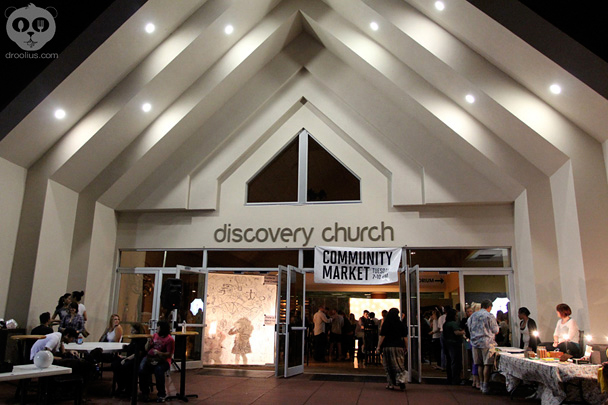 (click image to enlarge)
This event could not have happened without the parking lot host Discovery Church. They had their Community Market going on inside where you could check out some music and art, along with booths that had items for sale. Thank you Discovery Church for hosting and allowing this event to happen.
Despite the wait time and lines, it was a nice evening for everyone to come out and be introduced to the local Food Truck culture. I do not think anyone expected the number of people that showed up to this event. It definitely has spoken and makes a statement that Food Trucks here in Orlando have peaked the interest of many locals. I hope this event will help people become familiar with Food Trucks and that they will visit them on a regular basis at the food truck's daily and weekly locations. Make sure to check out all the Food Trucks websites, Facebook pages, and follow them on Twitter for their most current locations and times. I'm looking forward to the next event already and I told Mark that he needs a football field next time. His reply, "Done". Sounds good, see you all at the next event or at a food truck for your next meal.
Words and photos by Julius Mayo Jr.
All content and photos © Droolius.com 2011



Food Truck info (in order of apprearance):
*websites open in new window
Deliciosas Pupusas Truck
407.883.6402
The Crooked Spoon
http://twitter.com//TheCrookedSpn
Facebook
The Yum Yum Cupcake Truck
http://theyumyumcupcaketruck.com
http://twitter.com/yumyumtruck_fl
Facebook
Red Eye BBQ
http://redeyebbq.com/
http://twitter.com/Redeyebbq
Facebook
Winter Park Fish Co.
Facebook
Korean bbq Taco Box
407.844.3990
http://twitter.com/koreanbbq_2011
Facebook (coming soon)
Shipyard Winter Park
http://twitter.com/ShipyardWPark
Facebook
Big Wheel Truck
http://www.bigwheelprovisions.com
http://twitter.com/BigWheelTruck
Facebook
The Taco Truck
Facebook
**Also check out a growing list of Food Trucks around Central Florida:
Food Truck map compliments of Chris R. of EatLocalOrlando.blogspot.com

View Orlando Food Trucks in a larger map