The cooler weather was a good time to meet up for a warm bowl of Pho and more Vietnamese dishes during the December Orlando Foodspotting Eatup. This month foodspotters and friends met at the Pho Vinh Restaurant to get a taste of Vietnamese cuisine and snap some food photos in typical Foodspotting fashion. The food was good and it was as fun to take photos of as it was to eat it.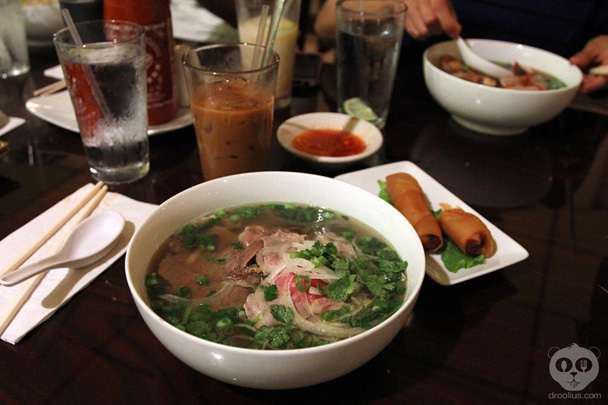 (click image to enlarge)
My order: Pho with medium rare steak, flank, brisket. Chả Giò (Fried Spring Rolls). Cafe sua da (Vietnamese iced coffee)
This is one of my regular orders when I come to Pho Vinh on any given Sunday or week night. One of my favorite spots for Pho in Orlando and I have been coming here for while now. At this Eatup, first time guests gave good compliments on the Pho broth and Spring Rolls, which I both really like. The Cafe Sua Da, Vietnamese iced coffee, is the first thing I always order. This is a must if you love coffee.
(click image to enlarge)
Fellow Foodspotters, iEatsbyJewelES and D, taking photos and spotting them on the Foodspotting app on their phones. Any time anyone is in the East Colonial and Bumby area, fire up Foodspotting and you will see our delicious photos from Pho Vinh's pop up on your smart phone. (It's a free download here)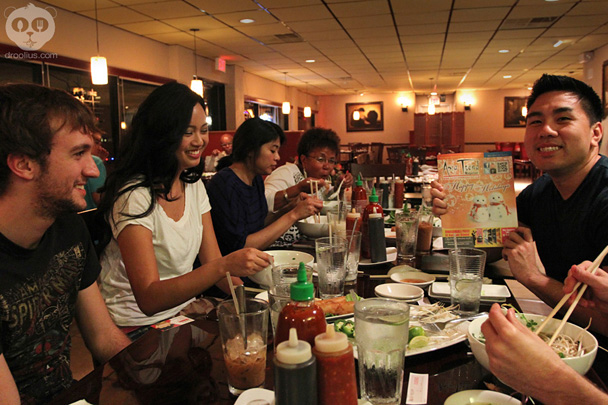 (click image to enlarge)
All smiles and enjoying different types of Vietnamese Pho, noodle soups, and rice dishes.
The #100 menu item Thaâäp Caåm was popular that evening, with half of the group ordering it and everyone said they enjoyed. Thaâäp Caåm is a pork/chicken noodle soup, with special combo of shrimp, snow crabmeat, pork roast and wonton.
(click image to enlarge)
Fellow local food bloggers Tasty Chomps and Watch Me Eat came out for some fried spring rolls and Pho.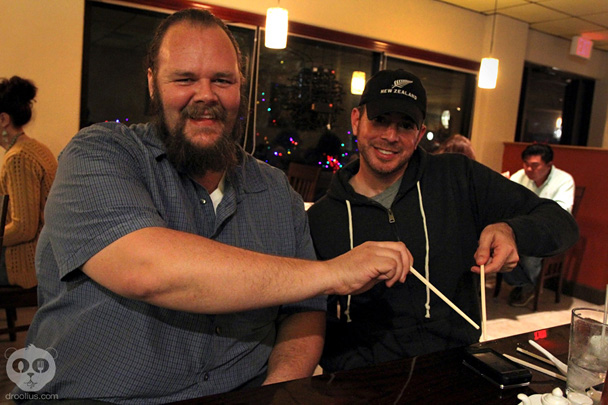 (click image to enlarge)
Sharing is caring, bloggers Eat Local Orlando and TheDailyCity.com team up to use chop sticks.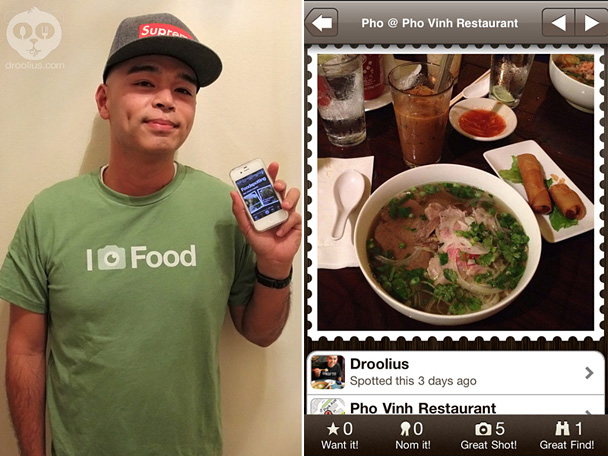 (click image to enlarge)
Thanks to Foodspotting for sending newly designed shirts with new color ways as give aways for repeat Eatup attendees. Join in the fun at future Eatup events to spot some food and for a chance to get freebies like Foodspotting mini pins and shirts.
We all had a good time December Eatup, slurping bowls of soup and chatting about Holiday plans. Join us next month for the January Eatup, a special month marking the 2 year anniversary for Foodspotting. Stay tuned for event details. For now, let's get all of the great food in Orlando on Foodspotting! Spot your favorite dishes and restaurants for everyone to see. It will help everyone, including yourself, to discover dishes and restaurants where ever you are.
Find me on Foodspotting and check out the dishes I've spotted www.foodspotting.com/droolius


Pho Vinh Restaurant
657 N. Primrose Dr.
Orlando, FL 32803
www.phovinhorlando.com
Facebook Page


Words and photos by Julius Mayo Jr.
Content and photos © Droolius.com 2011