Traveling and eating are my favorites things to do in life. I go as far as to plan all my trips & daily itineraries around where I will be eating each day. For me, traveling & food goes hand-in-hand and I've really become obsessed with visiting certain restaurants to eat in each and every trip. Probably my most frequently visited place to eat at is La Sandwicherie in Miami's South Beach. It's on 14th street between Washington Ave & Collins Ave, an outdoor dining place where you grab a seat & order, then enjoy eating al fresco. It's a hot spot for both locals and tourists in the know.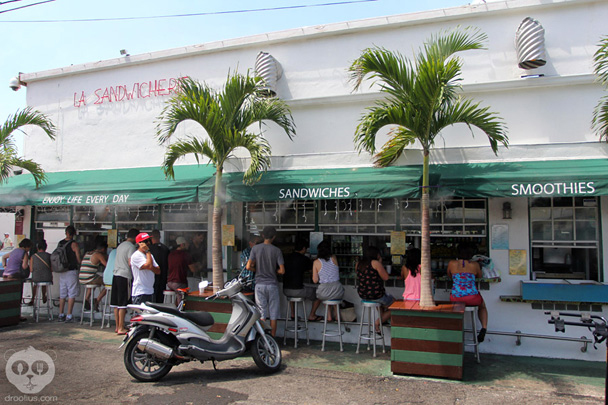 (click image to enlarge)
I was introduced to La Sandwicherie probably around 2006 or 2007 when my cousin Amanda took me here and we split a sandwich and smoothies. At the time I was eating sushi everyday and when she said let's go get a sandwich at this French place, I sadly didn't think anything of it. That really changed after eating here and I've been hooked ever since.
(click image to enlarge)
This is what I refer to as THE Sandwich. When you go to La Sandwicherie, order this: Saucisson Sec with camembert cheese on a croissant, with everything, including hot peppers, and vinaigrette. Don't worry about looking at other sandwich options, THIS is the sandwich to get, trust me. If you don't like a certain veggie, then leave it out. If you like a baguette instead, that's great too.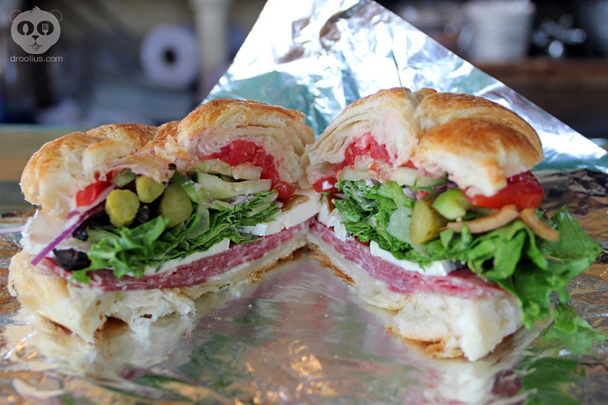 (click image to enlarge)
THE sandwich comes out wrapped up and when you open it up, this is the view. Layers of fresh quality ingredients including the Saucisson Sec (French Salami) and camembert cheese with all of the vegetables.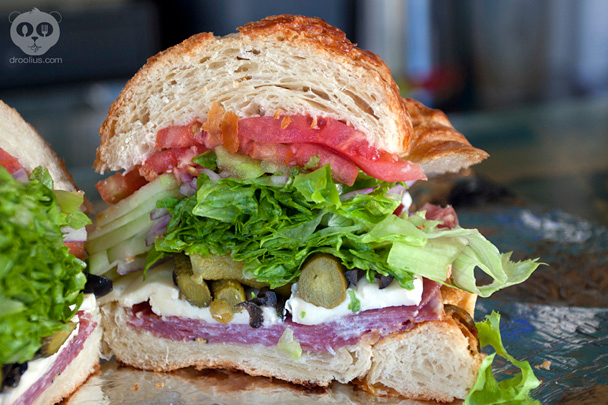 (click image to enlarge)
Sandwich: Saucisson Sec (French Salami) w/ camembert cheese with everything, including hot peppers on croissant
Toppings:Lettuce, tomatoes, green peppers, hot peppers, black olives, onions, cucumbers, cornichons (French pickles), mayonnaise, Vinaigrette (French dressing) which is made in-house
This is a side view of the sandwich, with all of the ingredients listed above. Of course the sandwich and toppings can vary in appearance depending on who makes it, but this one pictured above was one of the best photos I've taken. The sandwich itself is fresh tasting with all of it's toppings and the Saucisson Sec and camembert cheese are an awesome combination together.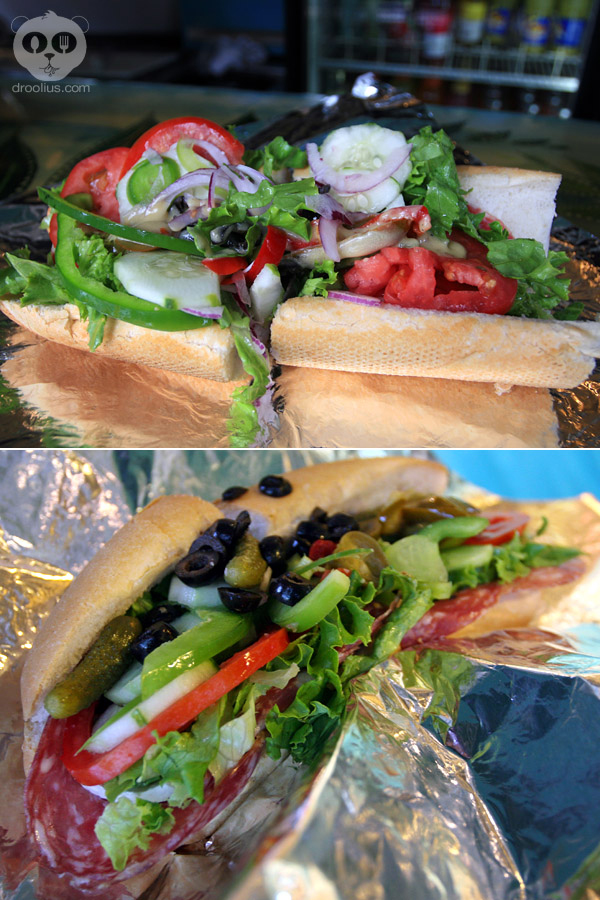 (click image to enlarge)
The sandwich comes standard on French bread (pictured above) and it is good this way too. My personal preference is to order it on a croissant, but the French bread is great here and it may be a tad bit easier to share. Either way, you can't go wrong with the bread you choose here.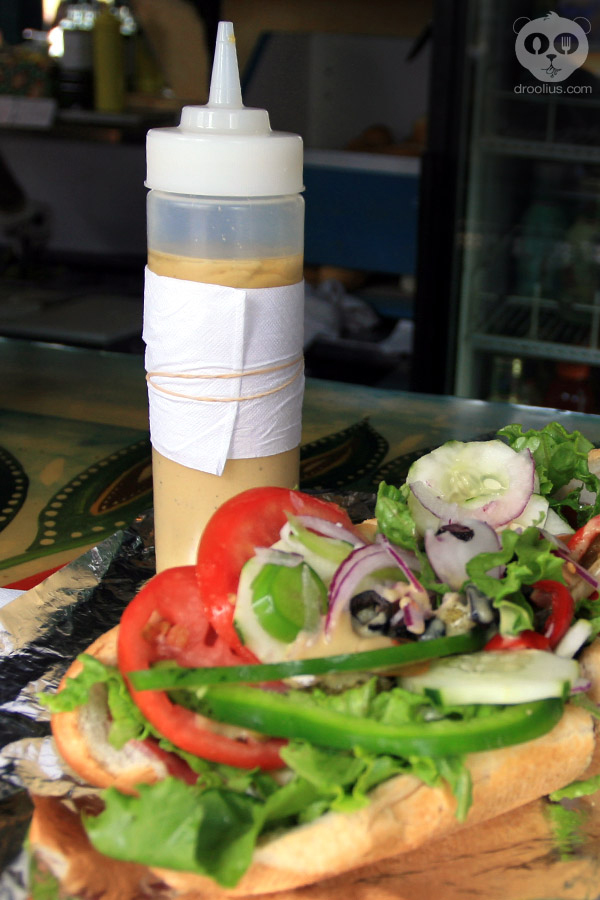 (click image to enlarge)
Another must is you have to add more of the yellow vinaigrette on the sandwich, ask for the bottle if you are staying to eat. Ask for an extra vinaigrette if you are taking to go. It's probably the key ingredient that brings it all together and gives this sandwich is signature flavor.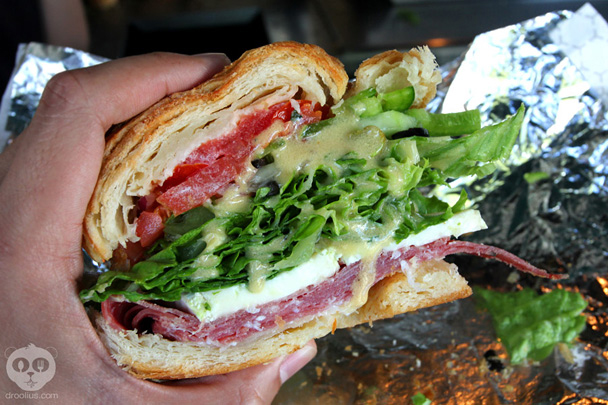 (click image to enlarge)
Drizzle the French vinaigrette, which they make in-house, all over your sandwich. I refer to it as "Liquid Gold" and pretty much use it on every bite.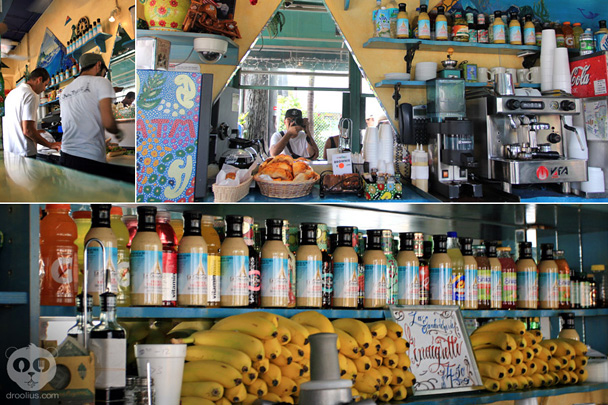 (click image to enlarge)
If you become addicted to the French dressing vinaigrette, they also sell it in bottles to take home. The staff at La Sandwicherie are very experienced at making the sandwiches and smoothies. It's a fun place to eat, people watch, and it is comfortable sitting at this outdoor sandwich style bar all year round.
(click image to enlarge)
Some friends say that it's best after a night of drinking, but I've never experienced that. The latest I've been here is around midnight for a late dinner. It is busy all times of the day & night, being open from 8am to 5am, and until 6am on weekends. I remember they used to be open 6am until 5am a few years back. I guess they deserve a longer break these days. They also have a new location near downtown in the Brickell neighborhood, different hours so check the times on the website.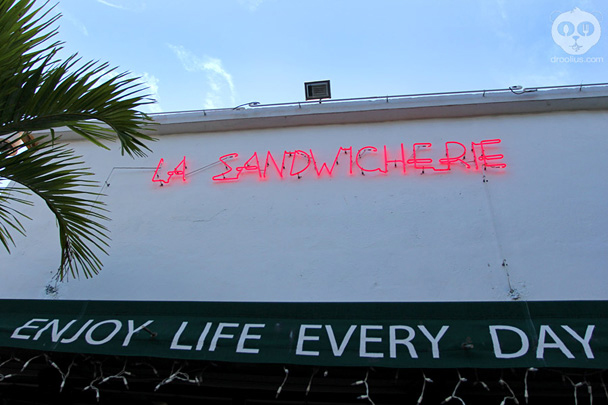 (click image to enlarge)
La Sandwicherie is probably my first stop every time to South Beach, usually my last stop before I leave, and it is my must stop on every visit in the area. It's my happy place to eat at and makes South Beach & Miami itself enjoyable every trip down. Every out-of-towner that I have sent there has enjoyed THE Sandwich and usually go back a few times while visiting South Beach. It has been considered a hidden gem by locals, a long time before it was a popular destination. I know I've driven in, just for THE Sandwich, any time I travel to South Florida. What can I say, I'm addicted to eating the Saucisson Sec with camembert cheese sandwich. When you get a chance, try out La Sandwicherie and let me know what you think.
La Sandwicherie
229 14th Street
Miami Beach, FL
www.lasandwicherie.com
www.facebook.com/lasandwicherie.sandwicherie
Have you ever been to La Sandwicherie? What's your favorite sandwich to order? Leave me a comment below…

Words and photos by Julius Mayo Jr.
Content and photos © Droolius.com 2012