A group of food friends and I got together one evening to experience the Cask and Larder Whole Cookery Feast. It's a dinner feast where your party is served family-style, a signature butchered cut with shareable sides and dessert. We decided to go with the Smoked Suckling Pig dinner, for the obvious reason, we all love pork. We made the reservation a few weeks in advance and requested to dine in the brewery room.
(click image to enlarge)
The seating inside the brewery room had a more private ambiance for our group. There was the addition of the audience from the bar looking in through the windows, but that wasn't really noticeable until the whole pig came out. The seating for eight people inside was just right. I think the staff mentioned they could have a maximum of ten people in the brewery, but eight people at this table was comfortable. The other option for the feast dinner is a communal table that fits 12 to 14 people in the main dining room.
(click image to enlarge)
Inside the brewery room, this is the actual place where the beer is made.
(click image to enlarge)
Cask & Larder Novemberfest – German Oktoberfest, lagered for 5 weeks.
I started off with the Novemberfest beer with my meal. Nice flavor and paired well with the pig.


Appetizers from dinner menu (not included)
We ordered a few appetizers off the dinner menu to get our evening started. While these were not included in the Whole Cookery Feast, we were all very hungry and saw a few dishes that caught our eye…
(click image to enlarge)
Venison Carpaccio – good flavors and not heavy on the palate.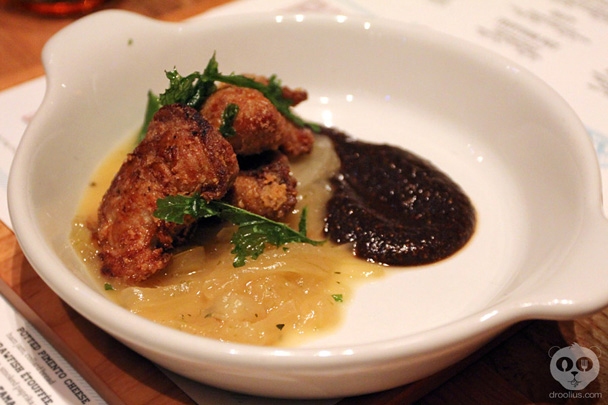 (click image to enlarge)
Crispy lamb sweetbreads
Tender & crispy sweetbreads are something unique to try. Not my first time eating sweetbreads (thymus gland), so I was familiar and hoping it was not the other type of sweetbreads.
The Whole Cookery Feast begins!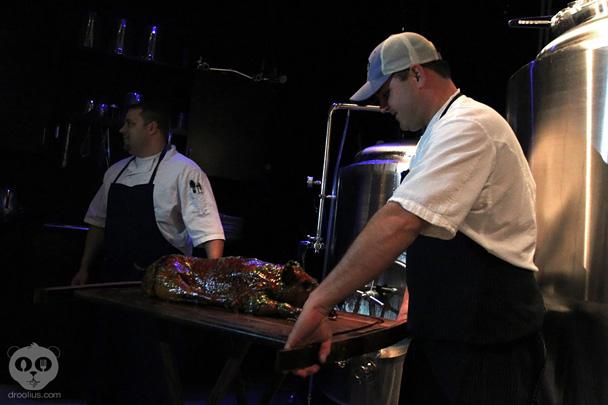 (click image to enlarge)
Chef Andy (left) and Owner/Chef James Petrakis (right) brought in the Smoked Suckling Pig to rest for a few minutes and for our viewing pleasure. After we all took photos of the pig, it went back into kitchen for some carving and plating.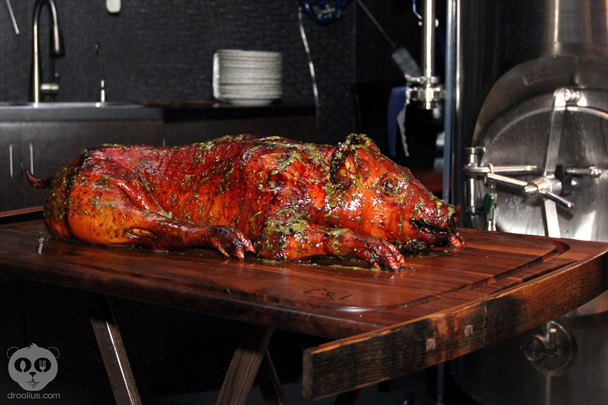 (click image to enlarge)
The front and side view of our whole Smoked Suckling Pig
The Smoked Suckling Pig was topped with salsa verde when it was presented.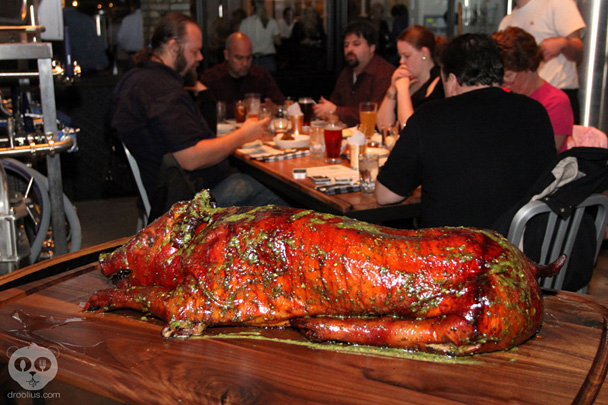 (click image to enlarge)
The rear side view of our whole Smoked Suckling Pig with our group in the background.


Salads and side dishes that came with Whole Cookery Feast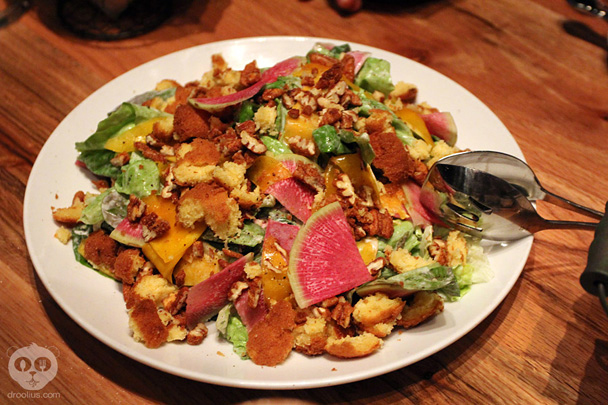 (click image to enlarge)
Cornbread salad with chopped pecans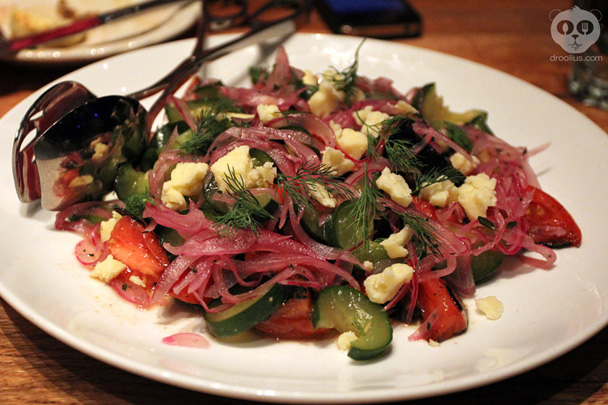 (click image to enlarge)
Tomato Salad with cucumbers, red onions, dill
(click image to enlarge)
Okra and tomatoes side dish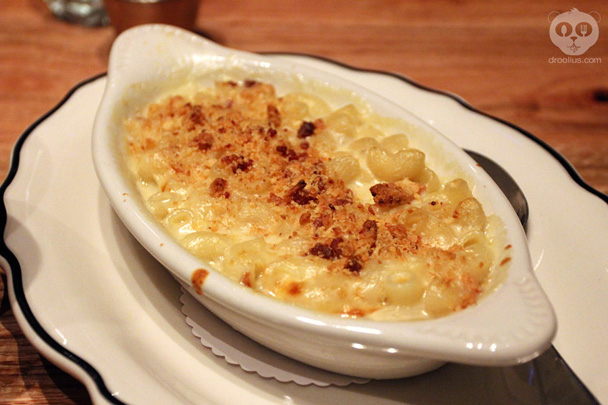 (click image to enlarge)
Mac and Cheese – I really liked this side dish!
(click image to enlarge)
Plate of pork with the Pig's head, we did something special with this later on. Also seen is another side dish, Beets Salad. We did cut into the pig cheeks which were super tender, rich, and melted in your mouth like butter. Now I know what Anthony Bourdain was talking about in his t.v. show segments when he says to go for the pig cheeks, they are simply amazing.
(click image to enlarge)
A few plates of pork were brought out and we started to dig in. It was a lot of food and the pork was tender, moist, and tasty.
(click image to enlarge)
A plate of house-made Smoked Kielbasa, fried strips of pig skin, and pig legs were all topped with green leaf garnish and pickled mustard seeds. This was another delicious plate but we were all left wondering, what happened to all of the pig skin? In my opinion, the pig skin is the best part and there was a lot of skin on the pig that was presented to us. So really, where did all of that skin go?? Hopefully next time, we will see more of the pig skin on the plate… and there will be a next time!
(click image to enlarge)
Another plate of pork, side dish of mac & cheese, and my beer. I basically kept on eating while everyone had almost given up and had enough pork. What was really great is that we ALL had individual to-go boxes to bring home at the end of the night for some pork left overs to eat the following day.

I ate pig brain!! <-- Photo of the inside of the pig head, split open, exposing brain. *warning, may be too graphic for vegetarians*
While we were eating, we were staring at the pig head and wondering if the brain was still in tact. Our server said it was, so we asked if the kitchen could cut it open so we could taste the brain. Out came the pig head split in half (in photo link above), served with toast points, plus salt and pepper to season ourselves. I was up to taste this, but the rest of the guys were not. Two of the ladies were brave enough and joined me in the smear of pig brain on toast, with salt and pepper. The taste and texture was like cream cheese to me! We also added some pepper jelly that was on our table (leftover from another appetizer) and made it even better. It was a savory and sweet type of thing that I actually enjoy.


Desserts and Sweet Treats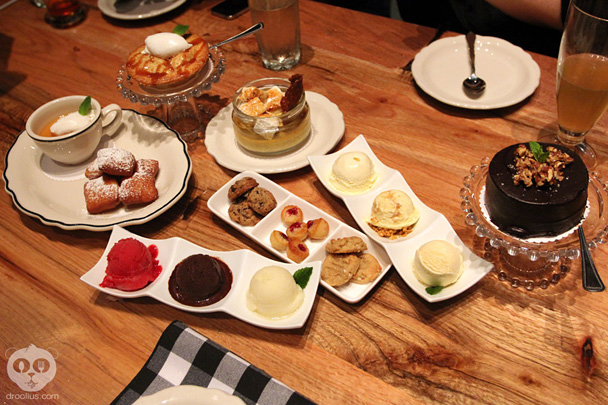 (click image to enlarge)
*Note – I'm not sure if the following dessert descriptions are correct, but they should be fairly close…
• Double Crust Apple Pie
• Sweet Potato Pie in a Jar
• Fried dough "wit" beer doughnuts, soft caramel pudding, citrus-caramel glaze
• 'olive & sinclair' chocolate chip cookies, orange-cranberry financiers, peanut butter-white chocolate cookies
• Ice Creams: Seasonal flavors – (possibly) Vanilla-Sorghum, butter pecan ice cream, Crunchy Peanut
• Sorbets: Cranberry, Fudgesicle & Pear-Bourbon
• Chocolate Cake: Decadent devils food cake layered with dulce de leche & a dark chocolate frosting topped with caramelized pecans.
The Feast came with a collection of desserts and sweet treats, more than we could handle. In the end we managed to eat most of the desserts, but we were beyond stuffed and definitely satisfied.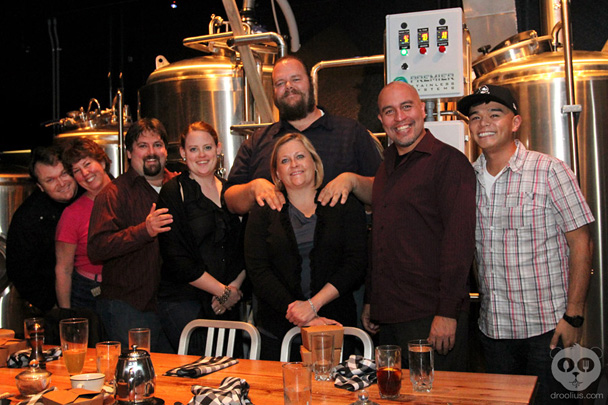 (click image to enlarge)
Group photo after dinner: Mr. & Mrs. @1educatedpalate, @wonderfultime, @bigskystarlet, @EatLocalOrlando, @Ann_archy, @marvinrm, @Droolius
As you can see with our smiles, we were all happy and very full from our first Whole Cookery Feast experience. Overall the meal was great and we were content with choosing the Smoked Suckling Pig. The base cost for our feast was $50 per person plus tax & gratuity, with the additional cost of the appetizers and drinks that we ordered. In the end it is a pretty good deal with the amount of food we ate, plus the boxes we got to take home. Maybe next time we can try another type of feast, like the smoked duck or the beef ribs.
So does anyone want to get a group together and go now? I think I'm ready to go again! Would you enjoy a Smoked Suckling Pig? Leave a comment below and let me know…

Cask & Larder
565 West Fairbanks Ave.
Winter Park, Florida 32789
(321) 280-4200
www.caskandlarder.com
Twitter @CaskLarder
www.facebook.com/cask.larder
Information about Whole Cookery Feast: The price can range from $50-$75 per person (depending on the butchered cut of choice), with a minimum of 8 guests, and includes a starter course, sides with your animal, and dessert. A reservation of 72 hours advance notice is required, as well as a deposit. There are other options available on the Whole Cookery Menu.

Words and photos by Julius Mayo Jr.
Content and photos © Droolius.com 2012


Smoked Suckling Pig is also seen on the Droolius Weekend Eats food guide.