The Ravenous Pig is now featuring a Chef's Tasting Menu during their dinner hours. The five course tasting menu with amuse bouche is developed by Executive Chef, Joseph Burnett, and features seasonal ingredients and creative culinary ideas. The tasting debuted this past mid-October and has an optional wine pairing and cheese course available to add to the dining experience. The menu is set to change monthly with the different seasons and products being sourced.
I got a chance to try their inaugural Chef's Tasting Menu which is what I experienced here in this post. Please note that the following photos and dishes are from the Fall menu and they are rolling out the new Holiday Chef's Tasting Menu later this week. This post gives an idea of the creativity and use of ingredients. Each course has been thoughtfully executed and beautifully plated.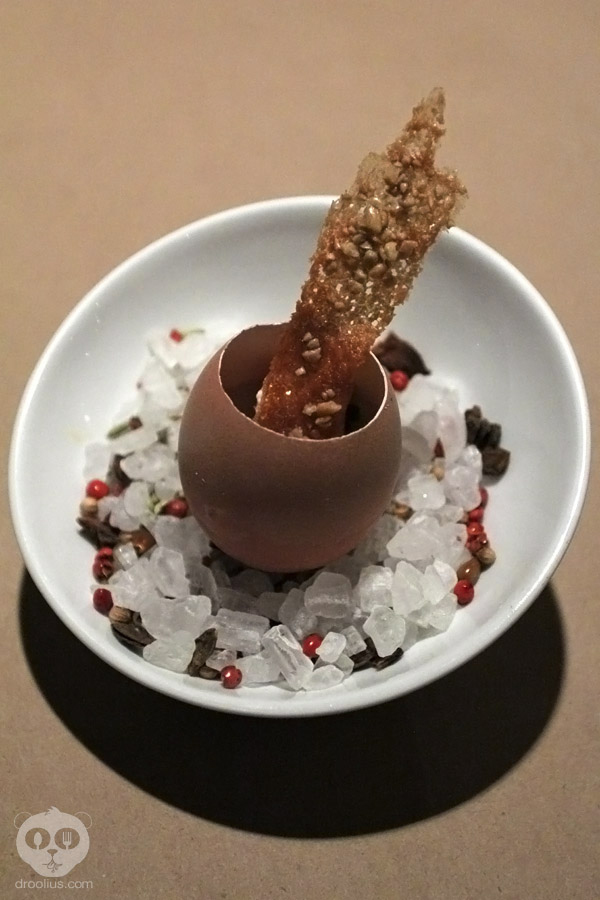 (click image to enlarge)
Amuse Bouche: Sunchoke custard, layered with truffle crema and trout roe, garnished with sunflower seed tuile
The Amuse Bouche kicked off the tasting with a playful sight and spiced aroma. It was a great start with the light and savory spoonfuls of Sunchoke custard and truffle crema. The little bursts of trout roe added gentle hits of salt and the sunflower seed tuile gave the crisp contrasting texture.
(click image to enlarge)
An overhead look into the eggshell, the trout roe is visible over the layers of custard and crema. Surrounding the serving vessel are sea salt crystals with juniper berries and various spices that gave an aromatic scent that really accented this starter as you ate.
(click image to enlarge)
First course: Foie Gras and Rabbit Terrine with port poached heirloom pears, hazelnut croquant, peach mostarda
This was a complex dish full of delicate textures and savory flavors, along with complimenting sweet components. The foie gras was silky smooth and the rabbit terrine was rich and creamy. Two small tender pieces of pork loin were wrapped, one with leek ash and the other bay leaf, both with distinct flavors of their own. These savory parts of the dish were all accented with touches of sweetness from the peach mustarda and rounds of poached pears that were topped with pickled mustard seeds.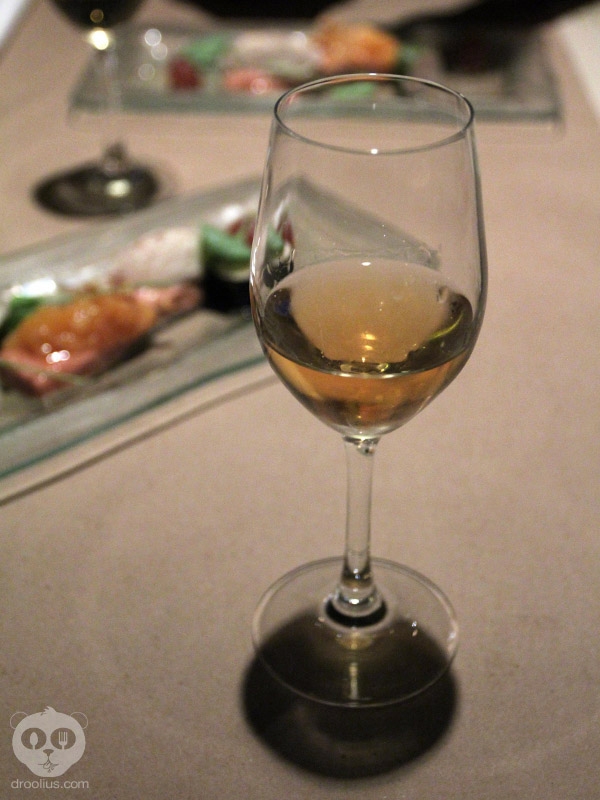 (click image to enlarge)
First course wine pairing: Chateau La Tour Blanche, 1er Cru Sauternes 2005
Complimenting the dish with a gentle sweetness and also serving as contrast to all of the rich and savory bites was this sweet wine from Bordeaux.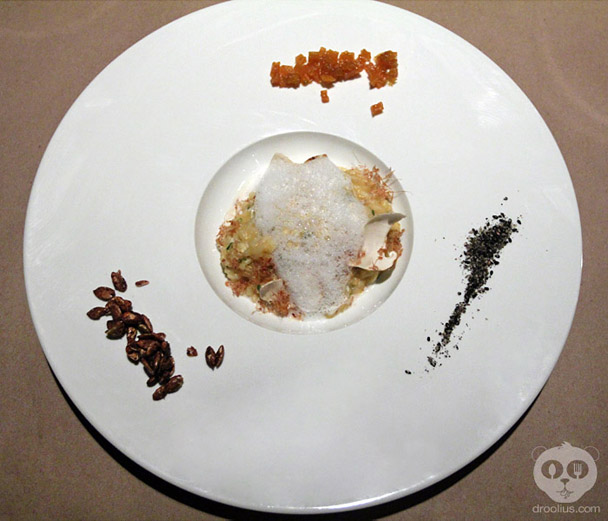 (click image to enlarge)
Second course: Miso Pumpkin Rissotto with candied pumpkin, shaved matsutake mushroom, tamari caramel pepitas, white sesame licorice
The dish was visually entertaining and eating each bite was a different experience with all of the components on the plate. The licorice foam on top was both fragrant and pronounced throughout the dish. The miso pumpkin risotto was cooked perfectly and served as the rich base that the candied pumpkin, matsutake mushrooms, and tamari caramel pepitas all played nicely with, both in textures and flavors. The dish made me really think about all of the different flavors I was experiencing in each bite.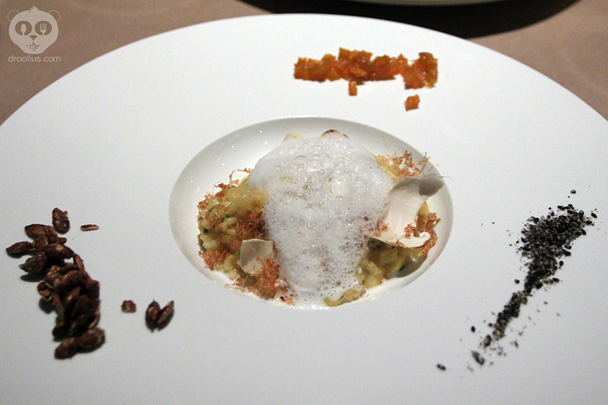 (click image to enlarge)
A closer shot of the plate, you can see the shaved pieces of matsutake mushrooms, which I was excited to read on the menu. I've always seen this mushroom used on the original Iron Chef Japan tv show and wanted to try it. Our server recommend to taste the matsutake mushrooms by themselves to get their flavor, but the foam actually flavored them fairly well already. Still the uniqueness of the matsutake came through and was accented, along with each part of the dish by the licorice foam.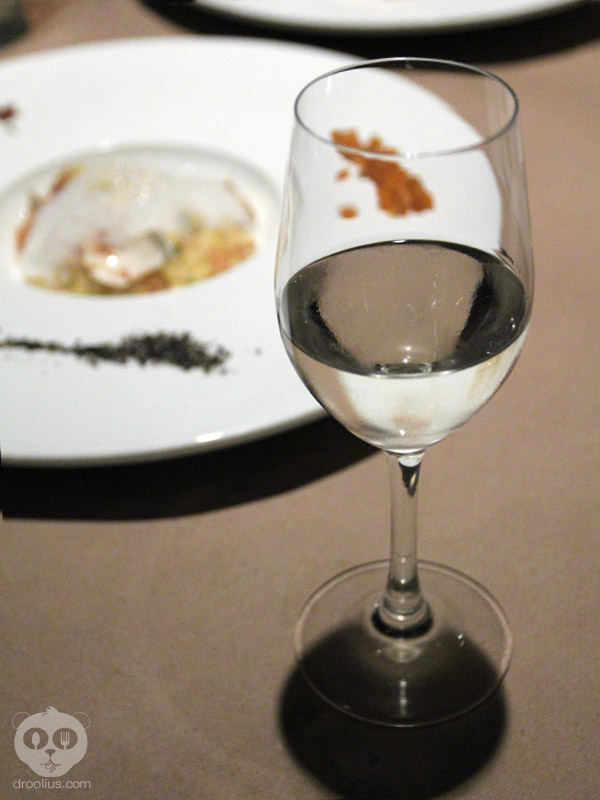 (click image to enlarge)
Second course wine pairing: Kiminoi "Emporer's Well", Junmai Ginjo Sake, Niigata, Japan
Sipping on the sake after each bite gave the dish a very earthy flavor profile and balanced everything. It was great to experience how this rice wine can enhance the dish entirely and match its flavors well.
(click image to enlarge)
Third course: Chestnut Roasted Flounder with fennel purée, braised chestnuts, pickled shallot, tomato vinaigrette
Another visually appealing plating, the thing I liked most about this dish was the crispy crust it had on the fish. The Flounder was dusted with chestnut flour and seared, creating an enjoyable crust while the rest of the fish was moist and flaky. It was sitting on top of the braised chestnuts, which had the texture of a braised mushroom. The fennel puree added notes of licorice and paired well with the dish, being more accented with a sprinkle of fennel pollen on the side.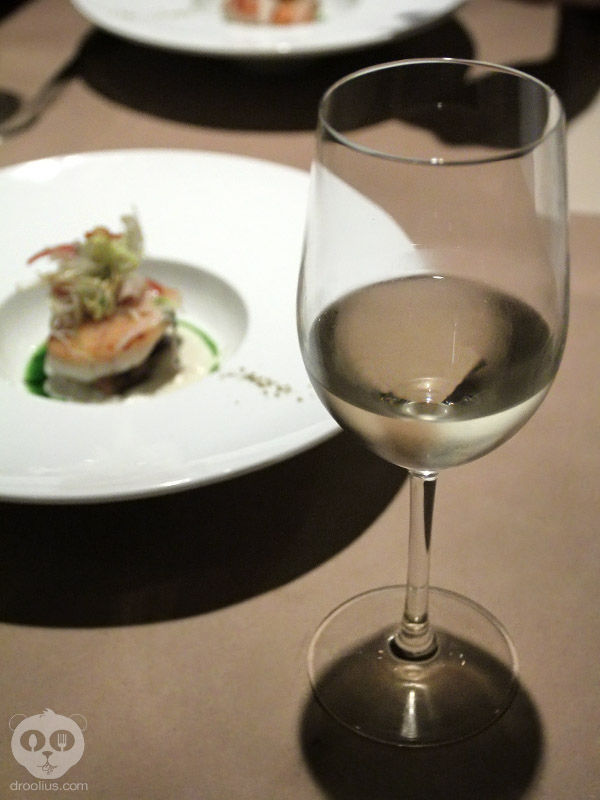 (click image to enlarge)
Third course wine pairing: Domaine de la Pertuisane "The Guardian", Grenache Gris, Cotes Catalanes 2010
The fruitiness of this white wine gave a brightness to the rich dish.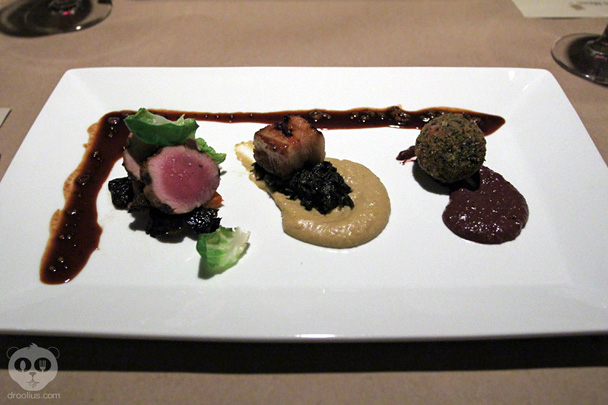 (click image to enlarge)
Fourth course: Palmetto Creek Pork Three Ways with aleppo spiced tenderloin, belly, headcheese, sweet potato pavé, smoked corn, blood pudding purée
This was my favorite course of the tasting. Spiced pork, sweet potato, pork belly, head cheese, blood pudding purée, it all hits a list of favorites for me. The sauce to the left and on top of the plate was a lamb ju plus lentils. The dish was composed very well and everything had a way of being balanced with savory, rich, sweet, and smokey flavors.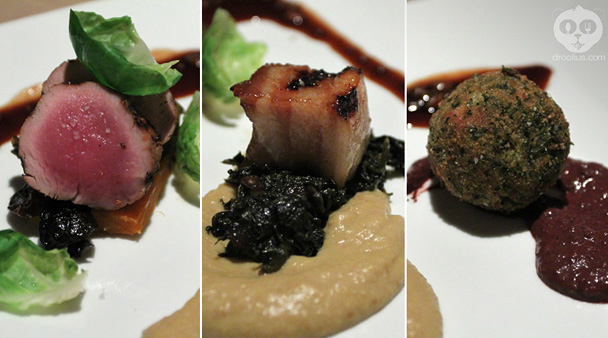 (click image to enlarge)
Palmetto Creek Pork Three Ways was a great way to showcase the pork with its accompaniments.
(left) The aleppo spiced tenderloin topped the sweet potato pavé and was also served with braised brussels sprouts and a few fresh brussels sprout leaves. The pork and sweet potato were a delightful combination of hearty flavors, while the brussels sprouts added some freshness and tartness.
(middle) The pork belly with braised greens were served over a puree of smoked corn. The belly was super savory and paired nicely the touch of sweetness and smokiness of the corn.
(right) Headcheese with blood pudding purée was the rich and savory combo. The headcheese was breaded and shaped into a fritter, then deep-fried. The blood pudding purée was a rich sauce and mild in flavor. Together it was truly enjoyable.
The red wine paired with this course, Famille Perrin, Vinsobres "Les Cornuds", Rhone 2010 (pictured below, left) accented the smokiness of each part of the dish and gave a fruity sweet note as well.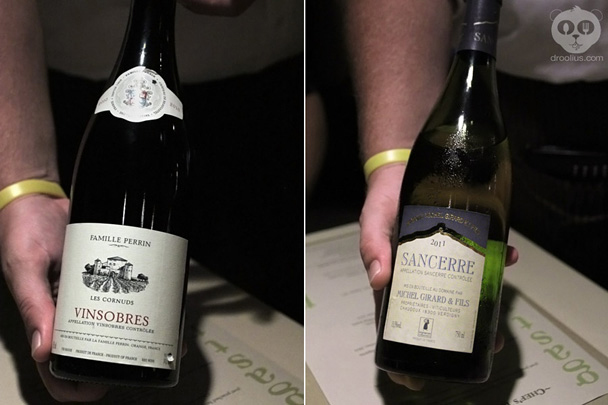 (click image to enlarge)
(left) Fourth course wine pairing: Famille Perrin, Vinsobres "Les Cornuds", Rhone 2010
(right) wine pairing for cheese course: Michel Girard & Fils, Sauvignon Blanc, Sancerre 2011
The white wine for the cheese course cut through savory & sharpness of cheese.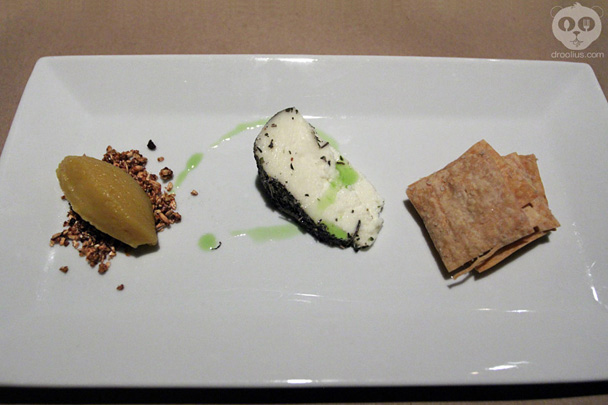 (click image to enlarge)
Cheese course: Fleur Du Marquis, persimmon jam with 18th century oats
Fleur Du Marquis is a sheep's milk cheese with herbs and served with a sweet persimmon jam and 18th century oats. The rich sheep's milk cheese was mild in flavor and usually encrusted with rosemary, fennel seeds, juniper berries. These are along the similar flavor profiles of the menu and makes sense for this course. Being a fan of pairing cheese with a sweet element, the persimmon jam was good with the cheese, along with the crunch from the 18th century oats.
The cheese course is an optional addition to the Chef's Tasting Menu, and it is worth it, especially if you have the wine pairing for the dinner.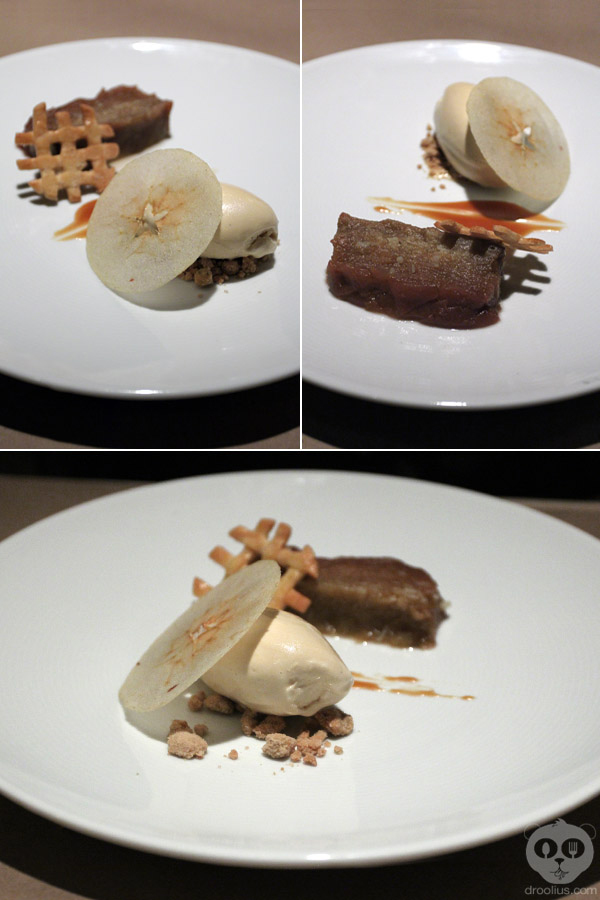 (click image to enlarge)
Fifth course dessert: Heirloom Apple Terrine with sea salt-caramel ice cream, rosemary crumble
The dessert was a nice balance of sweetness and a good closer to the meal. The apple terrine was layered with flavors and had a piece of pie crust to go along with it. The sea salt-caramel ice cream had an apple crisp on the side and rosemary crumble. So many different ways you can eat this dessert, I liked comparing flavors and combinations. Eating everything together was like having apple pie and ice cream with caramel. Very playful and very good.
(click image to enlarge)
Fifth course wine pairing for dessert: Badia a Coltibuono, Vin Santo del Chianti Classico 2005
The wine was sweet and light, accenting the caramel and flavors of apple.
The Chef's Tasting Menu at The Ravenous Pig definitely introduced my palate to new flavor combinations and overall impressed me with the creativity of each course. This menu is one that you could find in a major food city and it is great that you can find it here in Central Florida. I also enjoyed the wine pairings, developed by Wine Director Chad, which really amps up the dining experience. It is an optional add-on, but I recommend the wine pairing because it only enhances each dish. I think this Chef's Tasting would be a great way to celebrate a special occasion or any night out for a good meal. If you enjoy great tasting food and discovering flavors, this is an experience you should try. With the monthly changing menu, you can always expect to have a new and different tasting available.
As mentioned in the beginning, The Ravenous Pig will be launching a new Holiday Chef's Tasting Menu later this week, so it will be a different menu from the one in this post. The cost is $65 per person for the 5 course menu, you can add a cheese course for $8 and wine pairings for $35 to go with each course. The Chef's Tasting is available nightly at a limited quantity, so it is recommended to mention "Chef's Tasting Menu" when making reservations online or by phone.

The Ravenous Pig | An American Gastropub
1234 N Orange Ave
Winter Park, FL 32789
(407) 628-2333
www.theravenouspig.com
Facebook page
Twitter @RavPig

Words and photos by Julius Mayo Jr.
Content and photos © Droolius.com 2012





Disclaimer: I was invited to experience this tasting menu. I was not compensated to write this post and all opinions are always my own.