This past weekend I had a few opportunities to eat steak and ribs. Friday night I attended a bachelor party where I ate a really good rib eye steak, but the restaurant was too dark for photos. Since I refuse to use flash, there is no photo to share. I also had some ribs in downtown Orlando from a street vendor who serves right off a drum grill with wheels. Then on Saturday I attended an annual private event, which I shall call a holiday party. I was there to enjoy and not "work", so I brought my small point and shoot camera to capture any food moments that stood out. Since this was a private event and I can't really post it as a restaurant feature, I'm sharing this plate of food and claiming it to be my favorite from my weekend eats.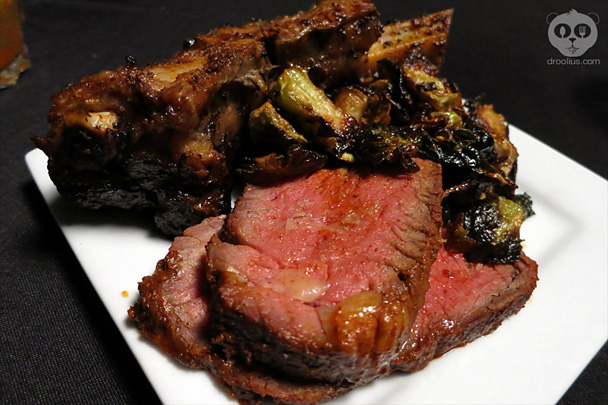 (click image to enlarge)
What I found myself enjoying were these slices of smoked rib eye and beef ribs that were catered by Cask & Larder from Winter Park. The smoked rib eye had an addicting spice rub that gave it great flavor. They were served with some Crispy Brussels Sprouts that were equally addicting. No one says no to Brussels Sprouts like these.
(click image to enlarge)
The beef ribs were fairly large in size and larger than any ribs that I've seen served. So much meat and flavor, these were a hit and went fast. I actually share this plate with my food partner, OD. With a few other restaurants catering the event, I was already full, but wish I had room for more.
Thinking about the rib eye and ribs again today made me visit the Cask & Larder website to look for them on the menu. After really thinking where these would be listed, I remembered they offer ribs on one of the Whole Cookery Feasts. That's where I found the rib eye and ribs! So if you are wanting a taste of these, I suggest going for the Ribeye & Beef Ribs (grilled deckle, roasted ribs, smoked loin) option on the Whole Cookery Feast menu. I think this will be my next feast at Cask & Larder, which requires reservations at least 72 hours in advance and minimum of 8 guests. Read more about my experiences for their Whole Pig Feast, visit 1 and visit 2.
*Note: I have not confirmed whether or not these are the same ribs or smoked rib eye served with the feast, but you can't go wrong if they are serving anything similar to these. I'm just trying to share the love of food here.
I was very fortunate to be invited to this holiday party and I thank the hosts for there hospitality and invitation. It's moments like these when I realize I'm in the right industry and share the love of food with many others. There's much to be thankful for this season and with Thanksgiving being only a few days away, this is food I am very thankful for.

Words and photos by Julius Mayo Jr.
Content and photos © Droolius.com 2013