Today is the official start of the 2016 Epcot International Food & Wine Festival. The festival runs for 62 days this year from September 14th until November 14th. There are thirty Global Marketplaces to experience food, wine, beers and cocktails representing countries and regions from around the world. This is one event I look forward to attending each year.
To attend the festival, general admission to Epcot is required. What's included are the Global Marketplaces, the Eat to the Beat Concert Series and Festival Center Happenings. The food and beverages at the Global Marketplaces are for purchase, as well as special paid ticketed events available for Beverage Seminars, Cheese Seminars, special dining events and Culinary Demonstrations with celebrity chefs. If you're a fan of ABC's The CHEW, hosts Mario Batali, Carla Hall, Michael Symon, Clinton Kelly and Daphne Oz will be filming live episodes on October 5–7 and will air on ABC October 10-14.
You can see your favorite TV chefs from Iron Chef, Top Chef and other cooking shows cook live during special festival events. Chefs include Masaharu Morimoto, Geoffrey Zakarian, Norman Van Aken, Kevin Dundon, Andrew Zimmern, Robert Irvine, Alex Guarnaschelli, Graham Elliot, Kevin Sbraga, Kenny Gilbert… and the list goes on. There are several talented local Central Florida chefs who will be doing cooking demos as well.
Details about special events can be found at: Walt Disney World website.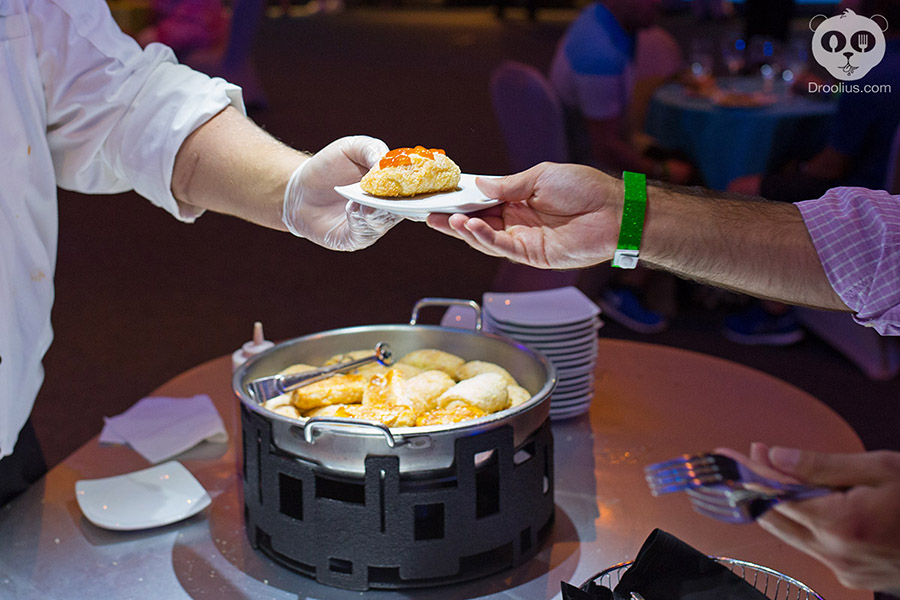 The menus for the Global Marketplaces have been updated with many new dishes, while still keeping some classic favorites. Some of my yearly favorites that I recommend trying are:
• Canadian cheddar cheese soup (updated with pretzel roll) from Canada
• "Le Cellier" Wild Mushroom Beef Filet Mignon with Truffle-Butter Sauce from Canada
• Crispy pork belly with black beans from Brazil
• Croissant aux Escargots: Escargot Croissant with Garlic and Parsley from France
• Grilled Beef Skewer with Chimichurri Sauce and Boniato Purée from Patagonia
My go-to sweet dish is the Belgian Waffle with Berry Compote and Whipped Cream from Belgium. There are many desserts to try at the festival along with many food and wine/beer pairings. The best way to experience the festival is with a group of people willing to share everything. That way you get to sample everything and go back for your favorites.
The Epcot Food & Wine Festival always has a wide variety of wines and beverages to enjoy. Some are festival exclusives, so make sure to check those out.
Menu for Global Marketplaces
The photos for the following menus of the Global Marketplaces are a collection from past Epcot Food & Wine festivals I've attended from over the years and some are newer photos that were taken during a recent Tables in Wonderland event. Note: plating of the dishes may change from year to year.
Africa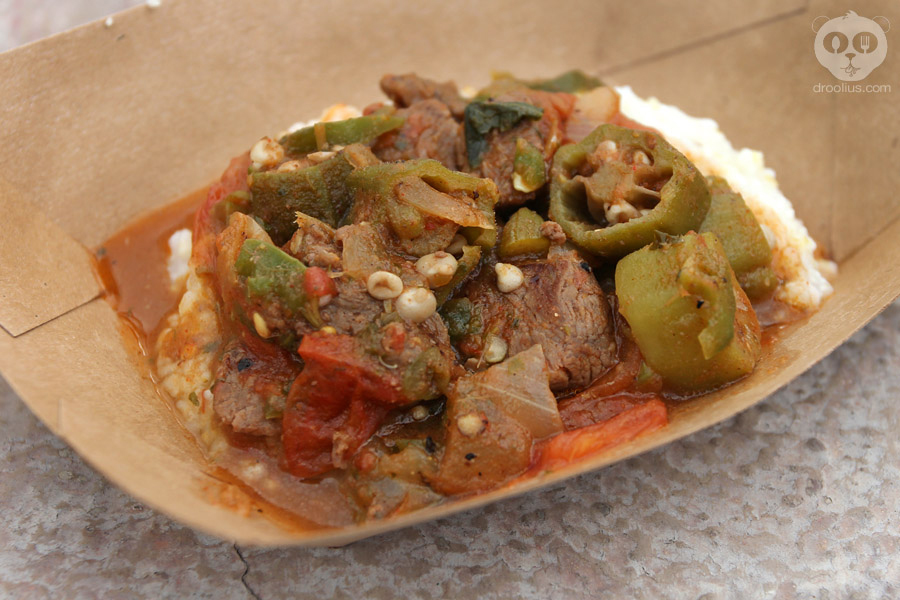 • Berbere-style Beef Tenderloin Tips with Onions, Jalapeños, Tomato and Pap
• Buttered Chicken with Micro Cilantro and Naan Bread
Drinks:
• Indaba Chenin Blanc, Western Cape, South Africa
• Simonsig Pinotage, Stellenbosch, South Africa
• Jam Jar Sweet Shiraz, Western Cape, South Africa
Australia

• Grilled Lamb Chop with Mint Pesto and Potato Crunchies
•Lamington: Yellow Cake Dipped in Chocolate and Shredded Coconut
•Grilled Sweet and Spicy Bush Berry Shrimp with Pineapple, Pepper, Onion and Snap Peas
Drinks:
Coopers Brewery Extra h2 Vintage Ale, Regency Park
Château Tanunda Grand Barossa Dry Riesling, Barossa Valley
Bulletin Place Unoaked Chardonnay, South Eastern Australia
Yangarra Estate Vineyard Shiraz, McLaren Vale
Belgium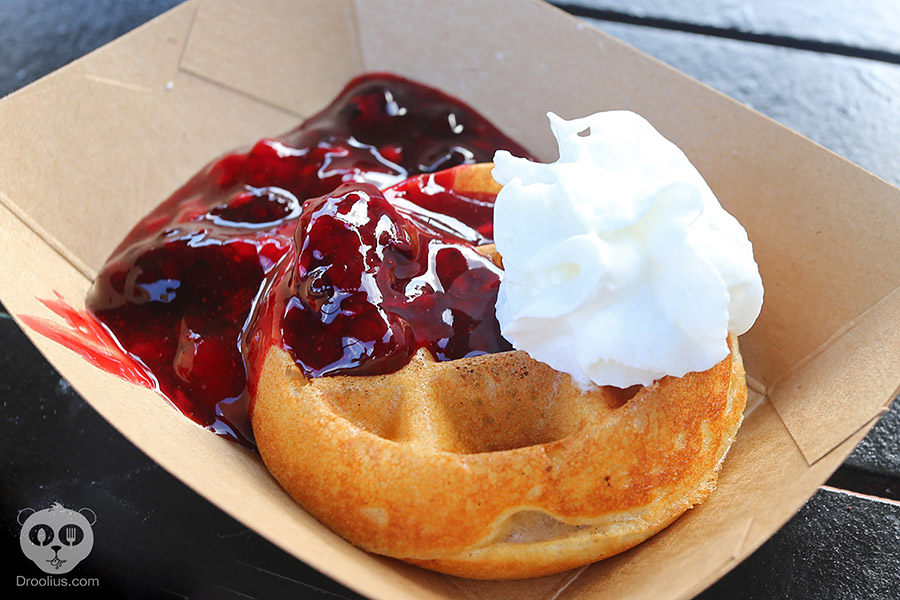 • Belgian Waffle with Berry Compote and Whipped Cream
• Beer-braised Beef served with Smoked Gouda Mashed Potatoes
• Belgian Waffle with Warm Chocolate Ganache and Whipped Cream
Drinks:
• Hoegaarden Witbier
• Leffe Blonde Belgian Pale Ale
• Stella Artois Hard Cidre
Brazil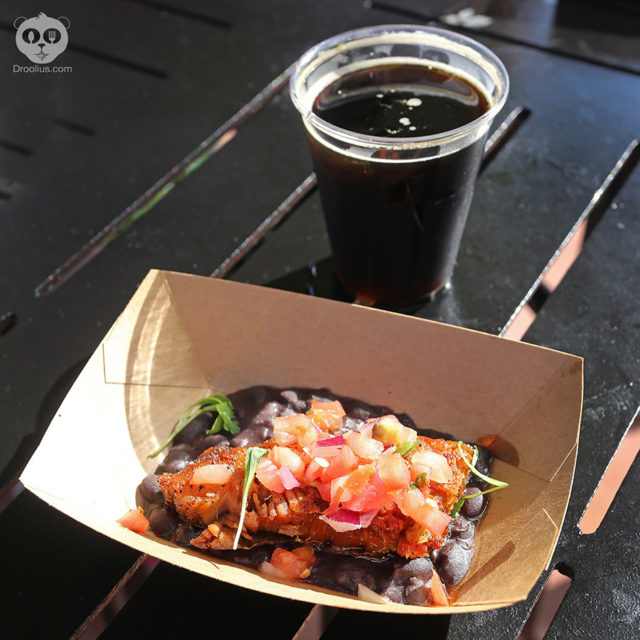 • Crispy pork belly with black beans and tomato (paired with Kaiser Brewery Xingu Black Beer)
• Pão de Queijo: Brazilian cheese bread
• Escondidinho de Carne: Layered Meat Pie with Mashed Yucca
Drinks:
• Kaiser Brewery Xingu Black Beer
• Carnaval Moscato Sparkling White Wine, Serra Gaúcha
• Frozen Caipirinha featuring LeBlon Cachaça
Brewer's Collection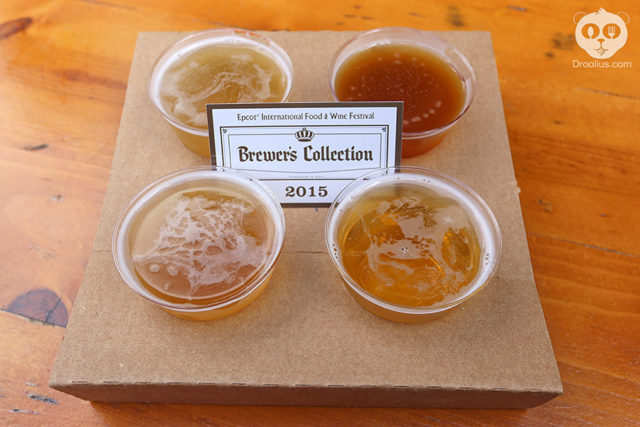 Drinks:
• Radeberger Zwickel Pilsner (Unfiltered)
• Hacker-Pschorr Hefe Weisse
• Schöfferhofer Zitrone Weizen-Mix
Canada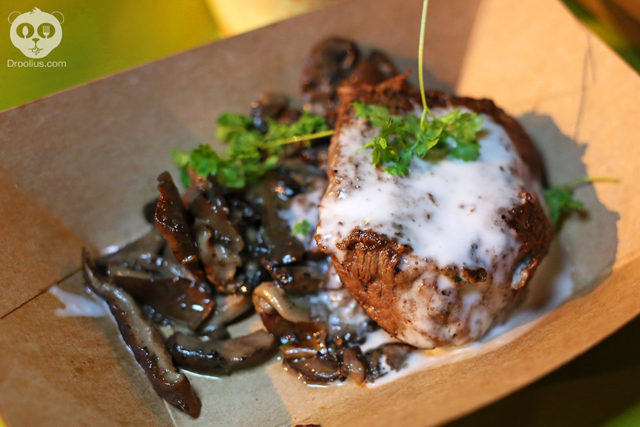 • "Le Cellier" Wild Mushroom Beef Filet Mignon with Truffle-Butter Sauce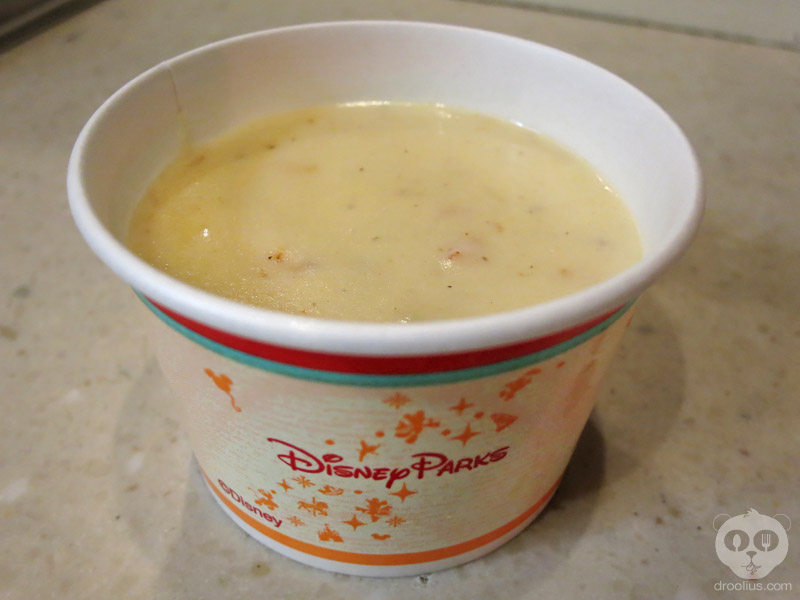 • Canadian cheddar cheese soup served with a pretzel roll
*This soup is my yearly favorite and this year they've added a pretzel roll!
Drinks:
• Moosehead Lager
• Neige Premiere Apple Ice Wine, Québec
• Fielding Estate Red Conception
The CHEW Collective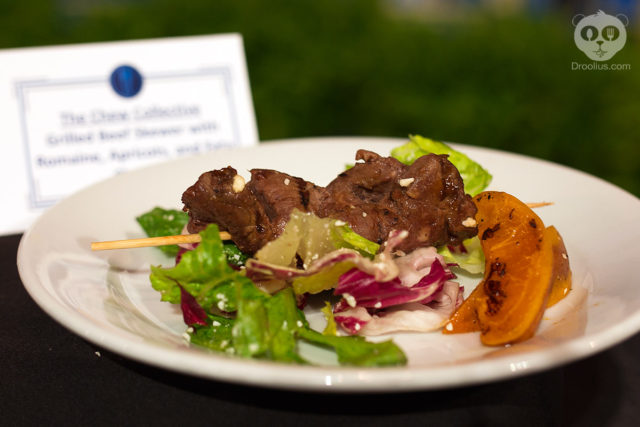 • Grilled Beef Skewer with Romaine, Apricots and Feta Cheese
• Ricotta and Zucchini Ravioli with Rustic Tomato Sauce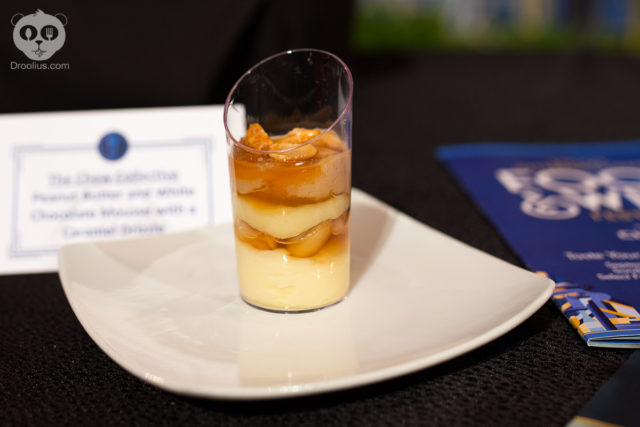 • Peanut Butter and White Chocolate Mousse with a Caramel Drizzle
Drinks:
Festival Chardonnay, California
Festival Cabernet Sauvignon, California
China
• Sichuan Spicy Chicken
• Black Pepper Shrimp with Garlic Noodles
• Beijing Roasted Duck in a Steamed Bun with Hoisin Sauce
Drinks:
• Tsingtao Lager
• Strawberry Plum Wine Cooler with Takara Plum Wine
• Ritzy Lychee with Courvoisier Cognac VS and Smirnoff Vodka
• Kung Fu Punch with Smirnoff Vodka and Bols Triple Sec
• Happy Peach with Dekuyper Peach Liqueur and Myers's Dark Rum
• Mango Bubble Tea with Assam Black Tea and Milk
Chocolate Studio – NEW!
• Liquid Nitro Chocolate-Almond Truffle with Warm Whiskey Caramel
• Red Wine Chocolate Truffle
• Ghirardelli® Chocolate Raspberry Torte
Drinks:
• Justin Cabernet Sauvignon, Paso Robles, California
• Rosa Regale Sweet Red Sparkling Wine, Piedmont, California
• Fonseca Bin No. 27 Port, Douro Valley, Portugal
• Blandy's Alvada 5-Year-Old Madeira, Portugal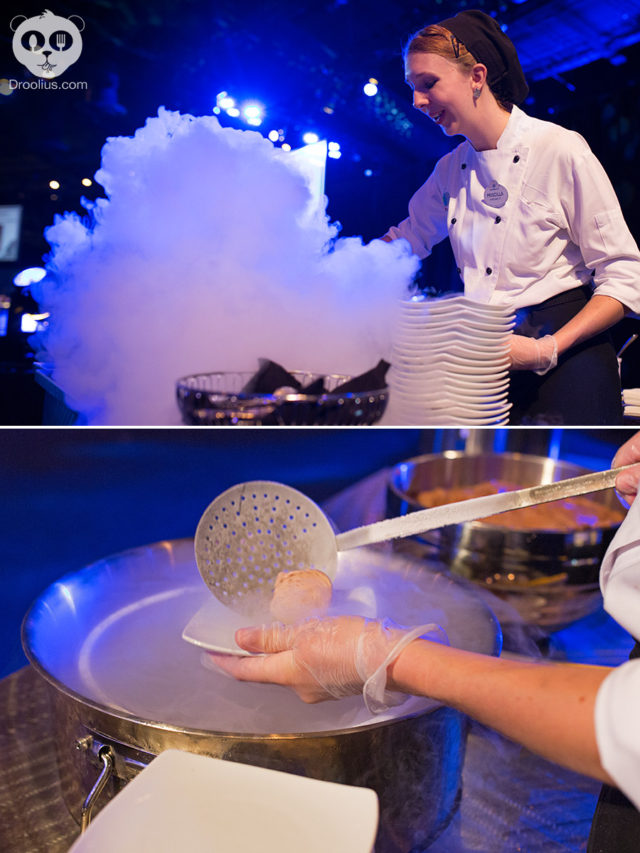 The making of Nitro Chocolate-Almond Truffle in action!
Craft Beers
Food:
• Pimento Cheese Dip with Pretzel Crisps
• Charcuterie Plate: Country Pâté, Cured Meats and Crostini
• Piggy Wings: Fried Pork Wings with Korean BBQ Sauce and Sesame Seeds
Drinks:
• Orlando Brewing Orlando Weiss, Orlando
• Florida Beer Company Passport 20 Belgian-Style Tripel Ale, Cape Canaveral
• Two Henrys Blueberry Vanilla American Wheat Ale, Plant City
• Concrete Beach Stiltsville Pilsner, Miami
• 3 Daughters Bimini Twist IPA, St. Petersburg
• Shipyard Midnight Snack Milk Stout, Clearwater
• Beer Flights also available
Desserts & Champagne
Drinks:
• Veuve Clicquot Ponsardin "Yellow Label" Brut
• Dom Pérignon Brut
• Nicolas Feuillatte Brut Rosé
• Moët & Chandon Ice Impérial
• Hard Soda Floats with Vanilla Soft-Serve (alcoholic) – Best Damn Hard Root Beer Float, Sprecher Hard Cherry Cola Float or Sprecher Hard • Orange Cream Soda Float
• Soda Floats with Vanilla Soft-Serve (non-alcoholic) – Coca-Cola® Float, Grape Fanta® Float or Strawberry Fanta Float
Farm Fresh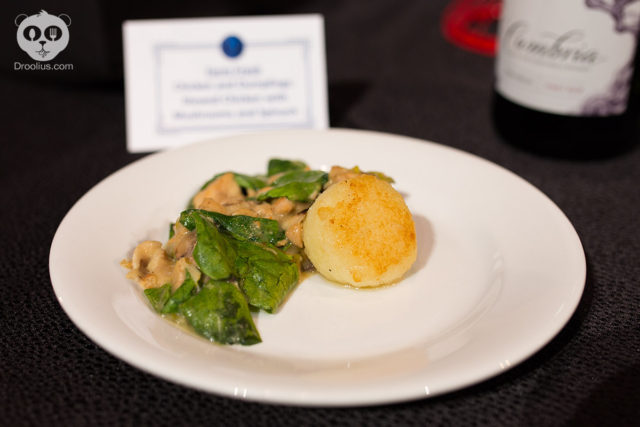 • Chicken and Dumplings: Stewed Chicken with Mushrooms and Spinach
• Pickled Beet Salad with Herbed Goat Cheese, Minus 8 Vinaigrette and Toasted Walnuts
• Loaded Mac 'n' Cheese with Nueske's® Pepper Bacon, Cheddar Cheese, Peppers and Green Onions
Drinks:
• Woodchuck Raspberry Hard Cider
• Wyder's Dry Pear Hard Cider
• Two Henrys Elderberry Hard Cider
• Florida Orange Groves Mango Mama Wine
France
• Croissant aux Escargots: Escargot Croissant with Garlic and Parsley
• Soupe à l'oignon au Gruyère et Cognac: Gruyère and Cognac Onion Soup
• Boeuf Bourguignon: Cabernet Sauvignon-braised Short Ribs with Mashed Potatoes
• Crème Brûlée Caramel Chocolat: Caramel and Chocolate Crème Brûlée topped with Caramelized Sugar
Drinks: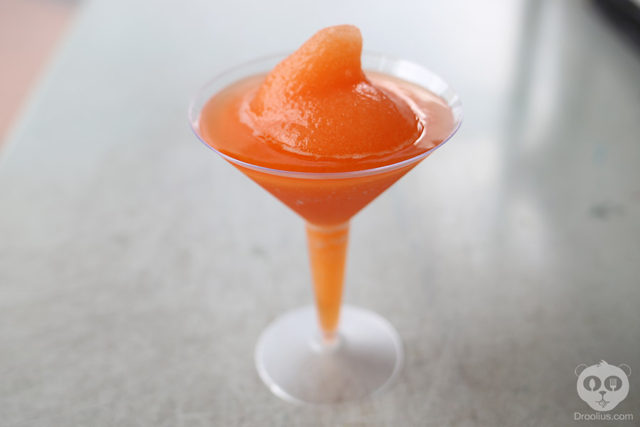 • La Passion Martini Slush: Vodka, Grey Goose Le Citron Vodka, Cranberry and Passion Fruit Juice
• Kronenbourg Blanc 1664 Pale Lager
• Chardonnay, Bourgogne Blanc, Mommessin, La Clé Saint-Pierre
• Merlot & Cabernet Blend, Bordeaux, Château les Graves de Barrau
• St-Germain Sparkling Kir: Sparkling Wine and St-Germain Elderflower Liqueur
• Frozen Daiquiri Ice Pop: Strawberry Puree with French Caribbean Rhum Clément
Germany
Food:
• Roast Bratwurst in a Hard Roll
• Schinkennudeln: Pasta Gratin with Ham and Cheese
• Apple Strudel with Vanilla Sauce
Drinks:
• Radeberger Zwickel Pilsner (Unfiltered)
• J&H Selbach Bernkasteler Kurfürstlay Riesling Auslese, Mosel
• Selbach-Oster Zeltinger Sonnenuhr Riesling Spätlese, Mosel
• J&H Selbach Bernkasteler Kurfürstlay Riesling, Mosel
Greece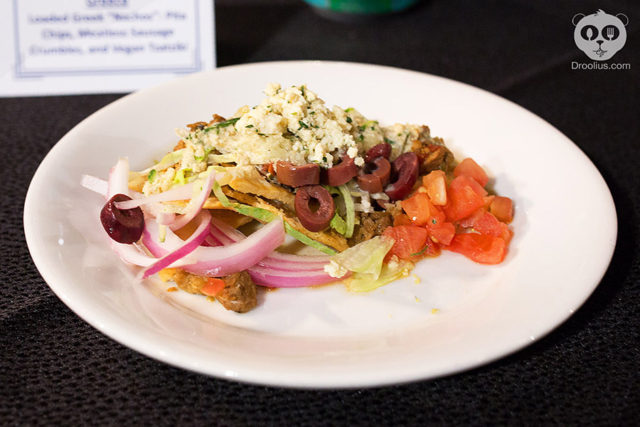 • Loaded Greek "Nachos": Pita Chips, Meatless Sausage Crumbles and Vegan Tzatziki
• Spanakopita
• Chicken Gyro with Tzatziki Sauce featuring Oikos® Greek Yogurt
• Oikos Greek Yogurt Vanilla Cake Soaked in Ouzo with Yogurt Whipped Cream and Pistachios
Drinks:
• Domaine Skouras Moscofilero
• Domaine Siglas Assyrtiko
• Alpha Estate Axia Syrah Xinomavro
Hawai'i
• Kalua Pork Slider with Sweet and Sour Dole® Pineapple Chutney and Spicy Mayonnaise
• Spicy Tuna Poke with Seaweed Salad and Nori Rice
Drinks:
• Florida Orange Groves Sparkling Pineapple Wine
• Kona Brewing Company, Big Wave Golden Ale
• Mai Tai featuring Sammy's Beach Bar Rum
Hops & Barley
• New England Lobster Roll
• Smoked Beef Brisket and Pimento Cheese served on Griddled Garlic Toast
• Freshly Baked Carrot Cake and Cream Cheese Icing
Drinks:
• Samuel Adams Rebel Grapefruit IPA, Boston, Massachusetts
• Anchor Brewing Liberty Ale, San Francisco, California
• Dogfish Head Chicory Stout, Milton, Delaware
• La Crema Chardonnay, Sonoma Coast, California
• Cambria Estate Winery Benchbreak Pinot Noir, Santa Barbara County, California
• Frozen Orange-spiked Tea featuring Florida Cane "Orlando Orange" Vodka
Ireland
• Seafood Fisherman's Pie
• Irish Cheese Selection Plate: Irish Cheddar, Dubliner and Irish Porter
• Warm Chocolate Pudding with Irish Cream Liqueur Custard
Drinks:
• Kilkenny Irish Cream Ale
• Bunratty Meade Honey Wine
• Twinings® Pumpkin Chai Tea Frozen Cocktail with Caramel Vodka
• Twinings Pumpkin Chai Tea and Caramel Shake (non-alcoholic)
Islands of the Caribbean – NEW!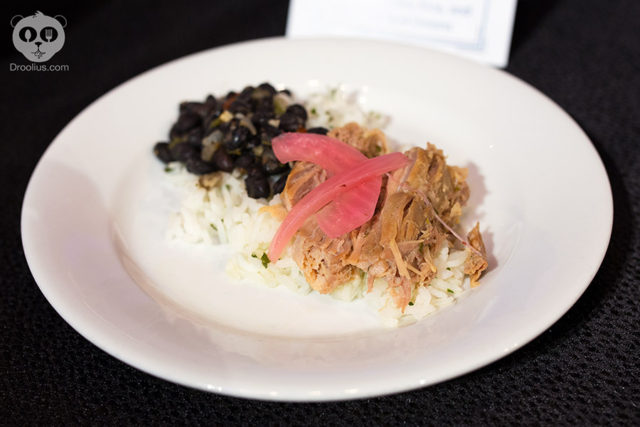 • Mojo Pork with Black Beans, Cilantro Rice and Pickled Red Onions
• Jamaican Beef Patty
• Pescado con Coco: Seared Grouper, Pigeon Peas and Rice with Coconut Sauce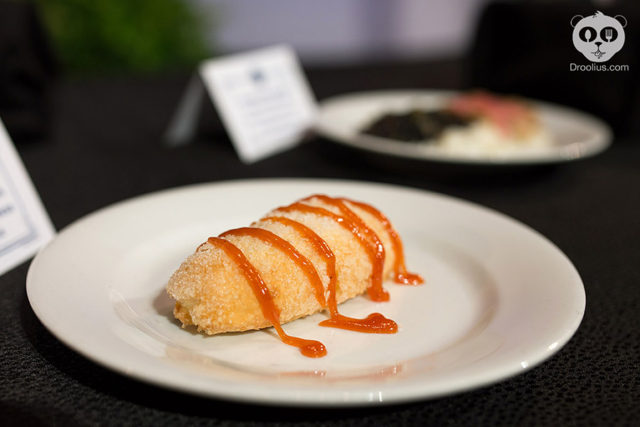 • Quesito: Puff Pastry with Sweetened Cream Cheese and Guava Sauce
Drinks:
• Presidente Pilsner
• Frozen Mojito
• Caribbean Sangria
Italy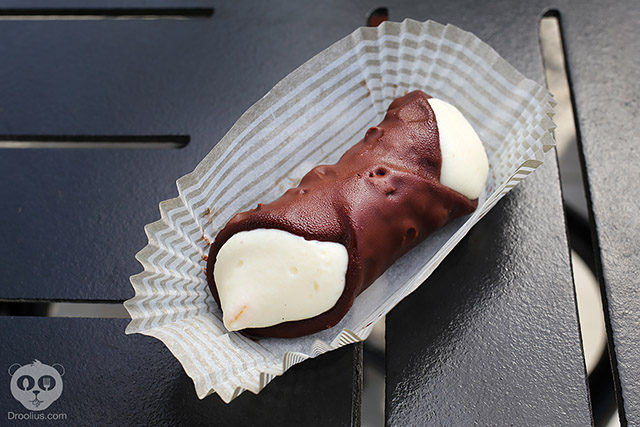 • Cannoli al Cioccolato: Chocolate-covered Cannoli filled with Sweet Ricotta, Chocolate and Candied Fruit
• Pennete alla Parmigiana: Baked Ziti and Chicken Parmigiana, Tomato Sauce, Mozzarella and Parmesan Cheese
• Spezzatino alla Toscana con Polenta: Tuscan-style Stew with Carrots, Mushrooms and Crispy Polenta
Drinks:
• Moretti Lager
• Moretti La Rossa Double Malt Beer
• Pinot Grigio, Placido
• Chianti, Placido
• Prosecco, Fantinel Borgo
• Corbinello Spumante Dolce Rose, Monte Grande
• Fior d'Arancio Moscato Spumante, Monte Grande
• Frozen Margarita with Limoncello and Tequila
Japan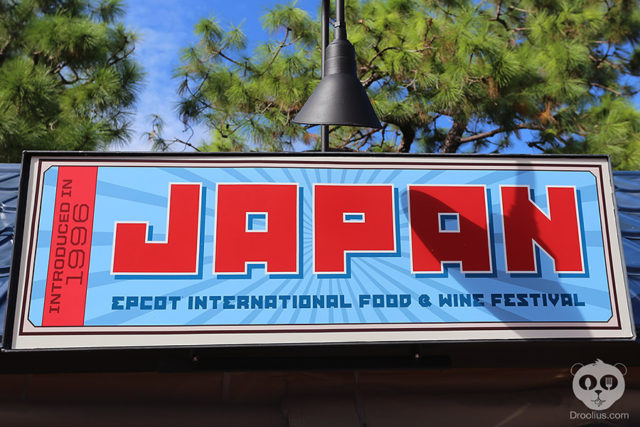 Food:
• Spicy Sushi Roll: Tuna and Salmon with Kazan Volcano Sauce
• Grilled Spicy Edamame tossed with Sesame Oil, Soy Sauce and Chili Powder
• Garlic Shrimp: Marinated Shrimp sautéed with Garlic and Butter and served over Rice
Drinks:
• Kirin Pale Lager
• Sapporo Black Lager
• Pineapple Breeze Sake Cocktail
• Echigo "Northern Bloom" Junmai Sake
Mexico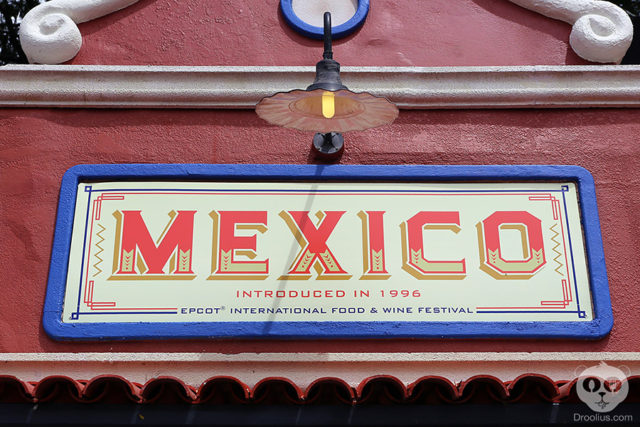 Food:
• Taco de Camarón: Battered Shrimp served over a Flour Tortilla with Crispy Purple Cabbage and Chipotle Mayonnaise
• Barbacoa Enchilada: Corn Tortilla filled with Beef Barbacoa and covered with Oaxaca Mole
• Flan de Chocolate Abuelita: Mexican Chocolate Custard
Drinks:
• Bohemia Pilsner with Floater
• Mexican-style Red Sangria
• Mezcal Pineapple Margarita on the Rocks
• Jalapeño Margarita on the Rocks
Morocco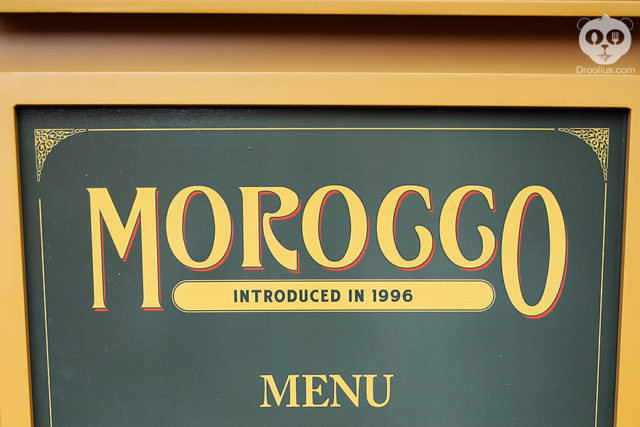 Food:
• Kefta Pocket: Seasoned Ground Beef in a Pita Pocket
• Spicy Hummus Fries with Cucumber, Tomato, Onions and Tzatziki Sauce
• Chocolate Baklava: Rolled Phyllo Dough with Toasted Almonds and Dark Chocolate Sauce
Drinks:
• Casa Pale Lager
• Les Trois Domaines Guerrouane White Wine, Meknes, Morocco
• Moroccan Sangria
• Mimosa Royale: Sparkling Wine and Orange Juice topped with Orange Liqueur
New Zealand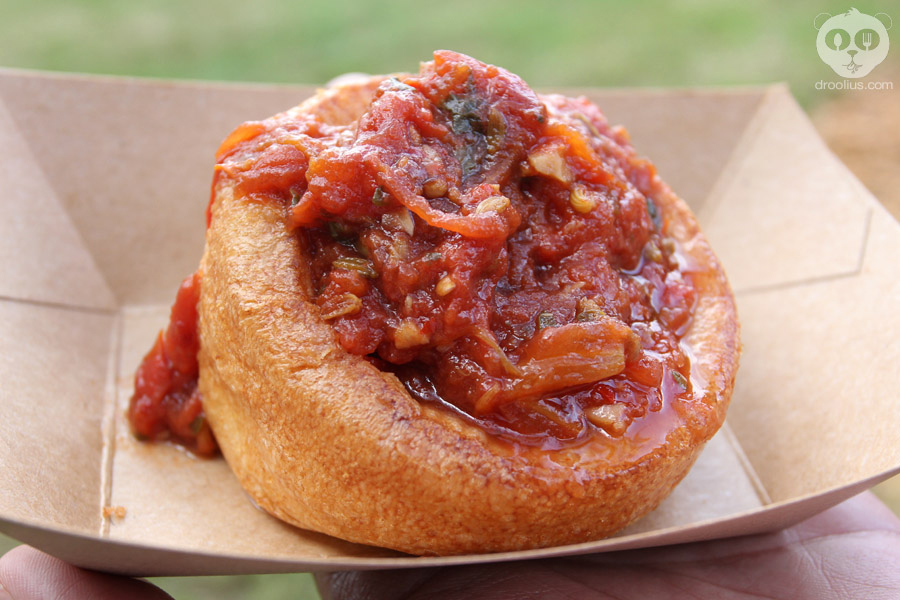 • Lamb Meatball with Spicy Tomato Chutney
• Steamed Green Lip Mussels with Garlic Butter and Toasted Breadcrumbs
• Seared Venison Loin with Wild Mushroom Marsala Sauce and Kumara Dumpling
Drinks:
• Kim Crawford Pinot Gris, Marlborough
• Mohua Sauvignon Blanc, Marlborough
• Nobilo Icon Pinot Noir, Marlborough
Patagonia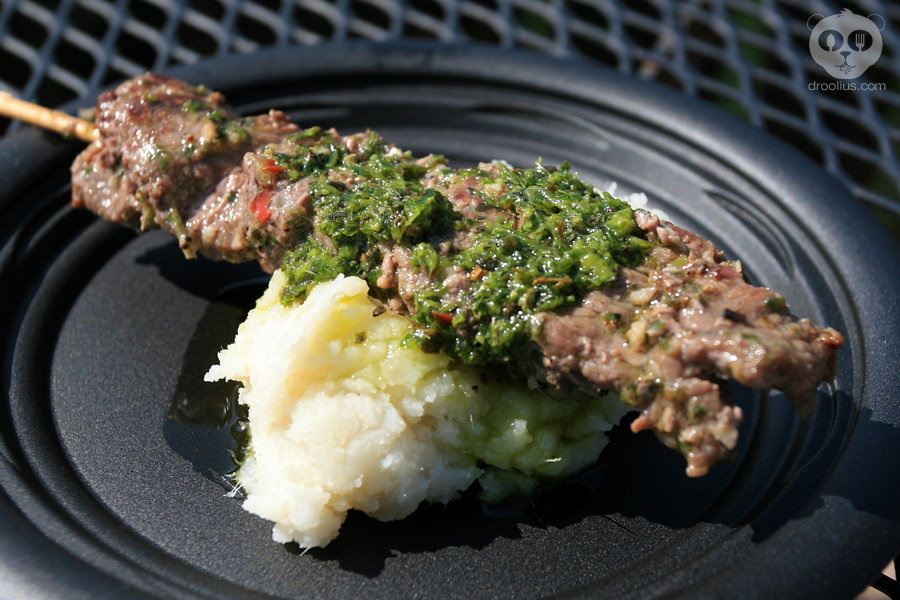 • Grilled Beef Skewer with Chimichurri Sauce and Boniato Purée
• Beef Empanada
• Roasted Verlasso® Salmon with Quinoa Salad and Arugula Chimichurri
Drinks:
• Verum Pinot Noir, Rio Negro
• Bodega Noemía A Lisa Malbec, Rio Negro
Poland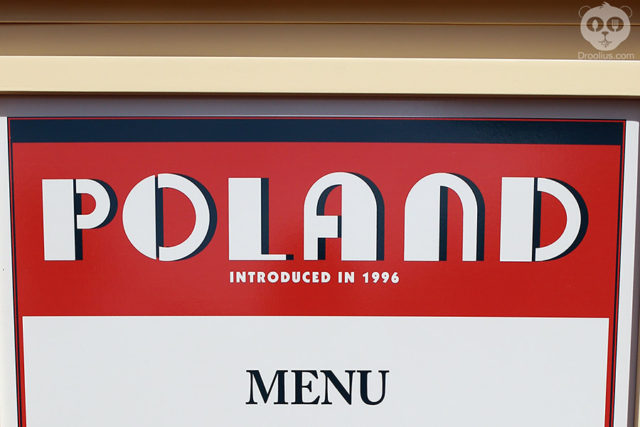 Food:
• Golabki: Pork-stuffed Cabbage in Tomato Sauce
• Kielbasa and Potato Pierogi with Caramelized Onions and Sour Cream
Drinks:
• Okocim O.K. Euro Pale Lager
• Donausonne Blaufränkisch Hungarian Wine, Kunság
• Frozen Szarlotka Apple Pie featuring Zubrowka Bison Grass Vodka
Scotland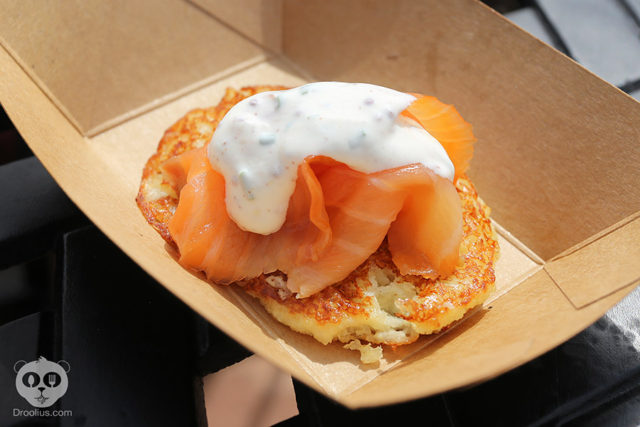 (photo from 2014 Epcot Food & Wine Festival)
• Fresh Potato Pancake with Scottish Smoked Salmon and Herbed Sour Cream
• Traditional Scottish Lamb Stew with Neeps and Tatties
• The Tipsy Laird: Whiskey-soaked Cake with Lemon Cream and Toasted Oats
Drinks:
• Citrus Thistle featuring Hendrick's Gin
• Innis & Gunn Irish Whiskey Aged Stout
South Korea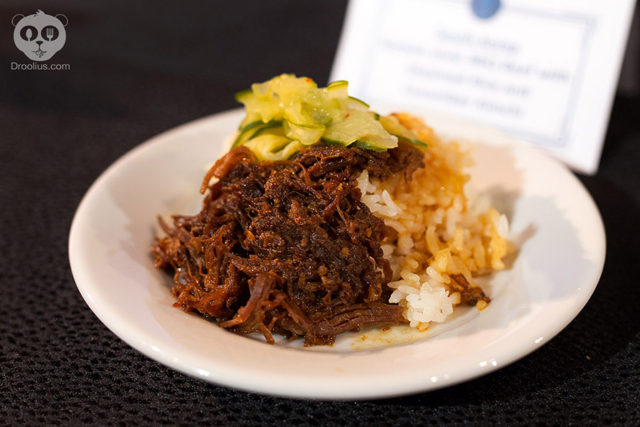 • Korean-style BBQ Beef with Steamed Rice and Cucumber Kimchi
• Roasted Pork Lettuce Wrap and Kimchi
• Vegan Korean BBQ with Steamed Rice and Cucumber Kimchi featuring Gardein™ Beefless Tips
Drinks:
• iCing Grapefruit Sparkling Rice Brew
• Bohae Bokbunjajoo Raspberry Wine
• Soju Fruit Slushy featuring Jinro Chamisul Soju
Greenhouse Guru Hosted by Village Farms – NEW!
Sustainable-themed and eco-friendly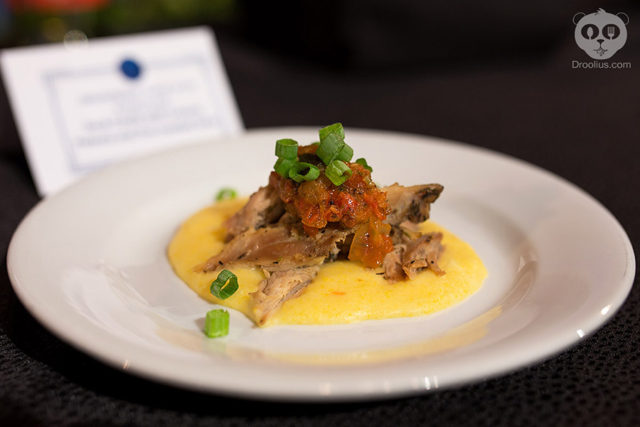 • Duck Confit with Creamy Polenta and Fire-roasted Salsa
• Chilled Tomato Gazpacho with Lump Crab Meat
• Herloom Tomato Salad with Goat Cheese, Aged Balsamic Vinegar and Micro-Basil
• Mini San Marzano Tomatoes
Drinks:
• Chateau Ste. Michelle Cold Creek Vineyard Riesling, Columbia Valley, Washington
• Acrobat Pinot Noir, Eugene, Oregon
Wine & Dine Studio – NEW!
• Seared Scallop, Truffled Celery Root Purée, Brussels Sprouts and Wild Mushrooms featuring Melissa's Produce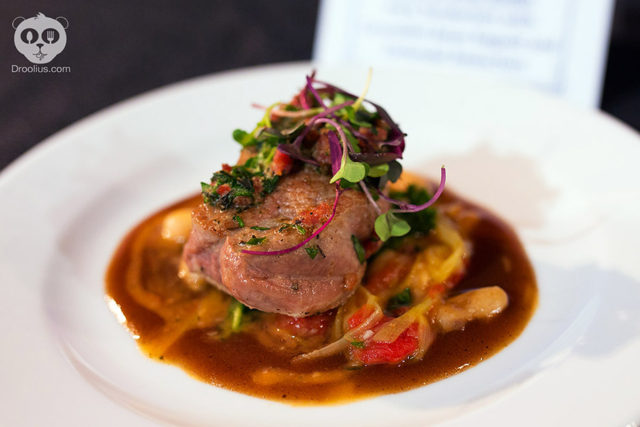 • Pork Tenderloin with Cannellini Bean Ragoût and Zinfandel Reduction
• Trio of Artisan Cheese
• La Bonne Vie Goat Cheese served with toasted Craisin Bread
• Karst Cave-aged Cheddar Cheese served with Fig Compote
• Statesboro Blue Cheese served with Spiced Candied Walnuts
• Artist Palette of Wine and Cheese
• Trio of Artisan Cheese paired with Conundrum White Blend 25th Anniversary, Kurt Russell's GoGi "Goldie" Chardonnay and Robert Mondavi Maestro Red Blend
Drinks:
• Round Pond Estate Sauvignon Blanc, Rutherford
• Kurt Russell's GoGi "Goldie" Chardonnay, Sta. Rita Hills
• Conundrum White Blend 25th Anniversary, Rutherford
• Vinum Cellars Pinot Noir, Monterey
• Kurt Russell's GoGi "Tiger" Pinot Noir, Sta. Rita Hills
• Michael David Winery Seven Deadly Zins Zinfandel, Lodi
• Robert Mondavi Winery Maestro Red Blend, Napa Valley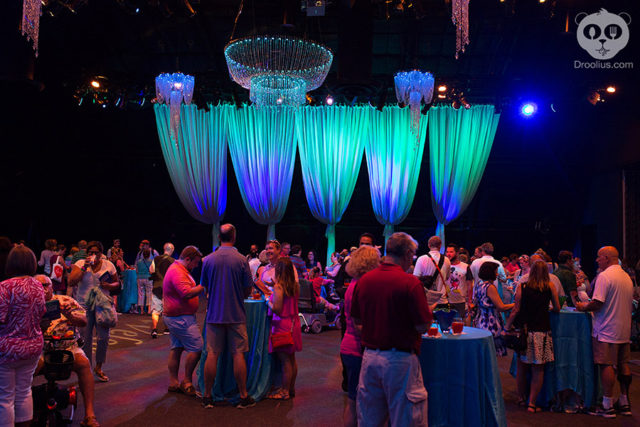 The Epcot Food & Wine festival is packed with special events, tastings, and pairing dinners. The Grand Tasting Events are Rockin' Burger Block Party and Party for the Senses, both inclusive with food and beverages. These are purchased ticketed events and details found on the Walt Disney World website.
So what dishes and drinks are you excited to try? What special events are you planning on attending? Let us know in the comments below.

Words by Julius Mayo Jr.
Photos by Julius Mayo Jr. and Thomas Babiarz
Content and photos © Droolius.com 2016

Disclaimer: Certain photos were taken during media events that we were invited to. We were not compensated to write this post and all opinions are always our own.