When there's a chance to eat a limited menu at Shake Shack, I'm always down to go. Recently we went to Shake Shack Buckhead in Atlanta to try the Shacktoberfest menu. The special menu goes until October 2nd (tomorrow), so if you haven't had a chance to try it, go to your local Shake Shack to get a taste of the Oktoberfest-inspired menu.
I ordered the Brat Burger, Bavarian-Style Soft Pretzel, and Brooklyn Brewery's Oktoberfest beer all for myself. Lady Droolius had her go-to order of a ShackBurger and fries with a side of cherry peppers (not pictured because she was already eating when I started taking photos). We get Shake Shack cravings all the time, so the special menu was our excuse to go on this trip.
Brat Burger – Hamburger topped with a flat-top griddled Usinger's cheddar-stuffed bratwurst, crispy ShackMeister Ale-marinated shallots and ShackSauce
The Brat Burger was a good mashup of a ShackBurger (minus cheese & veggies) topped with shallots and the griddled Usinger's cheddar-stuffed bratwurst. The cheddar bratwurst was the star here and carried the flavor overall. I didn't mind that of course, but should I have just ordered the ShackMeister Brat itself? Maybe next time. Regardless, I enjoyed this burger and encourage everyone to try it.
Fun fact: According to the Shake Shack website, "All bratwursts are made by Usinger's Famous Sausage Co., a Milwaukee-based, family-run butcher that has been making authentic German sausages for over 130 years."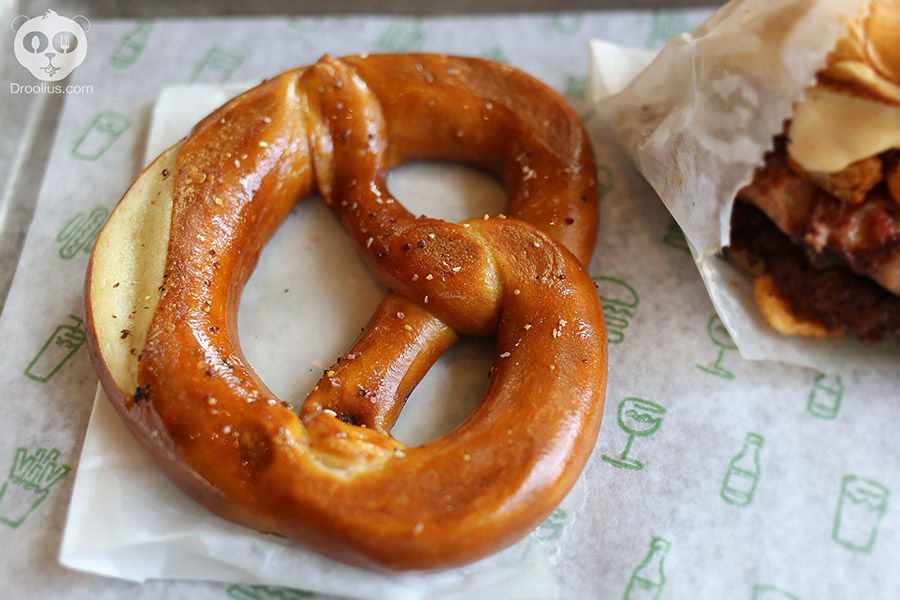 Bavarian-Style Soft Pretzel – Toasted soft pretzel topped with Bavarian spices
The Bavarian-Style Soft Pretzel was a warm, soft pretzel that paired nicely with the Brooklyn Brewery Oktoberfest beer. I actually liked dipping the pretzel in yellow mustard and following it with beer. This is a new menu item for Shacktoberfest and hope to see it again in the future.
Shake Shack Shacktoberfest started on September 23rd and runs until Sunday, October 2nd. The Shacktoberfest event happens yearly, but the menu may change slightly. If you've been looking for a way to celebrate Oktoberfest, this could be a good start.
Shake Shack
(Buckhead – Atlanta location)
3035 Peachtree Rd NE A146
Atlanta, GA

Words and photos by Julius Mayo Jr.
Content and photos © Droolius.com 2016