Happy New Year! It is said that eating pork in the New Year will bring good luck and history shows that many countries around the world observe this tradition. Although I had my pork feast a few days prior to the new year, its never too early or too late to celebrate. The Ravenous Pig does a great job serving a menu featuring pork in many different ways. This American Gastropub is known for their menu offering burgers, steaks, drinks, and of course pork dishes. A recent trip to The Ravenous Pig for a friend's birthday gave us a chance to sample a variety of rich and savory dishes.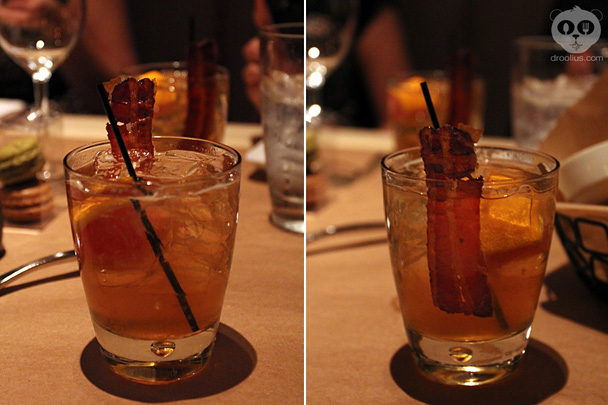 (click image to enlarge)
The Ravenous Pig Old Fashion – Bacon Infused Buffalo Trace Bourbon, Vanilla Maple Syrup, Bitters
A great way to start off the night, The Ravenous Pig Old Fashion is a twist on the traditional Old Fashion drink. While having a piece of candied bacon in a drink may be strange to some people, it's actually a well paired garnish against this stiff drink. The Bacon infused Bourbon is strong with a subtle bacon undertone and balanced with vanilla maple syrup. Leave your preconceived notions behind, this is a must try.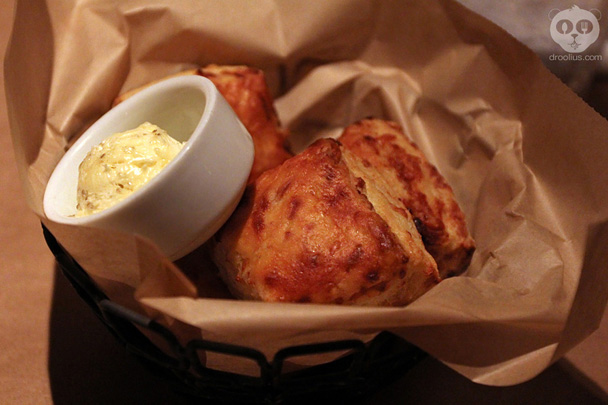 (click image to enlarge)
Gruyere Biscuits w/ smoked sea salt butter
These biscuits are great with the smoked sea salt butter or use them to dip in some of the other appetizers or sauces during dinner.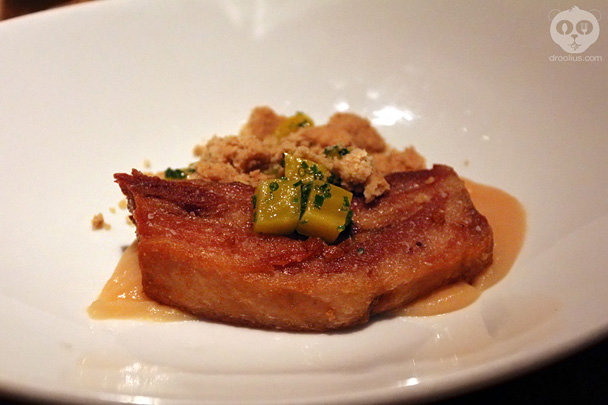 (click image to enlarge)
Niman Ranch Pork Belly – quince puree, roasted golden beets, bacon strussel, apple cider gastrique
This was a rich and savory pork belly dish that was super tender and melted while eaten. The roasted golden beets cut through some of the richness and provided some balance with its slight acidity. All of the components of the dish eaten together gave an enjoyable "rich, savory, with a touch sweet" note in each bite.
(click image to enlarge)
Snails & Bone Marrow– california snails and caramelized french onion marmalade, roasted marrow, salsa verde, toast points
This appetizer was interesting and different from what I expected. I was hoping for an escargot treatment for the snails, but they were found in the caramelized french onion marmalade which was more like a "french onion soup" that the snails were kind of lost in. When spread on the toast points, it was sweet caramelized onion flavor that was showcased, not snails. It was not bad, just not what I expected. I guess I was thinking snails roasted with garlic and butter would pair with bone marrow the same way.
(click image to enlarge)
Roasted Bone Marrow
This was a treat and I wish there was more of the roasted bone marrow. It is truly nature's natural butter, but more savory. So rich and savory, the roasted bone marrow was enjoyed by everyone.
(click image to enlarge)
Pork Porterhouse with anson mills creamy polenta, braised greens
The original menu item was Milk Braised Pork with polenta and greens. They were sold out of the Milk Braised Pork when we got there, so the Chef substituted a Pork Porterhouse with the same side dishes. A bone in Pork Porterhouse was something I just had to try and I'm glad I did. It paired with the soft and creamy polenta. The braised greens were tender and had a mild enjoyable taste.
(click image to enlarge)
Pork Porterhouse with anson mills creamy polenta, braised greens
The Pork Porterhouse was a really good sized portion, almost too much for one sitting. Knowing it would not be the same when taken home for leftovers, I finished the massive bone-in Porterhouse. This was very juicy and one of the most tender cuts of pork I've had to date. It was cooked to the proper temperature and full of its porky juices.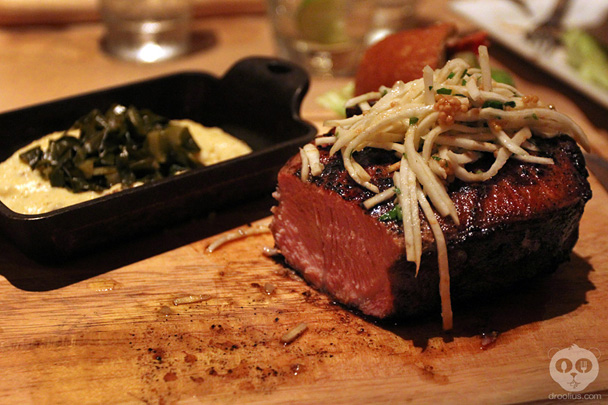 (click image to enlarge)
This visit to The Ravenous Pig was definitely a pork paradise. A wide range of pork dishes, the restaurant's name is definitely suitable. While I've been here in the past for their steaks and burgers, there is always a great selection of pork dishes to be enjoyed. Check out their monthly "Traditional Pig Roast" on a Saturday, visit website below for details. I may just have to come back sooner to celebrate the New Year.

The Ravenous Pig | An American Gastropub
1234 N Orange Ave
Winter Park, FL 32789
(407) 628-2333
www.theravenouspig.com
Facebook page


Words and photos by Julius Mayo Jr.
Content and photos © Droolius.com 2012