The 4th Annual Burgie Awards took place during the first weekend of February, featuring twenty plus food trucks and restaurants at this food lover's event. This yearly food festival celebrates the favorites in South Florida food and features a variety of dishes and desserts, not just burgers. It was the first time the annual event has been held outside of the Miami area, with the crowds coming in at an excess of 5000 people in Esplanade Park in Ft. Lauderdale, FL. The event was produced by food blogger, Sef Gonzalez of BurgerBeast.com, who has been organizing food truck events for two and a half years now.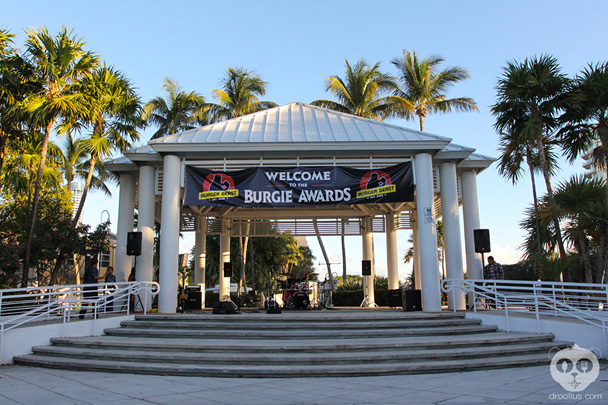 (click image to enlarge)
What started out as an awards ceremony a few years ago at a bar in Miami with 200 people, the event has exploded into a full festival and has reached an audience from all over South Florida. "In 2009 South Florida Food Blogger Burger Beast wanted to honor the unsung heroes of the South Florida Food Scene with Awards. His "Burgie Awards", the first of their kind were a sensation. SFL Restaurants & Food Trucks have now taken to proudly displaying their "Burgie Awards" year round." The awards are now a public online vote and the winners are announced at the festival's ceremony.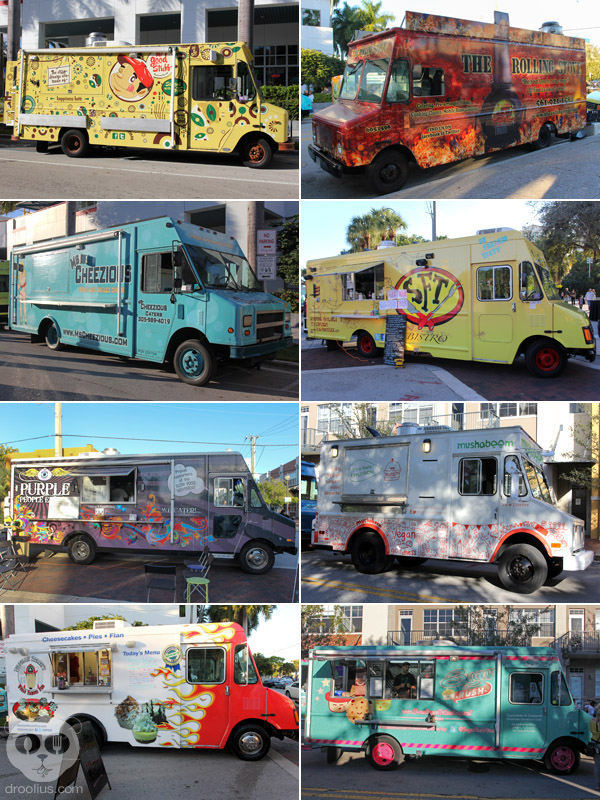 (click image to enlarge)
I arrived prior to the event starting and caught some of the food trucks setting up. One thing that sets South Florida and Miami food trucks apart from many others are the bright colors and wraps covering the food trucks. While detailed and colorful wraps are starting to become more common in Orlando and other cities, it has been the norm for a long time in the South Florida food truck scene.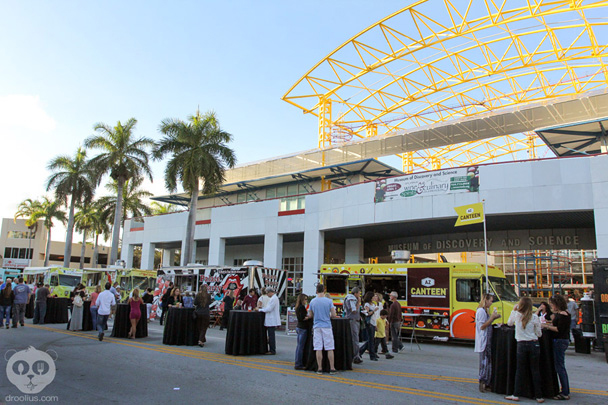 (click image to enlarge)
The event was well organized, with a closed off street for the event attendees to walk around, and several tables to eat at. While the photo above was taken toward's the event's beginning, you will see the massive crowd pour into the space, about an hour into the festival in later photos.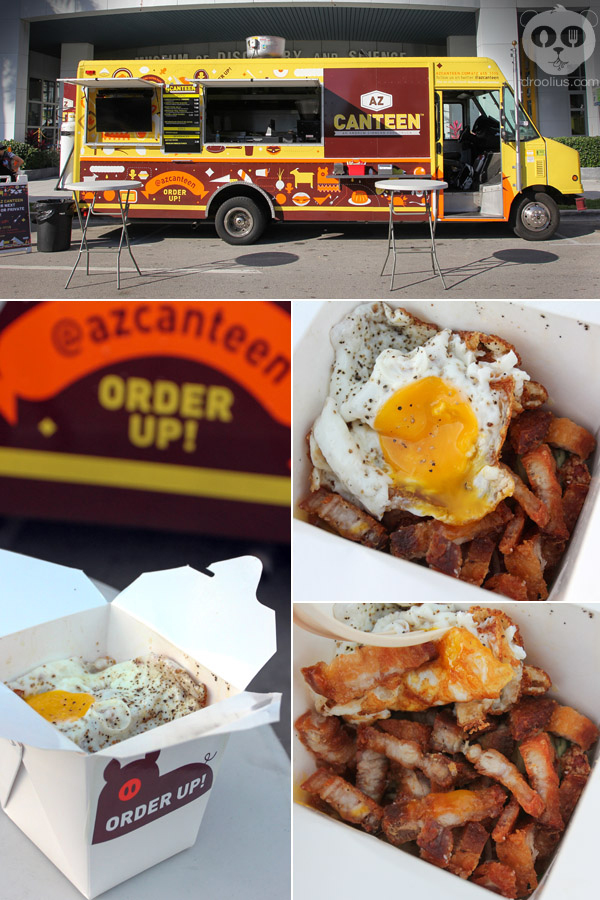 (click image to enlarge)
Food personality and host of tv show Bizarre Foods, Andrew Zimmern, had his AZ Canteen Food Truck touring in the area and it participated in this year's event. Serving a number of dishes that could be considered more exotic for a food truck menu, I chose to try out the Crispy Pork Belly with green papaya salad, chilis, lime, and fried egg. The combination did have an exotic flare with flavors of savory, spicy, tangy, sweet. Note, Andrew Zimmern was not present at the event, but his food truck was!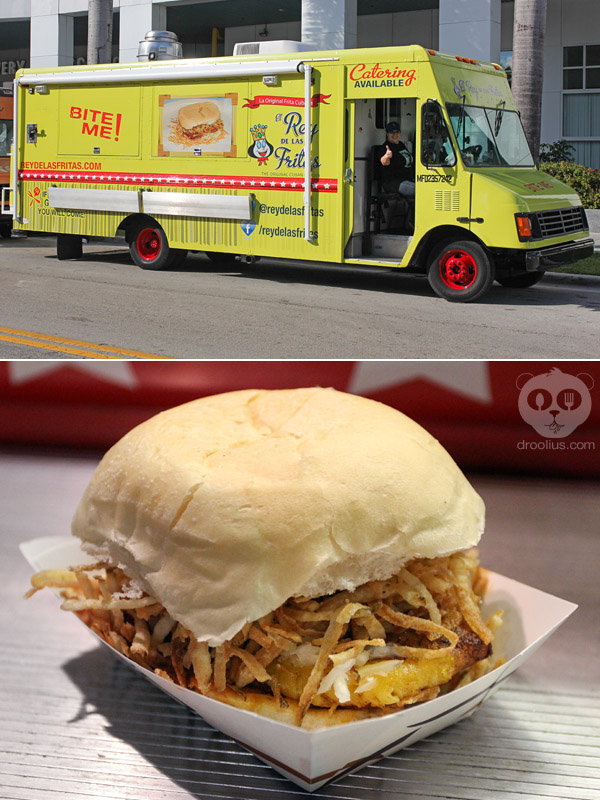 (click image to enlarge)
El Rey de las Fritas is a restaurant that has been around since the 1980's that serves Cuban Fritas, with a few locations around Miami and a food truck. The Frita is a cuban style burger that is made with seasoned ground beef, topped with onions, julienne cut potatoes or potato sticks and ketchup. The El Rey Original Frita Cubana is 100% ground beef mixed with "secret family formula" of spices topped with Onions and hand-cut Julienne Fries. I ordered a more modern version of the Frita, a Frita Dulce that's an Original Frita Cubana with sweet plantains on top.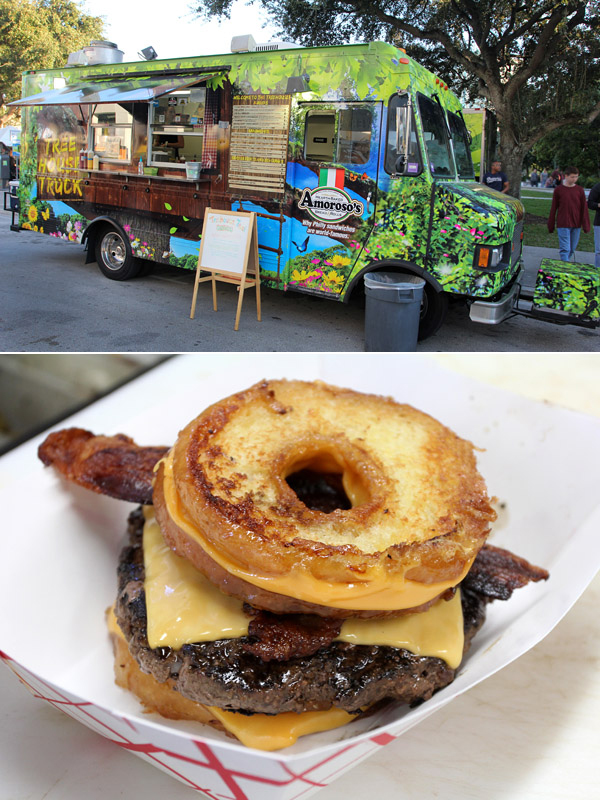 (click image to enlarge)
The Treehouse Truck made it down from Orlando, FL and were serving up their specialty burgers and sandwiches. One of the most popular burgers of the day was the Grilled Cheese Luther Bacon Cheese Burger that has 2 donuts made into grilled cheese, with a bacon cheeseburger in the middle.
(click image to enlarge)
HipPOPs food truck serves Handcrafted Gelato Bars that are dipped to order. These high quality dessert pops are made in house at the company's micro-creamery and topped with various toppings on the truck by customers. The event special pop offered was the All American: Vanilla custard based gelato with lots of Oreo cookie pieces, half dipped in Semi Sweet Chocolate & encrusted with more Oreos.
(click image to enlarge)
The event unfolded with the large crowds at each truck. The sun went down pretty quickly, but the crowds kept coming for more food.
(click image to enlarge)
Event attendees had a photo opportunity with the Burgie Beast cardboard cut out and a booth featuring Burger Beast swag was available too.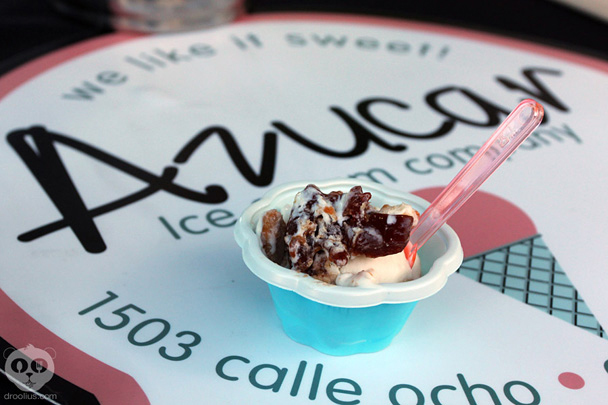 (click image to enlarge)
Azucar Ice Cream Company from Miami had a booth set up serving samples for one dollar of their hand crafted ice cream. This was a great way to sample their Cuban inspired flavors they had on hand for the festival. Here is their signature Abuela Maria® Ice Cream – premium vanilla ice cream mixed with bright jewels of ruby red guava, rich cream cheese and crispy, sweet galletas Maria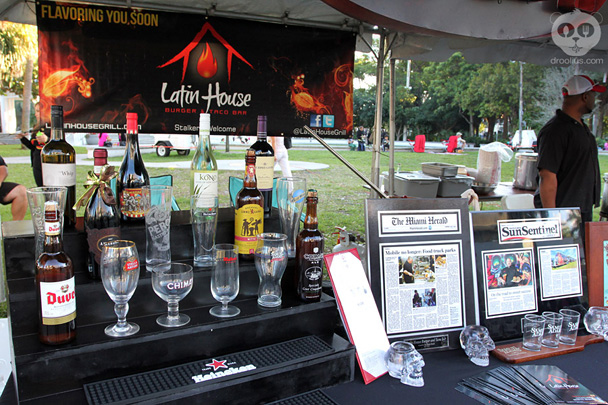 (click image to enlarge)
A former food truck that roamed various Miami food truck events, Latin House Grill is now a successful brick and mortar restaurant. The Latin House Burger & Taco Bar is complete with a bar serving craft beers and a large seating capacity. They are one of three food trucks in Miami that have went from a food truck to restaurant concept. Even though the food truck is gone, the menu has expanded and even more creative dishes have been developed by Chef M. Look for a future post about Latin House Burger & Taco Bar here.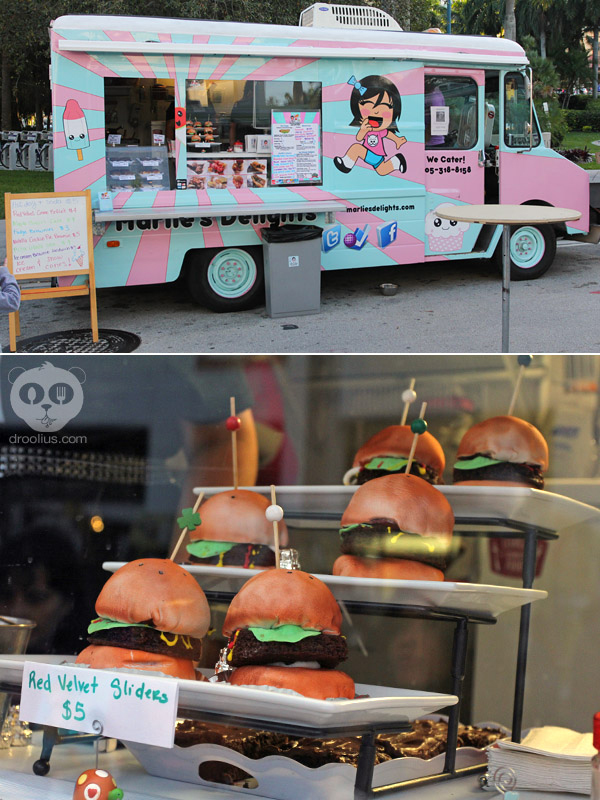 (click image to enlarge)
Marlie's Delights served a very fitting dessert, Red Velvet Sliders. What looks like mini burger sliders are actually sweet dessert treats.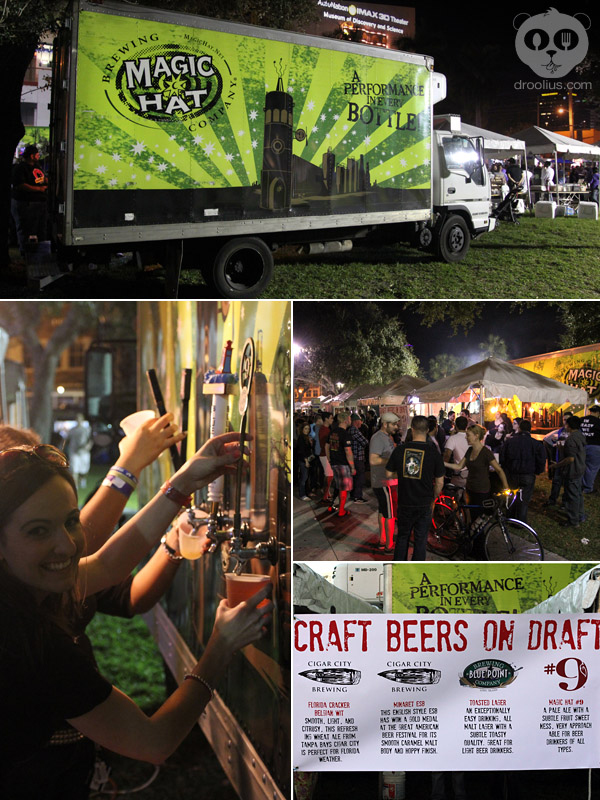 (click image to enlarge)
Food trucks were not the only popular truck at the event. This beer truck with taps on one side had a line throughout the event, serving craft beers to the thirsty crowd.
(click image to enlarge)
The crowd just kept coming as the evening went on, with food trucks starting to sell out of all of their food.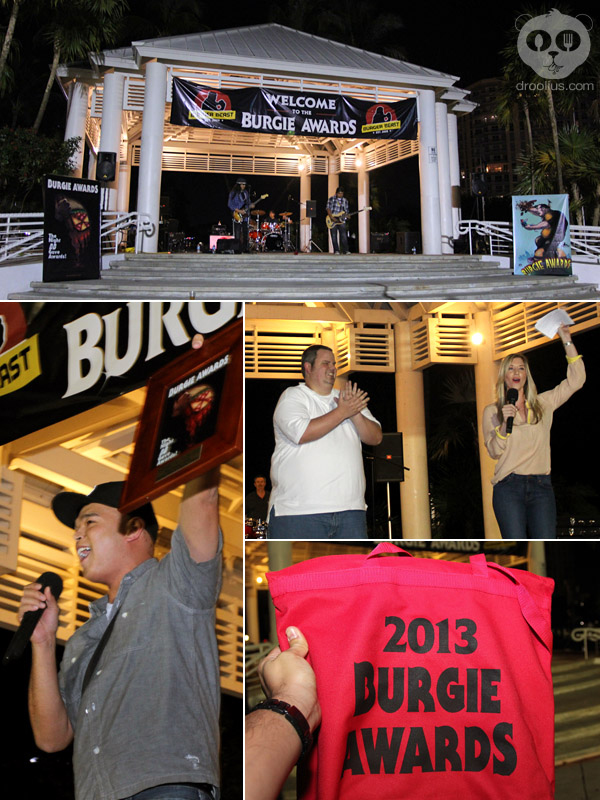 (click image to enlarge)
The main stage featured a live performance from a local South Florida band. The Burgie Awards ceremony was hosted by Chat Chow TV's Lauren Bernat and guest presenters announced awards in 13 categories. Each winner received a plaque and a Burger Beast tote bag. I was honored to be asked to participate and I presented the award for "Best Dessert Truck". See the list of 2013 Burgie Awards Winners at the end of this post.
(click image to enlarge)
Photo on stage of Chat Chow TV host Lauren and I (photo by Gio of Chat Chow TV)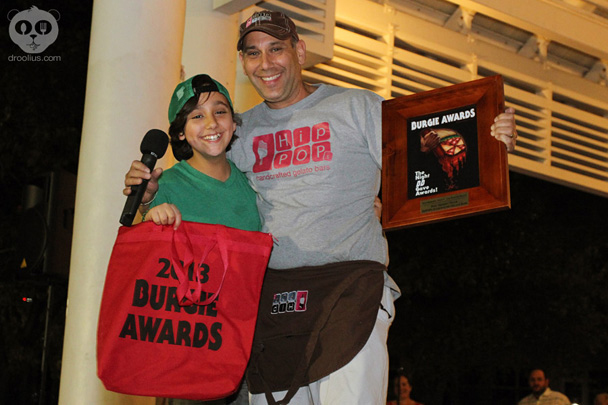 (click image to enlarge)
I presented the award for "Best Dessert Truck" to HipPOPs Handcrafted Gelato Bars – accepting was HipPOPs' owner Anthony and his son.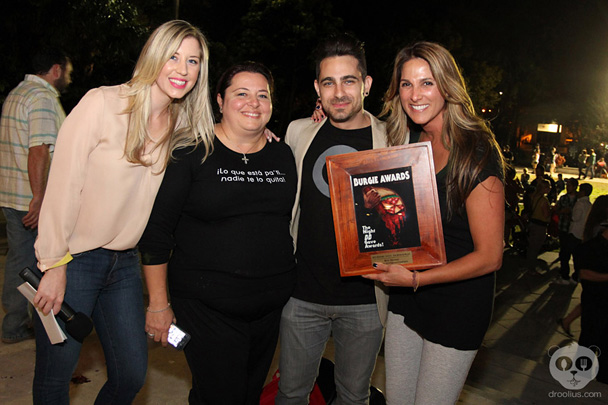 (click image to enlarge)
Lauren and Gio of Chat Chow TV with "Best Dessert" winners from Azucar Ice Cream Company.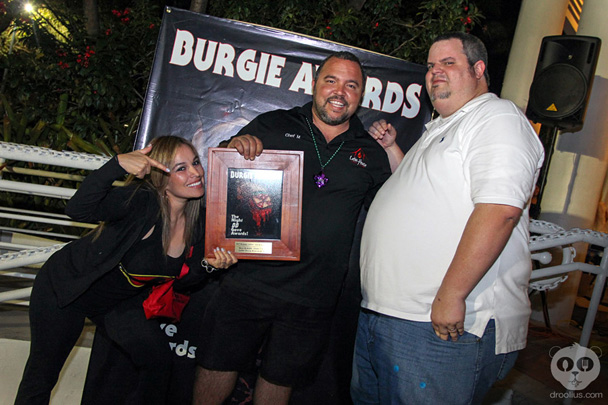 (click image to enlarge)
The "Best Burger – Dade County" goes to Latin House Burger & Taco Bar, pictured are owners with the Burger Beast.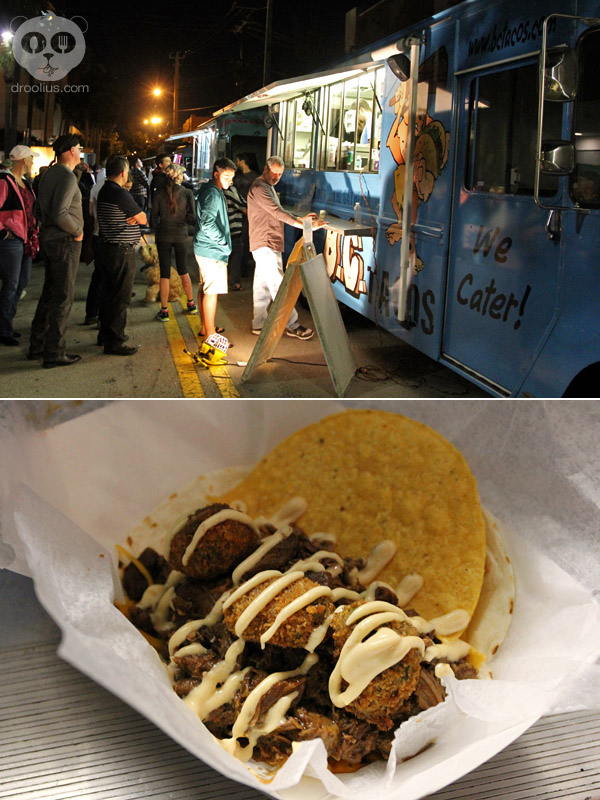 (click image to enlarge)
After the awards, it was more eating from the food trucks that still had food available. I stopped by B.C. Tacos for an event special: The Beast – burger patty, steak & braised beef short ribs sandwiched between two halves of hard taco shell, wrapped in flour tortilla, topped with fried avocado, cheese, and chipotle mayo.
(click image to enlarge)
I ended my night with dessert at the Sugar Rush food truck by Sweetness Bakeshop. Reportedly this truck has not been out at an event for about a year, but it made a special appearance at The Burgies. One of the last food trucks still serving at the end of the night, they had already sold out of the Maple Bacon Doughnuts I was craving. So I ordered one of their "Deeptreats", Deep Fried Vanilla cupcakes with condensed milk. A great way to end the night, a hot and crispy deep fried dessert dipped in sweet condensed milk.
The 2013 Burgies took Ft. Lauderdale by storm with it's arsenal of food trucks, restaurants, entertainment, and food. With the amount of people in attendance, food trucks are still going strong in South Florida. For more events curated by Burger Beast in South Florida, check out MiamiFoodTrucks.com for a list of upcoming events. I'm already looking forward to next year's Burgie Awards to see how the festival will grow and which food trucks and restaurants will be there serving and receiving awards.

The 2013 Burgie Awards Winners:
Best Pizza Joint: Harry's Pizzeria
Best Taco: Jefe's Original Fish Taco & Burgers
Best Sandwich: Pan con Bistec – Cuban Guys
Best Frita: El Rey De Las Fritas
Best Dessert: Azucar Ice Cream Company
Best Dessert Truck: HipPOPs Handcrafted Gelato Bars
Best Food Truck – Dade County: Ms. Cheezious
Best Food Truck – Broward/Palm Beach County: The Rolling Stove
Best Restaurant – Dade County: Blue Collar
Best Restaurant – Broward/Palm Beach County: The Rebel House
Best Non-Traditional Burger: 24K Frita – Pincho Factory
Best Burger – Broward/Palm Beach County: Charm City Burger Company
Best Burger – Dade County: Latin House Burger & Taco Bar
Miami News coverage of Burgie winners: Rebel House & Blue Collar on WPLG Channel 10

Words and photos by Julius Mayo Jr.
Content and photos © Droolius.com 2013