Driving North on Mills Avenue in the Mills 50 District in Orlando, you can see new restaurants and shops popping up. The neighborhood is being renewed with new places to eat along with long term resident shops and restaurants being maintained. Some construction is updating outdated buildings and the one that caught my eye was a location I was previously very familiar with* (more about that later in a side story at the end of this post). A new contemporary facade of the building went up, with the sign Yum-Mi Sandwiches, which was soon to open.
(click image to enlarge)
I went to Yum-mi Sandwiches the other weekend when I heard it was open. Although in a soft opening mode, the restaurant offered the full menu with appetizers, drinks, desserts, and the main attraction: Vietnamese Banh Mi sandwiches. The menus posted on the back wall presented a mix of traditional Banh Mi sandwiches and modern style sandwiches with a creative twist. A Banh Mi sandwich is served in a french style bread (typically a baguette) and filled with an assortment of meats, vegetables, pickled veggies, or many other additions. A good platform for sandwiches, the options can vary, and many restaurants and even food trucks have taken their own spin on the Banh Mi sandwich.
(click image to enlarge)
Vietnamese Coffee (Cà Phê Sữa) – strong dark roast coffee w/ sweetened condensed milk over ice
First I ordered a Vietnamese Coffee, which is one of my favorites to enjoy any time of the day because of the intense coffee flavor. Looking over the menu, a few sandwiches caught my eye and I was wondering how many to order. Since this was the first Banh Mi experience for my food partner OD, we had to try the Original for her. Then being torn between the Miss Piggy (pork belly, nuff said!) and the recommended V.P. (Vietnamese style steak & cheese w/ fried eggs) I just decided to get both. Why not? It was my first meal of the day, might as well do a tasting. Plus I can't turn down pork belly or a sandwich with fried eggs.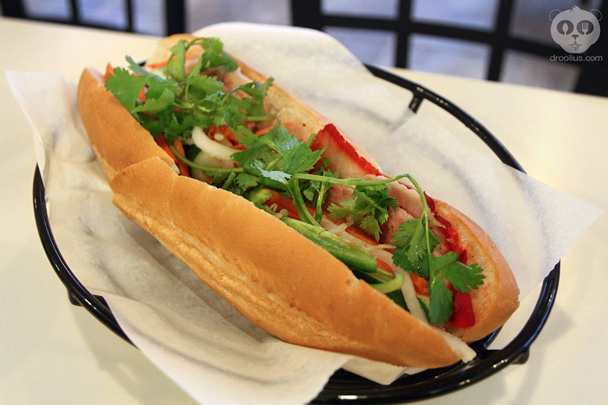 (click image to enlarge)
Original (Dac Biet) – the Yum-Mi Sandwiches version
I did not catch the list of ingredients for this sandwich, but a from wikipedia: The classic version known as bánh mì đặc biệt or "special combo", is made with various Vietnamese cold cuts such as sliced pork or pork bellies, cha lua, and head cheese, along with the liver pâté and vegetables.
We both tried this one first, to get a taste of a more traditional Banh Mi sandwich. The flavors of the meats, pickled veggies, and fresh greens all came together in a fresh tasting sandwich with a touch of heat from jalapeño slices. The bread was slightly toasty on the outside, with a soft & warm inside, something I appreciated and it made the sandwich for me. I enjoyed the Original and so did OD who described the sandwich as light & refreshing, and the fresh cilantro stood out, which she liked.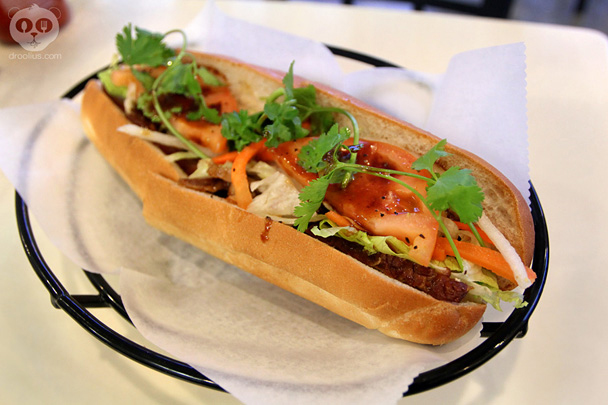 (click image to enlarge)
Miss Piggy – caramelized pork belly, lettuce, tomatoes
The sandwich was savory with a little bit of sweet. The tender pork belly was in a sweetened sauce, topped with fresh vegetables. OD actually liked it (she generally does not like meat with sweet sauces) and I of course enjoyed the soft pork belly with its caramel sweetness that paired well with the bread.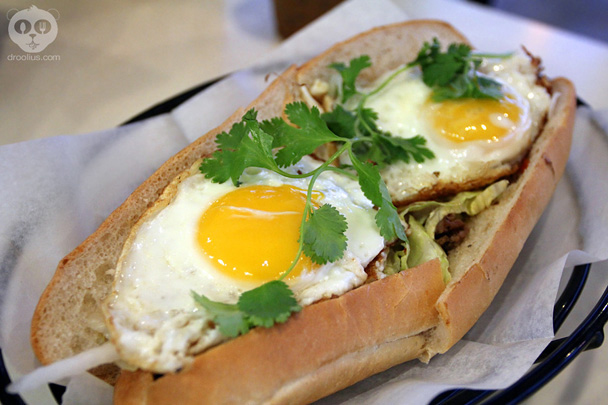 (click image to enlarge)
The V.P. – Vietnamese-style philly steak and cheese with two fried eggs on top
Ok, this was my type of sandwich: Steak & cheese topped with two fried eggs. A heartier sandwich compared to the other two, this one was the favorite for me. The steak, cheese and egg complimented each other in each savory bite, while the veggies lightened it up. The thin slices of meat were tender and the sandwich overall was easy to eat. Tip: One thing i did was run a knife through the eggs so the yolk could spread out to each bite.
(click image to enlarge)
A close up glamour shot of the The V.P. sandwich – Look at that egg yolk drool…
Each bite of the sandwich had an ooze of runny egg yolk. While I didn't remember the cheese as much, the eggs on the sandwich made the sandwich moist and even more savory.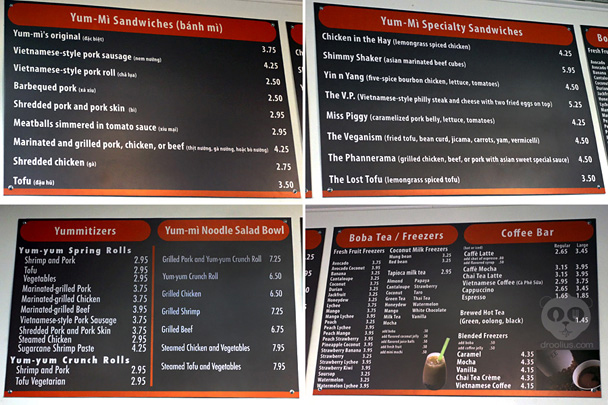 (click image to enlarge)
Yum-Mì Sandwiches Menu full menu of sandwiches, appetizers, noodle salad bowls, Boba Tea, Freezers, a selection of coffees. There is also a case of pastries to choose from.
We finished off the sandwiches (more like I did) with a good sample of each one. I ate about 2 and 1/3 of the sandwiches while OD finished about 2/3 of a sandwich total. We still found room for a dessert drink, a mango Fruit Freezer with boba + explosive flavored juice balls (mango) that gave a tart kick.
The first experience at Yum-Mi Sandwiches was a good one. I liked that the bread came out slightly toasted with a warm center and the 3 sandwiches we ordered were executed well. The interior of the space feels like a hip modern cafe with flat screen t.v.'s and a nice place to lounge with modern furniture (to the right of the entrance). A definite upgrade to the previous *space, the new business owners are creating a good addition to the neighborhood. It's a welcoming place and I actually saw a number of friends from my college days at UCF and from around the Orlando area. People are definitely finding out about this location and people seem to embrace another new locally owned restaurant in Orlando.
Check out Yum-mi sandwiches this weekend for their grand opening on October 22nd. Also 'Like' their Facebook page for more details.


Been to Yum-Mi Sandwiches already? Let me know what you thought or what your favorite sandwich was on the Droolius Facebook, Twitter, or leave a comment below…


Words and photos by Julius Mayo Jr.
Content and photos © Droolius.com 2011

Yum-Mì Sandwiches
1227 N Mills Ave
Orlando, FL 32803
www.yummisandwiches.com



*Side Story – Speaking of the previous space, this location was my former favorite place for Banh Mi sandwiches in Orlando, the Ba Le Bakery and Restaurant. When I originally saw this location was getting a facelift, I was happy to see the renovations for the business. I did a photo shoot last year for a project (for a company I cannot name, but rhymes with oogle) for its Places Page. The Ba Le owner was really nice, he also showed me around the kitchen, which included a walk in oven for baking bread, I captured it all in the photo shoot. He was explaining the tough economy and high business expenses (November 2010) to keep up this location. I had hoped my photoshoot would have help with his business, but the virtual tour I shot for them was never published. So going here (October 2011), I was not sure if this was a remodeled space or new ownership. Although I am sad to see Ba Le Bakery gone, I am happy to see that the new owners did this place some justice and created a new restaurant to bring Orlando some good tasting Banh mi with a modern touch. It's ok, go ahead and try the new place out, it's good.