This past January 15th, 2012 Foodspotters and friends gathered in Orlando for the monthly Eatup at Delish NY Bakery. This was a special Eatup event to celebrate Foodspotting's 2nd birthday and we celebrated it on the official World Foodspotting Day. The staff at Delish really out did themselves by providing us an array of sweet and savory treats, New York City style.
(click image to enlarge)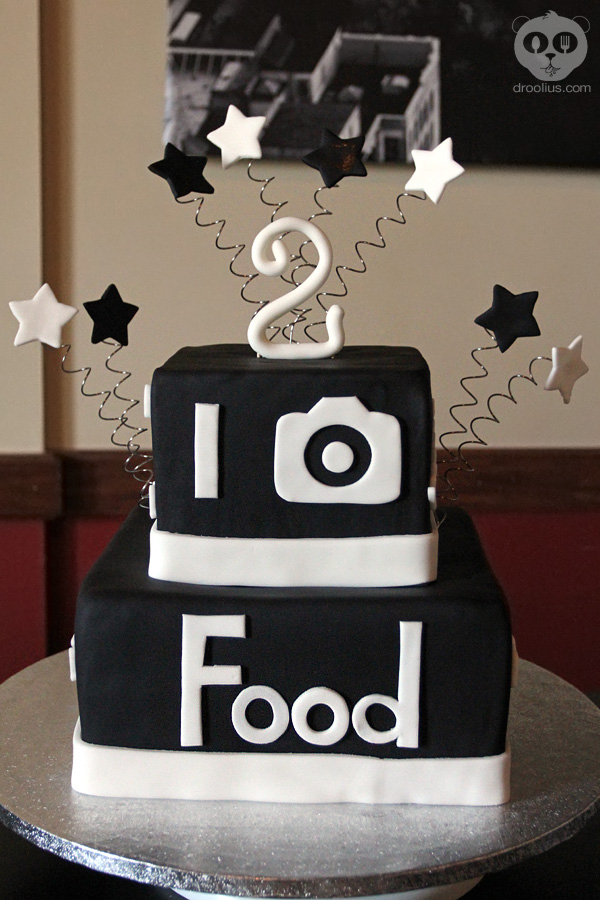 (click image to enlarge)
This beautiful and delicious birthday cake was made by our hosts, Delish NY Bakery. Not only do they bake the New York bagels, but they specialize in creating cupcakes and specialty cakes for any occasion. This was a dark chocolate cake with raspberry and white chocolate. Great job by Laura at @DelishNYBakery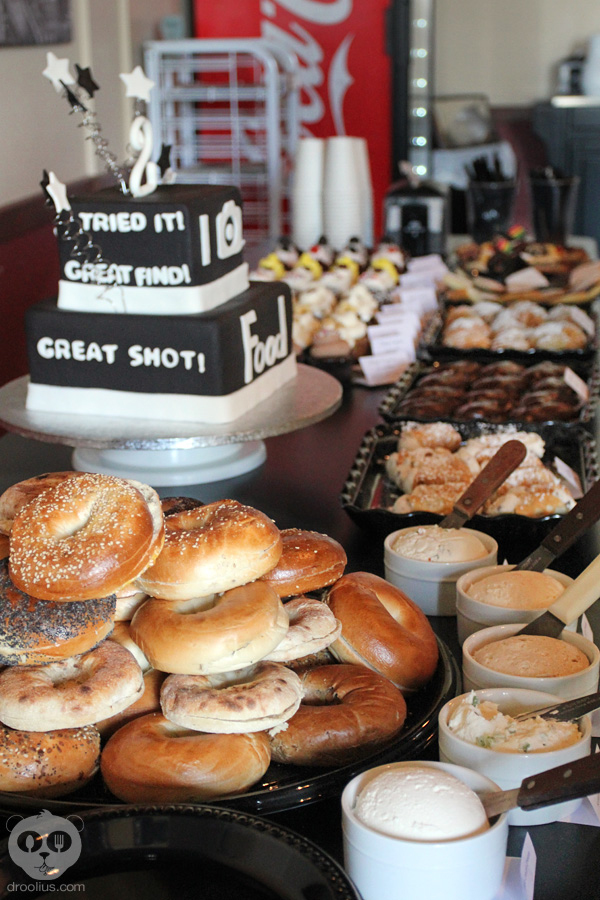 (click image to enlarge)
The spread of Delish treats!
Look at that pile of NY bagels, which are made in New York City and boiled in New York water, then flash frozen & shipped down for baking in-store. Yes it is made and boiled in NYC. How else are you going get authentic NY bagels? It does make the difference in taste and it's the closest you are going to get to NYC bagels in Florida. They also have a variety of cream cheese to go with each bagel, which are all great. Original cream cheese (cc), salmon cc, scallion cc, veggie cc, and cinnamon sugar cc were available that day to try and my favorite is scallion cc, which is my favorite when visiting NYC.
This was all complimentary from Delish for our Foodspotting Eatup event to celebrate World Foodspotting Day and Foodspotting's 2nd birthday. I got a chance to taste a little bit of everything and everything was quality at Delish.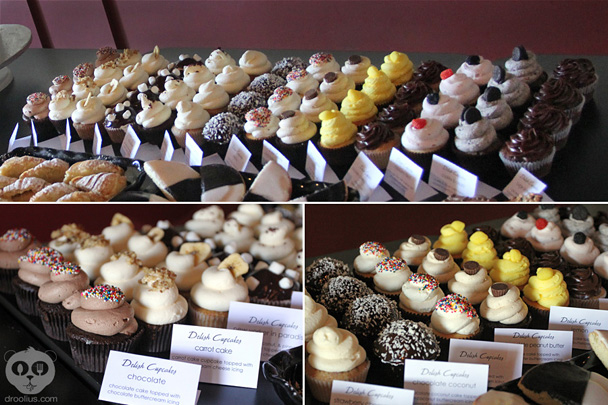 (click image to enlarge)
Cupcake tasting
The variety of cupcakes was more than anyone expected for the tasting. Instead of just eating a whole cupcake or two, I just sampled a few bites that was shared by fellow foodspotters. There were so many cupcakes that we all got to take a few home. Look for a future cupcake feature on Droolius…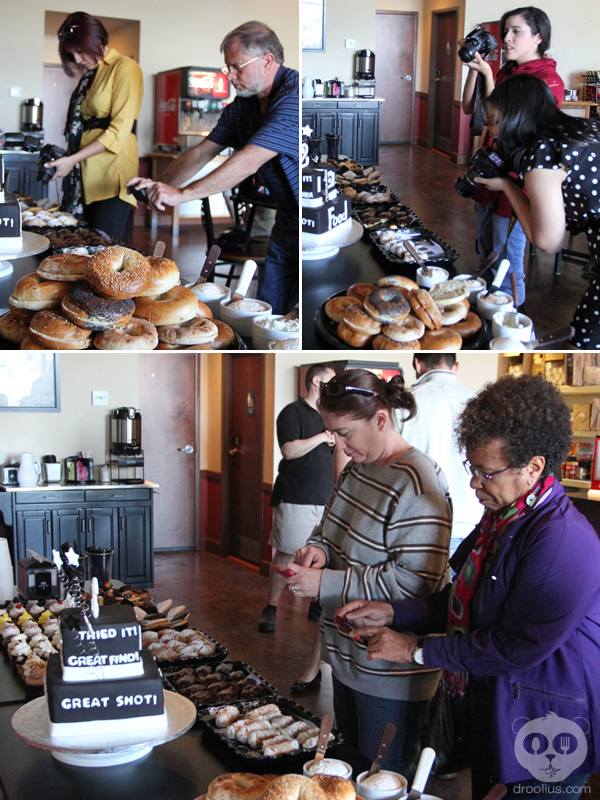 (click image to enlarge)
Of course we all had to take photos first before digging into the tasting. Foodspotters took photos and spotted them with the Foodspotting app on their smart phones. There were also a few food blogger friends who took photos and will be posting the photos on their blogs:
The Primlani Kitchen blog – photos & recap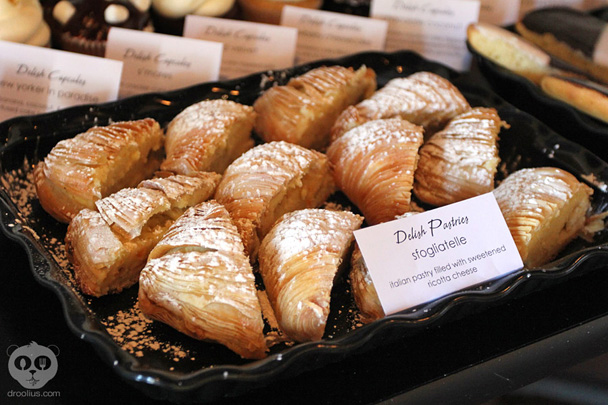 (click image to enlarge)
Sfogliatelle – Italian pasty filled with sweetened ricotta cheese
This was one of my favorite treats of the day. The crisp outer shell was fun to eat and it had a good tasting ricotta filling. I was trying to figure out the unique flavor and I was told it was orange zest that gave its uniqueness.
(click image to enlarge)
Cannoli
Who can resist a cannoli? Good shell and tasty filling with the right amount of sweetness.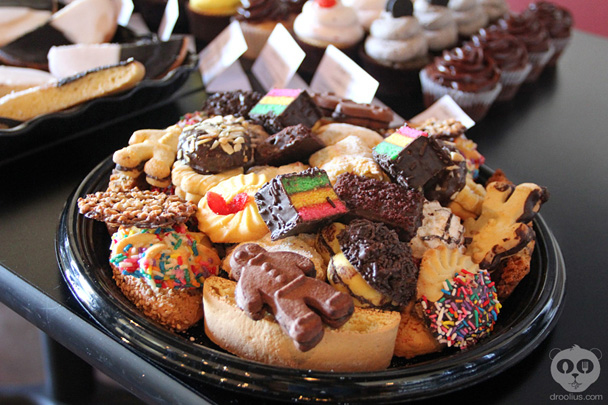 (click image to enlarge)
Assorted Italian cookies
These are a variety of Italian cookies available at Delish and it's one of their specialties they ship straight from NYC* (correction). They have seasonal cookies and pastries as well. My favorites are the peanut butter chocolate cookie and their variety of biscotti cookies.
(click image to enlarge)
Black & White cookies
These cookies were soft and flavorful. This was the first time I had them and I was expecting a hard cookie, but was happy to discover they were soft and not overly sweet.
(click image to enlarge)
Fellow Foodspotters enjoying the Delish treats
(click image to enlarge)
Foodspotting birthday cake by Delish NY Bakery
Here's a view of all four sides of the birthday cake. You have to click the image above to see the fun and creative details. Laura at Delish really went above and beyond with this surprise. A creative cake with great execution in the look and flavor.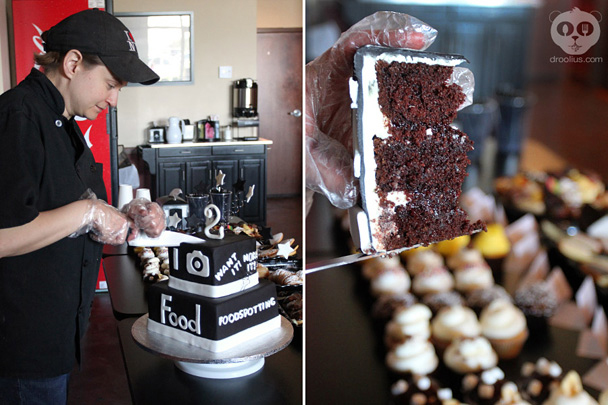 (click image to enlarge)
Chef Laura doing the honors and cutting slices for everyone to try. The cake was made of dark chocolate with raspberry layers and white chocolate. There's a few secret ingredients and the only one I could get out was they used coffee in the cake too. This is my kind of cake! I really enjoyed the flavors and the layers of raspberry gave it a refreshing fruity note in each bite.
(click image to enlarge)
We had foodspotters who came from Tampa to attend the Eatup. Thanks guys for coming out! They each received a coupon for a Foodspotting t-shirt for coming the furthest to attend the Eatup.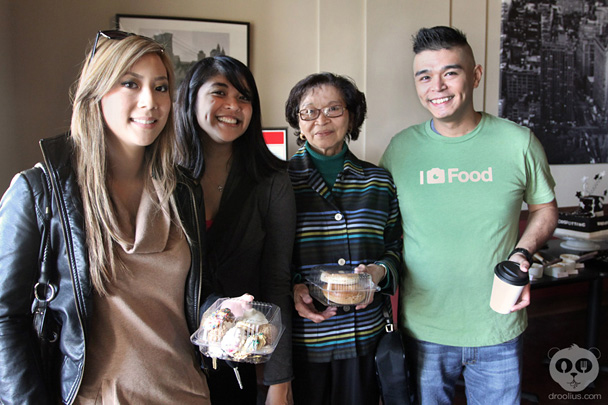 (click image to enlarge)
This was how cool this event was, my mom even came out to the event. Her favorites were the bagels and cupcakes. (pictured) Food explorer JB, my sister @iEatsbyJewelES, my mom, and I.
(click image to enlarge)
Food bloggers with Delish Laura – @Droolius, @mismamari of Forkful.net, Pearleen & Al from @Megayummo
This was truly a fun and tasty birthday party for Foodspotting and a great way to celebrate World Foodspotting Day. Such a variety of treats to take photos of and try. HUGE THANKS to Delish NY Bakery for baking such great tasting treats and hosting us, you guys gave us much more than anyone expected. Make sure to stop by Delish next time you are in the Sandlake area, just West of International Drive & I-4 (inside Whole Foods plaza). Follow their Twitter @delishnybakery and like their Facebook Page, Delish always has a special going on for customers. Delish NY Bakery is a must stop for NY bagels, Italian cookies / pastries, cupcakes, and hire them to make your cakes.
There are still more Eatup events to celebrate Foodspotting's 2nd birthday happening all over the country, with an International Eatup too. Find your local Eatup and join in the celebration: http://www.foodspotting.com/blog/posts/270-foodspotting-is-turning-two
Find me on Foodspotting and see what dishes I've spotted lately: www.foodspotting.com/droolius
Foodspotting
www.foodspotting.com
Follow @Foodspotting
Like Facebook.com/Foodspotting


Delish NY Bakery
8015 Turkey Lake Road, Suite # 200
Orlando, FL 32819
www.delishnybakery.com
Facebook Page
Twitter @delishnybakery

Words and photos by Julius Mayo Jr.
Content and photos © Droolius.com 2012