Whole Foods Market in Phillips Crossing hosted it's "Fill The Grill Challenge" for 3 weeks in July. The challenge featured chefs from four local food trucks in the Orlando area, where they had a $20 budget, with 20 minutes to shop and then 20 minutes to cook. The chefs chose their own ingredients and were allowed to work with a pantry provided by Whole Foods.
With a $20 budget, all of the chefs were able to show their creativity. Cooking 3 plates of food for the judges in 20 minutes was the real task. Like many food competition t.v. shows, the chefs had to improvise when equipment did not work in their favor and at the end of 20 minutes, some items did not make the plate. It was exciting to watch these talented chefs cook live, and it was even more exciting as I was one of the judges for this series that got to taste each dish. It was not the easiest job in the world to taste these dishes, but someone had to do it.
The competing chefs were Chef Catarina Triacca of Gastro Truck, Chef Bryce Balluff of Fork in the Road
, Chef Tony Adams of Big Wheel Truck, and Chef Bruno Fonseca of Five Gastronomy
. It's important to note that these are all classically trained chefs who have worked in the industry for a while now. They have all opened their own food trucks to create the food that they love, in their own unique way. They all agree that running a food truck is the hardest kitchen work they have done, but they all love it. Restaurants are not the only places to get a chefs' dishes these days, chef owned food trucks are one of the best places to go. The dishes created at "Fill the Grill Challenge" showcases that.
Here is ALL 3 rounds of coverage of the "Fill The Grill Challenge"… click photos for larger image!
Round 1
Chef Catarina – Gastro Truck vs. Chef Bryce – Fork in the Road
(click image to enlarge)
Going into the event, both Chef Catarina and Chef Bryce were in good spirits and excited for the first round of the challenge. They both introduced themselves, spoke a little about their food trucks, and were anxious to get started. The chefs were provided with George Forman grills by Whole Foods, which were cranked up to the highest heat while they went shopping.
(click image to enlarge)
A surprise to the chefs, signs were made by the massage chair team to cheer them on during the competition. A fun sight as the signs were waving in the air during introductions. Both Chefs went shopping in the produce area, selecting their vegetables of choice. Chef Bryce went with Heirloom tomatoes and peppers while Chef Catarina chose sweet potatoes and cucumber to grill. For proteins, Chef bryce chose diver scallops and Chef Catarina went for a chicken sausage chorizo. They completed shopping under 20 minutes, and Chef Bryce had some extra money left so he went back to shop for a little extra.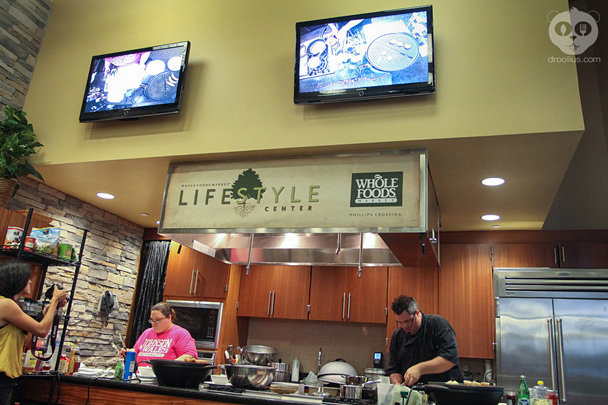 (click image to enlarge)
The timer was set for 20 minutes and both chefs started quickly grilling after the Whole Foods Market host Vicky, gave the go to start. All the action could be seen with the tv's above, with guests being able to watch closely and take photos in front of the cooking stations. Fellow blogger Marilyn of Forkful.net is seen above taking photos of the chefs in action.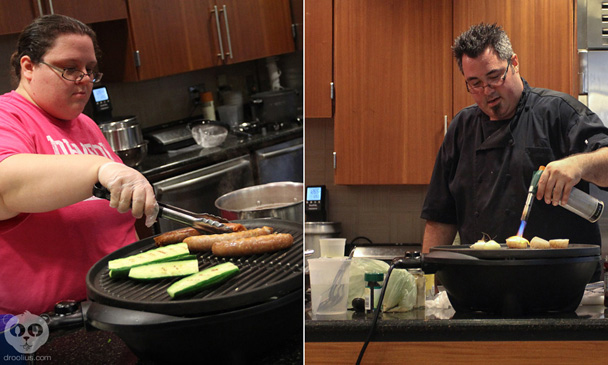 (click image to enlarge)
Grilling cucumbers and chicken sausage chorizo, Chef Catarina is hoping the grill is hot enough to get everything cooked. Due to a semi-hot grill, Chef Bryce improvises by taking a torch to his scallops while the cipollini onions continue on the grill. Both chefs worked hard as the 20 minutes flew by.
(click image to enlarge)
With any chef competition, there is a panel of judges. Patricia Lakatis of Florida Travel & Leisure Magazine and Kendra Lott of Edible Orlando Magazine both made the return as judges for this year's Fill the Grill Competition. The third judge was myself, Julius Mayo Jr. of Droolius.com. It was my first time judging an event, and let me tell you it is not easy when you have talented chefs putting out great food.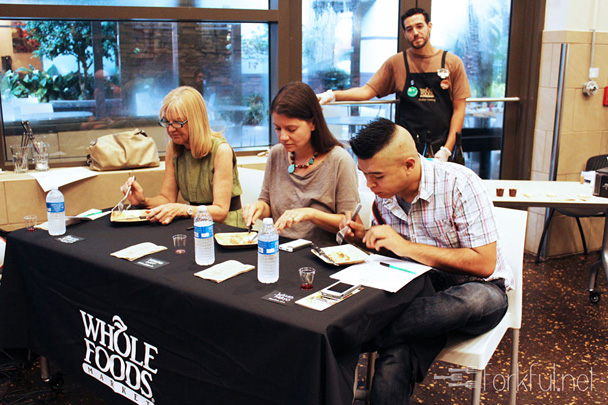 (click image to enlarge)
Photo courtesy of Forkful.net
The judges hard at work, tasting and scoring dishes. I probably took the longest because I had to take photos of each dish and then taste / score the dishes. The judging was based on taste, originality, and plating, with 5 points available in each category and a total of 45 possible points.
(click image to enlarge)
Chef Bryce of Fork in the Road – Grilled diver scallop w/ couscous and grilled red peppers, all over a grilled heirloom tomato, topped with a yellow pepper foam.
Prior to torching, the diver scallops were vacuum sealed & sous vide, which makes a scallop have custard like texture Chef Bryce explained. The cipollinis didn't make it on the plate because the grill was not hot enough to cook them. This dish was light, with delicate and tasty flavors, and the scallop cut like butter.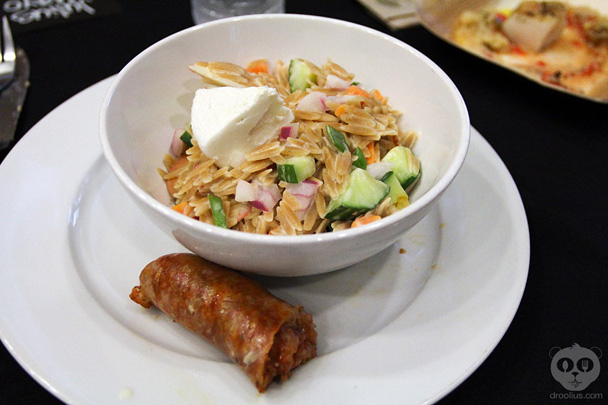 (click image to enlarge)
Chef Catarina of Gastro Truck – Grilled sausage chicken chorizo served with orzo pasta, grilled cucumbers, sweet potato, red onions, corn salsa, and goat cheese.
The dish was hearty and full of flavors. Unfortunately the grill was not hot enough and the sausage was not able to cook completely. There were cooked edges that the judges could taste, but the intent was to serve the grilled sausage sliced up and on top of dish. The grilled cucumbers were a nice surprise and something I want to try grilling at home.
(click image to enlarge)
In the end, it was Chef Bryce who took the round in his favor. Both chefs did a great job, considering the challenges of the grills on hand. The grills were hot, but not hot enough for this 20 minute challenge to get all of the food cooked in time. Congrats to Chef Bryce, he moves onto the Final Round (seen below).
Round 2
Chef Tony Adams of Big Wheel Truck vs. Chef Bruno Fonseca of Five Gastronomy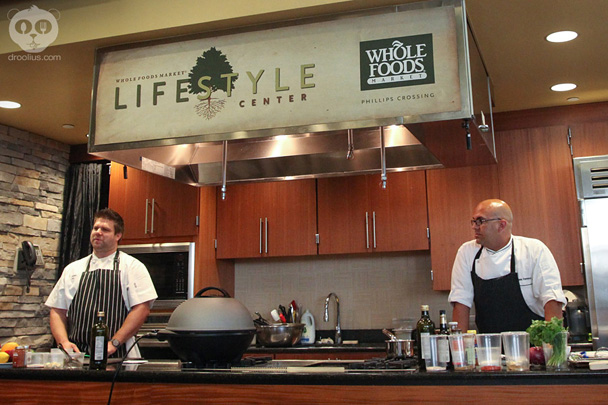 (click image to enlarge)
After introductions, both chefs had a chance each to talk about their culinary background and their food trucks. Chef Tony promoted how he focuses using local ingredients while Chef Bruno spoke about using his cultural influences from living in different places and his homeland of Brazil. What was really interesting is that these two chefs both taught at the Le Cordon Bleu Orlando at one time, just missing each other by a few months. Here they are today, both owning their food trucks and creating the food they love to make. While Chef Tony says he's comfortable with the challenge of 20 minutes, Chef Bruno said this was not his style and he's not a 20 minute type of guy (insert jokes here).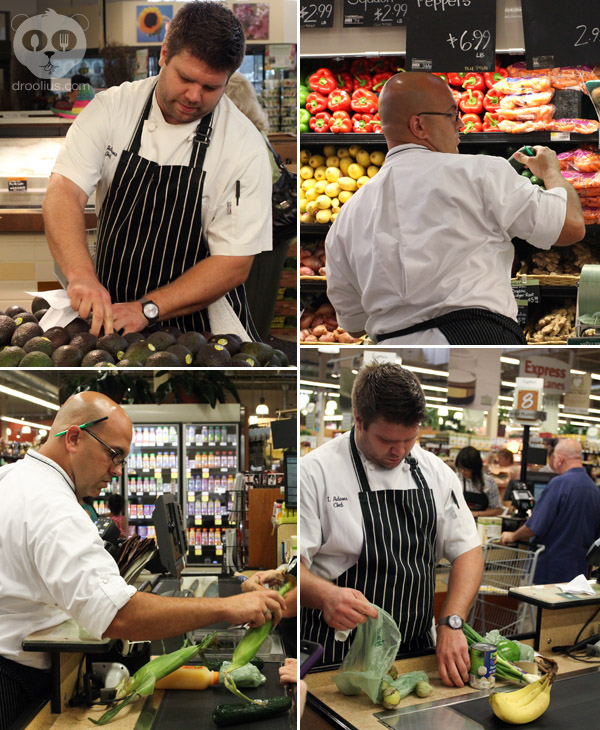 (click image to enlarge)
Shopping produce showed a few unintentional similarities and some different routes for proteins for the dishes. Both chefs went with corn for grilling, along with a type of orange for the dish. Chef Tony went with selecting some local avocado and a teres major steak (a shoulder cut). Chef Bruno turned to shrimp and squid for his proteins, along with orange juice and a cup of juiced cucumber. The check out was a challenge for Chef Bruno because he was a few cents over and had to consolidate some items. Chef Tony was gladly under budget with a few bucks to spare.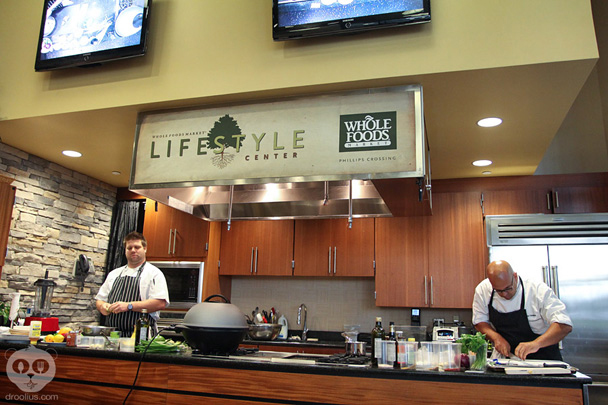 (click image to enlarge)
Both chefs set up their stations and quickly started prepping produce when their time started.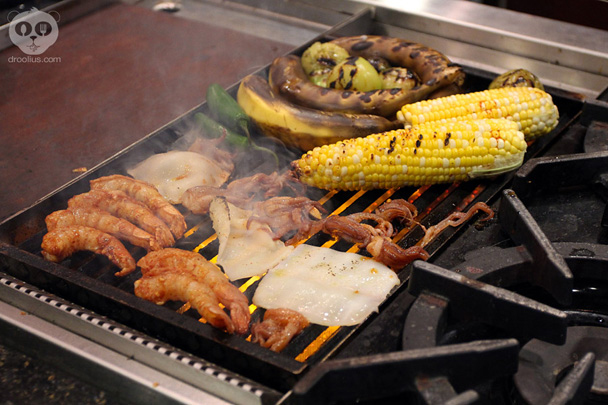 (click image to enlarge)
Both chefs decided to share cooking space and literally filled the grill with their vegetables and proteins. Chef Tony started with grilling almost-ripe bananas, tomatillos, corn, and jalapeños, later finishing the steak. Chef Bruno shared the grill space with shrimp and squid, later adding corn which was making popping sounds while over the heat.
(click image to enlarge)
So much was being grilled as the chefs worked on their various sauces and complimentary components for each dish. Both chefs were able to finish on time, but not with out a few challenges. Time ran out and Chef Tony didn not get to plate the local avocado slices. Chef Bruno's frother broke, so instead of topping his dish with cucumber foam, he turned it into a sip of cucumber juice to compliment his seafood dish.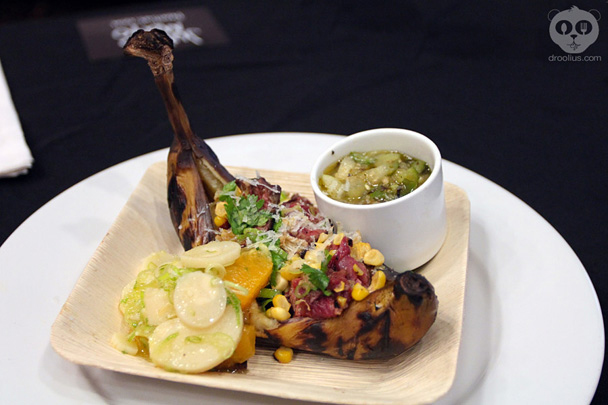 (click image to enlarge)
Chef Tony of Big Wheel Truck – Grilled banana stuffed with teres major steak, grilled corn, topped with Manchego cheese, a side of tomatillo salsa, and a heart of palm with orange segments.
The teres major steak was seasoned with sea salt and other spices. The dish overall was hearty, with so many textures and flavors that combined into a cohesive dish when eaten together. While the other two judges thought the tomatillo salsa with jalapeño was too spicy, I was dipping that steak with every bite and enjoying.
(click image to enlarge)
Chef Bruno of Five Gastronomy – Grilled shrimp, squid, and corn on top of a cucumber slice, with orange segments, coriander leaves and a sauce.
Seasoning with cumin, paprika, and a few other spices, the plating and flavors were refined, fresh, and fit well with the summer season. The shot glass of cucumber and mint juice gave the dish an added refreshing bonus. Chef Bruno's intent was to create a dish that was fitting for eating outdoors in the summer time.
(click image to enlarge)
With another tough round of judging and the plates both shining in their own ways, the scores were tabulated with a surprise at the end. Out of a total of 45 possible points from the judges, each chef scored a tie of 40 points. So both Chef Bruno and Chef Tony move onto the final round to face Chef Bryce!
Final Round:
Chef Bryce of Fork in the Road vs. Chef Tony of Big Wheel Truck vs. Chef Bruno of Five Gastronomy
(click image to enlarge)
The final round of the "Fill The Grill Challenge" took place outdoors, in the patio of Whole Foods Market. It was hot that day with a touch of humidity. Luckily the experience of cooking from inside of a food truck and the hot outdoors turned into an advantage for these food truck chefs. They were used to this, but they did have more room to work with these prep stations and larger grills.
(click image to enlarge)
The coveted award of this year's competition, Fill The Grill 2012 Champion award, with a few gifts.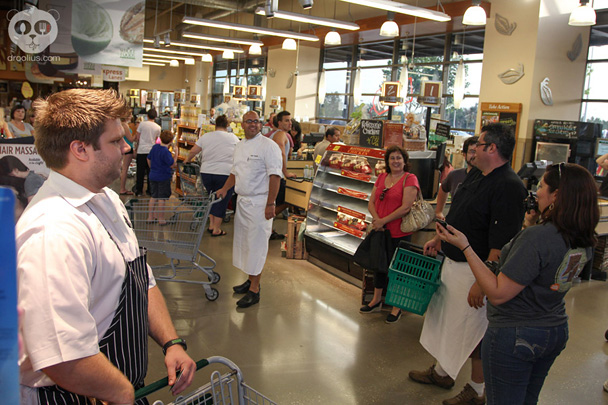 (click image to enlarge)
The chefs were eager to start, with customers watching and a few local bloggers snapping photos. The audience who stayed in the outdoor patio during the shopping portion were being updated by Whole Foods Marketing Team Leader Vicky via radio. Each chef took off in their own direction once the clock started ticking.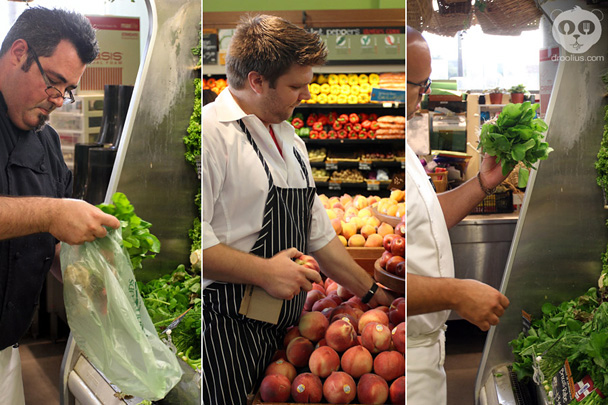 (click image to enlarge)
Selecting their produce, each chef was searching for fresh ingredients while highlighting what was in season that particular week. Peaches, watercress, and shrimp were some of the similar ingredients selected by chefs, while different key ingredients such as fennel, bacon, mission figs, corvina fish, and spicy sausage rounded out the list.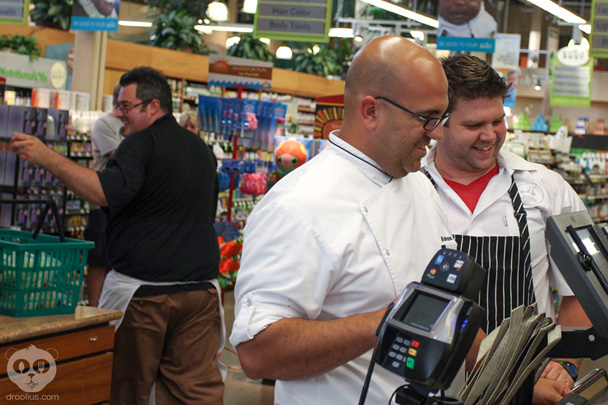 (click image to enlarge)
A few funny moments between the chefs at the check out counter. Some chefs were over the $20 budget by a few cents, some had extra money to buy more. In the end they all were able to buy what was needed within budget.
(click image to enlarge)
Chefs working fast and furious, chopping, grilling, and eventually plating. The grills were not only used to cook the vegetables and proteins, but they were used to heat up a sauté pan to cook with in the case for Chef Bruno. Chef Bryce had a few gadgets including an immersion blender for a sauce and a vacuum machine for marinating shrimp.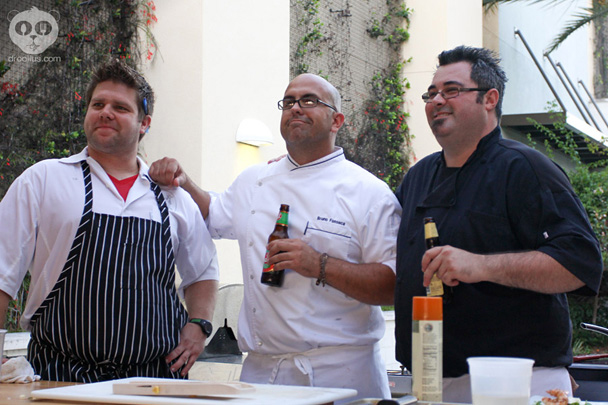 (click image to enlarge)
A round of celebratory drinks and photos of the chefs after they completed their dishes. Soon after, the plates were served and the judging started.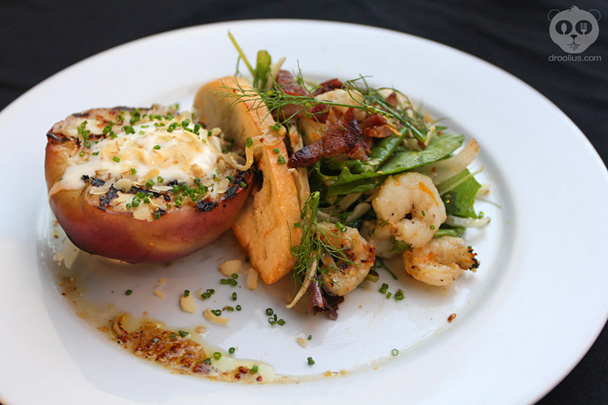 (click image to enlarge)
Chef Tony Adams of Big Wheel Truck – Grilled "sexy" white peach with creme fraiche, fennel salad with mustard vinaigrette, bacon, Florida pink shrimp and ciabatta crostini.
Very similar to his dish from round one, a combination of flavors and textures were in this dish. I really enjoyed the warm grilled white peach w/ creme fraiche, it would have been great just by itself. The ciabatta crostini and bacon added crunch against the fennel salad and shrimp. Chef Tony said he used white peaches "because they are just sexy", along with the fennel fronds too. It all worked together in the end.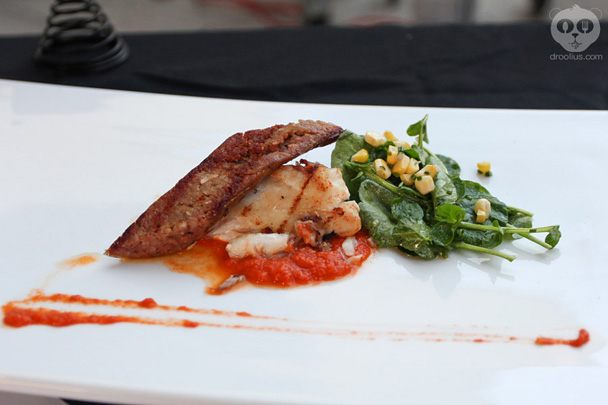 (click image to enlarge)
Chef Bruno Fonseca of Five Gastronomy – "Surf & Turf" made of corvina fish, grilled spicy sausage, w/ spanish sofrito sauce, grilled corn and watercress salad.
The corvina fish and sausage was a good play on "surf & turf" and turned into a hearty dish. The spanish style sofrito sauce was made with both canned and fresh tomatoes, with the sauce bringing it all together. The watercress salad with corn gave the dish a nice freshness.
(click image to enlarge)
Chef Bryce Balluff of Fork in the Road – Grilled vacuum marinated shrimp, corn salsa, mission figs, watercress salad and a side of grilled yellow peaches.
Cooking in a similar style in round one, Chef Bryce presented a plate of delicate flavors with finesse in this dish. He put a lot of work into vacuum marinating shrimp and using his gadgets to create the light and refreshing dish. I kind of wish we tried this dish first, it's a great first course.
At the end of tasting and judging, it was just a really great tasting of what these chefs can create in 20 minutes on a small budget of $20. Just goes to show you can create a great meal for a few people with some creativity and good use of products. After the scores were tabulated, a clear winner was determined and announced…
(click image to enlarge)
Congratulations to Chef Bruno of Five Gastronomy Food Truck for being named the "Fill The Grill 2012 Champion".
Great job by all four chefs in each round. Make sure to find these food trucks in Orlando to get your own taste of their food! Check out the Whole Foods Market "Fill The Grill Challenge" next year in Orlando, or at a Whole Foods near you…
Whole Foods Market – Phillips Crossing
8003 Turkey Lake Road
Orlando, FL 32819
Words and photos by Julius Mayo Jr.
All content and photos © Droolius.com 2012

For more Droolius features on the chefs' beginnings of their food trucks, visit:
Big Wheel Truck: Gourmet food on wheels – Big Wheel Mobile Food Truck – Orlando, FL
Gastro Truck: Gastro-Truck serving Cheesy Goodness – New Food Truck Preview & Debut
Fork in the Road: Fork In The Road – New Gourmet Food Truck Orlando, FL
Five Gastronomy coming soon…


Anyone else want to take on this challenge at home? Let's see what you can do with a $20 budget at Whole Foods Market and post your recipe in the comments.