Welcome to Gastro-Truck, Orlando's newest gourmet style food truck, bringing cheesy goodness to Central Florida. With a focus on cheese, Gastro-Truck's owners Lori Bragg and Chef Catarina Triacca have developed a menu featuring many cheeses and pairing them with other savory ingredients used in various sandwiches, burgers, sliders, Mac and cheese, an As You Wish: Create Your Own Grilled Cheese, and more. This food truck also has desserts and specialty drinks to round out the menu.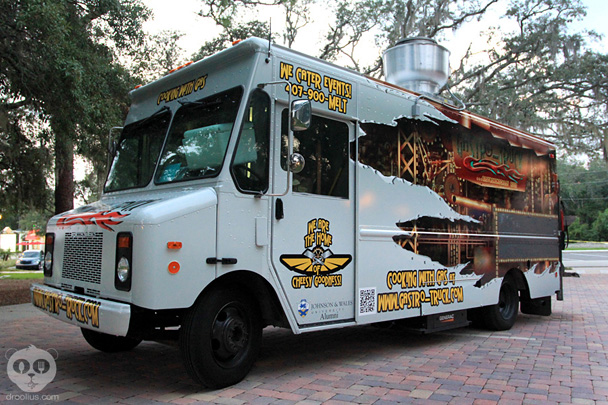 (click image to enlarge)
The eye appealing exterior is really cool to look at. The entire truck has a complete vinyl wrap with Steampunk-esc graphics.
(click image to enlarge)
I had the pleasure of attending the media day for Gastro-Truck, less than a week ago. The smells and tastes are still reminiscent in my mind and taste buds. For this Media Preview I was able to taste an array of sandwiches in a smaller portion, in a form of a mini sandwich or slider. The burger was also a slider, and the Mac & Cheese was sampled in a a side order portion. Everything I tasted was balanced, a rich flavor with a little note of savory, salty, sometimes tangy or a touch of sweet. Their website says "Each Sandwich is Grilled in Real Butter" and you can definitely taste it!
I enjoyed everything I tasted and each item made me smile with all the flavors I was experienced. Let the following photos and descriptions explain…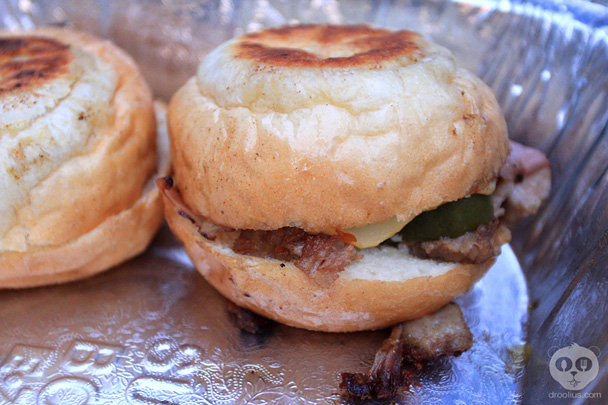 (click image to enlarge)
Cuban Done Right – Brined and Roasted Pork Belly, Sliced Ham, Muenster cheese, homemade pickles, mojo mayo on Cuban bread with a side of spicy honey mustard.
This was the first slider I tasted. It was buttery and savory, a cuban sandwich that I have never enjoyed quite like this one. The pork belly adds a really rich flavor and combines so well with the ham and Muenster cheese. The pickles add the sweet and acidic note to cut the richness of the pork belly and spicy honey mustard ties it in together.
You cannot taste each ingredient individually per say, but it all combines into one great flavor. This holds true for every sandwich I tasted, so I will try not to say it again.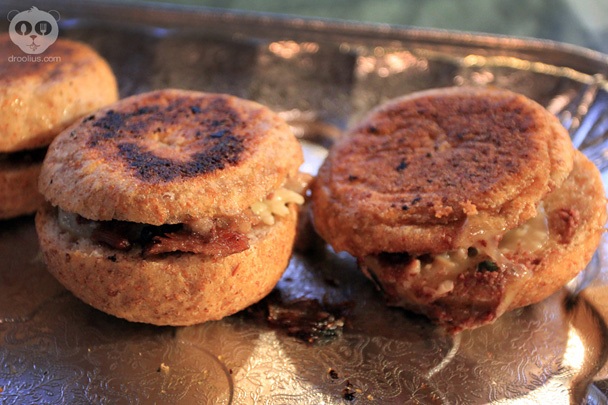 (click image to enlarge)
(Left) Fontina, White Cheddar, Sundried Tomato-Kalamata Olive-Onion Tapenade, and Braised Pork Belly on Seedless Rye
A tasty slider with braised pork belly that pairs well with the Sundried Tomato-Kalamata Olive-Onion Tapenade and cheeses. I appreciated the flavor of the Kalamata Olives that was more prominent, and it goes well with pork belly.
(Right) Mozzarella, Tomato, Basil and Marinated Portabello Mushroom with Balasmic Glaze on Foccacia
I really liked this sandwich. Maybe because it reminded me of a caprese salad, but its a really good vegetarian option as well. Packed with flavors and it smelled really good. I took about a minute just smelling this slider and it tasted just as good. Very balanced and savory.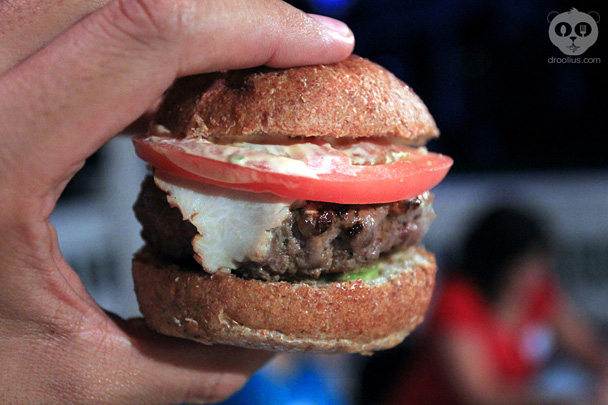 (click image to enlarge)
(Gouda Burger Slider) That's a Gouda Burger – Ground sirloin burger stuffed with gouda cheese, topped with tomato, avocado, red onion, white cheddar, smoked turkey and a siracha mayo served on a whole wheat burger bun.
The burger stuffed with gouda cheese was juicy and full of flavor. I really liked the taste of avocado and white cheddar cheese with the burger, and the siracha mayo added a touch of heat. Just the right amount of all the ingredients combined into a good tasting slider.
(click image to enlarge)
Macaron Almond
The dessert item for the Media Preview, an Almond Macaron topped with some chocolate. They plan to serve these when it is cooler outside and the chocolate doesn't get so messy. It was pretty good dessert with some almond flavor.



(click image to enlarge)
Moving on to the Next Day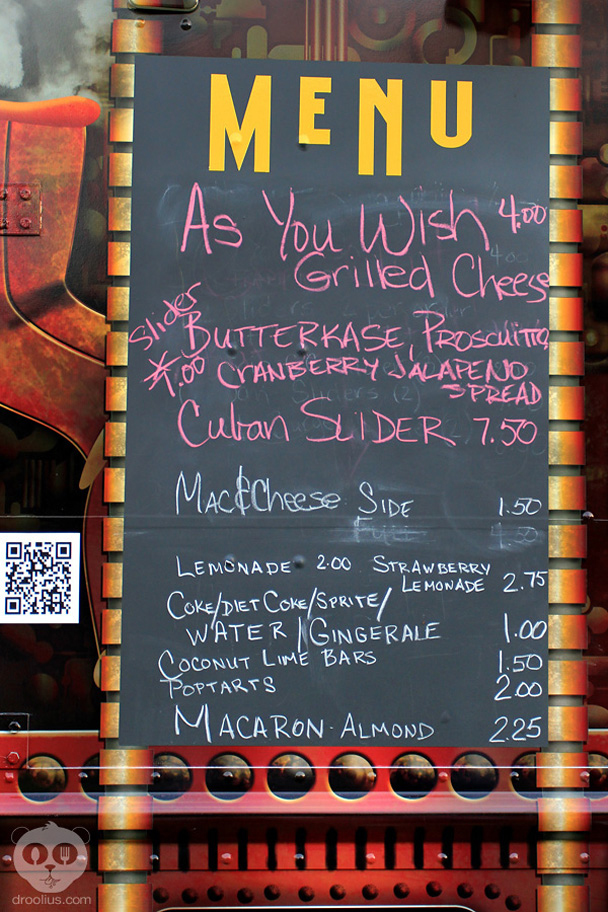 (click image to enlarge)
Menu for the Gastro-Truck debut event at the Apopka Food Truck Round Up. One cool thing they did was add Ginger Ale, which I ask jokingly ask for at every food truck because no one carries it. However Gastro-Truck now carries it and I hope they keep it around.
The very next day after the Media Preview event was Gastro-truck's official debut at the Apopka Food Truck Round Up, a first time Food Truck event in the city of Apopka. They had some of their preview menu offered, and were serving two slider sandwiches per order. This was a great way to try multiple sandwiches and share with others. They also served a side of Trina's potato salad and homemade pickles. There was also an option to order a side of Mac & Cheese or a whole portion. Also on the menu was As You Wish: Create Your Own Grilled Cheese, which is something I will need to order in the future.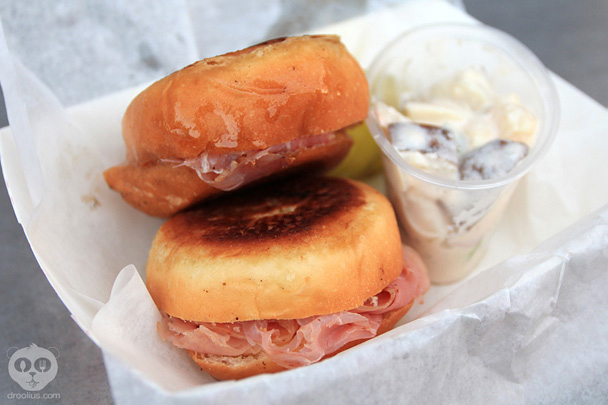 (click image to enlarge)
ButterKase Slider – Butterkase Cheese, Cranberry-Jalapeno Spread and Prosciutto on Brioche
This time I ordered the sandwich i missed the day before, the Butterkase. Buttery and savory with a touch of sweet and heat from the Cranberry-Jalapeno Spread, and it all balanced the natural salty note of Prosciutto and combined into an enjoyable sandwich. It was grilled perfectly on the outside, soft on inside. All the sandwiches here are nicely grilled, which provides that great crunch when you bite into it and adds good texture.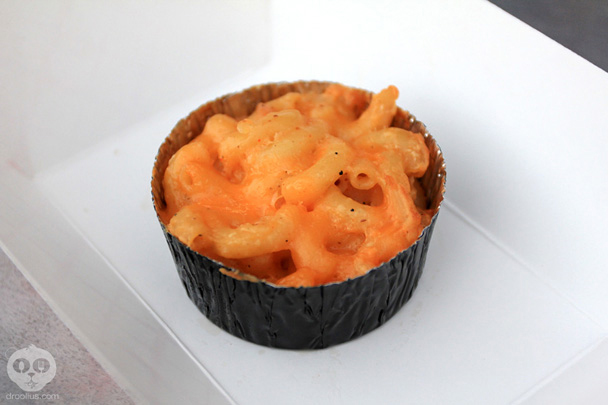 (click image to enlarge)
Mac & Cheese – The homemade favorite like you've never had it before, perfectly cooked macaroni noodles enveloped in the creamiest most decadent cheese sauce.
Available as a side or full portion. The mac & cheese is creamy on the inside with the top baked off in the oven.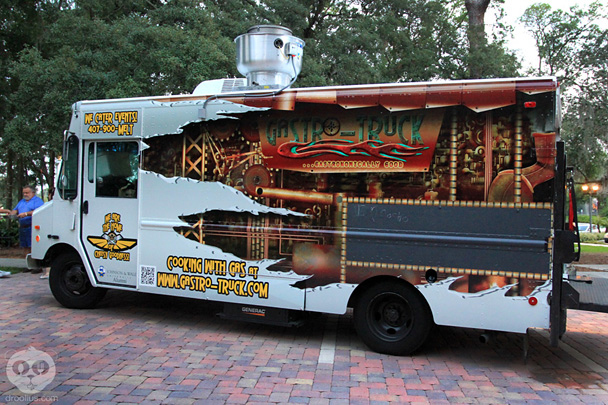 (click image to enlarge)
Gastro-Truck has created some tasty cheesy sandwiches and I'm sure they will be creating more. The team has made great use of the previous owner's kitchen/truck of the former Red Eye BBQ. Although I do miss Red Eye BBQ, I think the food coming from the Gastro-Truck's menu gives honor to the kitchen and this food truck is in good hands. All of the menu items I have tasted have been a good balanced flavor and I look forward to trying more.
Visit the website www.gastro-truck.com and help them decide "Our Top 3 in the running to be Gastro-Truck's Signature GC!" after tasting all of their cheesy goodness creations. Follow the Gastro-Truck Twitter @GastroTrina and Facebook for upcoming events, locations and times.
Gastro-Truck
407-900-MELT
www.gastro-truck.com
Twitter @GastroTrina
Facebook www.facebook.com/TheGastroTruck
Words and photos by Julius Mayo Jr.
All content and photos © Droolius.com 2011