Barbecue is one of my favorite foods to try and with the fast growing food truck scene in Orlando, FL I was happy to see there was a BBQ food truck. The concept of BBQ on wheels really made sense to me and I was eager to try it out. I finally made it out to visit the Red Eye BBQ food truck last Saturday at the Dr. Phillips farmers market. As soon as I walked up to the farmers market I smelled some good food and spotted the truck.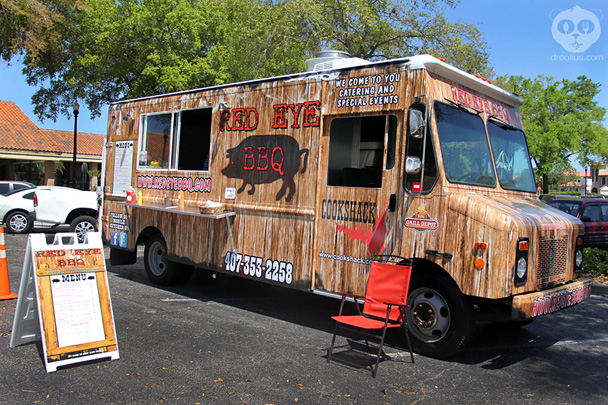 (click image to enlarge)
The Red Eye BBQ truck is not as new to the food truck game as some of its recent counter parts. They started up their food truck business back in December 2010 and technically is one of the first food trucks in Orlando with this type of food truck business marketed via social media, and outside of all of the long time hispanic food trucks that have been around for years in Central Florida. Now I know December was only 3 months ago, but with in the past three months there has been approximately 8 food trucks that have started up business and are rolling the streets of Orlando. Red Eye BBQ got their truck on the road and has been trucking ever since, serving smoked barbecue, burgers, sides, fried desserts and more.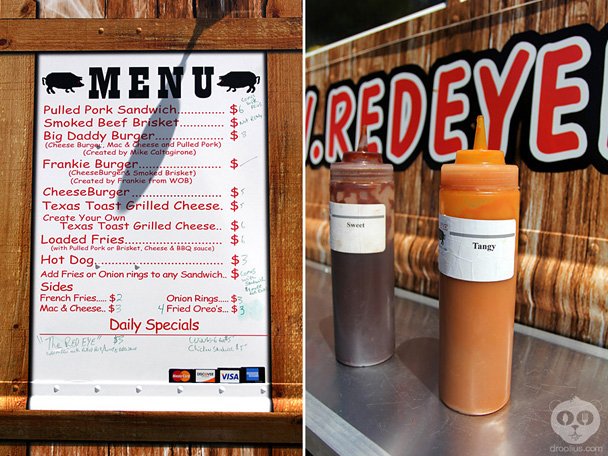 (click image to enlarge)
The truck is wrapped in a wood texture and makes you feel like you are hanging out in a fenced in back yard at an actual cook out. Looking at the menu I quickly saw my 2 favorite types of BBQ listed at the top, pulled pork and brisket. Then I saw everything else was appetizing and I definitely wanted to try their newest creation I read about on the Red Eye BBQ Facebook page, "The Red Eye". So I told the owner/grill master, Robert Nelson, what I liked and he put together a little plate for me to try.
(click image to enlarge)
The Red Eye – corn muffin with pulled pork, honey, BBQ sauce
The first thing to come out was The Red Eye and I was excited to see some of my favorite foods were in one single creation: corn bread with actual pieces corn and pulled pork. I could have been satisfied with those individually but a combination of the two is genius. The Red Eye did not disappoint and was a wonderful combination of flavors. The pork hit the hot griddle with the sweet BBQ sauce first, then placed into the corn muffins that are baked on the truck. Probably the most moist piece of corn bread I've ever had and it is stuffed with the sauced pulled pork and topped with a drizzle of honey and BBQ sauce. The corn bread and pork complemented well with a nice balance of sweet from the honey and slight tang from the BBQ sauce. This was a great tasting appetizer and could easily make a small meal.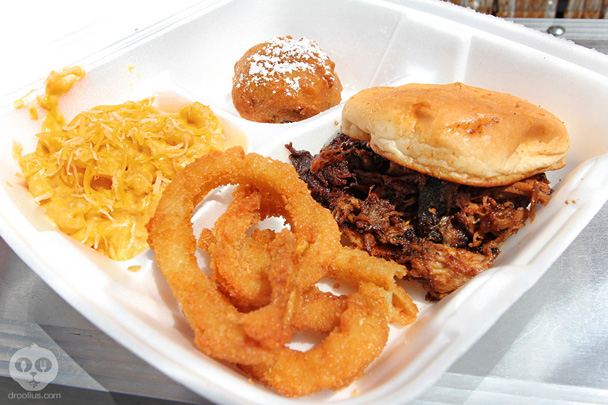 (click image to enlarge)
Pulled pork sandwich with panko breaded onion rings, mac & cheese, fried oreo
The plate came out and I was simply delighted by the site and smells coming from this container. A pulled pork sandwich with two sides: onion rings and mac & cheese, and a deep fried Oreo for dessert. Where else can I get my favorite foods all in one to go box? This food truck knows…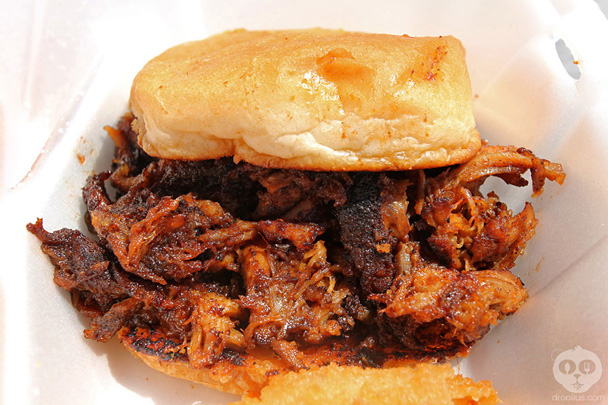 (click image to enlarge)
Pulled Pork Sandwich
This pulled pork sandwich was very enjoyable and full of surprises. I say surprises because when you bite into it you have all of these flavors exploding in your mouth and you get these little bits of crunch. The bits of crunch are from the pork hitting the hot griddle with the sweet BBQ sauce and the sugars/honey from the sauce form a caramelization and add a crust on the pork. A surprising crispy texture on the tender pulled pork definitely made it more enjoyable. Also adding to the crisp texture was the soft bun being placed on the griddle to add a crunch on the inside, similar to the outside texture on a grilled cheese sandwich, but on the interior of the bun. I hope you can follow me with my words, if not, just know its good! The pork itself has been smoked on the truck for 12 plus hours and then pulled. You can order the pulled pork as is or caramelized, but trust me you want it caramelized because you will not need to add any BBQ sauce after. This pulled pork sandwich is none like I've ever had and is my new favorite BBQ pulled pork sandwich.
(click image to enlarge)
Panko breaded Onion rings
These onion rings were so crispy and actually stayed crunchy until the end of the meal. The onions are panko breaded and deep fried to a golden brown.
(click image to enlarge)
Mac & Cheese
The mac & cheese was creamy through out, with tender noodles. What impressed me was that the mac & cheese did not break, which usually results in oil and cheese separating, after sitting for a while. Topped with some extra shredded blend of cheeses, this was a good side to have with the pulled pork.
(click image to enlarge)
Brisket
When I first saw brisket on the menu this day, it said beside it "not ready". I assumed that it was not available yet, however I was informed that it needed another hour or so before it hit the optimal temperature and the number of hours the brisket normally is smoked for. Rob will not serve food that is not ready to his standards and that shows an impressive care for quality in my book. After digging into my meal, Rob came out with a sample of this brisket and all I can say is WOW. I have never tasted brisket so moist, tender, and full of flavor. Just tasting some brisket in Texas 3 weeks ago, Red Eye BBQ brisket was much tastier and more tender than what I had in the BBQ capital of the world. I am not a brisket expert or a Texas barbecue expert, but I do know great tasting BBQ and that is what you find here.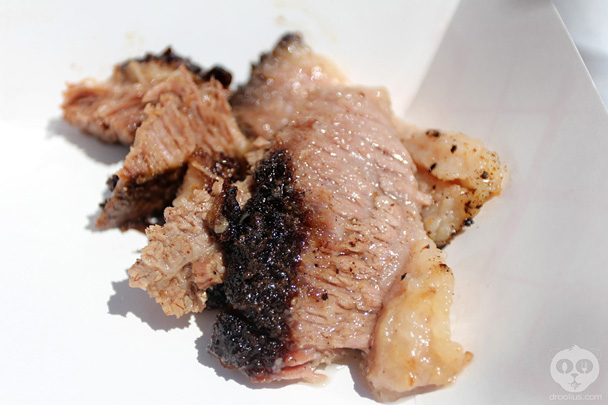 (click image to enlarge)
The Red Eye BBQ Brisket is dry rubbed in Rob's own recipe blend of seasonings and smoked with 3 types of wood for 12-13 hours until it hits an optimal temperature. Rob has been developing his own BBQ recipes for over 10 years and you can definitely taste it. The flavor is unlike any brisket I've ever had, with a deep flavor of spices you can taste on the outer bark and you can see the smoke ring from hours of being in the smoker. The truck's kitchen has a commercial kitchen grade smoker and all meats are actually smoked on the truck itself. No extra bbq trailer needed, everything is smoked inside the kitchen truck.
(click image to enlarge)
Fried Oreos
Dipped in home made batter and deep fried to a golden brown, this was a nice closer. For a added touch of sweetness it is dusted in powdered sugar. This is one of the better fried Oreos I have had and it still had the cream filling still in tacked. Sometimes when you deep fry Oreos, you will bite into it and all that is left is the cookie because the high heat from the oil melts the cream filling away. The Red Eye BBQ truck has this technique mastered with the batter and the right cook time to make the Oreo just a little warm with a nice fried exterior.
(click image to enlarge)
I must admit I finished all the food and was super full at the end. I hung out for a while and was invited into the truck to take a look around. I didn't take any photos because I was too busy oogling at all of the commercial kitchen grade appliances on the truck and forgot to snap photos. This truck houses a full commercial kitchen with a 6 burner stove, oven, fryer, griddle, and smoker. All of the food is cooked in the truck, including all the food for their catering business. Once again, I am impressed, but not only because of the all commercial grade kitchen, but because they do all the cooking and smoking of BBQ in the truck.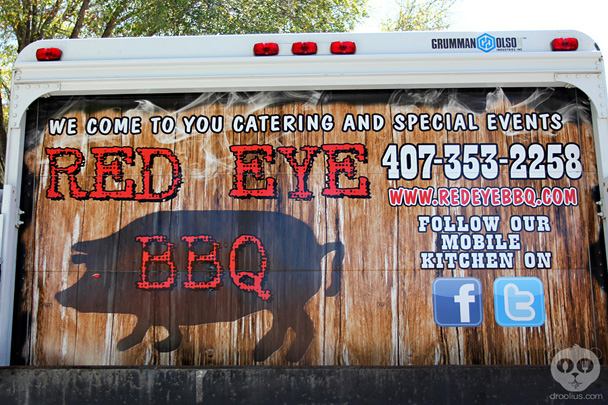 (click image to enlarge)
I had a real good experience eating BBQ and learning about the Red Eye BBQ food truck. They go the extra mile to insure taste and quality of food. A definite must try for food trucks in my book. They can be found parked at the Dr. Phillips farmers market on Saturday mornings and in front of World of Beer (Dr. Phillips) on certain evenings for late night service. They also serve food at local events and have the catering service for complete buffet service or a complete catered meal. Make sure to follow them on their twitter @RedEyeBBQ for their current location and visit them at their websites listed below.
Red Eye BBQ
407.353.2258
www.redeyebbq.com
Facebook Page
Twitter @RedEyeBBQ
Words and photos by Julius Mayo Jr.
All content and photos © Droolius.com 2011