The food event that many have been waiting for all year in Orlando, FL is finally here. The 17th Annual Epcot International Food and Wine Festival is starting this weekend and is going on from September 28 – November 12, 2012. It's a culinary celebration with food, wines, beers, and more from around the globe. The festival features marketplaces from various countries and regional parts of the U.S. that serve up small dishes that you can order and even pair with the recommended wines and beers. Some people just eat, while others just drink, and a lot of attendees do both. Either way, it's a fun festival to experience and this year will be the longest it will be running, a record of 46 days in total.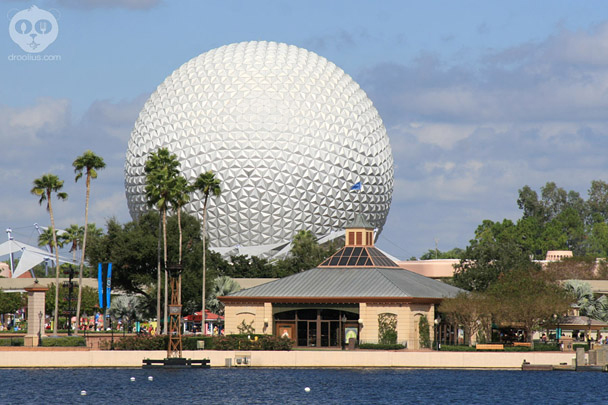 (click image to enlarge)
General Disney Park Admission gets you into Epcot and access to the International Marketplace of food and beverages. Also included are Authentic Taste seminars, HGTV seminars, special book signings, Eat to the Beat Concerts, and all attractions and park entertainment. The popular Eat to the Beat Concert series features pop acts like Smash Mouth, Boyz II Men, Blues Traveler, Big Bad Voodoo Daddy, and more. You can also purchase tickets to celebrity chef demonstrations, specialty wine and food pairing dinners, tasting events, and Mixology Seminars. Many may be sold out prior to the event, but you can always check the official website for more: Epcot® International Food & Wine Festival website
A few new things and highlights to the festival this year are…
– Two new marketplaces:
• Florida Local Marketplace will introduce fresh twists on regional flavor samplings, including a zesty Shrimp Ceviche with Fire Roasted Vegetables, Fried Plantains and Cilantro. White Corn Arepa with Mangalitsa Pork Rilette and Zellwood Sweet Corn Salad.
• TERRA Marketplace offers vegan cuisine including Trick'n Chick'n Curry with Basmati Rice or Chili Colorado with House-Made Chips and Cashew Cheese.
– New dishes or new twists on marketplace foods:
• (new twist) Lamb chop at Australia with mint and feta pesto with "potato crunchies" (crumbled salt and vinegar potato chips).
• (new dish)"Le Cellier" Wild Mushroom Beef Filet Mignon with Truffle Butter Sauce
• more dishes have been added and remixed to certain marketplaces…
– Ghirardelli chocolate experience "From Bean to the Bar" at the Festival Center where guests experience the sweet sights and smells of the famous flavor and reveals the journey from cocoa beans to the chocolate bar.
– Ocean Spray cranberry bog is back near Future World.
– Festival's first time and new Watermelon Patch presented by the National Watermelon Promotion Board
There are 29 international marketplaces that feature ethnic global cuisines and regional food at this year's Food & Wine Festival. See the menu of Culinary Offerings and Beverage Selections: International Cuisine and Marketplaces
As for the 2011 Epcot Food & Wine Festival, I was able to taste the following in one day at the festival. Here are my favorites from last year…
Droolius' Top 10 Food of 2011
(click image to enlarge)
10. Germany – Goulash Soup
A hearty soup with stewed vegetables and chunks of meat. Good comfort food on a cool October day last year.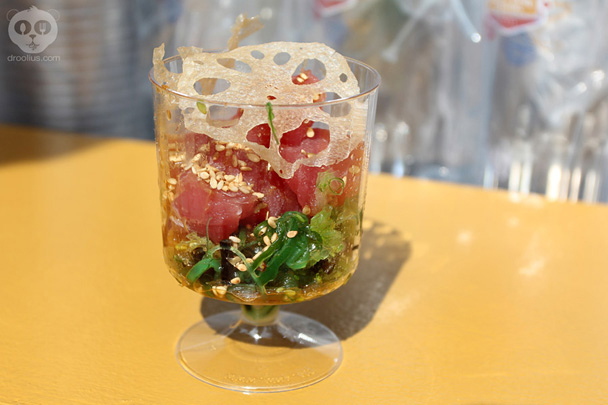 (click image to enlarge)
9. Hawaii – Tuna Poke with Seaweed Salad and Lotus Root Chips
A taste of Hawaii in a cup with chopped fresh tuna, a bite of seaweed salad, and a crispy lotus root chip. A refreshing treat on a warm day.
(click image to enlarge)
8. South Korea – Lettuce Wraps with Roast Pork and Kimchi Slaw
A fresh snack that can be eaten in a few bites. Savory roast pork, fresh slaw and vegetables. Don't expect bold Korean flavors, but a gentle flavor profile that is slightly sweeter than spicy.
(click image to enlarge)
7. Japan – Pork Kakuni
This Japanese style pork was a nice savory surprise. It was tender, moist, and had an enjoyable sweet note to it.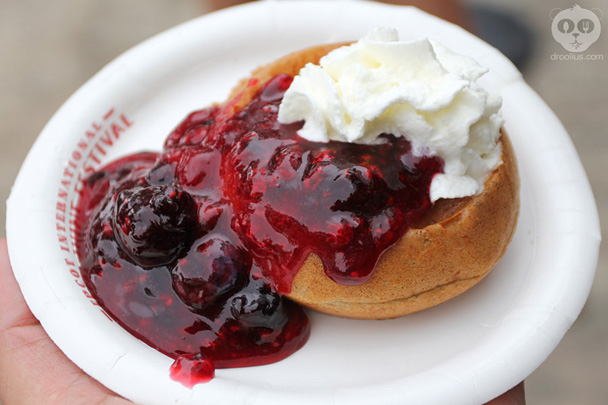 (click image to enlarge)
6. Belgium – Freshly Baked Waffles with Berry Compote and Whipped Cream
You can't go wrong with a warm fluffy waffle, with a crisp outside, topped with a warm sweet berry compote and whip cream. Try it, its good.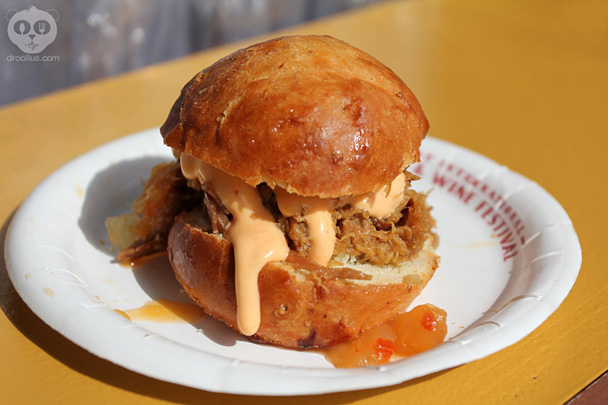 (click image to enlarge)
5. Hawaii – Kalua Pork Slider with Sweet and Sour Dole Pineapple Chutney and Spicy Mayonnaise
Another savory and sweet pork dish. This time in a slider, the moist pulled pork was complimented by a sweet pineapple chutney with a touch of heat from the spicy mayo. Overall a balanced mini sandwich.
(click image to enlarge)
4. Singapore – Coconut Braised Beef Rendang with Jasmine Rice
Slow braised beef with bits of toasted coconut. This was in my top 3 last year, but it was slightly different than before. It was still a good hearty dish with some spicy heat that lingered on the palate.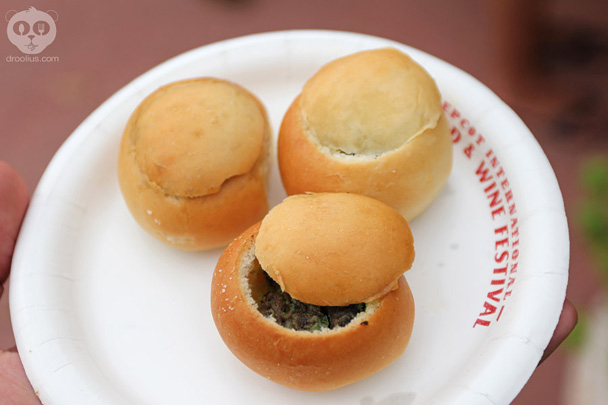 (click image to enlarge)
3. France – Escargots Persillade en Brioche (Garlic and Parsley Snails in Brioche)
I really enjoy these, garlicky butter soaked snails in mini Brioche. Just pop the whole thing in your mouth, don't try to bite half, it just makes you drool butter on your chin and makes a mess. These are one bite masterpieces.
(click image to enlarge)
2. Argentina – Grilled Beef Skewer with Chimichurri Sauce and Boniato Puree
These grilled beef skewers pack a punch of flavor with its Chimichurri sauce. If you want flavor, stop here for a few plates. The Boniato puree is similar to mashed potatoes, which also gets some Chimichurri mixed in too.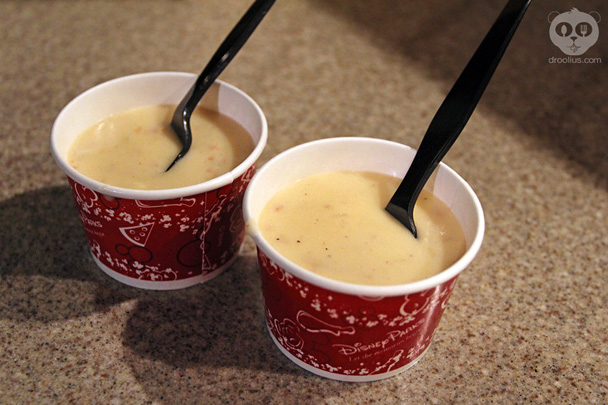 (click image to enlarge)
1. Canada – Canadian Cheddar Cheese Soup
What can I say, it's really my favorite. Maybe its the bacon, maybe its the age white cheddar cheese. It has some beer in the recipe too. I can't say enough about this soup. Usually my opener and closer to each day at the event.
I love this soup SO MUCH that I even created my rendition of it at the beginning of this year. My very first Recipe on the blog: Doolius' Canadian Cheddar Cheese Soup Recipe
That's my Top 10 from 2011. I'll make sure to try out some of the new marketplaces and revamped dishes to see how they hold up to this list.
Festival Beverages
There's a few beverage options to choose from at the Epcot Food & Wine Festival. The wine of course, seasonal and craft beers, and some non-alcoholic blended ice drinks. This year, the festival features newly crafted beverages that are geared toward family dining. Children of all ages can try inventive new sips during the family's marketplace dine-around. 
Last year I was limited on time and only consumed a small amount. This year, I will be partaking in more wine and beer, while pairing with food. Always a great tip: share your dishes with someone so you can eat and drink more!
Here's a few drinks that I enjoyed in 2011: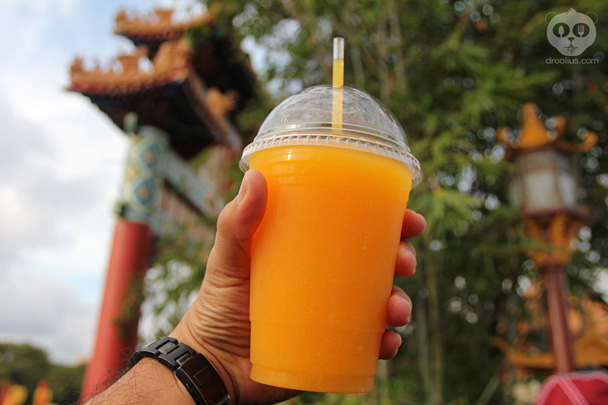 (click image to enlarge)
Joy of Tea (near China pavilion) – Mango Green Tea Slush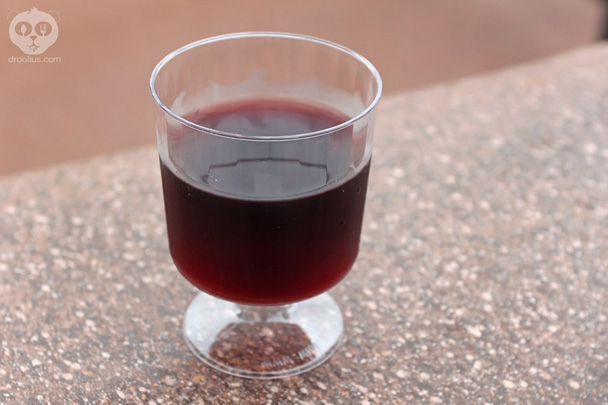 (click image to enlarge)
Morocco – Sangria
(click image to enlarge)
Germany – Altenmunster Oktoberfest Beer


As always, I'm really looking forward to the festival this year. More wine, beer, and of course food photos to come from this year's 2012 Epcot Food and Wine Festival. You can follow me on Foodspotting.com/droolius as I spot dishes from the event. Of course you will know when I'm at Epcot by the updates on the @Droolius Twitter and Facebook page so stay tuned!
You can also follow and add your own photos to my Foodspotting Guide: Droolius' Top Ten Dishes To Eat at 2012 Epcot Food & Wine Festival
Epcot – World Showcase
Walt Disney World Resort
Orlando, FL
So, what are some of the dishes you plan on tasting? Any favorites that you recommend I should try? Leave a comment below if you have any suggestions…

More Epcot Food & Wine Festival posts:
Epcot Food & Wine Festival – 2011 Intro & Droolius' Top 10 Food of 2010
Epcot Food & Wine Festival 2010 – Droolius Highlights
Epcot Food & Wine Festival – 2010 Intro & Droolius' Top 10 Food of 2009
Food & Wine festival – A continuation of 2009 Food, Wine & Beer

Words and photos by Julius Mayo Jr.
Content and photos © Droolius.com 2012