Yes that's right, a gourmet food truck has hit the streets of Orlando, FL. With the influx of food trucks in the area, it was only a matter of time when a local chef kicked it up a notch and gave a taste of gourmet to the streets. Not only is it gourmet, but it's about using local quality ingredients with the theme "Local is Lovely".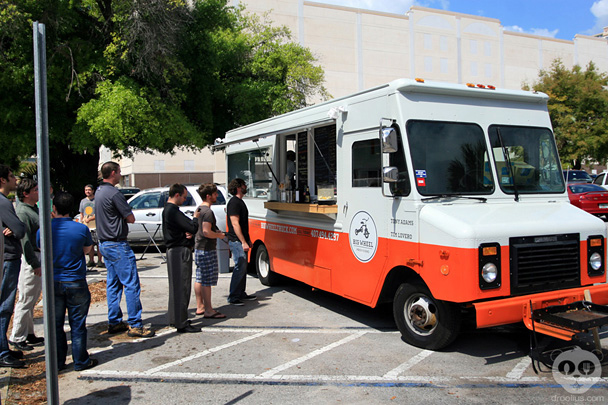 (click image to enlarge)
Chef Tony Adams of Big Wheel Provisions has put together the Big Wheel Mobile Food Truck that serves lunch during the week and late nights on weekends, in downtown Orlando. Service is also provided at local Farmers Markets, which they have provided their products and food with Big Wheel Provisions. The Chef is all about supporting local foods, farmers, and using the best local ingredients, which you can definitely taste in the quality of the food.
(click image to enlarge)
I have seen the campaign and build up for the food truck via social media web sites and was happy to see they finally had their lunch debut on Wednesday March 16th on the corner of Washington St and Orange Ave in downtown Orlando. I got there around 12:30pm and there was a line already, with the news camera and news person doing interviews. Photo above shows Chef Tony being interviewed inside the truck, which has a state of the art kitchen and room for a few people inside.
(click image to enlarge)
A quick overview of the menu shows that it is not your typical food truck or even restaurant menu. The lunch menu this day featured items that are made from scratch with local ingredients and food items that you would see on television shows like Top Chef or Anthony Bourdain's No Reservations. There were so many things I wanted to try, it was hard to choose. I got some recommendations from Chris R., who I met recently at another food truck, and he is a fellow blogger and active Yelper. He shared the info on what him and his friends had ordered and everything sounded good. I finally made a decision right when I stepped up to order and I got the Local Pork Rillettes Sandwich and Brindisi appetizer.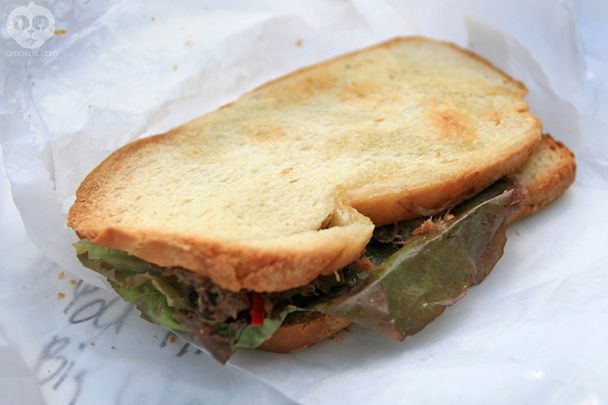 (click image to enlarge)
Local Pork Rillettes Sandwich with pickled cherry peppers and BWP onion jam
*Editor's note: Pork Rillettes are made by chopping or cubing meat, then seasoned and slow cooked in fat until it is tender enough to shredded easily, and then cooled with enough of the fat to form a paste. The paste is usually served at room temperature and spread onto bread.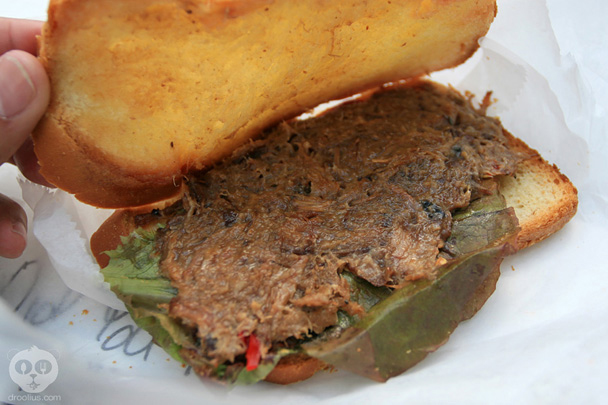 (click image to enlarge)
This was a great tasting sandwich! Savory in flavor and rich in taste. The pork was seasoned with good flavor, easy to bite into without effort, and the pork fat just melted in your mouth. The toast was buttered & absorbed all the flavor of the pork, which paired well with the greens, onion jam, and peppers. The gently pickled peppers had the right acidity to cut the richness of the Pork Rillettes and had a nice touch of heat. It tasted so good that I forced myself to slow down and enjoy the sandwich.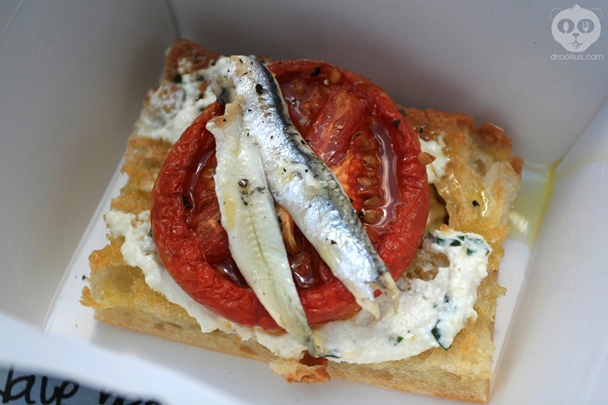 (click image to enlarge)
Brindisi – Italian toast with herb ricotta, overnight tomato, white anchovy
I'm not sure how to explain this, but it's just good. Basically its a play on Bruschetta with a unique combination of ingredients. Buttery Italian toast with a herb ricotta went well with the overnight tomato, which was all pleasant in flavor. The white anchovy was so light in flavor and added the richness to this appetizer. Without the white anchovy, it would have been a tasty bruschetta. Adding all the ingredients together really made this very enjoyable. You get the tang from tomato & ricotta cheese while the richness & balance comes from the anchovy surprisingly. It all complimented well & tasted like a gourmet appetizer.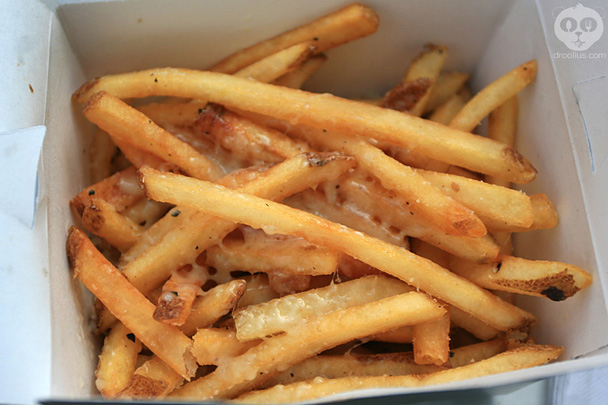 (click image to enlarge)
Parmesan Fries
These looked great, but they were not my fries. I met a few guys who offered to let me take some photos of their food, so of course I agreed to and thanked them.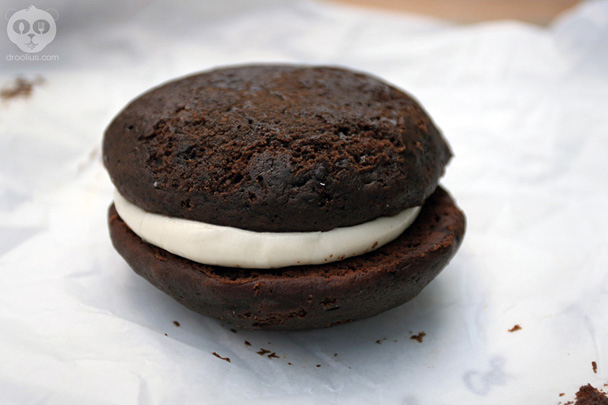 (click image to enlarge)
Bet's Recipe Whoopie Pies
One of the guys, Carl "Bigdawg" G. who is also an Orlando Yelper, told me I had to try one of these awesome Whoppie Pies. With a long line at the truck, I will just have to come back for this dessert next time.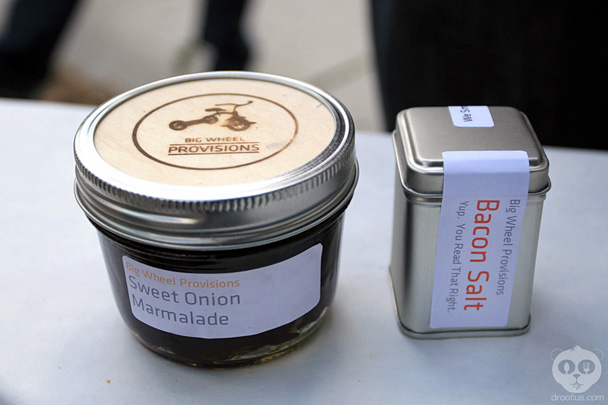 (click image to enlarge)
The first 5 customers in line for the debut lunch received a small gift package containing a shirt and these items. Sweet onion marmalade sounds great and Bacon Salt just sounds addictive. I need to visit Big Wheel Provisions at a Farmers Market and pick these up to try at home.
(click image to enlarge)
The driver side of the food truck explains all of the services they provide. The Big Wheel Mobile Food Truck is not limited to serving great food, but it is an extension of what Big Wheel Provisions offers in many forms of services, products, and even classes.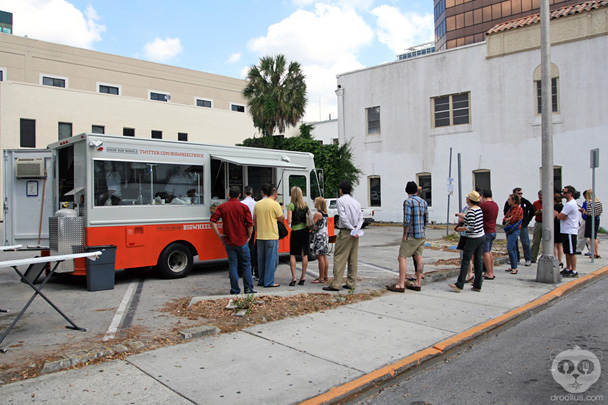 (click image to enlarge)
Photo above is the line after I got my food and snapped the photos. To the left you see the ironing boards which are a creative form of a table, with enough room to place your food down and stand while you eat. It was the gathering spot for people, a place to set down their food, enjoy eating and take food photos!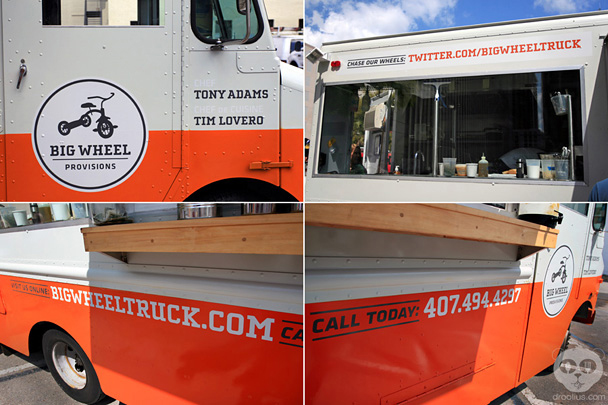 (click image to enlarge)
I must say I was impressed by the food offered at the Big Wheel Mobile Food Truck. The food just speaks for itself and do not let the term "gourmet" I may use intimidate you. The menu is just full of great quality food that everyone can enjoy. So make sure to check out this food truck that will be traveling the streets of Orlando. Follow their twitter @BigWheelTruck and add their Facebook page, links are below.
These are the times I found online so far, they may change so please check the websites:
Tuesday – Friday Lunch 11:30 AM to 2:30 PM
Friday & Saturday Late Night – Downtown Orlando, Washington and Orange Ave 10 PM to 2 or 3 AM
Big Wheel Mobile Food Truck
407.494.4297
www.bigwheeltruck.com
www.bigwheelprovisions.com
http://twitter.com/BigWheelTruck
Facebook Big Wheel Mobile Food Truck
Words and photos by Julius Mayo Jr.
All content and photos © Droolius.com 2011