Imagine walking into an event with the smell of Cuban croquetas perfuming the air. Multiple tables presenting their best savory filled and fried tubular goodness, along with more croqueta inspired dishes. What's great is that you can taste all of these croquetas and eat as much as you can, until they are all gone. This is Croquetapalooza, a Croqueta celebration going down on Sunday, October 12, 2014 at Magic City Casino in Miami, FL. This indoor event will take place at Magic City Casino's Stage 305 from 1-4pm with not only croquetas to taste, but a variety of soft drinks, Cuban Batidos, and more. The Croquetapalooza is produced by BurgerBeast.com, who throws some of the best food events in South Florida that I have attended. This event is not to be missed!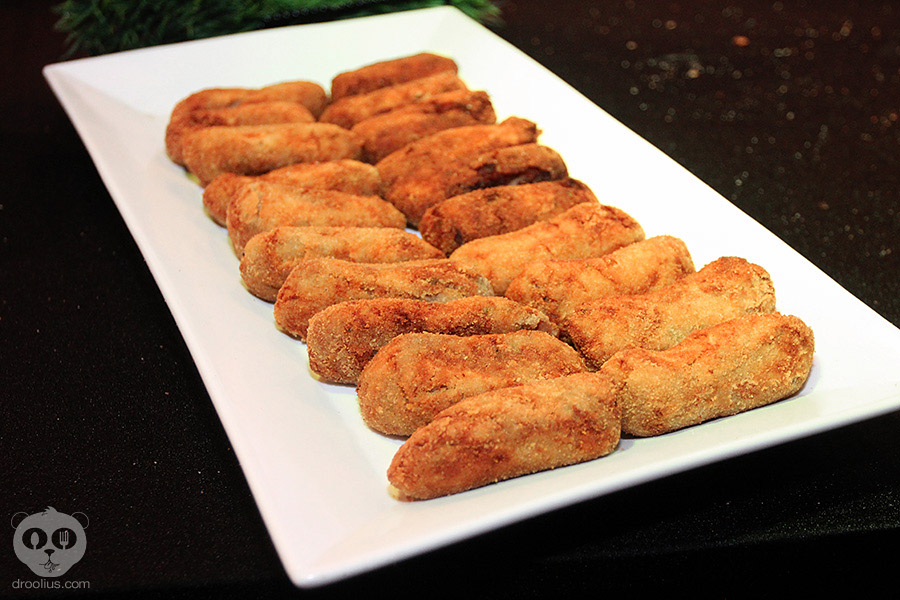 (click image to enlarge)
In addition to tasting the all of the croquetas from 10+ Miami restaurants, a Croqueta Eating Contest will be going on for those who want to flex their croqueta eating skills! This will be refereed by South Florida blogger, Fatgirl Hedonist.
To sweeten up Croquetapalooza, a Flan competition will also be part of the event. The Flantastic! Competition will feature 10 restaurants competing to find out who has the "Best Flan in Miami" and will be judged by a panel of esteemed judges.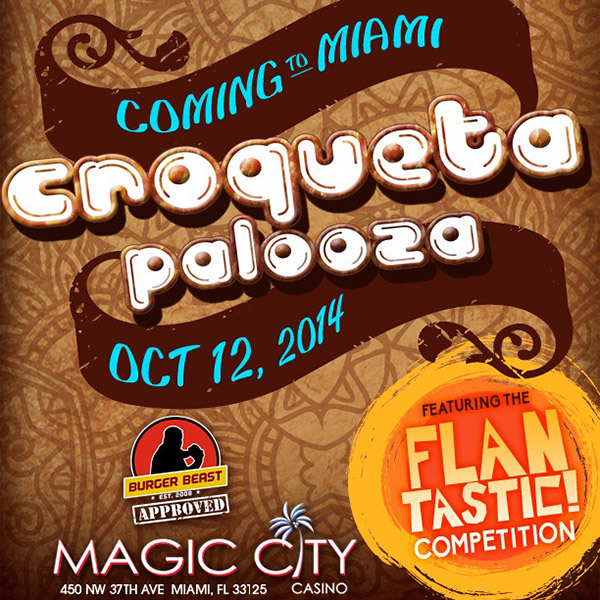 (click image to enlarge)

Now that you are drooling from all of this talk about Croquetas, it's time to buy some tickets. There is General Admission and VIP Admission. The difference between the two tickets are:
"General Admission includes ALL Croquetas, Croqueta Dishes, Other Snacks, Flans, Other Desserts, Batidos, Soft Drinks & Water. The VIP includes everything the General Admission has plus Beer, Tito's Handmade Vodka, & a couple of Food exclusives and you get in an hour early too."
To buy tickets, go to: Croquetapalooza.com/tickets
(You must be 21 years of age or older to attend, it is inside a casino after all).
Ticket Giveaway:
My good friend Burger Beast has offered a VIP Ticket Giveaway and I'm giving away 2 VIP admission tickets to 1 lucky winner. There will only be 1 winner chosen at random to win the pair of tickets.
To enter please follow the directions on Rafflecopter. Contest ends Friday September 26, 2014 at 12:00am EST.


*The first step you must do is to leave a comment below and "tell me how many Croquetas you think you can eat at Croquetapalooza…" then click Rafflecopter to complete entry + more ways to enter…

** Winner will be announced during the day on Friday, September 26, 2014 and will need to be contacted via email and sent the winning prize from BurgerBeast.com.


Good luck to all of you entering! Make sure get your tickets before they sell out (and they will). For more information about Croquetapalooza, please visit Croquetapalooza.com


Words and photos by Julius Mayo Jr.
Content and photos © Droolius.com 2014
* Update Sept.24 to clarify directions on comment entry and Rafflecopter

Disclaimer: I was not compensated for this giveaway. Two VIP admission tickets are courtesy of BurgerBeast.com directly. All opinions are my own.