The Garden to Glass party was hosted by Emeril Lagase and took place at the Miami Beach Botanical Garden. The event focused on mixologist creations, many that included using fresh herbs from the garden. The late night party featured cocktails from the master mixology of bartenders from Bar Lab, while Miami restaurant My Ceviche was serving small bites. Emeril was seen mixing up a signature cocktail and serving them to the crowd. The cocktails were flowing and the DJ had the crowd dancing until about 1am. It was a classy after party following a full day of events at South Beach Wine and Food Festival.
(click image to enlarge)
I actually was able to attend this party by my friend and fellow food blogger, Julie of TheLittleKitchen, winning an online contest for a pair of tickets. By searching hashtag #sobewff in Instagram, she saw Zignum Mezcal posted a Facebook contest for 2 people to win tickets to the Garden to Glass party. The contest was "Tell us why you and your drinking buddy should win 2 tix" and "don't forget to tag your buddy". So Julie tagged me in the post and long story short, Julie and I won the tickets! However, plans for her coming down early to SOBEWFF didn't work out and she was unable to attend. So she set it up where I was able to get the tickets and bring a local Miami friend. Thanks Julie, we missed you at the party!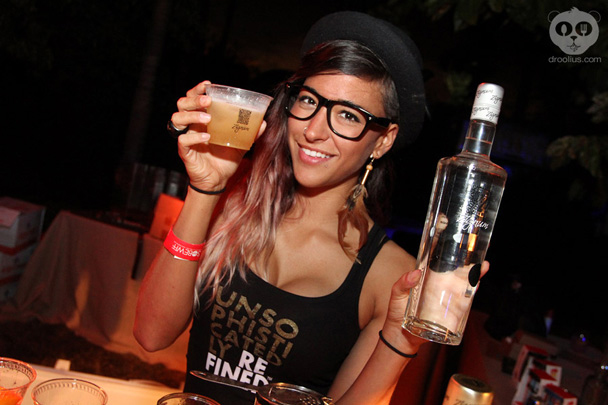 (click image to enlarge)
After sampling a few drink concoctions at various Garden To Glass bars, we finally spotted the Zignum Mezcal bar. Dani from Zignum was ready with drinks in hand to serve some of their signature cocktails.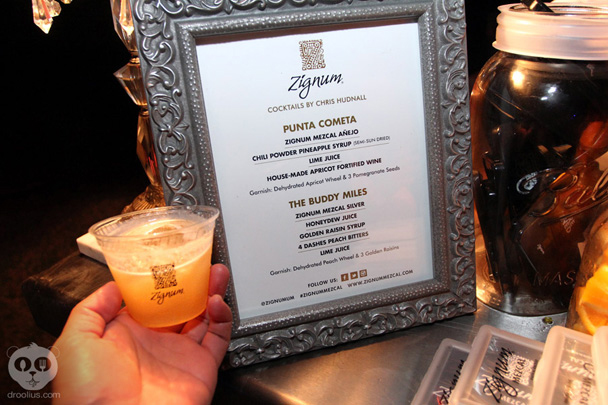 (click image to enlarge)
"The Buddy Miles" – Zignum Silver, Honeydew Juice, Golden Raisin Syrup, 4 Dashes Peach Bitters, Lime Juice. Garnish: Dehydrated Peach Wheel & 3 Golden Raisins
The Buddy Miles actually turned out to be my favorite drink of the evening. I tasted several creations from many mixologist bars, but there was something about the Honeydew juice that caught my attention with the overall mild sweetness and balance of the drink.
(click image to enlarge)
Zignum also had another cocktail, Punta Cometa, made with their Mizcal Añejo. It was good as well, but "The Buddy Miles" was my favorite.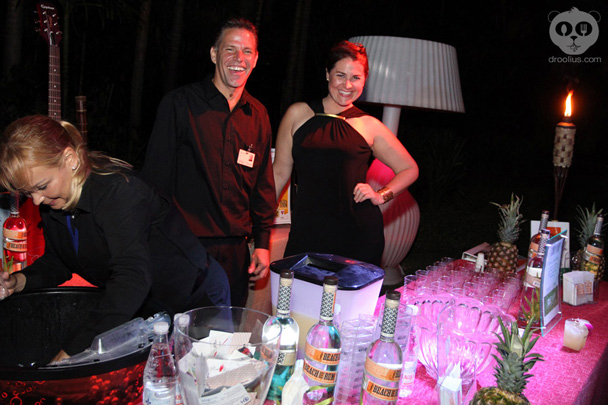 (click image to enlarge)
Happy bartenders making drinks
(click image to enlarge)
A group of party goers enjoying themselves at Garden to Glass. Cheers!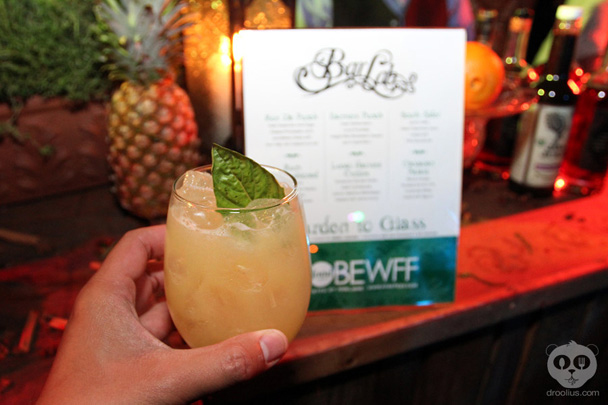 (click image to enlarge)
I had a friend pass me their drink to try and when I smelled it, there was a very distinct ingredient in it. I told them I smelled Calamansi (a small tart citrus from the Philiipines) and they were surprised I knew the ingredient. It's one of those scents I grew up with (having a Calamansi tree in the backyard) and definitely recognized. Very interesting and good to have it in a cocktail.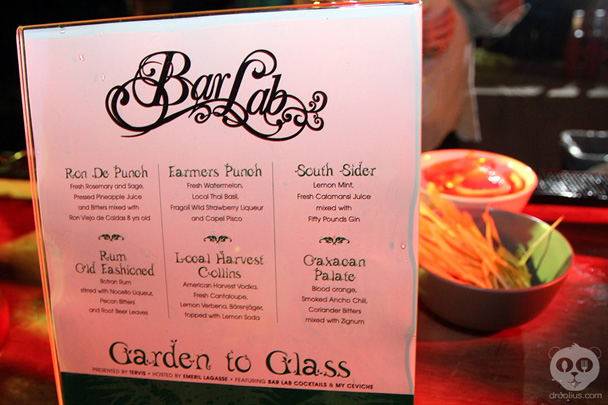 (click image to enlarge)
South Sider – lemon mint, fresh Calamansi juice, mixed with Fifty Pounds Gin.
This was another creative drink that I enjoyed at the event. I chatted with one of the mixologists and he said he was with a team that spent a few weeks in the Philippines doing some work and learned about Calamansi. It's readily available as a juice you can drink with breakfast or really anytime of the day. The flavor is very tart, similar to lemon, but still distinct to its own flavor.
(click image to enlarge)
This happy lady was celebrating her recent engagement and asked for a photo. Congratulations!
(click image to enlarge)
The Zignum girls were always armed and ready to serve the Zignum Mezcal signature cocktails.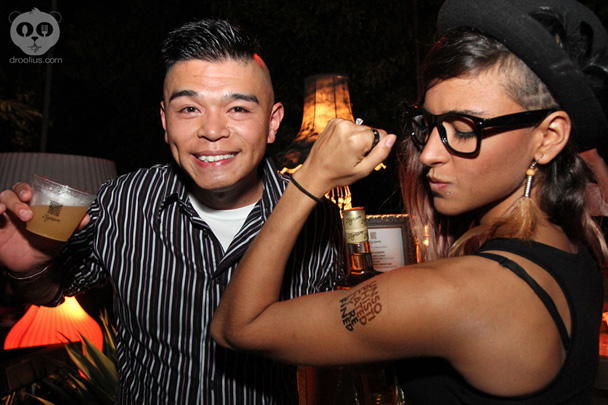 (click image to enlarge)
OK, maybe one more of Buddy Miles before my cab ride home. I was seriously addicted to this drink.
The Garden To Glass at SOBEWFF 2013 turned out to be a very relaxed and enjoyable event. The combination of a open area and not being overcrowded at the bars was definitely a plus. All creations by mixologist were tasty and creative.

Words and photos by Julius Mayo Jr.
Content and photos © Droolius.com 2013


Disclaimer: I was given a pair of tickets to this event from Zignum Mezcal. I was not compensated to write this post and all opinions are always my own.