The Wine Spectators Trade Day is an invitation only event that offers attendees a taste of wines, spirits, and an inside look on new trends in beverage. I was invited by KitchenAid to attend this event, which was held in the heart of South Beach at the Whole Foods Market Grand Tasting Village. Basically it's a sneak peek of the Grand Tasting experience, but with more focus on wine and spirits, limited food offerings, and without the chef cooking demos. I was able to experience the food and did my share of sampling beverages throughout the event.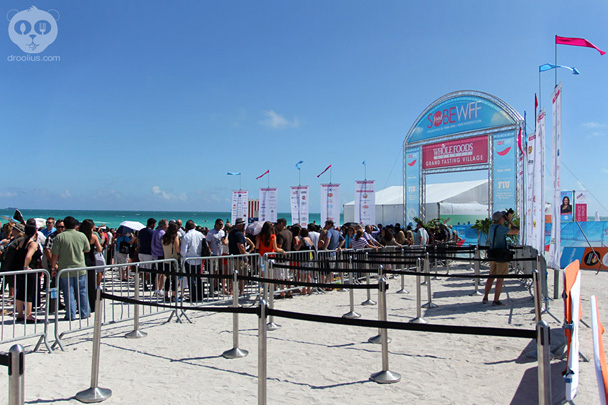 (click image to enlarge)
As with any SOBEWFF event, it's best to arrive early because there are long lines to get into most events. Being a trade "invite only" event, I didn't expect there to be a massive crowd in attendance. This was my first Wine Spectator's Trade Day, so lesson learned. The line went down the beach, but when the gates opened, it was only a few minutes to get in. Either get there early and wait in the front of the line, or get there later and walk far to the end of the line and wait. I'm not sure which would be better…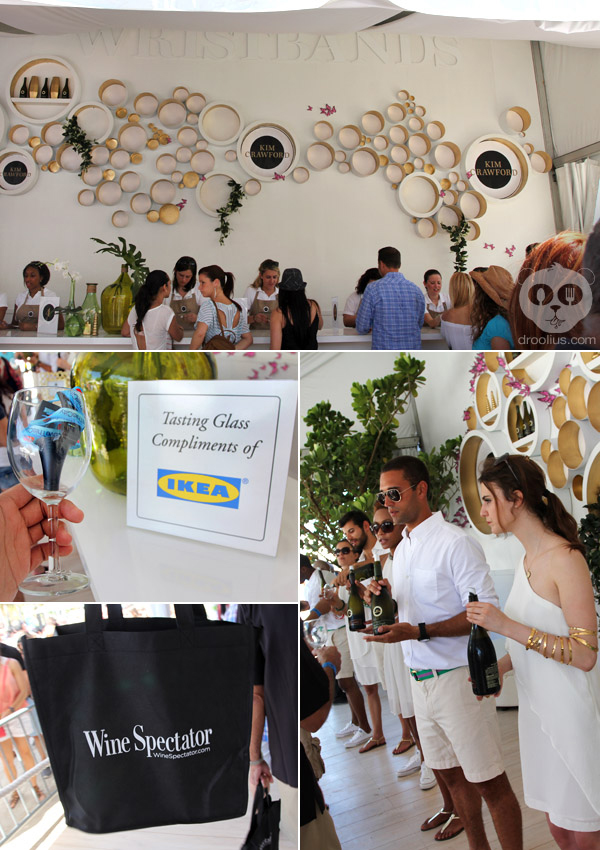 (click image to enlarge)
Prior to lining up to get into the event, you take your tickets and exchange them for a wine glass and swag bag filled with goodies. As you walk through, you are poured a glass of wine to enjoy as you make your way into the Grand Tasting Village. You are provided a lanyard that also holds your wine glass, perfect for eating and taking photos with a full glass of wine hanging around your neck.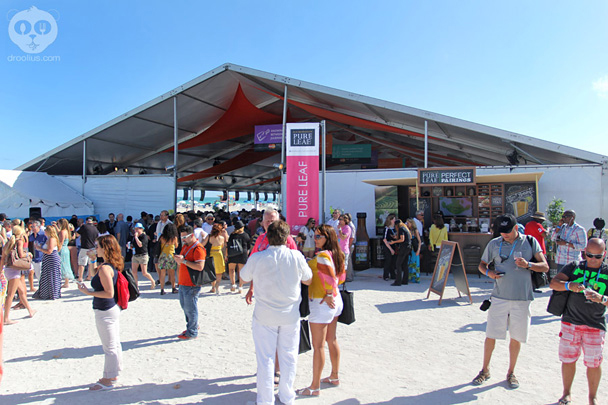 (click image to enlarge)
The Grand Tasting Village had two huge tents filled with various booths on the sides and down the middle serving beverages and food.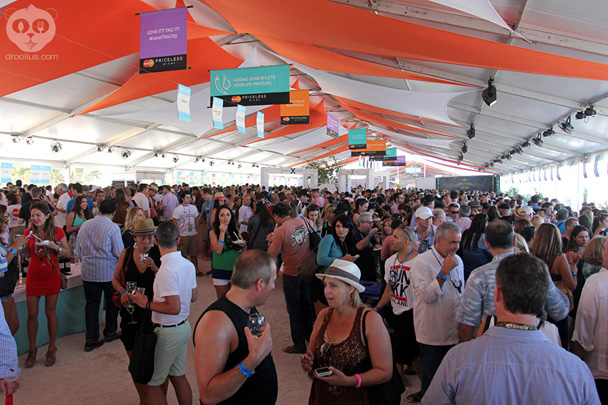 (click image to enlarge)
Once you are in the Grand Tasting Village, it's pretty much an unlimited amount of tastings of beverages and food. Many wines to taste and spirit companies offering mixed cocktails to try. The lines can get long so it's best at times to get a beverage to sip while you wait in the next line.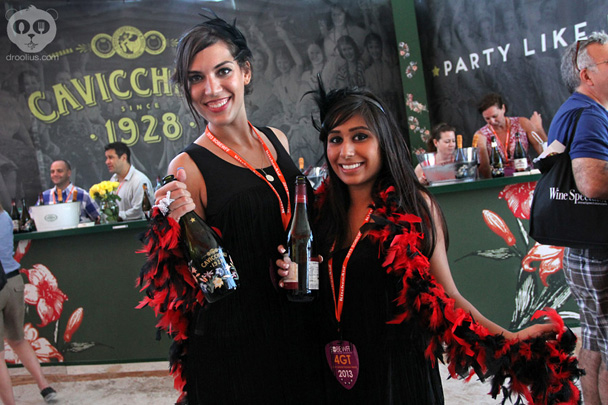 (click image to enlarge)
It was warm inside of the tents and I needed something cold and refreshing. I found a Cavicchioli 1928 Sweet Red Lambrusco to sip on that was sparkling, chilled, with a touch of sweetness.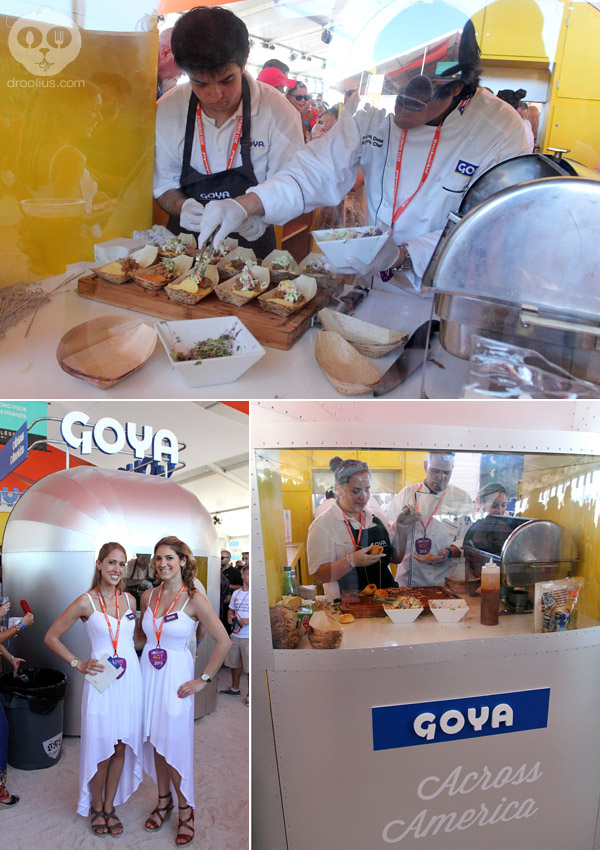 (click image to enlarge)
The first food item I had at the event was from Goya. They had a setup, similar to an Airstream, with open sides for serving food and windows for viewing the food being plated. Two Goya Girls were handing out recipe cards for the Pulled Pork Sliders being served.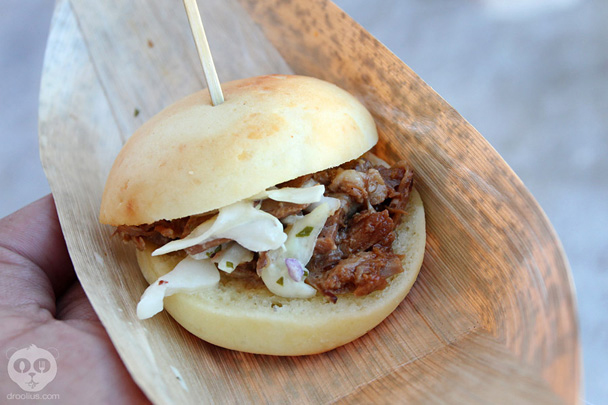 (click image to enlarge)
Goya: Pulled Pork Sliders topped with Mango Slaw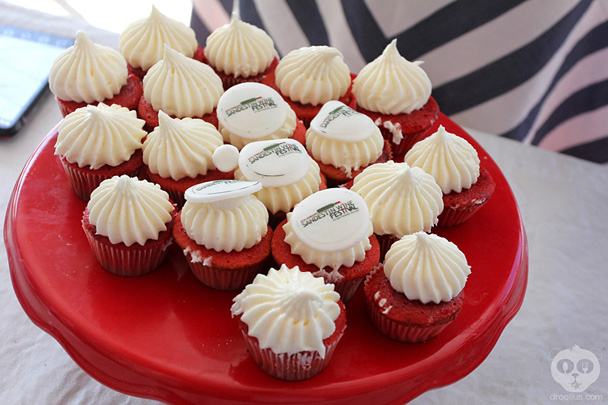 (click image to enlarge)
The Sandestin Wine Festival had many people stop by their booth for these Raspberry, wine, & cheese cupcakes from 2 Girls & A Cupcake based in Miami. Needless to say, these were addicting!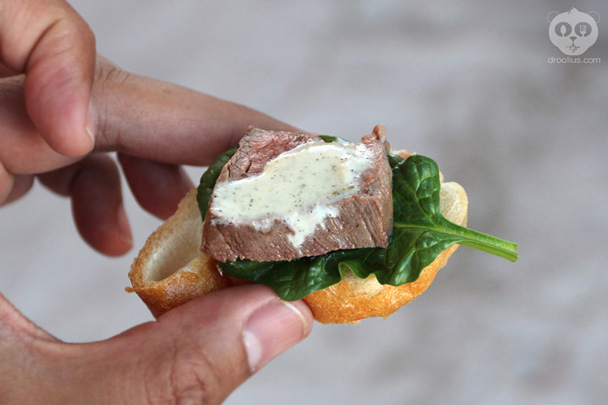 (click image to enlarge)
Certified Piedmontese served one of my favorite bites of the day. A grilled tenderloin, with spinach, and horseradish sauce.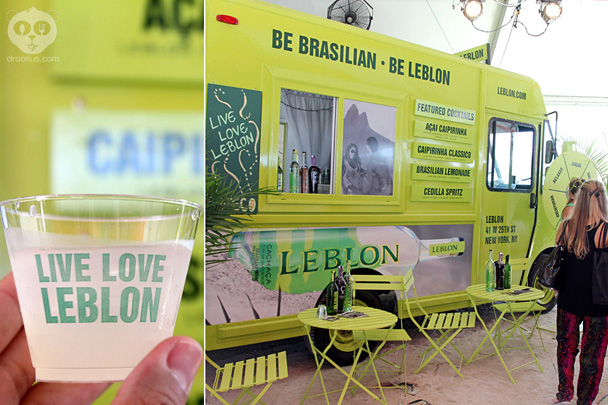 (click image to enlarge)
Leblon Cachaça (Brazilian Rum) was serving a series of mixed drinks from a "food truck" style bar. I enjoyed the Caipirinha Classico.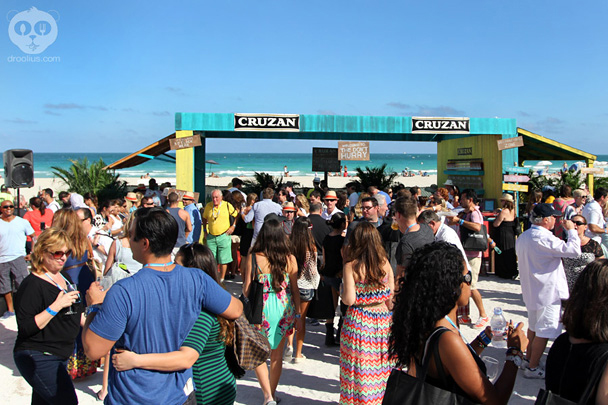 (click image to enlarge)
Between the two tents of the Grand Tasting Village was the Cruzan Rum bar that had people drinking and dancing in the sun. With the background of South Beach, it was a fun scene of paradise complete with a steel drum band performing.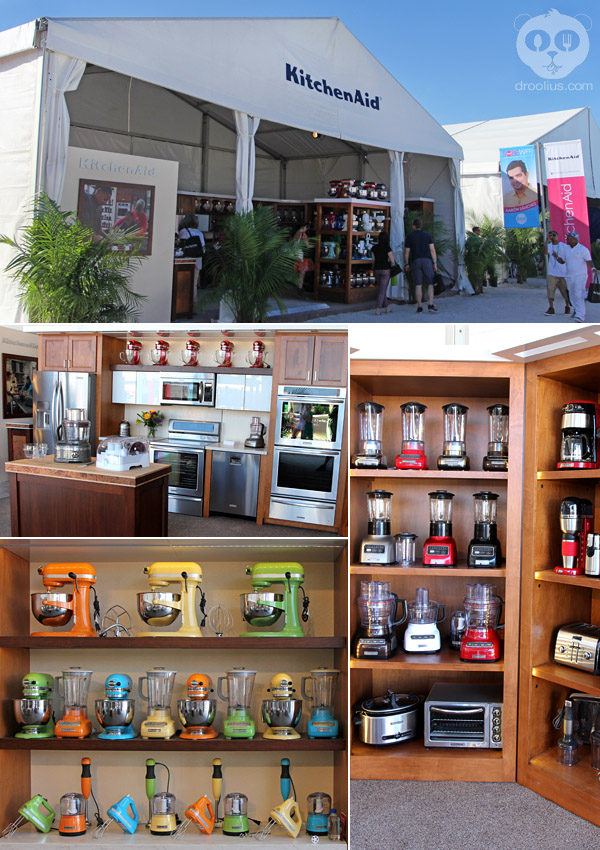 (click image to enlarge)
KitchenAid was a Diamond Sponsor for the South Beach Wine and Food Festival and they had a huge display tent showcasing their kitchen appliances and accessories. Not only were KitchenAid products being displayed, but each stage featured appliances that were used for the weekend's chef cooking demonstrations.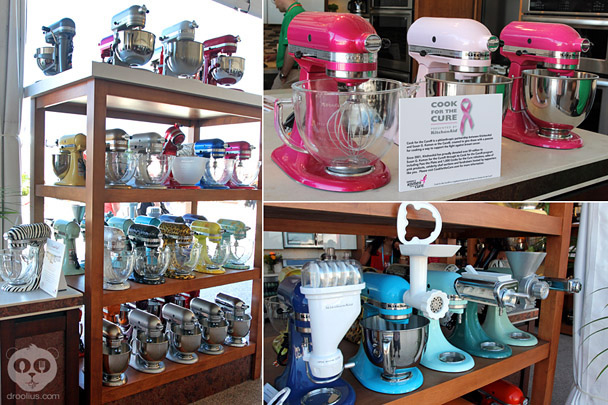 (click image to enlarge)
The plethora of KitchenAid Stand Mixers were on display, ranging from classic colors to special editions, and the various attachments.
(click image to enlarge)
A special artist's series called "Custom Made" were on display and available for purchase that featured exclusive designs, limited edition hand-painted Stand Mixers. My two friends loved the zebra print (top photo). On the Droolius Instagram I asked "Ladies, which would you choose?" and based on comments, the leopard print and yellow daisy Stand Mixer were favorites. (I thought for sure the orange leopard print was going to be the ladies' choice.)
(click image to enlarge)
Whole Foods Market had a good line for food and probably offered the most amount of food you could get in one stop that day. The line moved fairly quickly and I was able to grab small bites from several stations. I saw some friends from the Orlando Whole Foods Market store there too.
(click image to enlarge)
Whole Foods Market bites:
– Korean "Danish" with Kimchee & Spiced Pork Belly (bottom)
– Panzanella with local heirloom tomatoes
– Key Lime Shrimp Shooters
– Frozen orange beverage?
– Traditional Raclette w/ cornichon, potato and pearl onion (middle)
– Local Ricotta Cheesecake with Pistachio Crumb Topping
– Dulce de Leche Brownie
(click image to enlarge)
The booth at evian water had an interactive photo experience where attendees could take photos with props and by uploading onto Instagram and tagging #evianeats, a photo was printed out to take home as a souvenir. They also featured an Instagram Takeover by Chef Richard Blais that was taking place at Saturday and Sunday's Grand Tasting events. More about that in an upcoming post.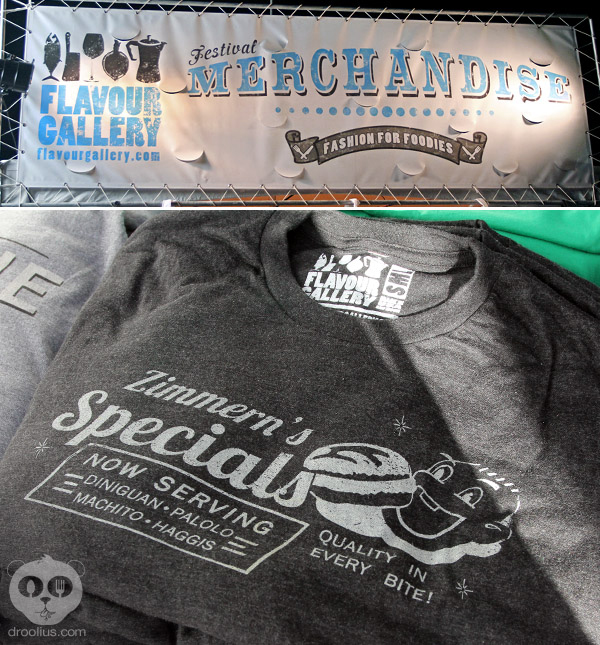 (click image to enlarge)
Before I left the event, I stopped by Flavour Gallery to pick up an awesome shirt that was in collaboration with Chef Andrew Zimmern. Mainly because the shirt listed the Filipino dish "diniguan" as one of Zimmern's Specials. (Side Note – while it can be spelled diniguan, traditionally it is spelled dinuguan, for those who will ask.)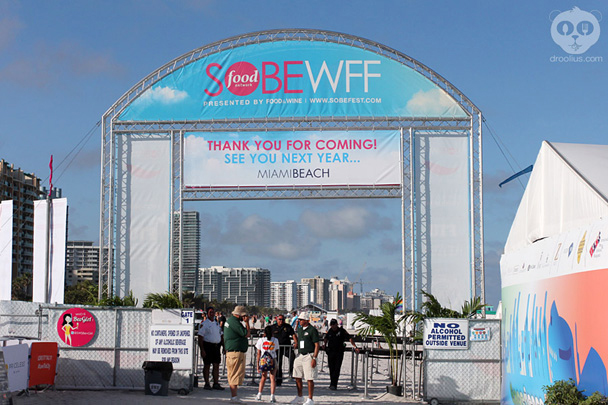 (click image to enlarge)
At the end of the day, the Wine Spectator's Trade Day was a very filling event of consuming beverages and some food. You can go through and taste as many wine and spirits as you would like or just enjoy the drinks and food as they come along in your path. I chose the latter and had a good time. A big thanks goes to KitchenAid for inviting me to attend this event.
A few more event recaps still to come, stay tuned for more coverage from SOBEWFF 2013…

Words and photos by Julius Mayo Jr.
Content and photos © Droolius.com 2013


Disclaimer: I was given a ticket to attend this event on behalf of KitchenAid. I was not compensated to write this post and all opinions are always my own.