Rockaway PR agency presents a new Table Talk series for food industry and media, featuring a mashup of food, social media, and technology. I am excited to be participating on a panel discussion about food and dining with industry leaders from around Florida. The event takes place from 10 a.m. – 11:30 a.m. on Tuesday, May 14 at Downtown Credo in Orlando. You must reserve your spot to attend.
Limited seating, so make sure to RSVP to events@rockawaypr.com
James Beard-Nominated Chef Jose Mendin of Pubbelly, along with Edible Orlando, Droolius.com and Rockaway PR Explore Social Media's Impact on the Industry
Rockaway, a culinary and lifestyle public relations agency with offices in Miami, Orlando and New York, launches Table Talk – a new interactive series exploring pertinent topics in the industry. On Tuesday, May 14 from 10:00 to 11:30 a.m. at Downtown CREDO (706 West Smith Street), the inaugural panel discussion dubbed "Toques & Tech" will examine food and dining through a digital lens. Table Talk's featured panelists will share their expertise on how technology is shaping the world of food and dining from both a consumer and trade perspective, and will provide insight on how to use social media to grow business. For more information or to RSVP, please e-mail events@rockawaypr.com or call 407.236.6566 ext. 103. Complimentary coffee and pastries will be served; seating is limited.
"Rockaway's Table Talk is a tool for us to share our in-depth knowledge of the food industry," said Alexis Knapp, agency principal. "Central Florida's culinary scene is budding and we hope that our program will create a dynamic place for chefs, PR professionals and industry leaders to talk about trends and build meaningful relationships in the Orlando market."
Table Talk's "Toques & Tech" participants include:
• Alexis Knapp of Rockaway – With more than a decade of public relations and marketing experience, Knapp launched Rockaway in 2006, rapidly carving a niche clientele of innovative and compelling brands in the culinary world
• Jose Mendin of Pubbelly – James Beard-nominated chef of Miami's Pubbelly, the flagship eatery of a flourishing restaurant group credited with having fundamentally transformed Miami's dining scene (Barceloneta Spanish Bistro & Mercat, PB Steak, Pubbelly Sushi and Macchialina)
• Julius Mayo of Droolius.com – Founder of Droolius.com – a prominent food blog focused on special events and dining – and social media consultant, helping clients with social media management, strategies and branding
• Kendra Lott of Edible Orlando – Publisher of Edible Orlando – Central Florida's magazine dedicated exclusively to local food, farms and chefs – Lott also possesses an extensive background in food studies with a graduate degree from New York University and in advertising with Food Arts magazine
• C. Major of Rockaway – Account Executive at Rockaway Orlando's culinary-lifestyle division, Major brings her savoir-faire to agency clients including 4 Rivers Smokehouse, Christner's Del Frisco's, Peterbrooke Chocolatier and Healthy Greek Eats, to name a few (Moderator)
Recent studies indicate that habitual use of social media has reached an estimated 71 million Americans, leading to the prominent role of consumer-driven discussion groups in today's marketplace. With Facebook, Twitter and Instagram established as major social media networks, as well as YELP and Urbanspoon, which specifically encourage customer food reviews, user-generated content has changed the way restaurants communicate with and are viewed by their patrons. Aptly taking place at Downtown CREDO, a non-profit coffee house, this premiere installment of Table Talk further looks at how grassroots marketing tools, such as word-of-mouth, have taken on new shape and expanded purpose in Orlando's multi-million dollar food industry.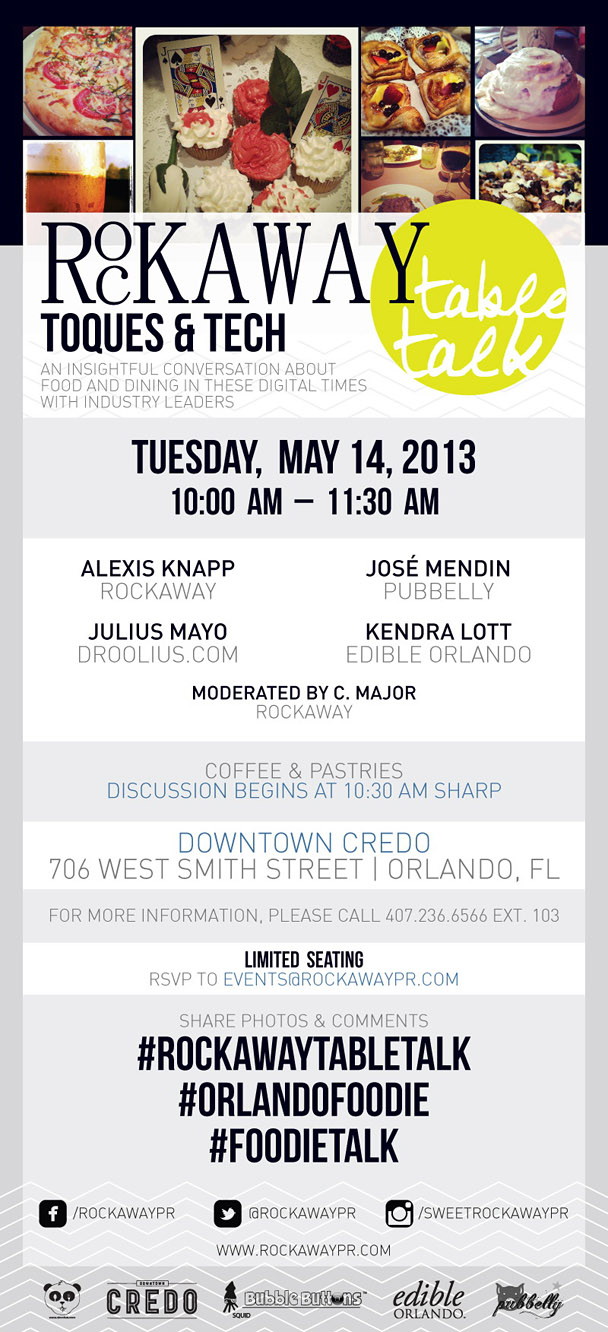 MORE ABOUT ROCKAWAY
Rockaway is a leading public relations agency in the food and beverage industry, with divisions dedicated to hospitality and travel, and arts and culture, in Miami, Orlando and New York. With a distinguished roster of clients, Rockaway specializes in regional, national and international public relations campaigns, presenting a strong focus on press, marketing, special events, brand and product development, and social media. Rockaway's Orlando office is located at 537 Virginia Drive in Orlando, FL. For more information, please visit www.rockawaypr.com or call 407.236.6566.
Facebook: /RockawayPR | Twitter: @RockawayPR | Instagram: @SweetRockawayPR
Media Contact:
Alexis Knapp / C. Major
Rockaway PR
alexis@rockawaypr.com / major@rockawaypr.com
O: 407.236.6566 / F: 866.820.8691