Today's post is more of a personal entry. It is my 34th birthday, and it also happens to be the two-year anniversary for the Droolius blog. While this post may not be entirely for the blog, it does relate to food. And by food, I mean bacon. Chocolate covered bacon!
A few weeks ago, I sent out a Facebook update/tweet (on my personal accounts) saying "for my birthday I would like to eat 34 pieces of bacon". I received many funny responses and lots of jokes from friends. A day or so later, I was contacted by my friends at Peterbrooke Chocolatier of Winter Park saying they wanted to send me something in the mail. I really didn't think much of it, I was just thankful for the kind gesture.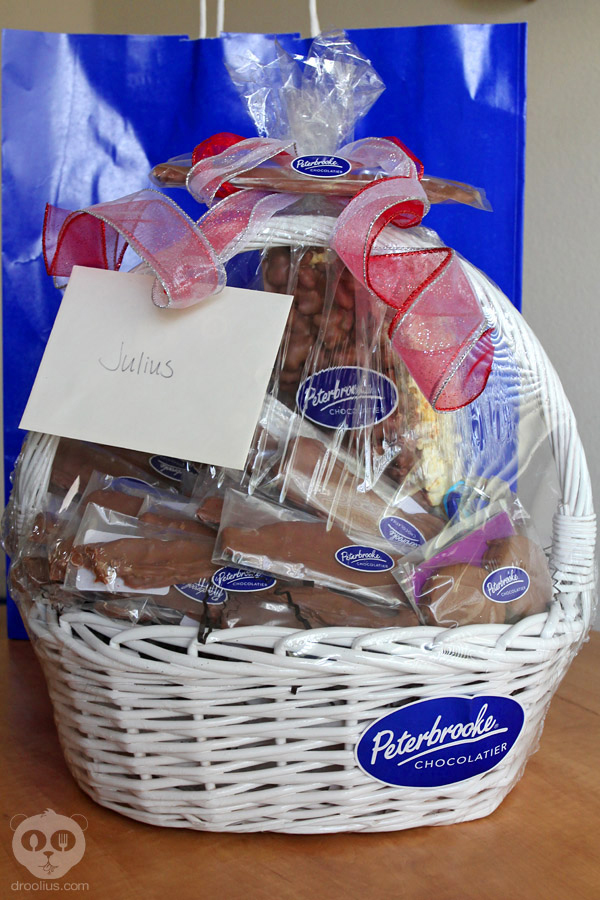 (click image to enlarge)
This past weekend I received a delivery from Peterbrooke Chocolatier. To my surprise, they sent me a gift basket of assorted chocolate sweets, and more importantly they sent me 34 pieces of bacon covered in chocolate! Needless to say I was shocked and did not expect anyone to actually send me 34 pieces of bacon, let alone cover them in chocolate. Ever since they arrived at my doorstep, I have been happily enjoying them and sharing with family and friends.
(click image to enlarge)
I had no idea that the Winter Park location of Peterbrooke Chocolatier, or anyone in Central Florida, was making and selling chocolate covered bacon. After thanking the staff online, they sent me a reply over Facebook and said "…chocolate covered bacon is one of our most popular items. We've sold almost 10,000 pieces since we started making it about a year ago." So if you have wondered where to find chocolate covered bacon locally, just hit up their Winter Park store with the info below.
(click image to enlarge)
The chocolate covered bacon is a combination of sweet and savory. The bacon is covered in rich sweet chocolate, and you taste more of the sweet chocolate than the bacon. So if you are concerned with a overwhelming bacon flavor, it actually is the opposite where the bacon follows the chocolate in this case. Definitely worth a try!
Thank you Peterbrooke Chocolatier of Winter Park for sending this great birthday gift of chocolate and bacon goodness! If you are ready to go out and try some chocolate covered bacon after this post, make sure to leave a comment below and let me know what you think.
Peterbrooke Chocolatier of Winter Park
300 S. Park Avenue
Winter Park, Florida 32789
407-644-3200
www.PeterbrookeWP.com
www.facebook.com/PeterbrookeWP
Twitter.com/PeterbrookeWP
Words and photos by Julius Mayo Jr.
All content and photos © Droolius.com 2012
Disclaimer: I was personally given this gift basket and this is not a sponsored post. While this is not a sponsored post, I always like to give credit, where credit is due. I was not compensated to write this post and all opinions are my own.