The Cronut craze continues to sweep the nation and the creator, Chef Dominique Ansel, is partnering up with Shake Shack to create the "Cronut Hole Concrete" for a good cause. Available only on September 17th at NYC's Madison Square Park Shake Shack, this special edition dessert will benefit the New York Police Department and Madison Square Park Conservancy. The Cronut Hole Concrete is described to be rich and creamy with Shake Shack Butter Caramel frozen custard, blended with three delectable Cinnamon Sugar Cronut Holes, and a bonus Cronut Hole on top. I only wish I could be in New York City for this dessert! Check out the following details on how to experience this dessert masterpiece for yourself…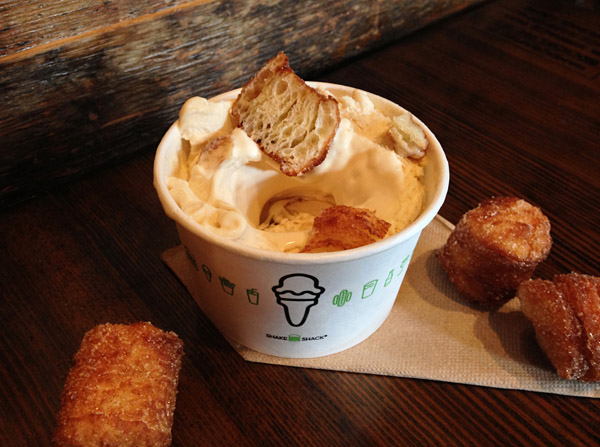 SHAKE SHACK PARTNERS WITH CHEF DOMINIQUE ANSEL ON
SPECIAL EDITION "CRONUT HOLE CONCRETE" FOR A GOOD CAUSE
Available One Day Only—September 17th—at NYC's Madison Square Park Shake Shack
A foodie's dream and for a good cause?! Shake Shack® is proud to announce it is teaming up with Cronut™ mastermind, Chef Dominique Ansel, for a special edition Cronut Hole Concrete to jointly benefit the New York Police Department and Madison Square Park Conservancy.
Available for one day only—Tuesday, September 17th—exclusively at Shake Shack's original location in Manhattan's Madison Square Park (MSP), this collaborative concrete treat will feature Shake Shack's dense, rich and creamy Butter Caramel frozen custard blended with three delectable Cinnamon Sugar Cronut Holes, and a bonus Cronut Hole on top.
The Cronut is the wildly popular croissant and doughnut hybrid created by award-winning pastry chef Dominique Ansel and only sold at his namesake bakery in SoHo. Introduced in May 2013, the Cronut has commanded considerable fanfare ever since with lines down the block daily and a strict limit of two per person. The coveted pastry's high demand has even resulted in them being re-sold on the "black market" for up to twenty-times their retail price. Plus, fans enthusiastically wait in line upwards of four hours for a Cronut.
"One of the most frequently asked questions I get these days is what line I've waited in, and I always answer it's the one at Shake Shack in Madison Square Park," says Chef Dominique Ansel. "When I first came to New York, going to Shake Shack and getting my burger was one of those iconic experiences, and it's wonderful to be working with a partner that shares our same enthusiasm for food, service and charity. We hope this rounds out the summer by bringing a little something sweet to the community while giving back to it at the same time."
Shake Shack's Cronut Hole Concrete will sell for $4.50. There will only be 1,000 special concretes available on September 17th starting at 10:00am at the MSP Shack (opening one hour earlier than normal), with a limit of two concretes per guest. From 4:00-5:00pm, Chef Dominique will be on-site to greet fans and help serve concretes.
Total sales of the Cronut Hole Concrete will jointly benefit two non-profits: New York City Patrolmen's Benevolent Association (PBA) Widows and Children's Fund, which provides aid and assistance to the families of NYPD officers who have lost their lives in the line of duty, as well as the Madison Square Park Conservancy, which is dedicated to keeping the historic public park bright, beautiful and active.
"We couldn't be more thrilled and honored to be collaborating with someone as talented and unique as Dominique Ansel," says Mark Rosati, Shake Shack Culinary Director. "The Cronut Hole Concrete is a fun, positive way to support two organizations that mean a lot to us and to New Yorkers."
To learn more, please visit www.shakeshack.com or www.dominiqueansel.com.
Images courtesy of Shake Shack