The Late Night Menu at Cask & Larder features a few burgers, offered only after 10pm. Cask & Larder is known for Southern style cuisine and now they have added that same Southern flare to their burgers. The Late Night Menu has been around since the opening last September, but the burgers were added to the menu a few months ago and have grown in popularity.
The burger creations rotate on the late menu and the one that remains staple is the Pimento Burger. Currently the specialty burgers are the Butter Burger and the Boar Stew Burger. This month being National Hamburger Month, I thought it was the perfect time to photograph the burgers and get a taste of each one. No, I did not eat all of them by myself, I shared of course. I did savor each bite and really enjoyed the combination of flavors of each one. The curly fries that come with each order are made from scratch and are a great accompaniment to scoop up any topping that fell off the burger.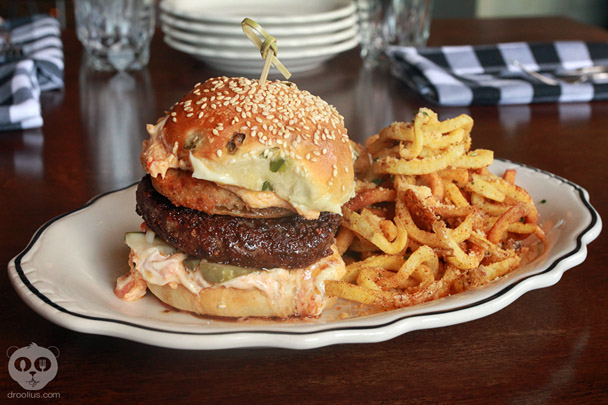 (click image to enlarge)
Pimento Burger on Cheddar Jalapeno Roll with pimento cheese, fried green tomato, mayo, bread-n-butter pickles
The Pimento Burger is a flavor explosion of tangy house made pimento cheese, a juicy fried green tomato, and a tasty Cheddar Jalapeno Roll. The bread-n-butter pickles give a hit of acidity to cut through all of the richness. It's a flavorful burger with all of the toppings and very enjoyable.
(click image to enlarge)
Butter Burger on Black Pepper Bun with onion schemer, cheddar, garlic pickle butter
The Butter Burger is a rich and savory burger that swims in flavor. The melted garlic pickle butter has that enjoyable butter and garlic flavor, with just a touch of pickle that really works. The onion schemer adds another layer of flavor that compliments everything on the burger. It may be messy, but every bite is enjoyable by dipping the burger and using the fries to sop up all of the buttery goodness on the plate.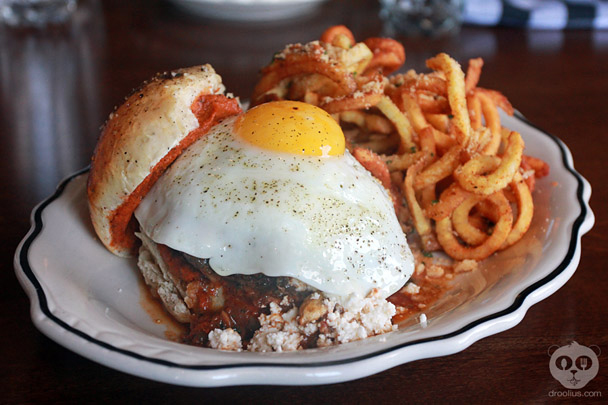 (click image to enlarge)
Boar Stew on Black Pepper Bun with romesco sauce, fried egg, cheese curds
The Boar Stew Burger is a hearty burger and has deep flavors from the boar stew and romesco sauce. The C&L kitchen takes chunks of boar (farm-sourced) and creates a chunky stew to use just as a topping. The romesco sauce is more of a southern style using pecans. The burger is very unique with multiple layers of flavors, and the fried egg ties it all together with the runny yolk. Whatever falls off the burger is scooped up by the fries, of course.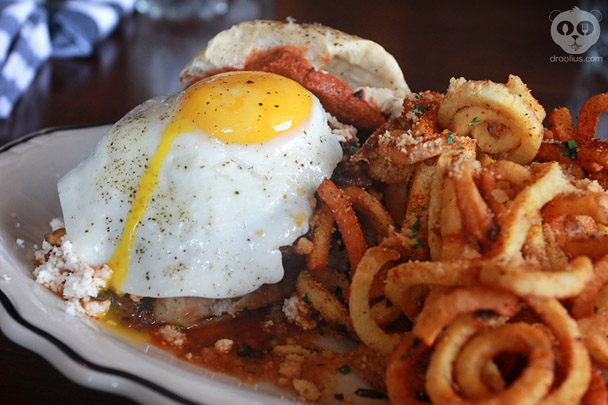 (click image to enlarge)
Egg Drool Shot! Who doesn't love a burger topped with a fried egg? The Boar Stew Burger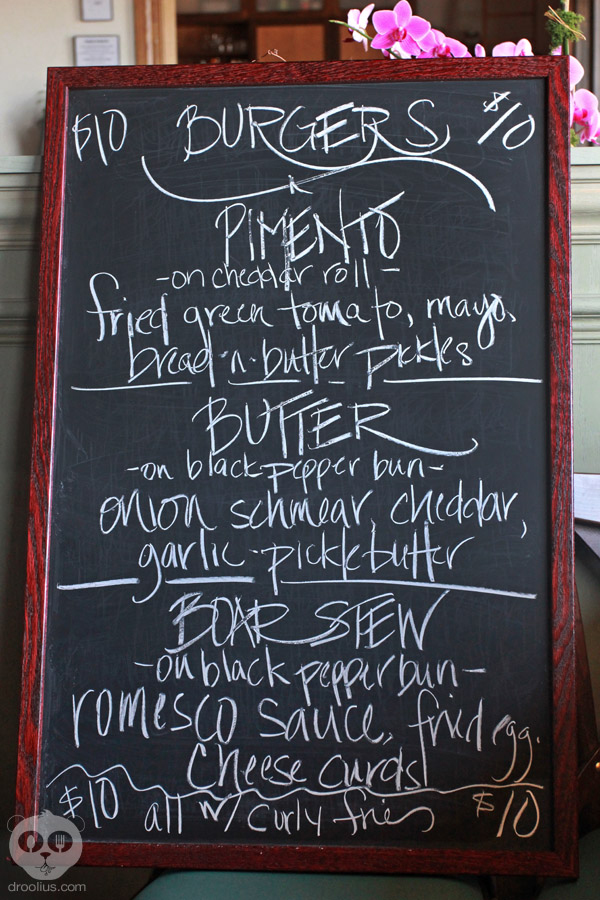 (click image to enlarge)
Late Night Menu is offered after 10pm. Tuesday-Thursday from 10 to 11pm, Friday and Saturday 10p until midnight.
The burgers at Cask & Larder are big bites of flavor and redefine what a burger can be. It's far from the standard burger, but if you enjoy lots of flavor, these are worth the stop. What makes these burgers stand out is that they make everything in-house. The pastry team bakes the buns everyday and Chef Jason develops the burgers utilizing house made condiments and toppings. All burgers come with curly fries and for an affordable $10, you get a meal that is made from scratch with quality ingredients. Make sure to note that the burgers are only available after 10pm in limited quantities. They are worth the wait for a late meal or a second dinner.

Words and photos by Julius Mayo Jr.
Content and photos © Droolius.com 2013






Disclaimer: I was invited to photograph and a tasting. I was not compensated to write this post and all opinions are always my own.